In a Nutshell
You might be familiar with HelloFresh. All the rage in the US, HelloFresh is a huge meal kit delivery service. Due to this growing popularity, HelloFresh has extended its services to its northern neighbors. Chefs Plate is HelloFresh's Canadian division and it offers all of the same benefits as its mother company, including flexible delivery options, easy-to-make, delectable meal options, and fresh ingredients delivered straight to your door.
pros
Meals are ready to eat in 15-30 minutes
Vegetarian meal options
Fresh ingredients, locally sourced
cons
Have to sign up before you can choose meals
Not a lot of specialty diet options

Chefs Plate Visit Site
Chefs Plate at a Glance
Number of meals offered: 15 per week
Price per serving: From $8.49 per serving
Meal options: Vegetarian, family-friendly, meat & veggie, full meal kits
Subscription options: Weekly delivery options, skip, pause, or cancel options
What's Unique About Chefs Plate?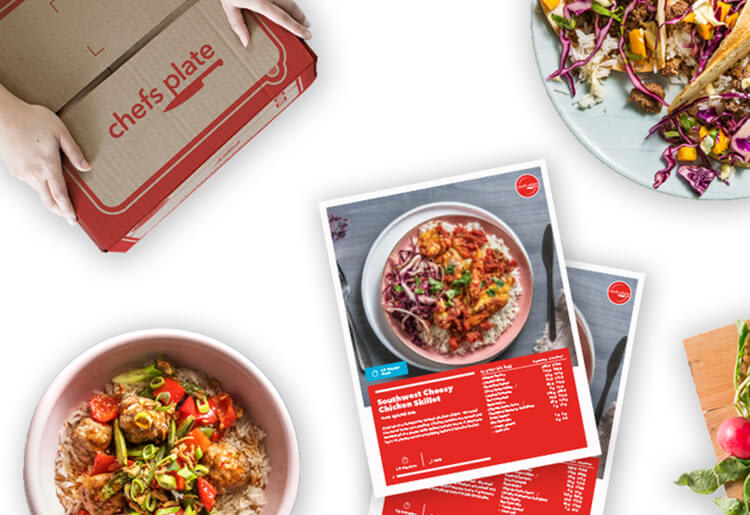 There's plenty of information to be found, clear and upfront pricing information, and mouth-watering close-ups of all of the scrumptious meals you could learn how to make using the Chefs Plate platform. In addition, here's what we like about Chefs Plate:
Chefs Plate keeps orders and deliveries really simple. Sign up for a plan, place your order, and select your meals. Each week, you'll get to choose different meals. But you can pause your plan at any point, or skip a week if you're going to be away or don't have a need for so many meals. We also like that Chefs Plate lets you cancel your plan without any hassle.
Good variety of meal options
Chefs Plate offers 15 different meal options every week to choose from. What's more, we like how varied the menu options are. You don't get the same type of food or cooking style with every dish. One week, you can try something from the Middle East, and the next week, opt for an American classic. A quick look at the weekly menu will reveal how eclectic this meal variety is.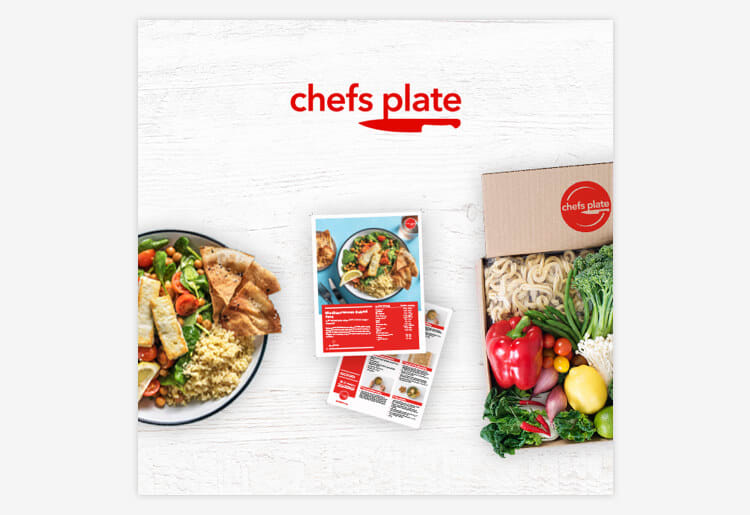 Chefs Plate does its best to do its part in keeping the world cleaner. For one thing, all ingredients are locally sourced. So, you're getting fresher, more reliable produce, and you're supporting local vendors at the same time. What's more, all of Chefs Plate's packaging is 100% recyclable.
How It Works
Chefs Plate works much like most meal kit delivery services. It consists of 3 basic stages:
Chefs Plate offers plans for 2 or 4 people with 2, 3, or 4 meals per person each week.
Enter your delivery information.
Put in your address and your payment information. What's nice about Chefs Plate is that it lets you pick your delivery day (not available on Fridays and Saturdays) and allows you to enter specific delivery instructions.
Chefs Plate offers a weekly rotation of meals. Every week, you'll have 15 new meals to choose from, ranging in flavour, culture, and styles. One week, you'll have a choice between turkey enchilada bakes, spicy Thai peanut pork noodles, and mushroom bibimbap bowl. Take what sounds enticing to you, and leave the rest.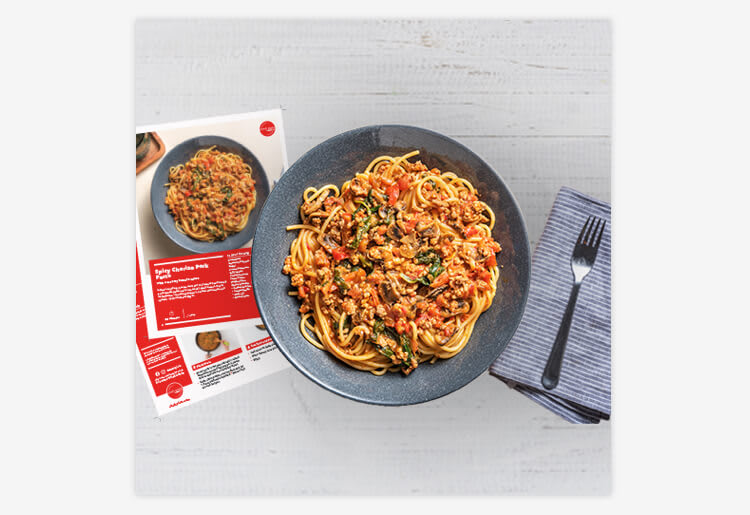 It's all pretty simple. Meal kits come with everything that you need to make each meal. This includes all of the ingredients, the recipe, and step-by-step instruction cards. These are particularly helpful for newbie chefs who don't know how to cook well. Meal kits are shipped with ice packs to keep ingredients fresh. Chefs Plate meals are generally ready to eat in 15-30 minutes.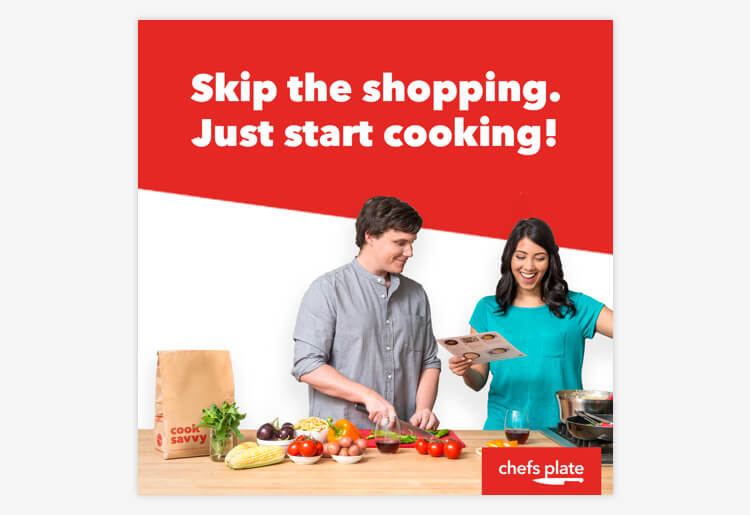 Meal Options
Chefs Plate describes its meals as dinners, but in truth, you can serve these meals at any point in time during the day, depending on your dining preferences. The meals are a little heavier than your average breakfast, but we're not judging. In terms of quality, the ingredients are all top-of-the-line, fresh, and shipped out right away to maintain that freshness.
Favourite Chefs Plate Meals
Chefs Plate has a wide variety of savoury dishes you can choose from. Here are 3 that we tried out and feel for hardcore:
1. Homestyle BBQ Beef Burgers with potato wedges and onion jam
Cost per serving: $8.49-$9.99
Prep & cook time: 35 minutes
Difficulty level: Medium
Calories per serving: N/A
Other available info: Fire up the skillet and make these delicious classic diner-style burgers topped with sweet and tangy onion jam and crispy potato wedges on the side.
2. Pan-Seared Parmesan Chicken with creamy mashed potatoes

Prep & cook time: 30 minutes
Difficulty level: Medium
Calories per serving: N/A
Other available info: Just the name made our mouth start to water. This dish has the right combinations of spices, crunchy breadcrumbs, and creamy garlic mashed potatoes smothered in gravy!
3. Steak and Swiss Cheese Melts with roasted garlic aioli and baby greens

Cost per serving: $8.49-$9.99
Prep & cook time: 15 minutes
Difficulty level: Easy
Calories per serving: N/A
Other available info: The revered Philly cheesesteak never looked so good! Take a heaping serving of beef steak strips, load it onto a crispy artisan roll that's topped with garlic aioli sauce and melted cheese, and serve with a sweetly-seasoned salad for a nice addition on the side.
Pricing
Chefs Plate is not the cheapest meal kit delivery option, but it's definitely not the most expensive one out there either. Starting from only $8.49 per serving, Chefs Plate makes a good option for people who want to include healthier eating habits a few times a week into their schedule. Here's what you'll pay for a weekly subscription:
All meal plans ship free except the 2 people/2 dinners a week plan. So, if you are ordering anything more than 4 meals, it ships free. Plus, anything other than that plan boils down to $8.49 per serving. The 2 people/2 dinners per week plan is $9.99 per serving.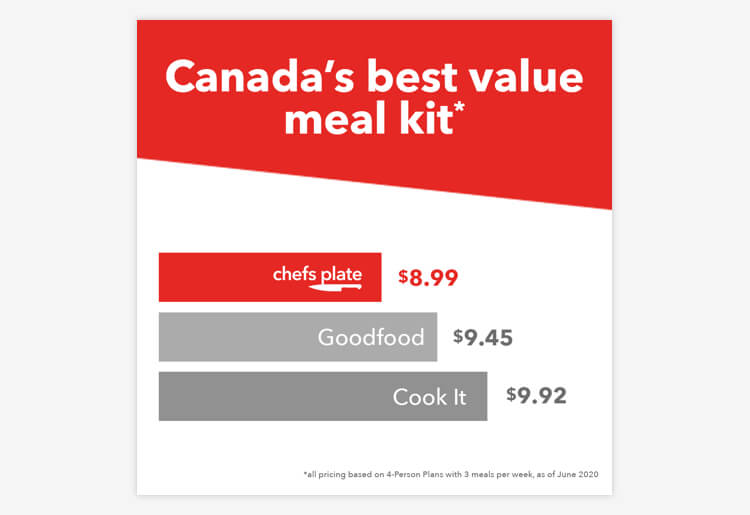 Weekly subscriptions will auto-renew unless you change your delivery schedule. The good news is that you can pause, skip, or even cancel Chefs Plate deliveries whenever you want. So, there are no long-term commitments to worry about.

Chefs Plate Visit Site
Help & Support
Chefs Plate offers 2 support options: a phone line or an FAQ section. Truthfully, the FAQ section has the answers to just about any question that might come up. But if you insist on speaking to someone directly, Chefs Plate customer service is friendly and knowledgeable, as well.
Phone: 1-855-420-2327
Bottom Line
Chefs Plate offers some really delicious meal options, and with 15 meals per week to choose from, you won't soon get bored. At just $8.49 for most meals, Chefs Plate is also a very reasonably-priced solution. With easy delivery schedules and flexible subscription options, free shipping on most orders, and easy to follow recipe instructions, Chefs Plate gets 2 thumbs up from our reviewers.