However, cooking tasty Mexican cuisine can be a challenge for some. Meal delivery services such as HelloFresh and Home Chef offer a selection of tasty dishes for those requiring a little more guidance, but we're here to help you throw together your own culinary masterpiece.
With the following 10 tips, you should be able to cook a delicious Mexican meal that will be remembered for years to come this Cinco de Mayo.
1. Take Advantage of Chilies
Genuine Mexican cuisine uses a wide range of different chili peppers to add spice and flavor to dishes. Even if you're not used to eating spicy food, a chili-heavy dish could be a nice change this Cinco de Mayo—there are chili peppers of all spice levels, from sweet to blazing-hot.
On top of this, chilies are known for their health benefits. A recent study shows that the ingredients in chili peppers can aid people with ailments including cancer, chest colds, bronchitis, and rheumatism. There has been a large amount of research in this field, and you can even purchase health supplements containing capsaicin, the active ingredient in chilies.
By adding a handful of chili powder to your Mexican food this Cinco de Mayo you will not only be creating a mouth-watering, flavorful dish, but you will also gain the health benefits. It's a win-win situation!
2. Roast Your Salsa Ingredients
Salsa is a key part of Mexican cuisine, and millions of people across the USA will consume it this Cinco de Mayo. Creating a tasty, flavorful salsa isn't too difficult, but there's one key step that many people forget.
Because it takes some time, it's not uncommon to skip roasting your ingredients before making salsa. However, charring the outsides of your onion, tomatoes, and chilies is arguably the most important part of making a genuine salsa.
This is actually surprisingly easy to do. Some people like to hold their veggies over a gas flame or use a blowtorch to char the outside, but we'd suggest simply placing them in the oven at a high temperature. Make sure you keep an eye on them, as they can burn easily.
Once you've successfully blackened the outside of your vegetables, you can proceed with making your salsa as you normally would.
3. Use Cheap Cuts of Meat
Since a large number of Mexican recipes call for long, slow cooking times, you can often create delicious food with cheap cuts of meat. During the slow-cooking process, excess fat will melt out of the cut, then be reabsorbed, and the meat will gain a tender, soft texture that's near impossible to achieve in any other way. Plus, any other flavors will be infused through the dish.
If you don't have a whole lot of experience with Mexican cuisine, we'd suggest starting simple here. Things like shanks and shoulders cooked at a low temperature are delicious, and they are usually quite easy to get right.
Or, if you run out of time and don't feel like putting too much effort into this Cinco de Mayo, you can still take advantage of Mexican-style meat by ordering prepared meal delivery.
4. Add Some Spice
Along with chili, Mexican food is known for its heavy use of a range of other spices. You will find things like cinnamon, oregano, cloves, and cumin seeds in a variety of dishes, and it's important to add the right amount of these to achieve the perfect flavor balance.
One important thing to note about spices is that most Mexican dishes use whole cumin seeds, rather than ground cumin powder. You can really bring out the flavors by roasting your cumin seeds before adding them to your dish, but make sure you don't add too many, or they can become overpowering.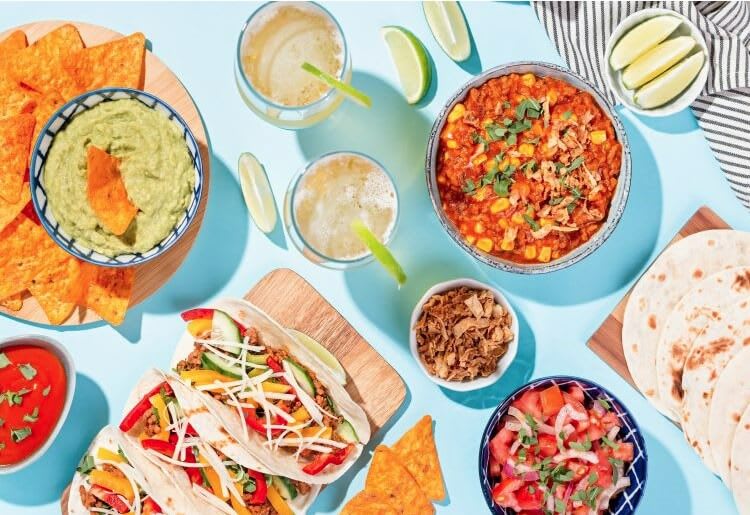 5. Reuse Leftovers
Mexican cuisine presents an excellent opportunity to take yesterday's leftovers and turn them into today's culinary masterpiece. If you celebrate a large meal with friends or family this Cinco de Mayo, don't hesitate to repurpose any leftover goodies and turn them into another masterpiece.
There are various ways to do this, depending on the leftovers you have. For example, excess taco meat can be turned into numerous new dishes, including chili, wraps, and stuffed vegetables. Old tacos or tortilla chips can be mixed with other leftover Mexican ingredients to create beautiful chilaquiles, and leftover salsa makes a great cold dip.
After all, food waste is a growing problem in the developed world, and everything you can do to reduce this helps just a little bit more.
6. Use Agave Syrup & Piloncillo
Although it could be tempting to substitute refined sugar as a sweetener in Mexican dishes and desserts, traditional sugars such as agave syrup and piloncillo add a much more genuine taste.
Agave syrup is called for in many Mexican recipes. It's a thin syrup that's very sweet, and it's refined from the agave cactus. Plus, it's low on the glycemic index (GI), which means that it's a healthier choice than refined sugars.
Piloncillo is made from sugar cane, like normal refined sugar, but it's basically an unrefined version created by drying sugar cane juice. It's very hard, and you will need to make a syrup or grate it finely before adding it to recipes. However, it's also much more flavorful, since it contains the nutrients and other "impurities" that are removed from normal refined sugar.
7. Don't Forget the Beans
As you probably know, beans are a cornerstone of Mexican cuisine, and Cinco de Mayo just wouldn't be complete without them. Canned beans are usually the most convenient option, but we'd recommend using home-cooked beans wherever possible.
This is because home-cooked beans taste better and usually have a better consistency than canned beans. Remember, though, that dried beans do take some time to cook, and you will need to soak them overnight before boiling.
One thing we suggest doing is cooking 2 or 3 times more beans than you need and freezing or storing the rest in the fridge. These can be used later to create beautiful bean-centric recipes. On top of making food that's delicious and good for you, you can even say your plant-based dinner is helping the planet!
8. Acid Is Your Friend
Many Mexican dishes call for generous use of lemon and/or lime juice. In some dishes, such as ceviche, acid is the key ingredient. In others, it's used more sparingly to add flavor and a little zest.
There's one important thing to know here. Never, repeat, never use bottled lemon or lime juice. It just doesn't have the same flavor as the fresh alternative. If you cook Mexican food regularly, we'd suggest keeping a stock of limes in your fridge. Otherwise, buy a couple this Cinco de Mayo to add a zesty hit to your meal.
9. Use Real Chocolate for Desert
Mexico is arguably the birthplace of chocolate, and no real Mexican meal would be complete without some real Mexican chocolate. By real chocolate, we mean dark chocolate with a high cacao content, which is traditionally what's used in Mexico.
There are numerous ways to introduce chocolate to your meal this Cinco de Mayo. You could create a chocolate-based dessert to wind up your meal, make a pot of Mexican hot chocolate, or even just serve chocolate itself for dessert.
Keep in mind that Mexican chocolate often comes with additions that can be strange to western consumers. It's not uncommon to find chocolate that's more of a savory snack than a sweet treat with the addition of chili, spices, and nuts.
10. Homemade Beverages Will Round It All Out
Homemade beverages are a key part of Mexican cuisine, and they should definitely make an appearance this Cinco de Mayo. In fact, we'd argue that traditional homemade drinks could be the perfect finishing touch to make your meal something to remember.
There are numerous options here. For the alcohol connoisseur, drinks like the pisco sour and margarita should hit the spot perfectly. Those preferring to drink something non-alcoholic might like a Mexican hot chocolate, Mexican atole, or fruit-flavored agua fresca.
Conclusion
Cooking a delicious Mexican meal this Cinco de Mayo could be a fun, rewarding process, especially if you're planning to share it with friends or family. However, Mexican cuisine can be difficult to get right, which is why we've put together this list of 10 tips to help you out.
Stick to the basics, add the right herbs and spices, use fresh ingredients, and experiment with ingredients that are unusual in US cuisine, like piloncillo or whole cumin seeds. As long as you're willing to put a little time and effort in, you shouldn't have any issues putting together a culinary treat this Cinco de Mayo.