Here are the main components of the Mediterranean diet:
Eat Right
You'll be happy to hear that you don't have to give up your favorite pasta dishes on this diet. In fact, the Mediterranean diet promotes eating hearty amounts of healthy carbs. These include whole grains like whole-wheat pita, spelt bread, and brown rice. You are also encouraged to use healthy fats like extra virgin olive oil, nuts, seeds, and avocados to boost your satiation levels and heart health.
Don't Skip Breakfast
The Mediterranean diet emphasizes starting your day off right with a healthy breakfast. Whether it's fruit, whole grains, or some other form of fiber, make sure to get yourself a good dose of the stuff before you head out into the world.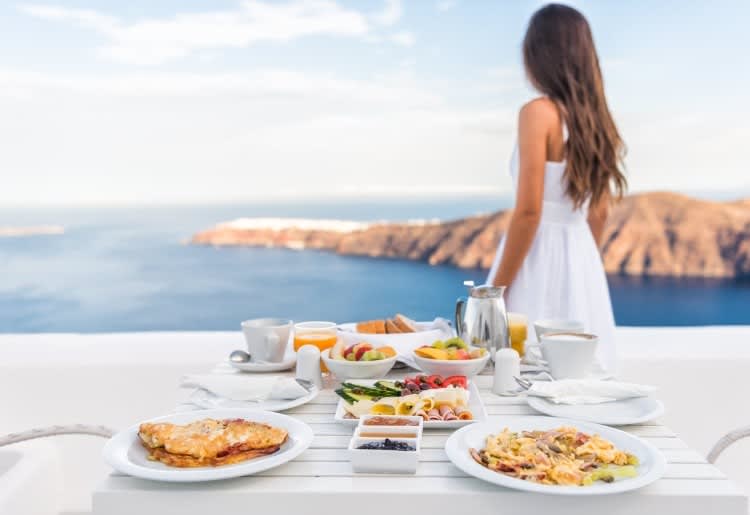 Vegetables Galore
The Mediterranean diet encourages you to eat lots and lots of vegetables. You can make them into a soup or salad, roast them, munch on them as a snack, or include them in your main dish. However you like them, pile on the veggies. What's more, the Mediterranean diet recommends having a totally vegetarian meal a couple of times a week too. You should also enjoy plenty of fruit on this diet.
Add Fish Too
The Mediterranean diet recommends 2 seafood meals per week. These meals can include salmon, herring, tuna, shellfish, oysters, clams, sablefish, sardines--you name it. Look for fattier fish as these are higher in Omega-3s, essential fatty acids that support brain health.
Dairy in Moderation
On the Mediterranean diet, you'll keep dairy consumption to a minimum. The USDA states that dairy foods should make up no more than 10% of the average American's daily caloric intake. So, you can keep eating cheese, milk, yogurt, and cream, but do so sparingly.
Cheers!
One other element most people enjoy about the Mediterranean diet is the daily recommended glass of red wine. Of course, this has to be taken in moderation. The diet doesn't condone polishing off a bottle every night at dinner. However, a single glass does offer several health benefits. Not only is red wine full of antioxidants, but it also helps to support a robust immune system and maintain dense, strong bones.
Non-food Elements of the Mediterranean Diet
Unlike other types of diets, the Mediterranean diet is more than just the food on your plate. In fact, there are various other components that can make or break your success with this program. The 2 most important ones to focus on are:
Daily Physical Activity
Physical activity helps keep the body and mind healthy and strong. So, whether you like taking a brisk walk with a friend, listening to music during a spin class, or dancing the night away, get moving to get healthy.
Social Eating
A more surprising element of the Mediterranean diet is the social eating aspect. Studies have shown that socializing during meal times can help alleviate stress, increase positive moods, and curb overeating. For this reason, one of the main components of the Mediterranean Diet is to eat together with family and friends. You can have a family dinner, share meals with your coworkers, or cook with friends. Just get social!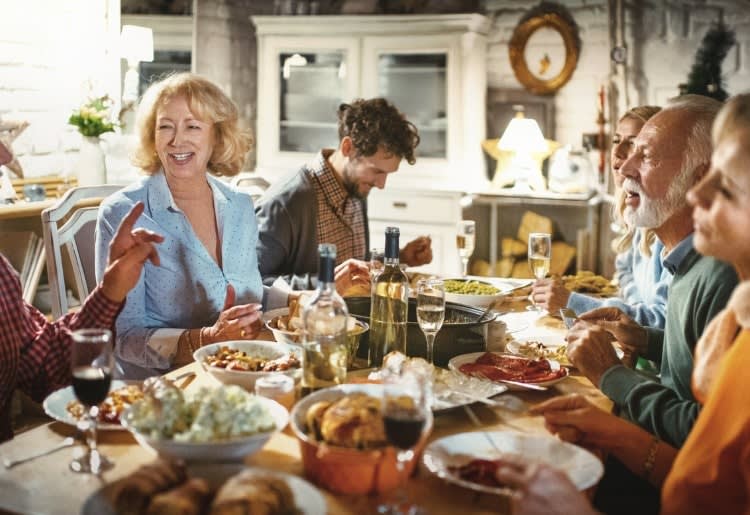 That is, indeed, why the Mediterranean diet is more of a lifestyle shift than just an eating plan. You'll enjoy far greater success if you can incorporate all aspects of the lifestyle into your daily routine.
Why the Diet is Around
A lot of research was done after observing this region of the world. What they found was fascinating. Despite the fact that these people didn't have marvelous medical interventions, weren't hyper-focused on healthy living, and didn't cut out carbs, something that a lot of diets insist is a must, citizens of this region were living longer, contracting fewer chronic diseases, and generally living better.
What researchers discovered was that the way of living that these people had adopted was fueling their hearty life expectancy and health. The modern-day Mediterranean diet is an attempt to reproduce these health-giving life choices, so people can look and feel better every day.
Benefits of Eating a Diet
As long as a diet is doctor-approved and applied properly to your living situation, it can offer health benefits. But the Mediterranean Diet, in particular, seems to garner some encouraging advantages that are backed by years of research and analysis. Some of the health benefits include:
Heart-Healthy
The Mediterranean Diet is an excellent diet for boosting your heart health. Since the diet requires you to avoid refined carbs, processed foods, and fatty red meats, it is a surefire way to prevent heart disease and strokes.
Brain Health
The Mediterranean Diet is also good for another vitally important muscle in our body, the brain. In fact, studies have shown that the components of this diet can help reduce the risk of Alzheimers and dementia. If you are at risk for these diseases due to genetic factors, it's particularly advantageous for you to look into the Mediterranean diet.
Overall Health
The Mediterranean diet can help you stay healthy in general and live a long, fulfilling life. By following these rules, you can expect to lower blood sugar levels, improve cholesterol levels, reduce your risk for several forms of cancer, and protect yourself from type 2 diabetes.
Top Tips for Sticking to the Diet
Sticking to any kind of diet can be challenging, but these tips will help you stay on track:
Pack veggies, so when you get hungry throughout the day, you have a healthy snack to grab.
Replace other oils with olive oil in cooking and seasoning.
Check out different soup recipes to get even more vegetables in your system.
Try out different nuts to find the one that hits your snack sweet spot.
Cut up delicious, juicy fruits for a fresh and healthy dessert.
Eat slowly, enjoying every bite so you'll feel full faster.