A good logo is a graphical representation of your company, and by extension, of yourself. It anchors a company's brand, often forming the cornerstone from which the rest of the brand's marketing materials are built, including the look and feel of the brand. Services such as Wix Logo Maker provide users with high resolution logos at competitive prices. The best part is that the whole logo-making process can be accomplished in just a few simple steps

Wix Logo Maker Visit Site
Get the Right Tools
Start by having a look at the Top 10 Best logo design sites. This is a straightforward resource to find all the leading logo providers in one place. We've put together some pointers to help you move in the right direction and get that awesome logo you deserve.
A logo should be the "face" of your company, with colors, graphics and fonts carefully selected to convey the right impression and tell an overall story. Do you want your logo to convey simplicity? Speed? Perhaps a technological edge?
Your logo will appear everywhere, from your website and emails, to invoices and other stationery. This is why it's so important to stay consistent and to have specific brand guidelines put in place about how your logo can and should be used. A great example is Facebook's brand book for its famous "f" logo.
The Design Services Route
Businessowners are often hesitant when it comes to professional design services. The services are often costly and the process can be lengthy. But getting a professional to design your logo is a lot quicker and less expensive than you might think.
There are some formidable platforms out there that bring a wealth of design experience and thousands of designers together to create the right logo for you, based on what you want for your logo and what you value as a company.
Whether you go with Wix Logo Maker, which offers a wide range of professional custom logos and an easy design process or Fiverr, which provides logos in as little as 24 hours, you'll be on the right track to finding the perfect option to fit your needs. Make sure to check out our in-depth reviews of each individual design service to help make your decision. These sites will show you samples of recent logos, customer ratings, and walk you through the logo design and creation process. Many offer either a large amount or even an unlimited number of iterations, making your satisfaction top priority.

Wix Logo Maker Visit Site
Take 99designs for example. This platform puts you in the driver's seat. You choose what style of logo you're looking for, and then highly professional designers from all over the world send you their designs. You pick the best one, make revisions, and there you have it! All you need to do is choose what style you want (Mature or playful? More Literal, or more abstract?). A global community of professional designers presents their ideas. You provide feedback. Then pick your favorite design from designers' submissions. It's simple and it works.
Another model is what Envato Studio offers - essentially a platform for the world's top freelance designers to offer their services. You can browse for a designer, check out their portfolio, and read their reviews. Then you can sign up for one of their packages, provide a brief, and you're on your way. These designers are very review-sensitive so they'll ensure that you are completely satisfied.
Having a professional eye helping you with your logo design is invaluable; it's one of those areas where people can instantly pick up the difference between something amateur, and a sleek finished job. Another advantage is that you can ensure that your logo represents your company fully, by adding design elements that mean something, and crafting a logo that is exactly what you want.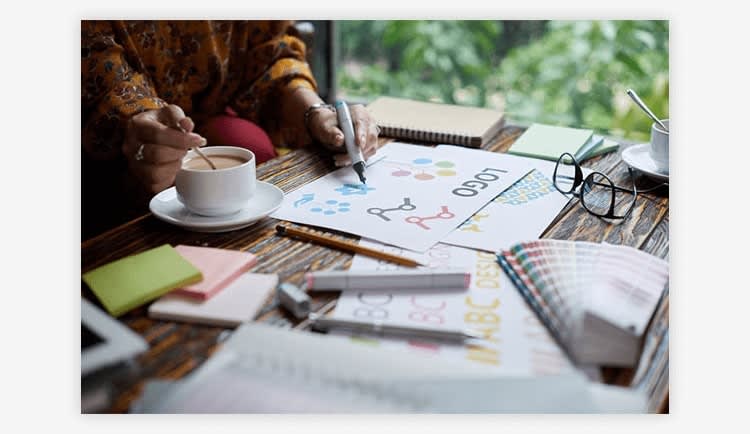 Don't Just Jump In
Many people have an idea and jump straight into creating a logo, making numerous mistakes and using up a lot of precious time along the way. They don't realize the intricate details that go into creating the perfect logo - such as color, spacing, texture and scaling. Jumping in without putting in enough thought often causes more damage than good. At its worst, a bad logo looks like your company does not put effort into what it does, has insufficient resources, or is an amateur operation. Often, your logo will be one of the first touch points for potential partners or customers - so it's imperative to give off a great first impression.
Creating a stellar logo doesn't have to be time consuming or result in a poor quality final product
The Generator Route
There are many sites that claim to be able to generate the perfect logo for you – often purporting to be free. These sites work by taking your company name or initials, and generating variations of a logo based on the inputs that you supply. The advantage here is that you can get professional looking logos, as well as some great ideas.
But it's not all positive. The disadvantages of logo generators are that your logo loses meaning, customization is limited, and most of the services (especially the better ones) are not free at all, requiring payment at the very last step.
We recommend that you check out these solutions fully before committing time and energy to them, only to be disappointed by the final product. Unlike with the professional designers, with most of these automatically generating logo sites, there is no recourse in terms of making changes, tweaks or updates.
Use The Best Tool For The Best Result
Wix Logo Maker is one DIY service that has proven itself to be a good resource for small business owners low on budget or time. The well-known website creator offers a logo-design service that's affordable, easy to use, and offers enough customization options to turn out professional looking logos in a single sitting.
Our list of the best logo design platforms can help you get the logo you deserve and desire. So, what are you waiting for? Start your success with the right logo. Stand out from the crowd and leave a memorable impression, along with having a tangible representation of everything your business stands for.
Who knows, your logo could be the next Nike "Swoosh.

Wix Logo Maker Visit Site