In a Nutshell
As the name implies, Constant Contact is an online marketing agency that helps businesses stay in contact with leads and customers all the time. With powerful marketing tools including an AI text generator, a drag-and-drop editor, and segmented email campaigns, Constant Contact drives conversion rates for measurable results. There are plans suitable for large and small brands, making Constant Contact a staple for any email marketing campaign.
pros
Powerful AI and automation tools
Solid analytics built-in
Excellent email editor
cons
SEO tools are still growing
Expensive, if you have thousands of contacts

Constant Contact Visit Site
Constant Contact Marketing Tools at a Glance
Best for: SMBs, gig workers, freelancers
Key uses: Email marketing
Price: Starting from $12 per month
Free trial: 60-day free trial
SEO
While there's no doubt that Constant Contact is king of email, the ambitious marketing agency is slowly broadening its horizons in terms of additional marketing tools it can offer its customers.
For example, its Premium package currently offers a decent SEO toolkit that includes keyword implementation, tags, and other on-page elements to boost your search rankings. Constant Contact also lets you incorporate analytics to improve your marketing efforts and gain the approval of the ever-elusive search engine gods.
One tool that we really enjoyed using was the Google Ads feature. Working off artificial intelligence technology, Constant Contact's ads tool lets you set up parameters and leave the rest to the machines. The tool constantly optimizes your keyword usage and tweaks it according to performance-based data.
Email Marketing
Email marketing is where Constant Contact has put the lion's share of its marketing efforts. To begin with, Constant Contact has an efficient drag-and-drop editor that makes customizing your emails extremely fast and simple. We liked how quickly we were able to change up elements of the template design, like background images, text, and positioning.
What's more, Constant Contact has more than 100 ready-made email templates to choose from. So, you can always find a good starting point, even if you want to tweak the design elements later on. Constant Contact hires professional designers, and email templates are all mobile-responsive, so the choices are all attractive too.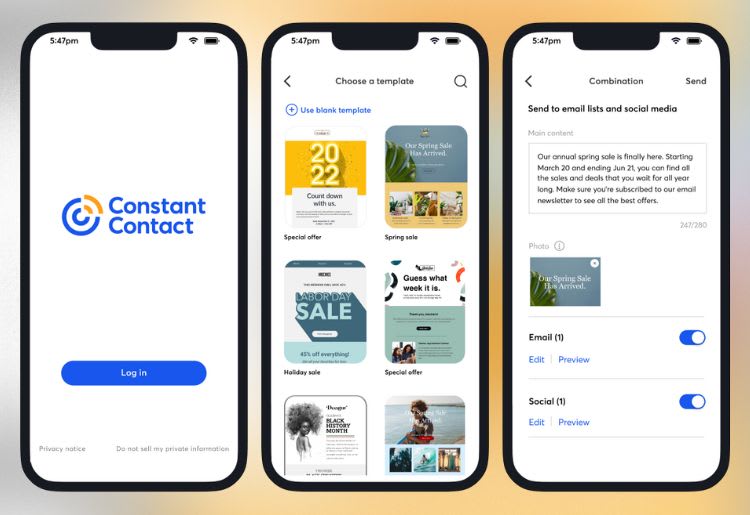 Next up is automation. Constant Contact covers the spectrum when it comes to email responses you can automate. Some of the popular ones include:
Welcome messages for new subscribers
Click-activated messages
Non-openers repeat sending
Follow-ups for abandoned carts
Constant Contact really does let you automate anything that you could email to your contacts. This is a big deal as it saves resources and countless hours spent tracking, drafting, and sending various emails. This way, your marketing team can create and send the appropriate message based on user interactions for optimized results.
You can also create segmented lists of contacts to streamline bulk messaging.
In addition, Constant Contact's new AI text generator is designed to help you create premium email marketing content with minimal effort. You can use it to create body content, subject lines, and more.
Finally, no marketing toolset would be complete without a matrix to help measure and analyze the efficacy of your efforts. Constant Contact covers that base, providing email tracking on several levels. You can get real-time input about your emails, including opening, clicking, and sharing rates. And what's really cool is that Constant Contact will let you create new segment lists based on the data from your analytics reports. So, it's a circuit loop that keeps getting more efficient as you go!
Social Media Marketing
Social media marketing is another really important aspect of any marketing campaign. Constant Contact includes social media profile integration, so you can automatically upload your social account contacts to your CRM.
There's also an in-app tool for Facebook and Instagram that allows you to post directly to your social media accounts. The AI text generator is also super useful for creating actionable social media posts.
You can turn these posts into emails with just a few clicks. Constant Contact has recently included more social media profile monitoring to help boost lead capture and retention. You can also create a My Google Business post directly from your Constant Contact account.
AI Features
Constant Contact offers a range of AI features and automations. I particularly like the AI text generation tool, which is designed to help you create high-quality content for your email, social media, and text message campaigns. Just enter a few keywords, and let the text generator create a selection of potential options. You can choose the one you like and use it as required.
What's more, you can use Constant Contact's AI tools to help you craft email subject lines and other actionable snippets. Using these can increase your email open rate and marketing engagement.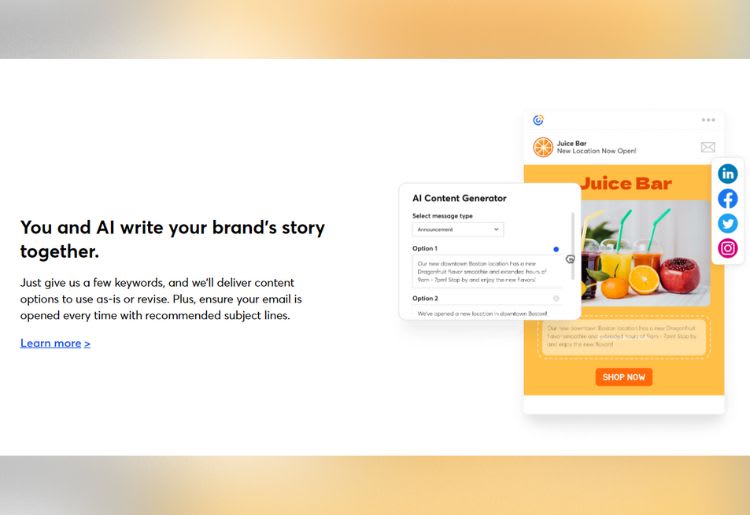 There are also various automations that you can use alongside Constant Contact's AI technology. For example, you can send automatic welcome emails, birthday messages, and more. You can also automatically resend emails to non-openers and create custom automation pathways to streamline your marketing workflows further.
All in all, I found Constant Contact's new AI features to be excellent. The text generator works well and delivers surprisingly good content, and it's very easy to use. It should save you a significant amount of time and help you create the best marketing content possible.
Website Design
Constant Contact also has a good website builder. The tool has the right mix of features, including customizable layouts and pages, mobile-responsive designs, fast load times, built-in SEO features, and an SSL certificate. There's also a logo maker, form builder, and the ability to connect both social media pages and online stores. We have to say, we were impressed with all of the website design options available from Constant Contact.
Digital Marketing
Constant Contact has recently expanded its marketing solutions to include even more than email marketing. Today, it has things like segmentation and automation that we already mentioned, and customization features to make your marketing campaigns more personalized. What's more, Constant Contact integrates with a lot of other business tools for a more holistic and comprehensive marketing strategy. Some big apps include Shopify and Eventbrite.
Lead Generation
Constant Contact lets you upload your contact lists from several sources, including Excel, Salesforce, and Outlook. Plus, as a bonus feature, Constant Contact will handle annoying things like unsubscribes, inactive email accounts, and bounce emails for you. This not only saves time, but it keeps you out of trouble from the search engines as well.
Pricing
Constant Contact has three plans ranging from $12 to $80 per month for up to 500 contacts. It uses tiered pricing, and you will have to pay more according to how large your contact list is. All three plans come with basic email marketing, AI, and other tools, and there's an impressive 60-day free trial.
Subject line customization
The Lite plan includes a suite of basic email, social, and event management tools, and it's best suited to small businesses with small contact lists. Upgrading to the Standard package adds more powerful tools like email subject line customization to help you personalize your marketing and build stronger relationships with your customers.
Finally, a Premium subscription adds Constant Contact's most powerful tools, such as custom automations, and other features like an SEO toolkit that can help you save a lot of time. There's also an SMS marketing add-on that starts at $10 per month.

Constant Contact Visit Site
Customer Service
Constant Contact has customer service options in spades. You can reach out to a rep via phone, email, or live chat support. But Constant Contact offers a lot more than the standard customer service options. You can watch professional video tutorials, hop on the community forum to ask questions and interact with other users, sign up for educational events, or schedule a one-on-one with a marketing expert. We like a company that puts a large emphasis on customer support because it means their focus is on the users.
Bottom Line
Constant Contact is a solid email marketing service with all of the features you need to set up and maintain an advanced email marketing campaign. With the addition of other marketing tools like AI text generation, SEO, social media postings, and analytics, Constant Contact is establishing itself as a viable option that can stand up to even some of the big-name competitors. We're looking forward to seeing more features and surprises coming out of Constant Contact's lineup in the future.