In a Nutshell
A game-changer for marketers with growing subscriber lists, Campaigner lets you send beautiful email campaigns that are optimized for conversion. Create emails quickly with 900+ templates and drag-and-drop editing, and personalize content according to audience demographics and purchasing behavior. Experiments—including A/B testing—help you optimize emails for conversion, while lead generation tools like sign-up forms increase subscriber numbers.
pros
Ability to automate email campaigns
Personalized emails based on purchasing behavior
Generous customer support package
cons
No SEO tools
Limited social networking tools

Campaigner Visit Site
Campaigner Marketing Tools at a Glance
Email Marketing
Campaigner is first and foremost an email marketing platform—one that allows you to design beautiful emails optimized for conversion. It has some of the most advanced features on the market—including powerful data tools to help you target customer groups and track engagement.
Campaigner includes some exciting email marketing features.
Drag-and-drop content blocks—including dynamic content

Audience segmentation

Experiments—including A/B testing

Automation and workflows
To design your emails, you use simple drag-and-drop content blocks, which you can save for future emails. You're also able to choose from 900+ customizable templates, so you don't have to design emails from scratch.
One of Campaigner's powerful features is audience segmentation, which splits up your subscriber list into various categories according to purchasing behavior, demographics, previous engagement, and more. You can send different campaigns to different segments, ensuring each one gets a targeted message and Call to Action (CTA).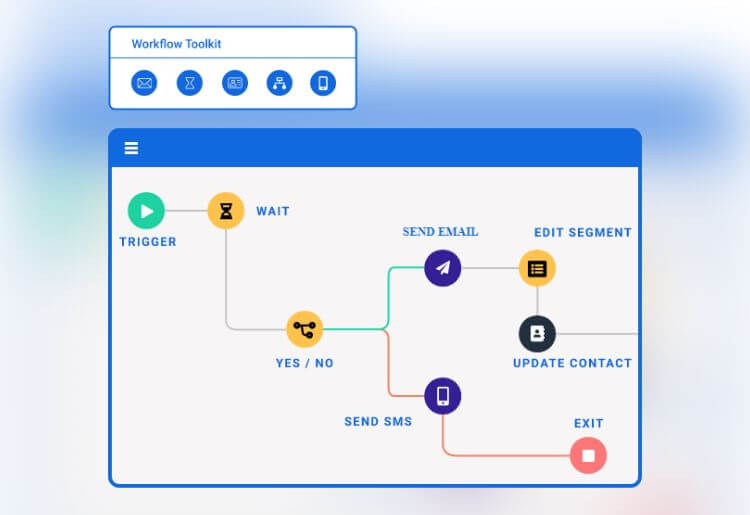 Experienced marketers can use Campaigner's Experiments feature, which helps optimize emails for conversion. A/B testing can be used to identify the subject line or send time that gets the highest open rate for a specific group.
Dynamic content is another impressive tool, as it enables specific blocks in an email to display different content according to recipient characteristics—including demographics and digital engagement. In the same newsletter campaign, a loyal customer could see a bespoke offer, while a newbie subscriber may get a more general message.
Finally, Campaigner's automation tools help save resources and increase customer loyalty by sending trigger-based emails. For example, you can create a workflow whereby a customer's first purchase triggers monthly emails containing promotional offers.
Social Media Marketing
Your ability to create, share, and track social posts from Campaigner is limited as the tool is made for email engagement. However, there are a couple of features that help you "recycle" your email campaigns on socials.
Firstly, Campaigner optimizes your email content for social networks—including Facebook and Twitter—and posts them directly to the desired platform. This allows you to market your brand beyond your email subscriber list.
Secondly, your brand advocates can share content from your email campaign via social sharing buttons within the email. You can then track the number of shares from your Campaigner dashboard to assess your reach across different platforms.
Digital Marketing
Campaigner's marketing capabilities are built with digital channels in mind. For example, its email campaigns contain responsive design, which means that content is automatically optimized on-screen for a user's device.
Do you have an online store? If so, integrate it with Campaigner as this will allow your email communications and your customer purchases to run hand-in-hand. Among other things, you can automate abandoned shopping cart emails to remind customers to finalize their purchases if they've left their carts for some time. Integrations with Shopify and Adobe Commerce are easy to set up, and you can also build custom integrations using developer tools.
Finally, you can use SMS marketing tools alongside email campaigns as part of an integrated workflow. Text messages can be sent to ask subscribers to confirm a purchase, review a product, or opt in to mailing lists.
Lead Generation
Though it's not its strongest point, Campaigner's lead generation tools help you expand your audience with engaged subscribers. For instance, landing pages provide people with a clear next step in their journey—like registering for an event or submitting product preferences.
You can also place sign-up forms on your website, which will feed all captured leads directly to your marketing list. Once they sign up, leads can manage their own subscriptions and select preferred communication types—keeping emails relevant and conversion rates up.
Campaigner's Pricing & Costs
Campaigner has three main plans for its email marketing suite.
Starter, from $59 per month

Essential, from $179 per month

Advanced, from $649 per month
The Starter plan is great for most businesses—provided you've got under 5,000 contacts. Basic tools are included, from drag-and-drop editing and saved templates, to experiments, social integrations, audience segmentation, and landing pages. It is—however—Campaigner-branded, so you will need to upgrade to Essential to add your own brand design.
Essential lets you integrate with an eCommerce platform and create more personalized emails using purchasing data. You can also add dynamic content blocks and engage with up to 25,000 contacts. Go for Essential if you've got an online store or a growing subscriber list.
Advanced might be for you if you want highly optimized conversion and can afford the steeper bill. It allows you to set up automated workflows, further personalize email campaigns based on purchasing behavior, and access Campaigner's API to integrate with other business apps. Engage with up to 100,000 contacts on the Advanced plan.
For SMS functionality, you'll pay a much higher monthly bill on the cheaper plans but won't feel the dent as much on the Advanced one.
In addition to the three main plans, Campaigner offers eCommerce plans starting from $79.95, which includes unlimited contacts. While these plans are more targeted toward businesses with online storefronts, they lack features such as automated workflows—and also have a monthly email quota.
Customer Service and Support
Campaigner's customer support is very generous compared to other providers. Firstly, its support team is on call 24/7 and you can call them toll-free in the US, Canada, and the UK. A general international phone number is available, which you may have to pay for. You can also contact Campaigner's customer support at two email addresses, for either billing or general support.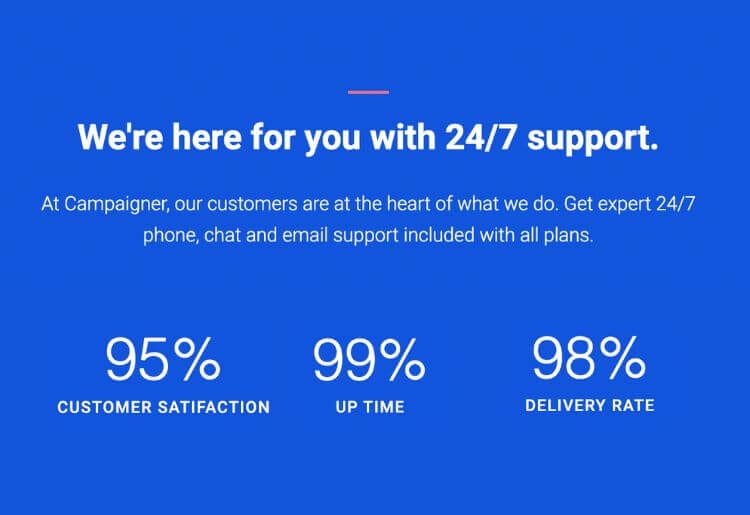 In addition, an extensive knowledge base covers various topics from planning email campaigns to tracking conversion. A rich collection of blogs and webinars detail how to use Campaigner tools, and marketing strategies more broadly.

Campaigner Visit Site
Bottom Line
Campaigner is a feature-rich platform built for email campaigns that convert audiences to loyal customers. With the Starter plan offering powerful tools including 900+ templates, audience segmentation, A/B testing, and social integrations, your main reason to upgrade is likely to get access to larger contact lists.
That said, the Essential and Advanced plans also provide opportunities to further personalize emails—by integrating with eCommerce platforms and using purchasing data to send dynamic content.
Though social media marketing and lead generation features don't shine as bright, you've got basic social posting functionality and can build landing pages and sign-up forms on your website. This allows you to grow your subscriber base beyond your current email list.
Finally, the customer support package is highly attractive. You can call toll-free in the US, Canada, and the UK, as well as email the support team 24/7.