In a Nutshell
After more than 10 years of successfully helping businesses create beautiful and professional website designs on their own, Wix has branched out to logos with its new Logo Maker. The next step in assisting small businesses to keep up with big-name competitors (that have a big name budget to work with), the Wix Logo Maker offers those with a limited budget and design prowess a chance to create attractive and professional logos in minutes.
pros
Fast, easy, cheap logo-design alternative
Features website design, shopping cart, mobile accessibility
cons
Editing options are limited
Need to make customer support more accessible

Wix Logo Maker Visit Site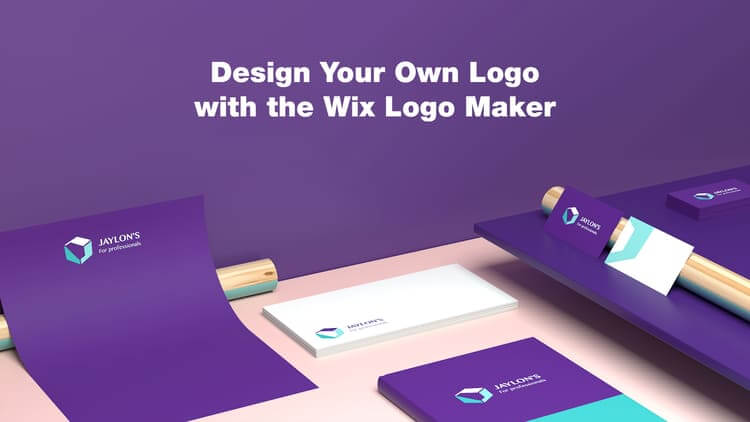 Best For
Startups that are short on cash
Businesses looking for professional logo designs that are inexpensive
Anyone who wants a fast turnaround
How Much Does Wix Logo Maker Cost?
The Wix Logo Maker is easily one of the least expensive options you can find to get yourself a fast and attractive business logo design. Of course, you can opt for the free Wix logo maker (not included in the chart below), but that only gives you a low-resolution JPG. If you're serious about your business, you are better off paying for the higher quality options. Of the paid options, there are 3 to choose from, as follows:
Basic Logo
Price:
Features:
High-resolution logo files
Full commercial usage rights
Professional Logo
Price:
Features:
Vector files
Social media kit
Brand guide
Print ready files
Professional Logo & Website
Price:
Features:
$168 promo code for your branded website
Free domain
*Prices last updated June 2020
As you can see, the cheapest package gives you your logo design for just $12.99. That's really cheap. If you're just looking for a basic logo design so that you can get your name out there quickly, this is the best option for you.
If you want to get a little more mileage from your logo design, then you should opt for the second package. For under $50, you'll get SVG files, a social media kit, brand guide, and print-ready files. This will make moving your logo over to other formats much easier.
Finally, the Wix Logo Maker offers the full package for just under $100. With this, you'll get everything including a free domain, website builder, and a promo code for your site. Depending on what you're looking for, this can be an inexpensive way to check off a lot of the important business elements on your list. If you are a new business for example and want to create a brand image, website, and logo, the $100 package can get your entire business up and running for laughably little.
Portfolio/Experience
The designers that put together the Wix Logo Maker are the same professionals who have been working for Wix for years. That gives them quite a bit of street cred and tons of experience under their belts. Bear in mind that you are getting a basic logo design, nothing with incredible detail or advanced design. Of course, a lot of the nicest logos you see out there are the epitome of "less is more." Whatever design elements you do get with the Wix Logo Maker are expertly done, crisp, and clean. You won't find any complaints about the design experience or expertise of these designers.
Contract Terms
One thing people like about the Wix Logo Maker is the flexibility and simplicity of it. There are no overbearing terms or contracts to feel weighed down by. You design your logo, decide how far you want to go with Wix, pay for the service, and that's it. There are relatively few obligations on the customers' side, making it easier to work with or walk away from if you decide to go that route.
There is no refund policy for the Wix Logo Maker. Any logos purchased are non-refundable, which makes sense considering these are digital goods and you're designing it all yourself. For Premium plans, Wix offers a 14-day refund. You can try out this service for 2 weeks, and if you're unhappy with it, you can cancel for a full refund.
Customer Service
Wix has both phone support and online ticket support options. With that said, you really have to jump through hoops to find customer support information (ticket or phone number). Once you reach them, however, support is helpful and friendly.
Wix has a tremendous help center with loads of questions and answers that can help you navigate the site and the process. It's particularly helpful in the way it is set up. There are questions about how to work the Wix Logo Maker tools at every step of the way. Wix also has a huge community of members to help you, and we found this extremely beneficial. There are also lots of social media channels you can reach Wix through.

Wix Logo Maker Visit Site
Design Process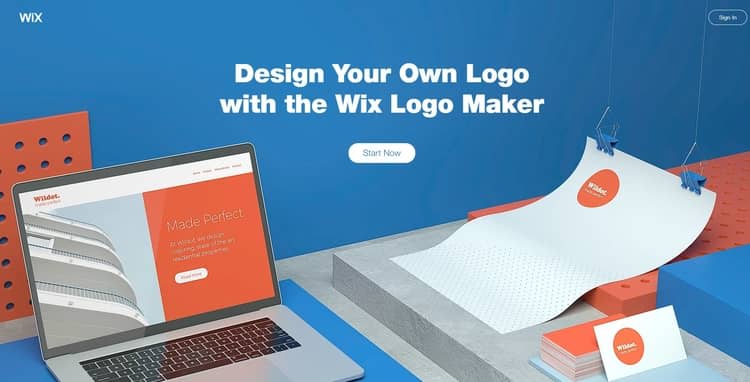 In terms of the speed of the design process, the Wix Logo Maker can't be beat. After all, you won't find faster than INSTANT anywhere else. Once you've gone through the few simple design steps and the basic customization process, you can have your logo immediately. From beginning to end, the process can take less than 15 minutes. That's lightning fast in the logo world.
Just like its website design, Wix makes the logo design functionality a snap for anyone to use. In fact, working with the Wix Logo Maker is as simple as 1-2-3. There are more than 500 professionally designed templates to choose from, or you can start with a blank canvas, whichever is better for you. Here's how the design process works. Start by answering these questions:
What's your company/brand name?
What industry is it for?
Click on the tags that best describe your brand image (fun, creative, timeless, etc.)
Like or dislike some sample designs
Then, the logo maker generates several logo designs for you to choose from. Pick the 1 you like best to start customizing. You can customize several elements, including:
The colors (Wix gives you several color palettes to choose from)
The name (change font, opacity, spacing, alignment, curve, and more)
Optional tagline
Icon (use the chosen image or select your own)
And shape (choose between circle or square)
So, the choices you're given aren't overwhelming. In fact, this is one area that Wix could improve upon. Knowing this company, though, we're pretty sure the Wix Logo Maker will have more options to use soon. On the other hand, while some companies will charge you per revision, you can play around with a Wix Logo Maker logo design as many times as you want without paying a thing. That's a big plus for finicky designers.
Bottom Line
The Wix Logo Maker is a great option for new businesses or older companies that are looking for a fast, cheap, and easy-to-use logo-making tool. You won't find loads of options and tons of advanced customization tools. But for the price, Wix Logo Maker can't be beat. You'll have your own professionally designed logo within minutes for less than a box of donuts. And most small businesses can't argue with fast, easy, and cheap.