The process involves selecting the right internet service provider (ISP), installing and configuring your router and/or modem, and connecting your devices. In this complete guide, we walk you through the entire process of setting up a WiFi network to power your home internet.
1. Select an Internet Service Provider (ISP)
Before you can think about setting up a wireless home network, you'll need to select the right internet service provider. If you already have an ISP subscription, you may be satisfied and want to stick with it. Alternatively, you may prefer to switch internet providers to get a better deal or higher-quality service.
There are numerous high-quality options worth considering, but first you should decide what type of internet service you want. Your options include the following:
Cable: Broadband internet service offered through local cable companies.
Fiber-optic: Broadband internet service delivered through cable companies and local ISPs.
DSL: A slower internet service delivered via phone lines.
Wireless/mobile: Internet service delivered via a mobile network.
Satellite: Usually slower and more expensive, but possibly the only option if you're in a remote location. Satellite is rapidly becoming a faster, more affordable option with the implementation of global initiatives like Elon Musk's Starlink.
Occasionally, a small local ISP will offer the best service. However, some larger companies, such as Xfinity Internet (cable, fiber-optic), Verizon 5g(fiber-optic), and Viasat (satellite) are definitely worth considering.
We recommend looking for an ISP that offers transparent pricing, generous download limits (ideally unlimited), and speeds high enough to do anything you want to.
2. Decide on a Subscription
Once you've settled on an ISP that suits your needs, it's time to select an internet subscription. Most providers offer several plans that vary across factors such as speed, data limits, and contract terms. Some come with complimentary or rented devices such as modems and routers, while others require that you purchase your own wireless device.
For example, Xfinity's internet service offers unlimited data across the board. Prices range from $29.99 to $299 per month, and the only differentiating feature is download speed. Satellite internet is usually more expensive. For example, Viasat's satellite solutions start from $69.99 per month, which only gets you 40GB of data at 12Mbps.
However, satellite internet services are rapidly improving, and you should be able to find a decent option. You can find out more about how to save money on your internet service by reading our 10 tips for lowering your internet bill.
3. Purchase a Modem
If your internet subscription includes a free modem or modem rental, you can ignore this step. Otherwise, you'll need to purchase a modem to convert data from its transmissible form to the information you see on your computer screen or smartphone.
However, there's little benefit to purchasing a modem unless you really know what you're doing. We suggest you save time and effort by simply accepting the modem recommended by your ISP. After all, it will probably recommend something that works well with its services.
4. Purchase a Router
Similarly, you may have to purchase a router. Again, ignore this step if you already have one. Your router basically converts the internet signal from your modem to a wireless WiFi signal, enabling you to connect your devices wirelessly.
Often, your modem will be WiFi-enabled, which means it includes built-in router functionality. If this is the case, you won't need a separate router for your wireless network to function. Purchasing a router may be a good idea, especially if you have a large home. Different routers have different ranges, and you may require something with an improved range to access the internet right through your home.
5. Install Your Modem
Installing your modem is probably the most time-consuming physical task you will have to perform, but it's reasonably straightforward. To connect your modem, the best thing to do is simply follow the instructions provided by your ISP. In some cases, you may need to get an internet technician to visit your property to install new wall ports.
One thing worth keeping in mind is that you should place your modem near your internet access port (cable outlet, phone outlet, etc.). Because of this, it's good to have access ports installed in a relatively central part of your house if possible. You will also need to plug your modem into a power source.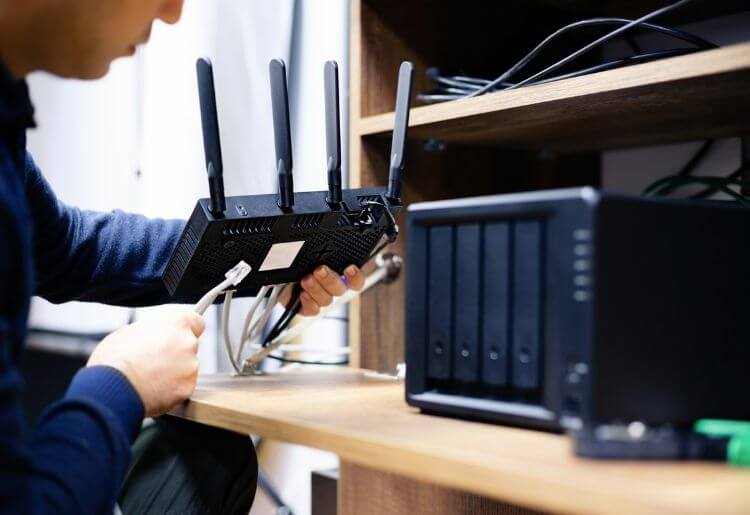 6. Install Your Router
If you have a WiFi-enabled modem, you can ignore this step. Connecting your router to your modem is a simple process, so don't let all the extra ports complicate things. Your router will come with clear, step-by-step instructions, and it shouldn't take you more than a few minutes to get it up and running.
Like your modem, your router requires a power source before it can deliver a wireless connection. You can also use your router for wired connections by plugging an ethernet cable into the ethernet port on your computer. There's often more than one ethernet port on your router, which is handy for connecting to multiple devices.
If you're particularly security-conscious, add an extra layer of security by installing a virtual private network (VPN) on your router. This will mask your internet protocol (IP) address and location, adding an element of privacy to your browsing. Find out more about the 5 best VPNs for routers.
7. Change Your Default Admin Password
There are a couple of reasons why you should immediately change your WiFi admin password. For one, there's always a risk that your new router has been compromised or hacked and that someone else already has the password—though admittedly, the risk is low.
Many routers also have known vulnerabilities that can enable hackers to break into them. By changing your password immediately, you will make it more difficult for malicious third parties to compromise your connection.
We recommend you change your network password at least once every few months to maintain network security. The exact method of doing this will vary according to your device, but you can usually access your router settings via a web browser.
8. Change the Network Name (SSID)
Once you've gained access to your router settings and changed your password, we suggest you change the network name (SSID), too. For starters, default router IDs can typically be used to identify routers, making it much easier for hackers to gain access. Immediately changing the SSID will make this process difficult and time-consuming.
A custom SSID will also make it simpler to connect to your network. You will be able to identify which is your connection almost immediately. As with your network password, update the network name at least every few months to keep your home network safe and connected to the internet.
9. Connect Devices Wirelessly
Wireless devices have become increasingly popular around the world, and are no longer limited to smartphones and computers. A vast array of devices, including smart home automation tools, smartwatches, and more, can be connected to WiFi via your wireless router. According to a recent study, the number of connected devices worldwide was 22.2 billion in 2021, which is almost triple the 8.36 billion seen in 2016.
To connect your devices wirelessly, go to your device's connection settings, select your new network name, and enter your new password.
10. Connect Devices With a Wired Connection
WiFi is great, but a wired connection can usually deliver higher speeds with improved stability and security. It's really easy to connect devices such as computers and laptops with a wired connection. Actually, connecting anything with an ethernet port is as simple as linking the device and your router or modem with an ethernet cable.
With good cable management, you can avoid the mess and frustration of having wires and cables snaking all over the place. There are plenty of inexpensive solutions to help you stay neat and tidy, such as ties, raceways, and fasteners.
Conclusion
Once you've learned how to set up the internet at home, you will laugh at how easy the process is. Selecting an ISP and internet package may take a little research time, but installing and connecting your modem and/or router shouldn't take more than an hour or so.
By following the 10 steps outlined in this guide, you should be able to get your WiFi service set up with a minimum of fuss. Good luck, and enjoy your new internet connection.