When you go online, hackers, cyber-thieves, or the perennially curious can easily gather your IP (Internet Provider) address and use it to see what sites you visit online and even to steal your private details. If you'd like to protect your privacy, the best and easiest way is to use a VPN, or Virtual Private Network. A VPN hides your internet activity in a 'tunnel' and encrypts the signals that your computer sends to the server.
You can set up a VPN on your computer easily, but you'll need to set up another one on your smartphone. And what about your smart home thermostat or wireless security system? With the advance of the Internet of Things, we have more home appliances that connect to the internet, each of them potentially hackable. The best way to secure all of your wireless-enabled devices is to install a VPN on your router. By protecting your router with a VPN, you can include every smart appliance and WiFi device within the same envelope of security by installing and configuring just one VPN.
The 5 Best VPNs for Routers
ExpressVPN is one of the most popular choices for VPN for router. You can buy a pre-configured router through ExpressVPN to save time, or follow the very clear instructions that ExpressVPN provides for every type of router. ExpressVPN has strong 256-bit encryption which is compatible with Linux for your router as well as the standard Windows, Mac, iOS, and Android options. A kill switch, iPv6 and DNS leak protection, and a zero log policy add to the strength of ExpressVPN while over 1,700 servers across 90+ countries, unlimited bandwidth, and P2P file sharing and torrenting ensure that you'll always be able to access fast internet that answers your every surfing need. Just in case you're not satisfied, there's a guaranteed hassle-free 30-day money-back guarantee.
Recommended routers:
Linksy's WRT3200ACM: The most powerful router to use with Express VPN and best for larger homes. Features speeds of 50Mbps and accommodates 8 connected devices. Price: $220
Linksy's WRT1900ACS: Suitable for moderately sized homes. Reaches speeds of 40Mbps and can accommodate 7 connected devices. Price: $170


ExpressVPN Buy Now
Setting up NordVPN for router is easy, especially since you can buy a VPN-enabled router at a discount through NordVPN and FlashRouters. NordVPN has the most servers worldwide of any VPN provider, with over 4,400 in 60+ countries. Although having VPN on your router can sometimes slow down your internet, this doesn't happen with NordVPN, thanks to the 6 specialized servers that are optimized for P2P file sharing, torrenting, and gaming. NordVPN offers serious protection for all of your devices with double encryption, zero logs, and a kill switch. You can use one NordVPN subscription to connect up to 6 devices, so you can protect your smartphone, tablet, and laptop when you're out and about, as well as your router.
Recommended routers:
NordVPN Asus RT-AC5300 DD-WRT FlashRouter: Made specifically for NordVPN, this router is best for large homes and can accommodate 10 devices. Features a Broadcom 1.4 GHz dual core processor and works straight out of the box. Price: $474.99
NordVPN Netgear R6400 AC1750 DD-WRT FlashRouter: Another NordVPN client router, this is a 3-antenna router that's ideal for small-to medium-sized homes. Use it with up to 5 devices. Price: $199.99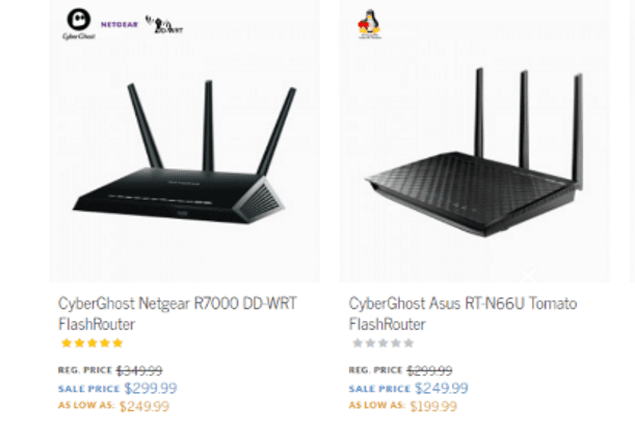 NordVPN Buy Now
CyberGhost delivers a fast VPN for your router that won't slow down your surfing and browsing while still keeping all of your home devices protected. CyberGhost stands out for offering the best free VPN for router. You'll get access to around 30 servers with the free version, and although it's limited to one device only, lower speeds, and just 3 hours use at a time, it's still a great deal for $0. The paid version brings higher speeds and over 1,800 servers in addition to consistently reliable unblocking of geo-restrictions and military-grade encryption. Setup is easy when you buy a dedicated DD-WRT or Tomato router from FlashRouter that is pre-configured for CyberGhost VPN for router.
Recommended routers:
CyberGhost Netgear R7000 DD-WRT FlashRouter: Speedy router for medium-sized homes. Accommodates an impressive 8-12 devices and is ideal for streaming. Price: $274.99

CyberGhost Buy Now
ZenMate's VPN offers sturdy protection through your router and for other devices too when you're out of the house. You can use it on up to 5 devices with one subscription and test drive it with a 7-day free trial. ZenMate protects your router with zero logs and high-level encryption while enabling torrenting, P2P file sharing, and fast gaming and browsing on every device. ZenMate has servers in over 30 countries to help you unblock content through your router.
Recommended routers:
Netgear R6250 AC1600 DD-WRT FlashRouter: For use in apartments and small homes with up to 6 devices, the Netgear R6250 features an affordable price tag and though it's not preconfigured for ZenMate, it features a built-in router app that allows for a quick setup and connection to most VPNs. Price: $149.99

ZenMate Buy Now
With PureVPN you can connect securely to the internet through your router and protect up to 4 other devices on the same subscription, which is ideal if you'll be traveling. PureVPN is compatible with a wide range of routers, and they offer 24/7 support to help you configure your device. To make it easier, you can buy a PureVPN pre-configured router through FlashRouters. PureVPN fields over 500 servers across more than 140 countries to deliver fast internet that isn't slowed down by the high level of encryption. You can try PureVPN for free without obligation under the 15-day money-back guarantee.
Recommended routers:
PureVPN Linksy's WRT1900ACS/AC v2 DD-WRT FlashRouter: Pre-configured for PureVPN. Use for medium-to-large homes with up to 9 devices. Features plug-and-play technology that lets you use it right out of the box. Price: $224.99
PureVPN Netgear R7000 DD-WRT FlashRouter: Pre-configured for PureVPN with easy plug-and-play setup. Best for moderate-sized homes. Accommodates up to 12 devices and features high dual-band wireless speeds thanks to 8 internal antennas. Price: 274.99

PureVPN Buy Now
How Do I Setup a VPN for My Router?
Setting up your VPN for router might seem daunting, but we can help you through it step-by-step.
Buy the right router which can serve as a VPN client – Asus, Linksys, and Netgear all sell routers which can serve as VPN clients
Buy a VPN for router subscription from one of the 5 VPNs recommended below and download the software, firmware, or copy the command string
Put your router together according to the instructions
Follow the instructions given by your VPN provider to configure your router
Enter your VPN username and password
Connect to the internet through your VPN router
What is a WRT Router?
WRT stands for Wireless RouTer, but you'll usually find it talked about as DD-WRT. DD-WRT is a type of Linux-based firmware for routers that effectively reconfigures them. When you buy your router, it comes configured to be easy to use by the average customer, but that also restricts the ways you can use the router—including stopping you from turning it into a VPN router. DD-WRT lifts those restrictions, so you can use a DD-WRT router as a VPN router.
What is a VPN Firewall Router?
A VPN firewall router simply combines the benefits of a VPN, which encrypts your internet traffic, and a firewall, which protects your network from viruses, hackers, and other attacks on your router. A VPN firewall router is the best way to protect your privacy from every danger using both encryption and firewalls to keep out the risks of the internet.
Find the Best VPN for Your Router
Installing a VPN on your router is a one-stop way to make sure that every single smart item in your home is protected from hackers and cyber-snoopers. Choose any one of the 5 best router VPNs that we recommended here to keep your home fully secure, no matter which device you use.