In a Nutshell
NordVPN is a Panama-based VPN known for its advanced security, internet freedom and complete privacy. NordVPN is a premium service that ships with a ton of superior features. The VPN works excellently with Netflix US as well as other major streaming outlets—a big plus. The company's entire server infrastructure now runs on diskless RAM servers eliminating local data storage—a major pro for privacy fans.
pros
Complete no-logs policy
24/7 customer support
Fully diskless infrastructure
cons
1-month plan is pricey
No phone support

NordVPN Visit Site
Nordvpn Is a Premium Service That Ships With a Ton of Superior Features


Quick Stats
Allowed concurrent connections
Supported streaming services
Netflix, BBC iPlayer, Hulu, HBP, Amazon Prime, and more
AES-256-GCM with a 4096-bit DH key
Double VPN, Onion over VPN, Obfuscation tech, Kill Switch, Smartplay tech, CyberSec, DNS Leak Resolver
Windows, Linux, Mac, iOS, iPhone, iPad, iPod, Android, Apple TV, Routers, Fire TV, Smart TV, Gaming consoles
It took us days to compile this NordVPN review, and we continue to update it as the service keeps making changes each waking dawn. In this review, we tried to look at all the features that come with the VPN, highlight the areas we feel can be improved, while pinpointing why NordVPN is worth a try.
How Much Does NordVPN Cost?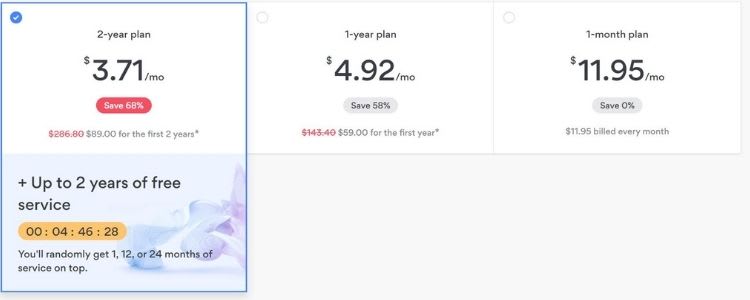 NordVPN has 3 plans to choose from. Just like all top-rated VPNs, its plans offer the same features but differ in the period of subscription.
We reviewed all the price plans, and here's what they entail:
There's the monthly plan, which is the most expensive, and it goes for $11.95 per month.
Coming close is the annual plan that retails at $4.92 a month,or $59.00 for the first year.
With the latest cyber deal in effect, the 2-year plan sells at $3.71 every month or $89.00 for the first 2 years. With this deal, you can also get up to 2 years of free service. We highly recommend this plan.
The better news is that all plans are backed by a 30 day money back guarantee.
Payment Methods

With most top VPNs currently having limited payment methods, NordVPN takes the lead with its a variety of options. NordVPN accepts all payment options including all major credit cards, AliPay, UnionPay, Crypto Currencies and many more. Notably, the VPN no longer accepts PayPal as a payment, and after consulting with their superb technical support, here's what Deacon [the agent at the time] had to say:
Unfortunately, we no longer accept PayPal payments. The decision to discontinue PayPal support was made to have complete control over our customer purchase experience and mitigate security risk. Now we will be able to provide a unified, self-hosted payment system, manage all customer data and recurring subscriptions by ourselves, instead of driving them to the third party. We are sorry if this has caused you any inconvenience.
Noteworthy, we were overly impressed with their cryptocurrency payment option. You can pay for your plan using the various crypto-currencies while maintaining your online privacy – no need to enter your information.
30-Day money back guarantee
NordVPN's 30-day money back guarantee is without a doubt a significant selling point. This means that you have a whole 30 days to test the VPN, and if within that period you experience an issue that cannot be solved, then you can always ask for a refund. Thanks to this money back guarantee, you can benefit from the VPN's trial without risking a penny.
Note: After a lengthy discussion with NordVPN's payment support agent, we learned that the 30-day refund policy doesn't apply if you purchase the VPN's plan via the App Store or Google Play Store. That means that you'll have to ask for a refund from the stores manually.
Servers

NordVPN boasts of an extensive network of servers and locations – the most by any top VPN in the industry. The team now uses Ansible and SaltStack to automate the provisioning of new servers — meaning that happy users can expect to be even happier in the future as more endpoints are brought online. Additionally, NordLynx, which was first introduced to the VPN's Linux app, is being rolled out on all platforms. This connection protocol is both ultra secure and provides extremely privacy to users.
All considered, the VPN now has over 5500 servers well distributed across 59+ countries around the world. The server network is now fully diskless. This means that even the operating system is loaded from another server. So in the event that a server were hacked, hackers would find nothing there on the software level.
Furthermore, we've compiled a list of Nord's server distribution:
114 servers in Africa, the Middle East and India
705 servers in Asia Pacific region
A record 2369 servers in both North and South America continents
And a whopping 2571 servers in the whole of Europe.
Notably, all NordVPN servers support both shared and static IP addresses. Moreover, while in the past NordVPN had failed to identify the specific server regions, they now indicate regions where the servers are located.
Special Servers
NordVPN has an impressive feature that offers various dedicated servers depending on the task you want to achieve. Here are the special servers:
Anti DDoS: These servers have an improved stability system that offers uninterrupted connection
Dedicated IP servers: These servers are only available to users on dedicated IP addresses
Double VPN servers: These servers provide double encryption. Meaning your online traffic is passed through two servers – therefore double security.
P2P servers: These servers are optimized for torrenting and secured file-sharing.
Onion over VPN: These type of servers first re-route your traffic through the VPN before passing it to the Tor network – ensuring an added anonymity.
Obfuscated servers: These are servers dedicated to users in highly censored countries. The servers work by disguising the VPN traffic to appear as regular HTTPS traffic to avoid restrictions.
Features
The team behind Nord VPN is a restless bunch! In the last 6 months alone the team has rolled out 22 new initiatives, from kill switches through to whitelists which are together designed to improve the user experience (UX) and bring hotly demanded features to users' computers. These include:
SmartPlay Technology
SmartPlay is a special Smart DNS for NordVPN that is often automatically turned on when you run a client app – allowing you access to blocked websites and censored content. The VPN's SmartPlay tech allows you to blend the numerous advantages of a VPN, super-fast speeds and impressive stability of a Smart DNS. Not to mention, the feature is easy to use. Moreover, the fact that the functionality is initially integrated at the base of the VPN server means that you won't need to update or activate manually.
DoubleVPN
Double VPN is a unique security feature by NordVPN that guarantees a double layer of security. Normally, whenever you connect to a VPN, your traffic is rerouted to a VPN server for encryption before it's exciting to the internet. However, with double VPN, your traffic is first tunnelled to a first VPN server, then it's rerouted to a second VPN server before arriving its final destination. The feature ensures double encryption.
However, you should know that with double VPN, comes reduced speeds. Moreover, this feature is not available on all NordVPN servers, but it's available on a limited list of double-hop combinations such as Canada-US, Netherlands-Russia, Sweden-Netherlands, France-UK, Netherlands-UK, and Hong Kong-Taiwan. Notably, the feature comes in handy for users in densely censored countries and areas where strict cyber-regulations apply.
CyberSec
CyberSec is a NordVPN feature that automatically blocks suspicious sites to ensure your connection is not vulnerable to cyber-attacks. The feature also protects you from falling for DDoS attacks by keeping you off botnet control. Additionally, CyberSec acts as an Ad-blocker by preventing unwanted pop-ups, auto-play content and other annoying adverts on various websites.
Kill Switch
NordVPN also has a Kill Switch that is available in its client apps. The feature works by disconnecting your device from the internet whenever your VPN connection drops. A Kill Switch comes in handy when you want to leave your device unattended, and you don't want to risk getting exposed. Moreover, the feature will also benefit you when toggling between VPN servers.
While the Kill Switch feature is common among VPNs, NordVPN has taken it a notch higher. The VPN allows you to kill the internet for particular apps and servers on your device.
DNS Leak Resolver
A DNS leak could be fatal if you're after total online privacy while connected to a VPN. If a leak were to happen, it means that your DNS will send unencrypted data to your ISP, or any other prying eyes – rendering you vulnerable. To go around the issue, NordVPN has a special DNS Leak Resolver functionality that is integrated into its client apps. The feature guarantees that no accidental data is leaked through your DNS. And while users might have a complaint of the infectiveness of the feature, NordVPN seemed to have resolved the issue, considering we got zero DNS leaks in our test.
Onion over VPN
Onion over VPN is a feature which allows you to connect to Tor – an Onion Router – via a NordVPN server. The feature enables you to connect to the Tor network without necessarily having to download the Onion Browser. Therefore to access the Onion Browser. First, you need to connect to a Tor server within the NordVPN network.
However, keep in mind that this feature reduces the connection speeds. Therefore, Onion over VPN is only useful if you want to access blocked websites and censored content.
Pause Mode
Connections to servers can now be put on pause for periods of 5 minutes, 30 minutes, or 1 hour. After the snooze timeout has completed, users can select to automatically connect to the fastest server in their area.
Direct Connectivity
One of the 22 feature upgrades which the team recently integrated into the solution is a direct connectivity functionality which allows users to more quickly navigate between servers. Now, there is no need for users to disconnect from one server before patching onto the next one.
Nord VPN Teams
Last year, Nord shifted past the private VPN space by launching 3 products: Nord VPN teams, NordPass (password management) and Nord Locker (secure private cloud). Nord VPN Teams is a product intended for business teams that want aggregated management of their VPN connection accounts.
Nord VPN teams features:
Centralized billing
Dedicated account managers
A centralized control panel
Privacy and Security
Security
NordVPN is among the VPNs that use what is considered the best security infrastructure for a VPN of its capacity. The VPN uses the trendy DHE-RSA AES-256 SHA encryption combination on its OpenVPN protocol. This implies that NordVPN employs the RSA-2048 encryption and HMAC SHA2-384 authentication protocol to guarantee integrity. Additionally, the VPN uses the famous 3072-bit Diffie Hellman key exchange (DHE) – perfect for Perfect Forward Secrecy.
To enhance your security, NordVPN offers limited double-hop tech, which allows for double-encryption of your data.
Privacy
NordVPN has legal jurisdiction in Panama –a location best suited for a VPN. Moreover, the Panama government is always advocating for cybersecurity and online freedom. This means that the Panama authorities are against collecting users' data – therefore very supportive of VPNs. The country is also outside the reach of the NSA, GCHQ and other global agency surveillance.
Additionally, the VPN was recently certified as an official no logs provider following an audit by PWC Switzerland. This rubber stamp means that users can now be fully confident that the VPN is not capturing their data or making it accessible for other parties.
The company is also well-known for having a strong focus on social responsibility. This year, it decided to remain operational in Hong Kong even when many other VPN companies had pulled out as a result of the government protests.
Performance and speeds
We were impressed with the performance levels NordVPN. Apart from minor glitches with the Windows client at startup, we didn't experience noteworthy issues.
Speedtest
Compared to other top VPNs, NordVPN speeds come short – but with good reason. The reduced speeds are often attributed to the impressive layers of security offered by the VPN. Nonetheless, we had to perform several speedtests to learn precisely how the speeds vary on various servers. To provide us with a reference point, our first speedtest was done without a VPN connection. Here's a screenshot of the results we got:

Now we are connected to a server that wasn't too far from our actual location, and the snapshot below shows the results we recorded:

Next, we connected using the double-hop feature. And while we anticipated reduced speeds, the results proved to be better:

Finally, we connected to Tor over VPN servers, which we anticipated to offer the slowest speeds – however, the speeds we recorded were quite impressive:

Keeping in mind that we always take our results with a grain of salt, it's not time to write off NordVPN. Overly, the VPN still offers unlimited bandwidth. Therefore, speed throttles are not a subject attributed to this VPN. However, NordVPN doesn't offer split tunnelling that can allow you to use the VPN with other security tools.
Ease of Use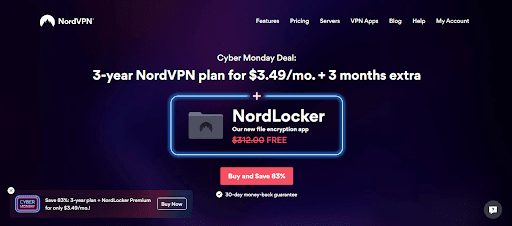 NordVPN's website is dynamic, and they keep adding new content on the site. A quick look at the site and you'll experience the premium feel that comes with it. The website is always advertising what is probably their best subscription package of the day – and it's always on a time-counter. To get started, you need to access the 'My Account' page on the top menu. The whole process of registering and purchasing a plan takes less than five minutes.
NordVPN Client Apps
Desktop client
NordVPN's desktop client offers a simple and straightforward user experience. Moreover, bearing in mind the massive ton of the features provided by the client app, this is highly impressive.
Clicking the 'Quick connect' button, automatically connects you to the best server depending on your actual location. It should take between 15 to 20 seconds to connect to a server.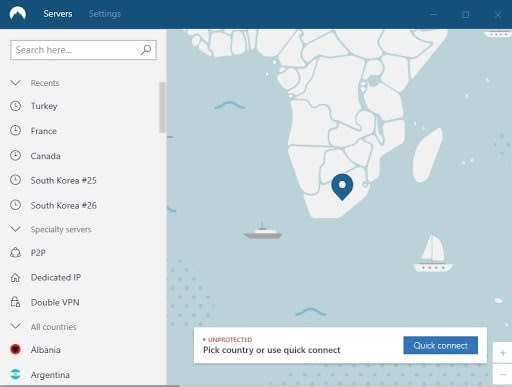 If you don't prefer the Quick connect option, then you can always opt to connect manually. To achieve that, click on the Servers page and scroll down to view the complete list of server locations available.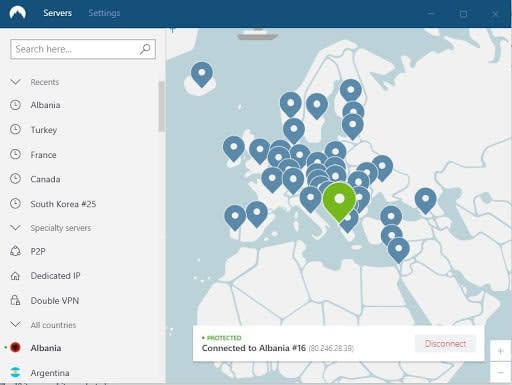 You can also access the settings page where you can play around with the available features to suit your connection. The desktop version offers you various customization options depending on what you're looking for.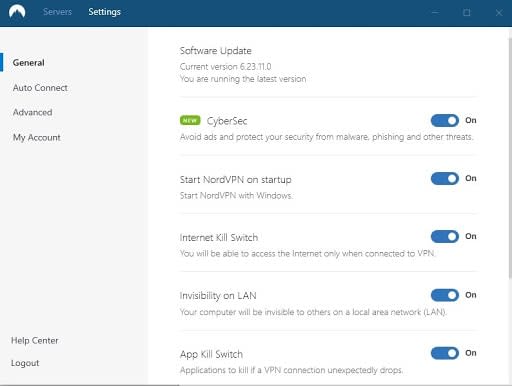 Mobile client
The mobile client has a similar design and overly the same features as its desktop counterparts. Working around it is straightforward as the desktop client apps.

Compatibility
Compatibility with various platforms
NordVPN ranks among the best VPNs when it comes to its compatibility with various platforms and devices. Among some of the common platforms supported include Windows, Android, macOS, iOS, Linux, ChromeOS, DD-WRT and more. Compatible browser extensions include Chrome and FireFox. NordVPN also supports devices such as Raspberry Pi, Gaming consoles, Smart TVs, Apple devices, Routers and more.
To help you connect as many devices as possible under your account, NordVPN now allows for up to 6 concurrent connections.
NordVPN compatibility in China
China is without a doubt a tough country to use a VPN – and that's true because most VPNs don't work in the country. China has a legendary 'Great Firewall' which blocks any OpenVPN traffic – rendering most VPNs useless.
Nonetheless, NordVPN has somehow found a way of going around the great firewall. The VPN recently introduced obfuscated servers for the Windows client. The obfuscated servers have an integrated stealth mode tech coupled with an obfuscation tech, which works by masking its OpenVPN traffic to appear as the normal HTTPS traffic – thus, overcoming firewalls.
Netflix US
We were very pleased to learn that NordVPN unblocked Netflix US without outstanding issues. You can use the VPN to access the broad library of content offered by the US Netflix that is otherwise not available on Netflix library for the rest of the world. What's more, the content is also available in Ultra-HD quality. Impressive, right?
BBC iPlayer, Hulu and many more
Equally, NordVPN uses its SmartPlay DNS feature to stream BBC iPlayer, Hulu, HBO and other major streaming services. However, bear in mind that you may need to contact the VPN's customer service to find out the best streaming servers to access content on these outlets.
Customer Support
NordVPN has a superb 24/7 customer support system. In particular, were impressed with their 24/7 live chat support which has an actual human being on the other end. In our review, we chatted with an agent who was quick, polite and gave us a detailed answer to all the questions we threw at him.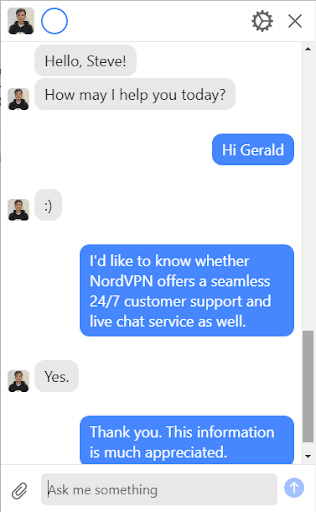 If you don't want to use the live chat tool, you can always try their ticketing system. Even better, you can sort to use the VPN's categorized guides depending on what issue you need assistance in. Some of their main support categories include billing, connectivity, general info or getting started. There's also an FAQ section, troubleshooting guides and a search panel where you can search for virtually anything about the VPN.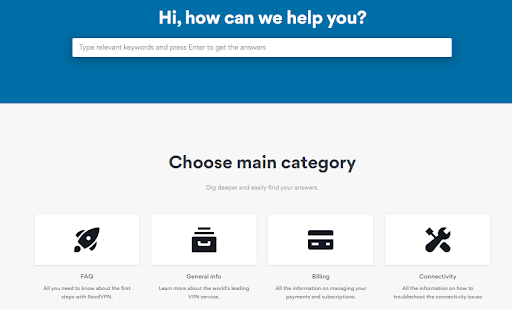 Bottom line
What NordVPN offers is a feature-packed, premium service that is mainly designed for an ultimate online experience while keeping you private and secure. The VPN lives up to the hype by its excellent combination of features and functionalities. NordVPN is based in Panama, which is a big plus for its quest to keep zero logs. Moreover, the VPN is also stable, reliable and works well with Netflix US as well as other major streaming outlets.
All these are great features that are enough to allow you to experience the full potential of the internet. What's more, NordVPN has the cheapest subscription plans in the VPN industry, coupled with an impressive 30-day money back guarantee.