In a Nutshell
Verizon 5G Home Internet is a 5G internet plan available in 22 states with great speeds and competitive pricing. A fairly no-frills solution, Verizon 5G makes the most sense for people who already have a Verizon 5G mobile plan, as there are great discounts to be had. Speeds do vary greatly by location, so check to see what you'll be getting before you dive in with both feet.
pros
Great price if you already have a Verizon mobile plan
Extra-simple installation
Good performance in most covered areas
cons
Good speeds require proximity to a 5G transmitter
Best prices require a bundled 5G mobile plan

Verizon 5G Home Internet Visit Site
Verizon 5G Home Internet at a Glance
Best for: Verizon 5G mobile subscribers
Starting Price: $25/month
Connection Type: 5G
Download Speeds: Up to 980 Mbps
Coverage: 22 states
Money-Back Guarantee: 30-day
What Services and Features Does Verizon 5G Home Internet Offer?
Verizon 5G Home Internet is an internet service for the home that's delivered through the air over 5G. Unlike cable, DSL, and Fiber internet, there's no need for a professional to come around and wire in the system. Your internet service is delivered through radio towers, the same way mobile phones work.
Verizon 5G Home Internet is available in around 22 states, mostly in major cities. The service has no data caps, meaning your internet usage is unlimited. There's also no annual contract to worry about; you just need to make your payments each month.
Aside from its convenient wireless nature, Verizon 5G Home Internet is quite a simple home internet product without too many bells and whistles. We like this, as its competitors often bundle in extras you won't use in a bid to bump up your monthly rates. Here, the focus is on fast, inexpensive internet that's easy to install and use.
Prices, Plans, and Value for Money
Verizon has two 5G plans: 5G Home and 5G Home Plus. These are largely the same, but the 5G Home Plus plan has a three-year price guarantee compared to 5G Home, which only has a two-year price guarantee. 5G Home Plus also includes Verizon Cloud Unlimited, a cloud backup service that normally costs $19.99/month. And, at the time of writing, the Home Plus plan also throws in a SimpliSafe Smart Home security system as a special offer.
Pricing starts at $25/month—if you have a 5G mobile plan from Verizon. Otherwise, you'll pay $50/month for 5G Home or $70/month for 5G Home Plus. Add an extra $10/month for each if you don't enroll in the Auto Pay system.
Overall, this is quite competitive pricing even if you don't have a Verizon 5G mobile plan, but the plans really excel with the discounted rates for Verizon 5G mobile users. It's also worth noting there's no annual contract, installation fees, or equipment fees at all to worry about. If you no longer want the service, you can just return your router to Verizon.
Ease of Use, Hardware, and Setup
Setting up Verizon 5G internet is simpler than fiber internet, as your internet connection is delivered through radio waves. In most areas, you'll be sent a Wi-Fi router to install yourself. All you need to do is plug it in and set your devices to use the right Wi-Fi password. Professional installation is available in some regions, too, and this is free of charge.
Verizon offers a free app for mobile devices, too. It's mostly meant for managing your billing, but you can also use it to chat to tech support or set up a support callback.
Verizon 5G Home Internet Security
Verizon doesn't bundle any internet security software with its 5G Home Internet products, so you're largely on your own to source antivirus and anti-malware products that suit you. The router does include some features you can adjust to secure your internet as you see fit, such as a firewall and port forwarding, but it's all quite basic.
The 5G Home Plus plan doesn't have internet security either, but it does include a different type of home security product—an 8-piece security bundle from SimpliSafe that comprises a security camera, keypad, base station, and entry sensors. This includes professional monitoring of your system for free for the first month, and $27.99/month thereafter.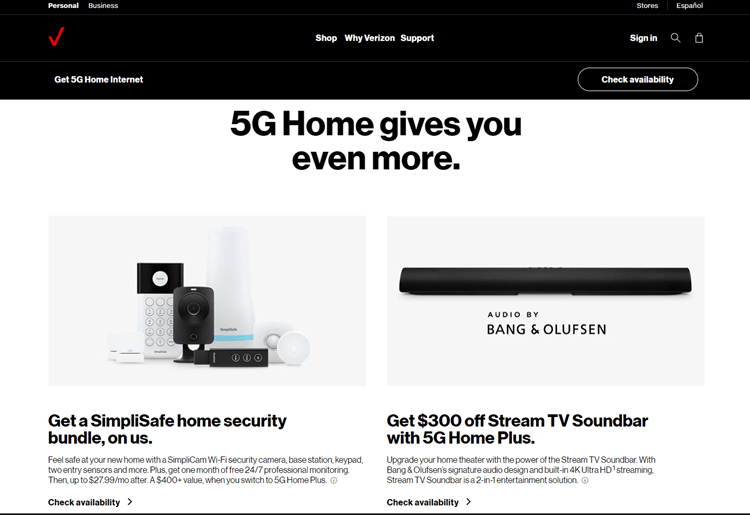 Verizon 5G Home Internet Performance
While Verizon states a maximum potential speed of 980 Mbps for its 5G Home Internet product, this relies on you having an optimal setup, like living next door to one of their wireless 5G transmitters. When you first sign up for Verizon 5G Home Internet, it will give you an estimate of what speed to expect based on your address.
In our testing, the Verizon website said to expect speeds between 85 and 300 Mbps. That's quite a wide estimate, but in the end, our speeds were consistently over 200 Mbps, which is almost two times faster than the average internet speed in the U.S.
Variable performance will always be one of the issues with 5G internet. A fiber connection, if it's available in your area, is more likely to give you a consistent, fast internet connection. On the other hand, 5G doesn't require a physical cable connection to be installed in your home.
Verizon 5G Home Internet Customer Service
Your first step for finding help is the Verizon support website for 5G home internet. It includes details on some basic troubleshooting steps, such as how to restart your router and how to set up voice commands for Amazon Alexa that work with your Verizon router.
You can also connect with the company via Facebook messenger, chat through the Live Chat system, or call tech support 24/7 from your mobile. On top of this, there's a helpful community website with thousands of users ready to assist you with your queries.
Verizon 5G Home Internet FAQs
Will 5G be good for home internet?
5G is a pretty good option for internet, especially if you can't get a fiber connection. It's very easy to install, competitively priced, and can offer excellent speeds. It's not available in every area, though, and performance depends on how far you are from the nearest 5G transmitter.
How much is Verizon 5G internet per month?
Verizon 5G internet starts at $25/month for users with a Verizon 5G mobile plan who elect to make their monthly payments automatically. For those who don't have a Verizon 5G mobile plan, it starts at $60/month.
Does Verizon 5G Home Internet throttle?
Verizon states that its 5G home internet product is not throttled, so you can use it as much as you want without speeds dropping. This comes with the usual caveat of fair use, where Verizon has the right to throttle your connection if you are using it excessively, but for most users, this won't be a problem.

Verizon 5G Home Internet Visit Site
Bottom Line
Verizon 5G Home Internet is quite the steal, especially if you already use a 5G mobile plan from the company, as in this case you'll get a huge discount on the monthly price. The average speed of 300 Mbps is great for most people, and you may be able to get speeds closer to 980 Mbps depending on your location.
Refreshingly, Verizon 5G Home Internet has no installation fees, no annual contract, and no equipment fees. We think this new entry into the market is a great choice if you're looking for a faster, simpler, and more economical home internet service.