While most people know to check their furnaces and clean their gutters, there are other essential items that need to be added to your winter maintenance checklist.
Here are the 10 best practices for keeping your home safe this cold season.
» Want to protect your home all year round? Check out our top picks for the best home warranty companies.
1. Check Your Home Warranty
Before winter arrives, check that your home warranty is up-to-date and active.
This will ensure any repairs needed due to extreme weather, such as repairing your heating system, are covered by the warranty and won't need to be paid for out of pocket.
If you've never had a home warranty, you may wonder if it's even worth it.
But if you live in a cold climate where it's essential to run appliances such as heating systems, investing in the best home warranty for HVACs can help ensure that one repair doesn't derail your budget.
2. Inspect Your Roof
When temperatures drop below freezing, snow can accumulate on your roof and cause damage. So checking for any roof damage before winter sets in is essential.
This can be done by simply climbing up onto the roof and examining it for any signs of wear and tear. Make sure to inspect your entire roof for cracks, missing shingles, or other issues that need to be addressed before winter arrives.
If you don't feel safe doing this yourself, you can always hire a professional contractor to do it for you.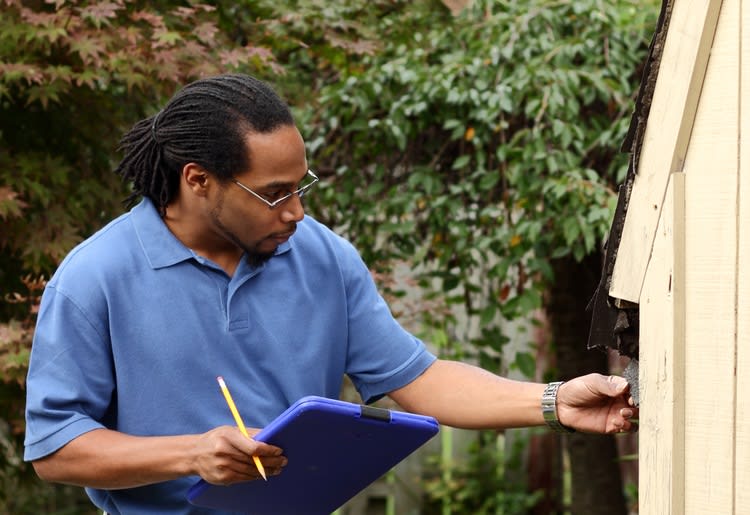 3. Insulate Your Pipes
Use foam pipe insulation or heat tape to insulate your pipes, especially exposed pipes or those in the colder areas of your home, such as the attic or basement. Pipes are particularly vulnerable to freezing temperatures and can easily burst if not properly insulated.
The good news is that plumbing is one of several things your home warranty should cover in winter.
But it varies wildly from policy to policy. So if you already have a home warranty—or you're shopping around for one—verify what type of coverage is included for plumbing.
4. Clear Your Gutters and Downspouts
In colder climates, gutters can get clogged with snow and ice during winter.
This can lead to water damage and flooding, so it's important to clear them before winter sets in. Remove any leaves, dirt, or other debris that may have accumulated during the warmer months.
» Try these tips to keep your gutters clean and clear all winter long.
5. Weatherproof Your Windows and Doors
Winter drafts can lead to significant heat loss and cause expensive energy bills (while sealing them off can shave 5% to 40% off your bill).
To stay warm, check around doors and windows for any visible gaps or cracks, then use caulk and weatherstrips to seal them off. This is an essential home maintenance skill everyone should master.
If the weatherstripping needs to be replaced, go to your local hardware store and pick up new weatherstripping. Then, remove the old weatherstripping and install the new one by following the instructions on the packaging. It's usually as simple as adding a few screws or some adhesive.
6. Check Smoke Detectors and CO2 Monitors
It's essential to check smoke detectors regularly throughout the year, especially during winter when fires are more likely due to increased indoor activities like cooking over stovetops or using fireplaces.
Ensure that smoke detectors have working batteries and test them periodically to check that they're still working properly.
Also, make sure that your carbon monoxide monitors are up-to-date. These devices detect harmful levels of CO2 inside homes. If left unchecked during winter, these dangerous levels could lead to serious health consequences.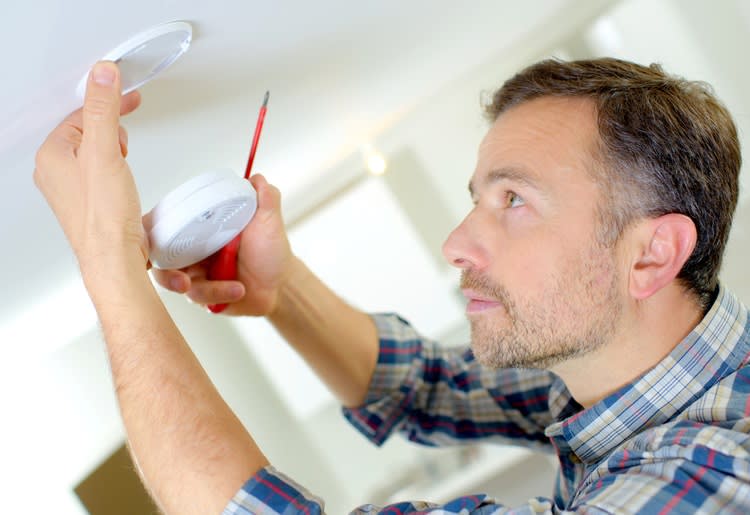 7. Check Your Heating System
Check your heating system to ensure it's in optimal working condition before winter arrives. Not only will this help lower your heating costs, but it will also protect your home from potential damage caused by cold temperatures.
A certified technician can check the furnace and other systems to make sure everything is running properly and that any necessary repairs are taken care of.
If you'd prefer to DIY it, inspect the furnace and filter to make sure there is no dust buildup that could potentially cause a fire. Also, take this time to check the furnace blower belt and replace it if it looks worn down.
» Follow this guide to stay on top of HVAC maintenance.
8. Invest in Good Snow Shovels and Ice Melt Products
Having the right tools on hand is essential for dealing with ice and snow. Invest in a good-quality snow shovel to help make winter cleanup easier and reduce any injuries that could occur on your property.
Make sure you also have enough ice melt products, such as salt or sand, to keep your walkways safe throughout the cold season. You can pick up these supplies from your local home improvement store.
9. File Claims for Any Damage You Find
Home warranties are invaluable during winter. They can cover any unexpected repairs or damages due to cold temperatures.
Once you give your home a thorough inspection, file claims for any repairs that need to be made before winter rolls around. With Cinch Home Services and Liberty Home Guard, this can be done in just a few clicks.
10. Keep Your Fireplace and Chimney Clean
If you have a fireplace, ensure it is properly maintained and cleaned out. A clogged or dirty chimney can create dangerous smoke and carbon monoxide buildup. So, cleaning your fireplace before you light the season's first fire is essential.
It's also recommended to have your fireplace or chimney inspected once per year by a certified chimney sweep before the start of winter.
When your fireplace sits unused during the warmer months, it can become a target for animals, birds, and other pests. A professional can inspect any potential damages or obstructions in the chimney and make sure your fireplace is ready to use in winter.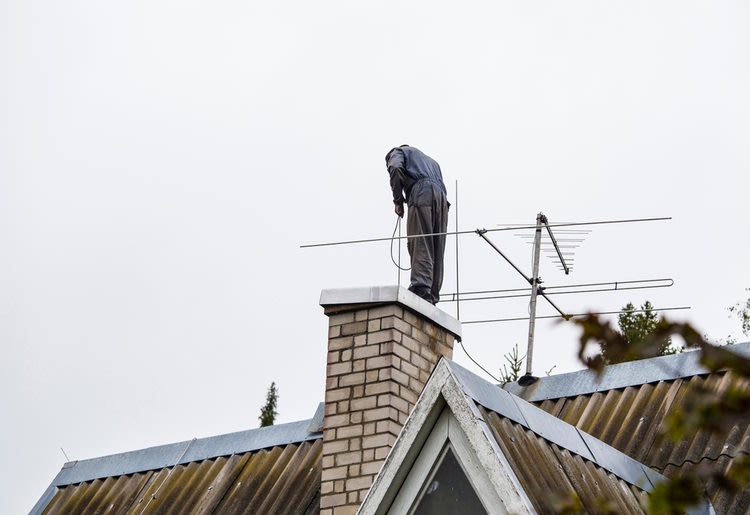 Brace Yourself, Winter Is Coming
During winter, homeowners need to be especially vigilant about their home maintenance routine to keep their families safe and warm throughout the cold season.
By following these ten best practices for winter home maintenance, you'll have peace of mind knowing your home is safe no matter how cold it gets.
» Want to avoid unnecessary stress and spending? Here are the best home warranties for homeowners.