When things go smoothly, it's easy to take your bathroom appliances for granted. It's even easier to forget how important it is to buy a home warranty plan that ensures your bathroom components are covered in the event of a sudden breakdown.
In this article, we'll discuss the bathroom appliances and systems covered by most home warranties, as well as common exclusions.
» Looking for a reliable home warranty? Check out our top picks for the best home warranty companies.
1. Septic and Sewer Systems
Septic systems, a critical part of the infrastructure for homes outside city limits, are designed to handle solid waste. Like septic systems, sewer systems are designed to carry liquid and solid waste from your home and into city sewage for processing.
When things go wrong, it's not pleasant. Most sewer and septic system components are outside of warranty except those sections connected to plumbing inside the home's foundation walls. For example, removing roots from sewer pipes is a repair that would likely fall outside of warranty coverage.
Many of the best home warranties for homeowners will cover costs for most repairs or leaks in the main septic lines within the foundation or 100 feet from any main access point inside the home. Some may also offer optional add-on coverage to repair or replace pumps and remove stoppages.
2. Plumbing Systems
Your bathroom has plumbing running to and from your toilets, sinks, bathtubs, and showers. Each appliance has two plumbing components: the water supply lines and the drain-waste-ventilation lines.
Most home warranty companies will offer at least one plan that covers most issues resulting from normal wear and tear on the system. A whole-house plumbing plan will likely include replacement parts for all plumbing components. In order to ensure coverage of all your plumbing systems, it's important to perform regular maintenance, including preventing frozen pipes in your home.
» Want to avoid damaged plumbing? Use these plumbing maintenance tips.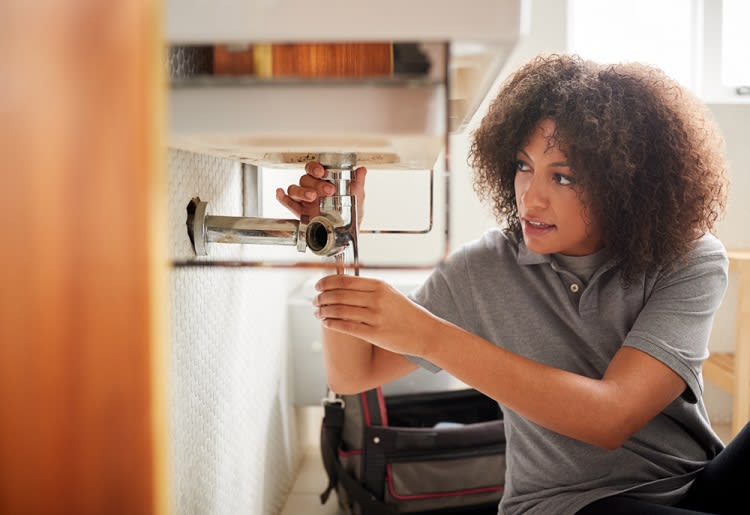 3. Toilets
Now, you may be thinking, "Are toilets covered under a home warranty?" The answer is yes—but it depends.
Toilets are designed to last a very long time. Almost all mechanical components of your toilet will be covered by a home warranty, including pumps, valves, stops, seals, and other equipment that tend to experience wear and tear over time. Also included are most stoppages and clogs. Toilet leaks are also fairly common and are covered in most circumstances.
If you need a full toilet replacement, check with your specific warranty policy to determine whether or not coverages or limits apply.
4. Bathroom Sinks
Like toilets, sinks are a vital bathroom accessory found in all bathrooms. Both appliances are connected to plumbing and can cause some pretty hefty damage to the home when things go wrong.
Home warranties will typically cover the cost of repairing or replacing your damaged or cracked sinks. Sink leaks can cause extensive water damage if not fixed in a timely manner. Note that warranties do not cover any secondary damage caused by leaks.
As part of regular maintenance, be sure to keep an eye out for any cracks or leaks. If you're not sure whether your plumbing is affected by the damage, schedule an inspection to see if a plumber is needed. Remember, maintaining your plumbing is important to avoid damage in the long run - these tips can help you take better care of your plumbing.
5. Bathroom Exhaust Fans
Ventilation is critical for keeping unwanted scents and moisture from lingering in the bathroom. Because fans contain many moving parts, it's not uncommon for them to malfunction. Excess moisture, loud humming, or lingering odor are all signs that your bathroom exhaust fan may be having issues.
When these issues arise, your plan will likely cover the repair or replacement of fan switches, controls, motors, and bearings to make sure things are back to normal. Most plans will exclude more fixed parts, including blades, belts, fans, and shutters.
6. Electrical Systems
Your home's electrical system is connected to every motorized function in your home. In your bathrooms, your electricity is wired through switches, outlets, and wiring into your lighting. Electrical fires account for over $1.3 billion in damage yearly, so proper electrical maintenance is critical.
Bathrooms handle a lot of the electrical load in the home. It's not uncommon to have the lights and exhaust fans operating simultaneously with blow dryers and straighteners. Add in easy access to flowing water, and disasters tend to strike.
Blown fuses happen from time to time and are typically covered under warranty. A warranty will also cover normal wear and tear of switches and wiring.
» Look out for these signs of electrical problems in your home.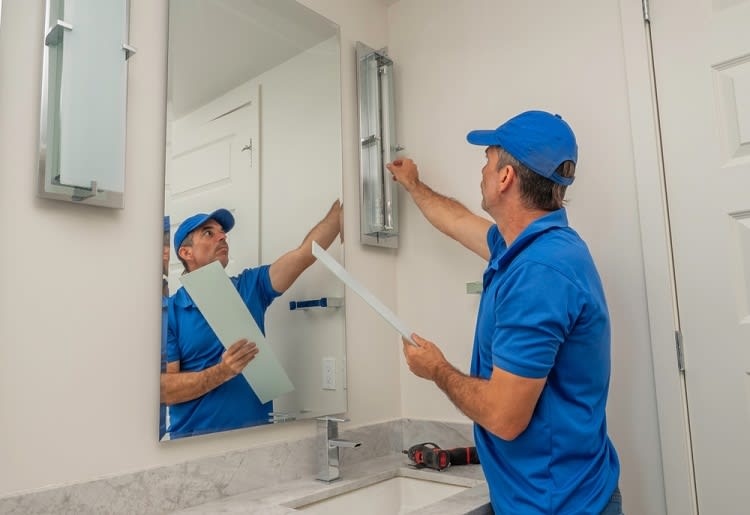 7. Valves for Showers and Faucets
Faucets and valves help facilitate the modern conveniences of good and comfortable hygiene. They typically live a reliable yet under-the-radar existence in your everyday life. It's only when things go wrong that you really pay attention to them.
Loud noises, low water pressure, and sudden shooting leaks are some of the most common signs of faulty valves and faucets. Most home warranties cover the repair and replacement of faucet components, shower heads, valves, stops, and strainers—either directly under your plumbing system coverage or as a separate add-on coverage.
8. Bathroom Showers and Bathtubs
The smooth operation of your showers and bathtubs helps maintain harmony in the household. Because these appliances generate a lot of moisture, staying on top of maintenance and cleaning is critical. As a homeowner, you're responsible for ensuring proper caulk sealing around your shower pans and bathtub to prevent leaks.
A home warranty covers all problems resulting from plumbing, faucets, switches, and stoppers inside your bathtub and showers. Many newly installed showers and bathtubs may include a separate warranty covering defects on the shower door and other hardware.
» Learn more about how to identify and prevent mold and mildew.
9. Pest Control
When we think of pest control, it doesn't always come naturally to think of bathroom pests. Because many pests love moisture, there are a variety of critters that love to spend time with you in the bathroom.
Most home warranty companies will include pest control in their primary coverage or offer it as an add-on. The warranty will cover the costs of treating pests but often will not cover termite damage.
10. Water Heaters
While it's not necessarily located in your bathroom, water heaters are a critical component of comfort in the bathroom. They can also cause major damage if problems arise or if they aren't properly maintained.
Most home warranty plans offer coverage for your water heater, but many will require a waiting period of 30 or more days. Coverages vary by plan, but many will cover the cost of part replacement or repair. In instances where damage exceeds the value, you may receive a full replacement of your water heater.
» Not familiar with water heaters? Use these water heater maintenance tips.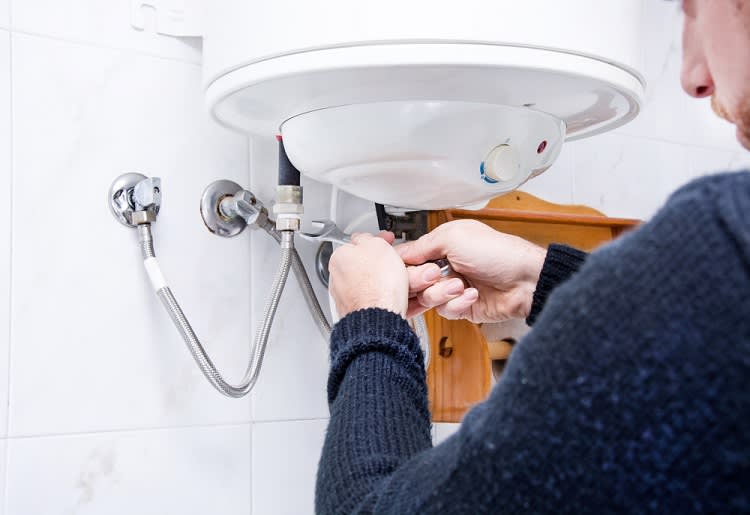 Take Away
Home Warranties are fantastic at helping your household save money and time. Proper care and maintenance in the bathroom can also help minimize the risk of things going wrong. Just keep in mind that most home warranty companies may not cover the following:
Certain plumbing stoppages from roots, frozen pipes, and collapsed drain lines
Damage caused as a result of incorrect or improper maintenance
Cosmetic damage to bathroom appliances
» Check out Liberty Home Guard and First American Home Warranty for your home warranty needs.