In a Nutshell
Alarm New England offers powerful, competitively priced home security systems across New England and the surrounding areas. Its 24/7 monitoring is excellent, and you can integrate various life safety alarms, security cameras, and home automation devices. There's also a versatile mobile app. Overall, we'd recommend it if you need an affordable custom security system.
pros
Custom security systems
Versatile mobile app
Smart Home devices available
cons
Limited service area
Equipment and installation fees

Alarm New England Visit Site
Alarm New England Features and Highlights
Alarm New England services a small number of cities on the east coast of the USA, including Boston, Providence, and Cape Cod. It offers high-level home security packages and monitoring solutions, and it boasts a selection of attractive features.
Fully Customizable Systems
One thing we like about Alarm New England is that it enables you to completely customize your system. This ensures that you're only paying for the equipment and services that you need to protect your property. The knowledgeable sales team will be able to help you develop the perfect security system, and you can use the online Build Your System tool to get an idea of what you need.
HD Touchscreen Control Panel
Alarm New England's touchscreen control panel is one of the best we've seen. It enables you to manage every aspect of your home security system, view the status of connected devices, and control your home automation devices.
24/7 Live Security Camera Streaming
With a Pro subscription, you will be able to access live streams of your security and doorbell cameras through the mobile app. These can be viewed at any time and from anywhere, enabling you to check in immediately if there's a security issue.
Wireless Sensors
Although some devices, such as security cameras, do require some wiring, the majority of Alarm New England's security devices are fully wireless. This means that you can simply stick them where required without having to worry about difficult or messy installation.
Alarm New England Equipment & Products
Home Security Systems
Alarm New England offers fully customizable home security systems that are tailored to your exact needs. They include motion sensors, door/window sensors, smart locks, garage door sensors, and a smart touchscreen control panel. You can also integrate everything from security cameras and doorbell cameras to life safety alarms and smart home automation devices.
We don't hate the fact that you need to speak with a member of the sales team before getting any indication of how much you will have to pay, but we would have liked to see a little more information available about the company's hardware and services.
But by all reports, Alarm New England is an affordable, highly effective option if you're looking for a custom home security solution.
Home Security Cameras
You can add a selection of indoor, outdoor, and doorbell cameras to your Alarm New England home security system. The indoor cameras include built-in motion sensors, enabling them to switch on and begin recording as soon as an intrusion is detected.
The doorbell camera also has a motion sensor, and it's designed to secure your property from burglars and other unwanted intruders. The outdoor cameras feature night vision, and you can view a live stream and recorded footage from all cameras at any time through the mobile app.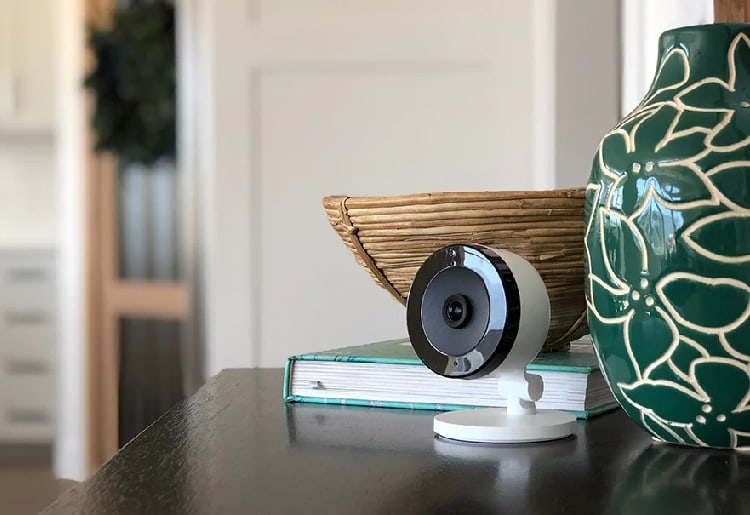 Life Safety Alarms
Alarm New England enables you to integrate a selection of life safety alarms with your home security system. These include carbon monoxide and smoke detectors, flood sensors, and temperature change sensors.
You can manage your life safety alarms and ensure they're working properly with your touchscreen control panel. 24/7 life safety alarm monitoring is available with all three subscription options.
Smart Home Automation
If you'd like to add a little technology to your daily life, you can integrate Alarm New England's smart home automation devices with your security system. These include smart thermostats, door locks, and light switches. They can all be managed through the mobile app.
The Alarm New England system is also compatible with Amazon Alexa and Z-Wave. Through these, you can link a suite of other home automation and smart home devices.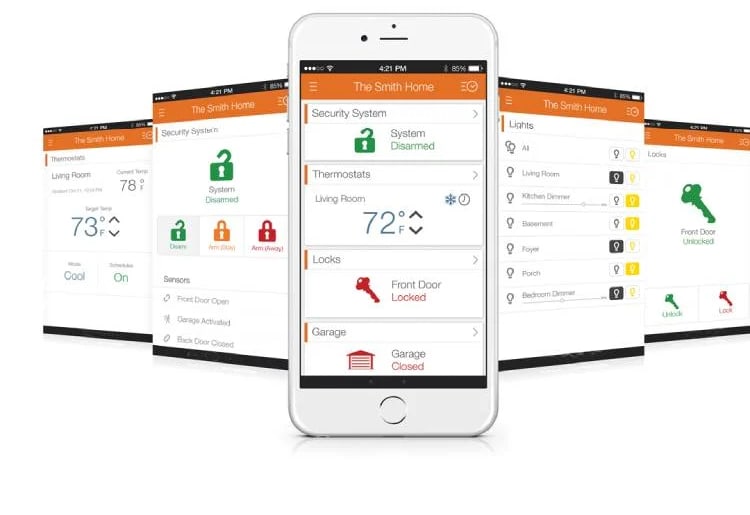 Alarm New England Plans - Packages & Pricing
Alarm New England offers custom packages for each new client, which means that everyone pays a different monthly price, though it does have three levels of service available, as shown in the table below. Its monitoring services start at a competitive $26.99 per month, but you will also have to pay undisclosed equipment and installation fees.
Professional 24/7 monitoring
Entry, smoke, and CO detection
Alarm New England Services
Alarm New England offers versatile, highly customizable home and business security solutions. Its team of security experts can help you put together the right package for your needs, and this can include everything from smart home automation tools to security camera monitoring.
You will also benefit from 24/7 monitoring with all subscription options. The exact level of monitoring you get will depend on your package, but it can include monitoring everything from smoke alarms to security cameras and burglar alarms.
If an alert is triggered, the response team will attempt to contact you to verify the emergency. If they can't reach you or if you confirm assistance is requred, police or emergency services will be dispatched to your home.
Monitoring
Alarm New England offers 24/7 alarm monitoring through its US-based monitoring center.
24/7 US-based monitoring

Alarm system monitoring

Life safety alert monitoring

Call on alert

Emergency services dispatch
Alarm New England Home Security Mobile
Alarm New England App
With a Control or Pro subscription from Alarm New England, you'll benefit from full integration with the Alarm.com mobile app. It's free to download, and it's available for both Android and iOS devices. This is one of the best home security system apps we've seen, and it's functional and easy to use.
The app enables you to control every aspect of your home security system, including smart home devices and security cameras. You can also view the status of every connected device, stream live 1080p video from your cameras, and remotely arm and disarm your system.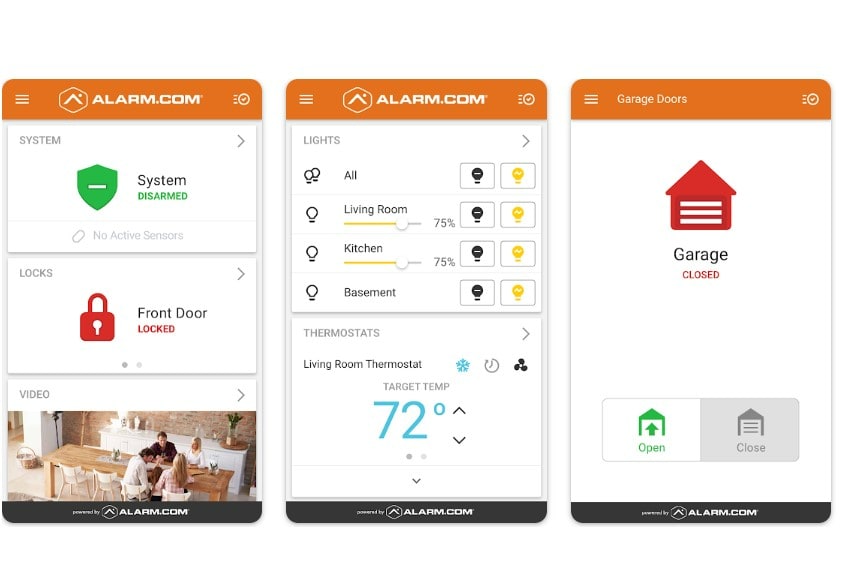 Mobile alerts
With the Alarm New England mobile app, you can set up customized alerts that go straight to your phone. You can configure real-time email, SMS, and push notifications according to your own rules. These can include anything from alerting you to someone who's arrived at your door unexpectedly to letting you know when your kids get home from school.
Alarm New England Installation
Alarm New England offers both professional and DIY installation options. If you decide to go with a DIY system, everything will arrive clearly labeled. Sensors and other devices can be secured with the included adhesive tape, and the control panel can be placed on a table or counter. The installation process shouldn't take more than 30 minutes, and the Alarm New England team is available to guide you.
Professional installation is also available, although there's no indication of how much this costs. Alarm New England employs its own installation technicians rather than relying on contractors, and its team is highly trained and professional. You can arrange installation when speaking with the sales team, and the timeframe can vary from a few days to a few weeks.
Alarm New England Contracts and Warranties
Alarm New England has both long-term contracts and contract-free options. With a three-year contract, you will receive an equipment discount (the sales team will let you know how much this is). Month-to-month plans are much more flexible, but you will have to pay full price for your hardware.
To cancel a contract, you need to provide 30 days' notice by calling the customer service team. You will be liable for 75% of the outstanding contract fees. On the plus side, there's a 100-day money-back guarantee that enables you to get a full refund if you're not satisfied.
Alarm New England also offers a comprehensive one-year warranty on all parts and labor. This enables you to get free repairs or replacements in the case of defective hardware or poor workmanship. Plus, custom maintenance agreements can be purchased by speaking with the sales team. These provide extra protection beyond the scope and timeframe of the standard warranty.
Alarm New England Support & Customer Service
Alarm New England offers phone and email support. You can speak with the customer service team any time between 8am and 5pm, Monday to Friday (ET). If you call, you will be able to talk with an agent directly. Email queries are processed within 24 hours.
There's also a FAQ page with a decent selection of well-written questions and answers. You will find a small number of video tutorials dealing with installation and getting started, and there's an informational blog with a selection of articles touching on various aspects of home security.
How Does Alarm New England Compare to Other Home Security Services?
Custom home security solutions
Customizable security packages
Alarm New England Vs SimpliSafe
Like Alarm New England, SimpliSafe enables you to put together a custom security system that's suited to your home. It offers powerful 24/7 monitoring at an affordable price along with more hardware options than Alarm New England. However, Alarm New England does stand out as a slightly more attractive option because of its excellent smart home automation features.
Alarm New England Vs Ring
Ring offers simple security and doorbell-camera-based home security systems. It's a super affordable option, with a self-monitored plan starting at just $3 per month, but Alarm New England stands out as superior in almost every other way.
Alarm New England Vs ADT
ADT is a home security system industry leader, and it offers a selection of home security packages. All packages come with professional installation and 24/7 monitoring, and it tends to be at the pricey end of the spectrum. It's worth considering if you want simple, no-frills security, but Alarm New England is both lower-priced and more versatile.
The Bottom Line
Alarm New England offers versatile home security systems throughout New England. Its home security experts will help you put together a package that's tailored to your home, and you can add security cameras, home automation devices, and life alert alarms. 24/7 monitoring is also available, and there's an attractive mobile app that you can use to manage your system.
All things considered, Alarm New England offers some of the most attractive home security solutions we've seen across its limited service area.