Not if you don't want it to be. Even if you and your loved ones have already taken a DNA test, there are plenty of ways to parlay the results into unique, customizable gifts that can bring the family together and turn your heritage into a work of art.
From custom artwork to collaborative family trees and genealogy scrapbooks, these DNA-inspired gifts are a great way to honor your history, bond with your family, and give one-of-a-kind gifts to those you love.
Dot One
Gift: Personalized DNA Scarf
Price: $149 (including DNA kit)
Materials: Wool/Acrylic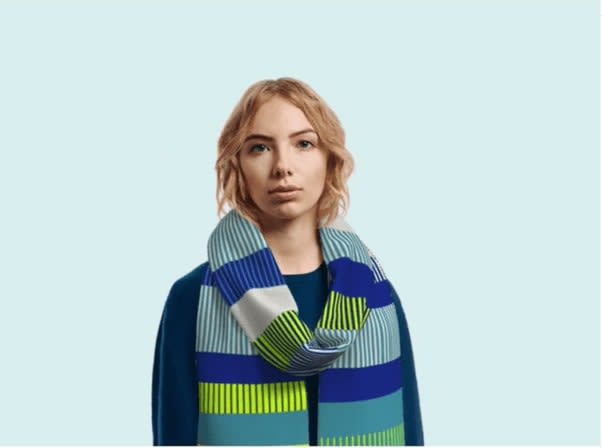 Dot One weaves together science and fashion to produce wool apparel inspired by your personal DNA structure. The name Dot One comes from the .1% of your DNA that makes you unique, and to that end the company offers personalized products that bring your innermost genes to vivid color. Using Scottish and Japanese weaving techniques, Dot One's artists create scarves, tartans, socks, and artwork whose patterns and color palettes reflect each person's 33 genetic traits.
Ordering a product from Dot One requires submitting a DNA sample, which means buying one as a gift for someone will take some creative maneuvering. Each product comes with a DNA kit, but the company also accepts results from 23andMe tests. So if your spouse or relative has used 23andMe, you can send in their results rather than having them do another cheek swab.
After you've submitted the DNA sample, Dot One lets you choose your own design by selecting a color for each DNA base (ATCG.) You'll be sent a proof to view before the loomers get to work spinning the one-of-a-kind scarf. Sure, it takes some planning, but this is a unique gift that can show your deepest appreciation for someone down to their very genetic core.
GenoArt
Gift: Circle of Life Custom DNA Print
Price: $299 (includes DNA test, analysis, and custom print)
Materials: Giclée print on canvas or fine art paper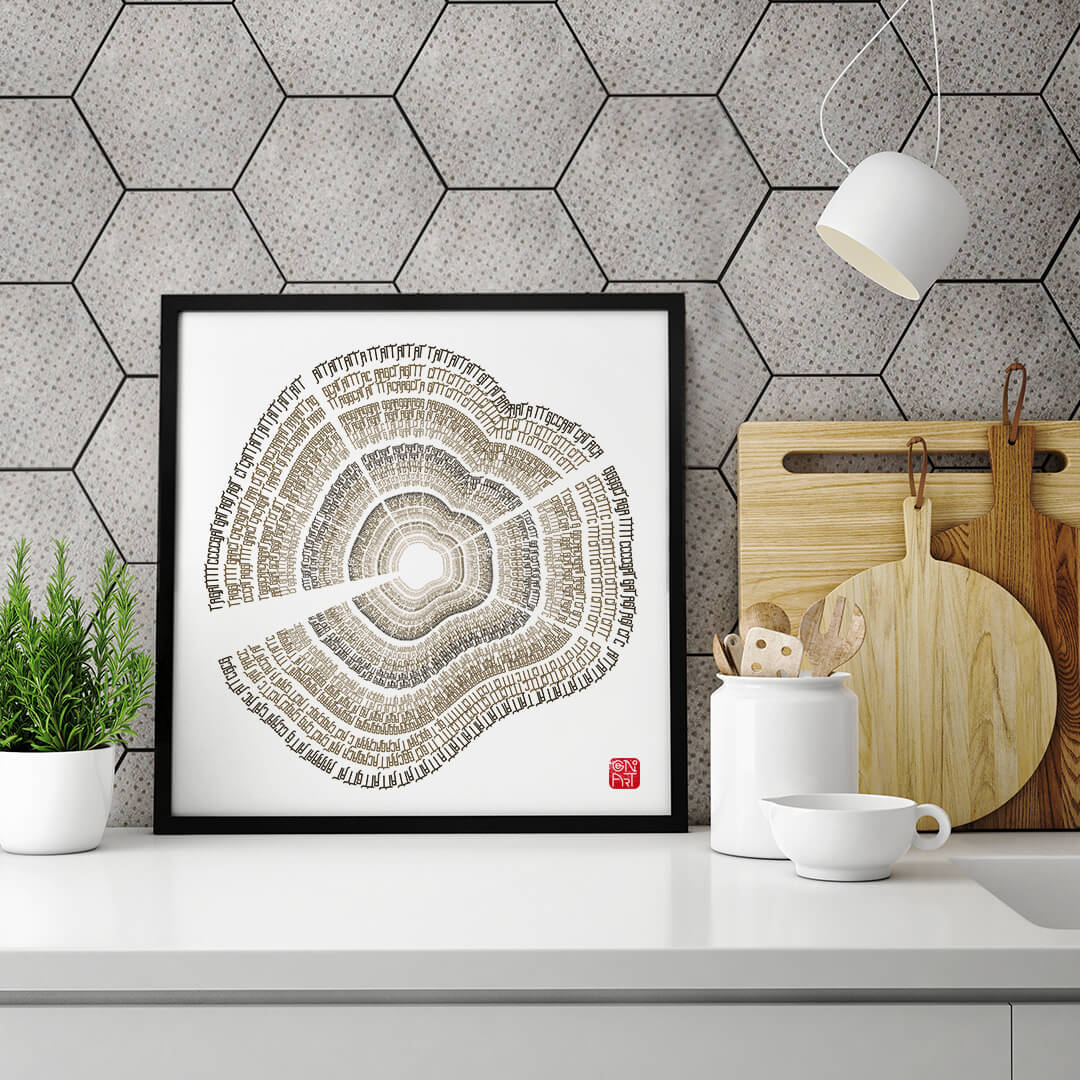 GenoArt's personalized prints look great from afar—but they're just as fun from up close. That's because they're not only made from the exact components of your DNA makeup, but come with decoders that connect every little line and flourish to your unique genetic code.
That's what's special about GenoArt—the artwork doubles as a story. You can choose to have your DNA rendered in 4 different artistic themes: Circle of Life, Story of Life, Celebration of Life, and Code of Life. The designs range from rustic to modern to Eastern-inspired, and represent not just design motifs but the manner in which the strands of your DNA interact to make you the person you are.
Ordering a GenoArt piece requires submitting a DNA sample. The price includes a DNA cheek swab kit, DNA analysis, and the final product, a Giclée print on canvas or fine art paper. These prints would make especially great gifts for a special someone's office or studio.
FreshRetroGallery
Gift: Blank family tree genealogy posters
Price: $16.07 for 2 on Amazon
Materials: Astroparche® 60 lb. text stock paper with tactile vellum finish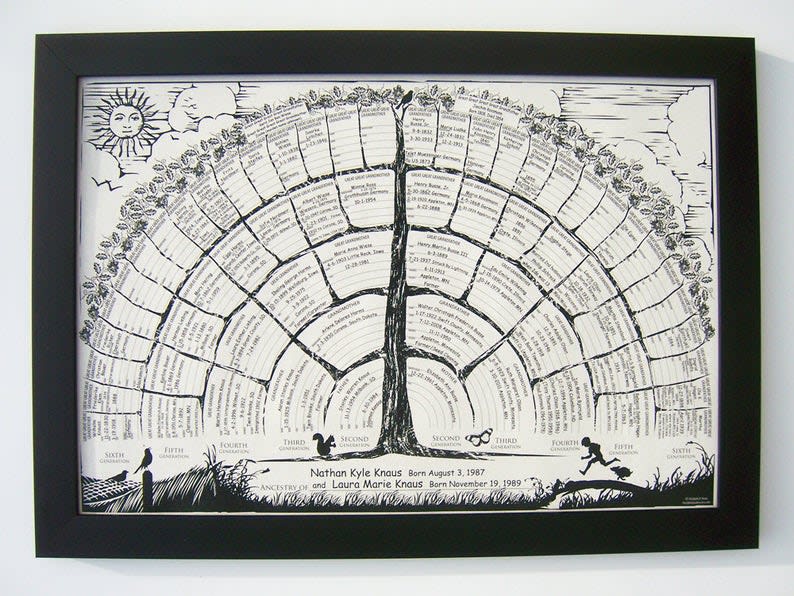 FreshRetroGallery's family tree poster is a bonding experience as much as it is a beautiful piece of artwork. Despite it's parchment-like appearance and earthy flourishes that give it an aged, heirloom look, the entries are blank and invite families to learn about their history and fill it out together.
The tree can accommodate up to 6 generations of family members and includes slots for each person's name, date of birth, date of death, spouse, as well as extra space for personal memories. This is a great gift that can be framed and mounted, passed down to your children, or brought to family gatherings and reunions.
DNA 11
Gift: DNA Portrait
Price: Starting at $199 (includes DNA kit, analysis, and custom print)
Materials: Acid-free polyester-cotton canvas, wood float frame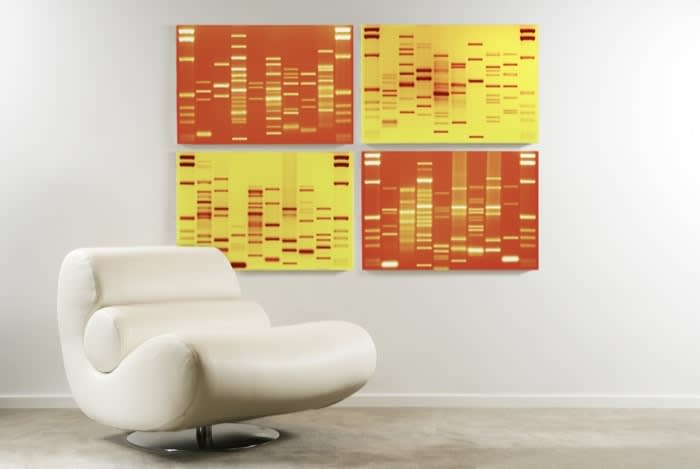 How's this for a family portrait? If the kids won't sit still for a family photo, DNA 11 offers a creative alternative: images of your family's genetic makeup rendered in sleek, wall-mounted artwork.
The process begins with a metal gift box that includes cheek swabs, instructions, and color swatches. You'll need to send a cheek swab for each person whose DNA will be depicted, and you'll be given a choice of color patterns from 16 custom design options including infrared, citron, atomic, aquatic, and cotton candy. The lab technicians will process each person's DNA sample and convert it into Giclée prints that come stretched, framed, and ready to hang on your wall.
DNA 11 offers DNA portraits for anywhere from 1-4 people (you can include pets too). Everything from the size of the print to the colors and frame types are customizable, and upgrades such as digital downloads let you use the finished product for invitations, letterheads, or family albums. Though getting cheek swabs from the family might take some creative maneuvering, a DNA portrait of the family could be a unique personalized gift to give to a spouse or grandparent.
Karen Foster Design
Gift: Honoring the Past Scrapbook Kit
Price: $8.49
Includes: memoirs collage, family tree chart, ancestry stamps, cardstock stickers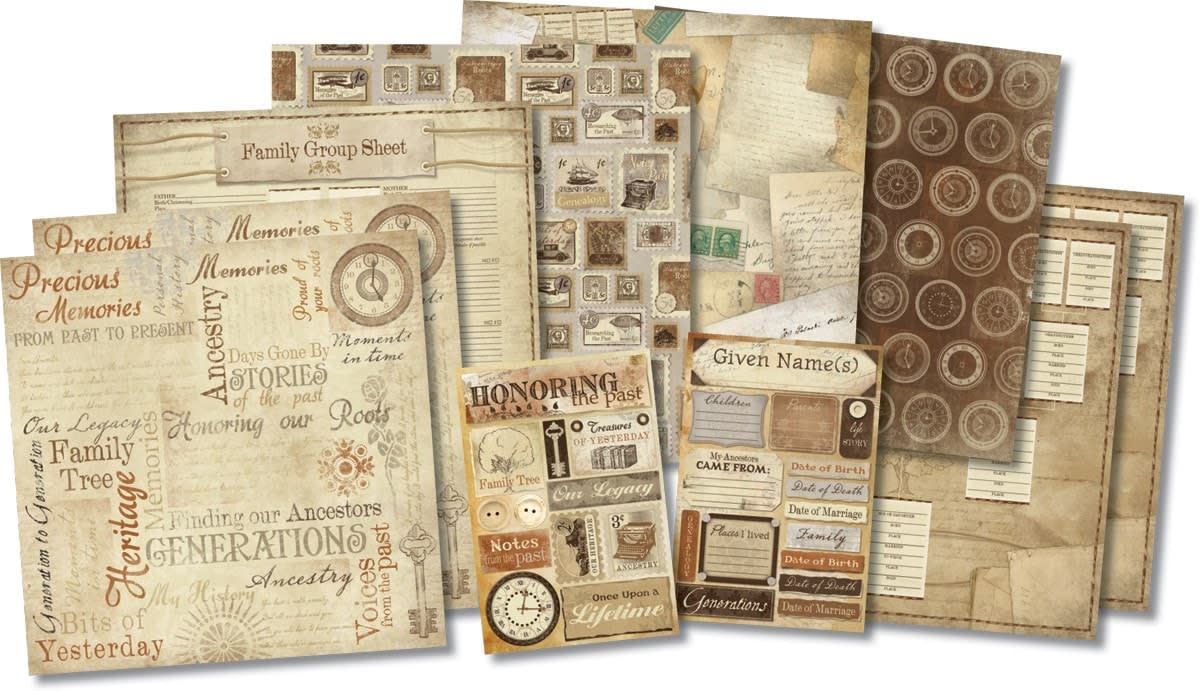 Sure, you can save everything on computers these days. But there's something unromantic about stowing a zip drive in a shoebox and leaving it for your children's children.
This genealogy scrapbook kit brings your ancestry results to life with a tasteful presentation of family history. The kit includes a family tree chart, memory collages, group sheets, cardstock stickers, and ancestry stamps.
Celebrate DNA
Gift: Infant Bodysuit DNA Tree
Price: $29.99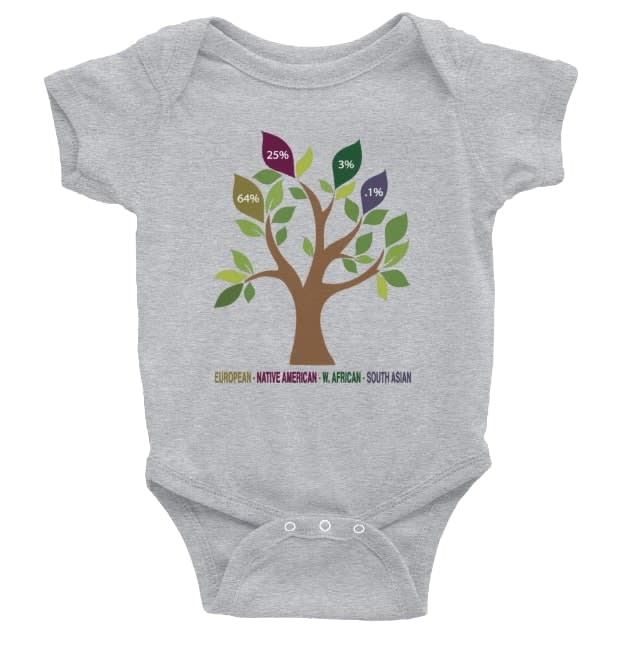 Celebrate DNA offers tons of customizable DNA-inspired apparel, from t-shirts to tote bags and coffee mugs. This infant onesie would make a great gift for a newborn niece or nephew if you can get ahold of their ancestry details. Unlike other products on this list, Celebrate DNA doesn't require any DNA samples; you can just give them the results of a past genealogy test, or details from your own research, and they'll create personalized apparel that proudly proclaims your roots and heritage.