In a Nutshell
Billed as "the world's largest family tree", OneGreatFamily is a collective online genealogy database and family tree builder. When you join, you can add relatives, connect information, and search for new connections—all alongside other subscribers using the same family tree. Though OneGreatFamily has an outdated interface, it's the only unified family tree builder on the market, and may be for you if you want an innovative, unique offering.
pros
A collective, worldwide family tree that improves over time
Affordable pricing with discounts for longer-term subscriptions
Already contains 250+ million entries
cons
Outdated user interface
No opportunity to enhance family tree with DNA test kit data

OneGreatFamily Visit Site
Types of Tests and Kits You Can Get from OneGreatFamily
OneGreatFamily doesn't offer DNA test kits. Instead, it's a unified global family tree site that allows you to build a single family tree with everyone else using the site. This means that the family tree improves as more people join and provide their demographic and family histories.
Main Features at OneGreatFamily
OneGreatFamily offers an assortment of tools that help you contribute to the global family tree or engage in genealogy research.
Global, unified family tree
When you create an account on OneGreatFamily and sign up for either a free trial or a subscription, you'll be able to start contributing to the site's collective family tree. You'll be prompted to add your demographic information, along with anything else you know about your relatives and ancestors.
The service enables you to add your and your relatives' names (including alternate spellings), biographies, and countries of origin. When you do, you'll improve the accuracy of the family tree, allowing everyone else on the site to benefit from your contributions as well.
If you previously made a family tree, you can import information using a GEDCOM file, and OneGreatFamily will automatically integrate this data into their family tree.
Search millions of records
Likewise, you'll also be able to use other people's personal information to your own advantage. The 250+ million existing entries provided by other users can enable you to discover information about your own relatives and ancestors—including those you may not have known about. OneGreatFamily's proprietary matching algorithm works in the background, constantly analyzing new and existing data to find possible connections.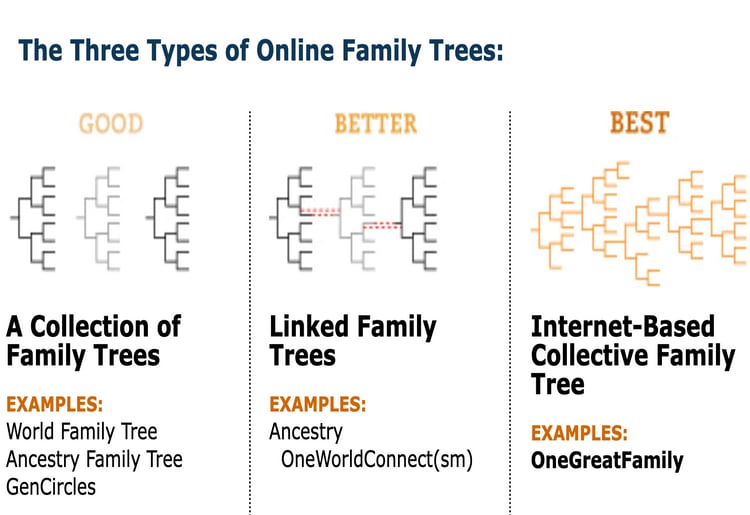 If you want to perform more involved genealogy research, the site offers tools like last name popularity indexes, name databases, statistical summaries, and information-rich maps that make it easier for you to explore your ancestry yourself.
OneGreatFamily also makes a desktop application available for download, meaning you can continue to perform genealogy research even without an internet connection.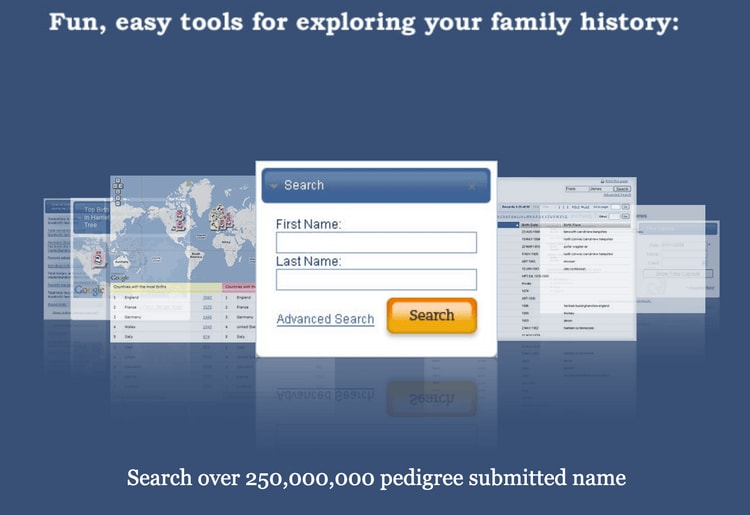 Relationship and Migration Calculators
OneGreatFamily's Family Dashboard™ offers two detailed calculators that help you calculate the strength of your biological relationship with another relative.
The Relationship Calculator lets you determine whether or not you (or someone else) is related to a certain relative. If you're related to an individual, OneGreatFamily will output the degree of your relationship. Similarly, if the algorithm cannot find a relationship, it will notify you.
The Migration Calculator, on the other hand, pinpoints the birthplaces of direct-line ancestors, giving you a snapshot view of how different generations of your ancestors migrated over time.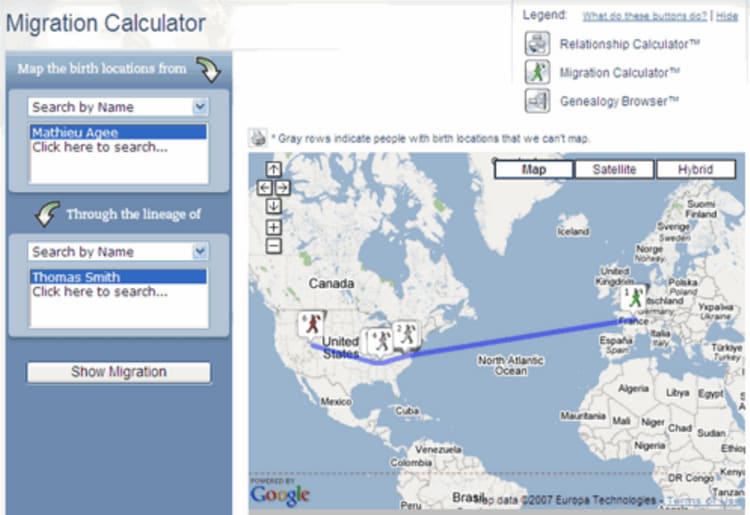 How much does OneGreatFamily cost?
HomeDNA offers a single family tree service at several different price points, depending on the duration of your subscription.
Other than the unified, global family tree, the Full Access subscription includes access to a large database of records, along with a wide range of research and record-searching tools built around patented technologies.
OneGreatFamily Full Access Subscription
At $14.95 per month, $29.95 quarterly, or $79.95 for a full year, a subscription to OneGreatFamily is priced affordably and competitively to the rest of the market. The Full Access subscription includes a 7-day free trial.
OneGreatFamily coupons and promo codes
OneGreatFamily provides a 7-day free trial of its Full Access subscription. The company's quarterly and annual subscriptions are also cheaper on a per-month basis than if you pay on a month-to-month arrangement. However, apart from these implied savings and discounts, the company doesn't offer official promotions.
How to Get Started with OneGreatFamily?
Getting started with OneGreatFamily is quick, easy, and straightforward.
The sign-up process
To create an account with OneGreatFamily, you'll need to provide your full name, email, phone number, and address (including your zip code). You'll also need to supply your credit card details, even if you're signing up for the free trial. Your card will automatically be charged after the free trial ends.
Collaborating on the family tree
Once you create your account, you can start building the family tree with OneGreatFamily's other subscribers. Simply input the information you know about your relatives. If there are existing entries in OneGreatFamily's database, you can automatically connect them. If there are errors or omissions, you can make corrections.
Once you provide everything you know about your family and ancestors, OneGreatFamily will do the rest of the work for you, linking your information to its existing database of entries. From there, you'll be able to discover your ancestors, trace your ancestry back even further than before, and collaborate or reach out to living relatives.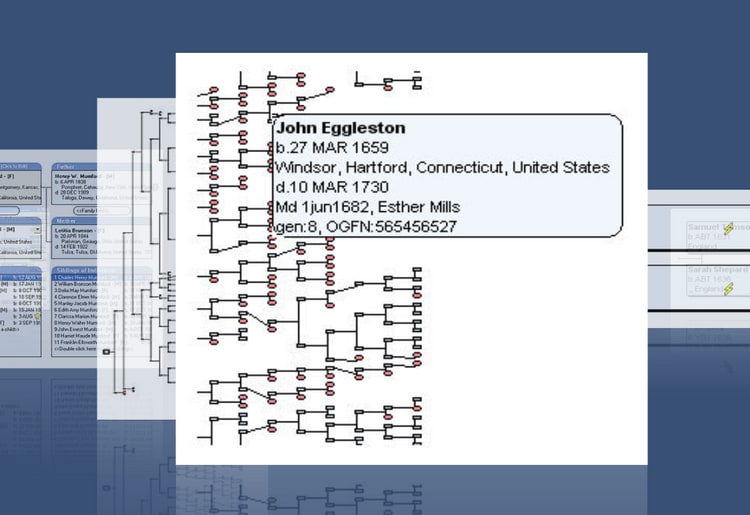 Researching your genealogy
You can also use OneGreatFamily's other search tools to research your genealogy. Trace your ancestors' migration paths, examine the countries where they died, or rank countries by the number of ancestors you had.
You can also click on individual ancestors' profiles for more information—which can include biographies, alternative name spellings, and more. Additionally, OneGreatFamily's matching software will alert you of missing or possibly incorrect information, allowing you to build a more accurate view of your family tree and the ancestors that you descended from.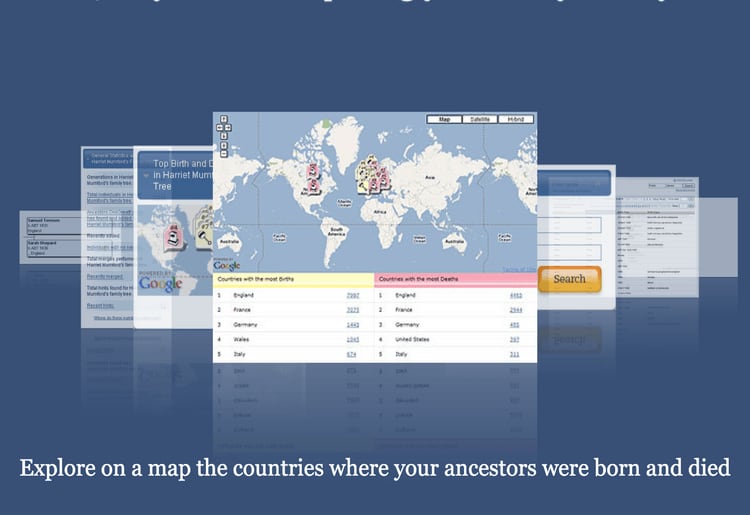 How OneGreatFamily Protects your Privacy
OneGreatFamily has strong data privacy and protection policies. Sensitive information you transmit to the company through its website will be processed using a secure server connection. If you provide OneGreatFamily with any personal information, you can delete your data at any time.
Apart from using your data to personalize its services, OneGreatFamily may use your personal information for marketing and survey information. You may also receive marketing materials from "other reputable companies,'' suggesting that the company may share your information with third parties.
You can view the company's full privacy policy here.
Help and Support
It's easy to get hold of OneGreatFamily's support team.
How to contact OneGreatFamily
You can reach OneGreatFamily through their contact form. Additionally, you can call +1 (877) 643-8733 from Monday through Friday, 9am-5pm (MT).
Phone hold times and email response times will depend on the volume of calls and messages they receive.
Are FAQ pages available on OneGreatFamily?
OneGreatFamily doesn't have an FAQ page. Rather, they have a "How We're Different" page that functions similarly to an FAQ page.

This page lists six key differentiating factors that set OneGreatFamily apart and provides a short infographic on the ways their collective family tree is different from other offerings.
With only a single page, the company's FAQs are somewhat lacking in comparison to its competitors.
How OneGreatFamily Compares to Other Genealogy Service Providers
MyHeritage Genealogy Services
$14.95 monthly or $79.95 annually
$149 for the first year, then $299
OneGreatFamily vs Findmypast
Findmypast is a technology-focused digital archive that contains billions of records from the United States, United Kingdom, Canada, and a variety of other countries. However, the majority of Findmypast's digitized records are related to the UK and Ireland, making the service a good choice if you have ancestors hailing from the British Isles.
Additionally, Findmypast offers exclusive access to certain British and Irish historical records, such as the 1921 Census and parish records. If you want access to these data sets, Findmypast may be a better option for you.
However, OneGreatFamily arguably has the more innovative family tree builder feature, making it more suitable for you if you just want to build a family tree and have less of a need for an expansive historical archive.
OneGreatFamily vs MyHeritage Genealogy Services
MyHeritage combines their ancestral DNA kit with a database of over 16.9 billion records spanning nearly every region of the world. On top of that, MyHeritage offers a collection of other tools, such as their Deep Nostalgia™ algorithm that allows you to edit old family photographs using deep learning technology. Finally, MyHeritage also offers a family tree building service that's free to use.

If you're interested in genealogical research, MyHeritage may be the better option. However, if you want to build a collective, global family tree collaboratively with others and don't mind paying a modest monthly or annual fee, OneGreatFamily is possibly the better choice.
OneGreatFamily vs Genes Reunited
Genes Reunited provides a historical archive spanning 515 million records from the UK and Ireland. It's a great choice if you have ancestors from the British Isles, and it's arguably one of the most comprehensive UK and Irish historical database offerings today.

Additionally, you can create a family tree on Genes Reunited and store your old family photographs for free. However, if you're looking for a collaborative family tree builder, OneGreatFamily is the only service on the market.
Is OneGreatFamily worth it?
As the only collective, unified, global family tree builder in existence today, OneGreatFamily is no doubt a unique offering that's worth checking out. If you're serious about building a family tree and want to get access to an innovative service that allows you to collaborate with others across the world, OneGreatFamily's family tree may be right for you.
With hundreds of millions of existing records, OneGreatFamily is also right for current genealogy researchers who want access to a large database of names. Better yet, this figure grows by the day as more and more people join and contribute what they know about their families to the global family tree.
At $14.95 per month or $79.95 per year, OneGreatFamily is a reasonably affordable offering that's worth it—whether you're a serious genealogist or just starting out. Though its user interface is outdated and its desktop application is only supported on Windows—leaving something to be desired on the aesthetic front—OneGreatFamily nonetheless offers a highly novel family tree service that's difficult to replicate.