In a Nutshell
Genes Reunited is a family tree building service that helps you find your English, Welsh, or Irish ancestors. The platform has more than 515 million records, including census records as far back as 1801. You can easily connect with other users who are investigating the same ancestors, and a community forum enables you to get help as you build your tree. Genes Reunited can be pricey, especially if you access records on a pay-as-you-go basis.
pros
More than 515 million records from England, Wales, and Ireland
Quickly connect with distant relatives
Store photos and documents on your tree for free
cons
Expensive pricing options
Posting in the community forum costs money
Genes Reunited Visit Site
Types of Tests and Kits You can Get from Genes Reunited
Genes Reunited does not offer DNA testing kits. However, you can upload a Genealogical Data Communications (GEDCOM) file from any 3rd-party genealogy software to begin finding ancestors. A GEDCOM file is a file that contains information about your genealogical history. To generate one, you will need your raw DNA sequences from an autosomal DNA test.
Other Features at Genes Reunited
Genes Reunited is designed to help you build your family tree, with a focus on ancestors from the UK and Ireland.
515 Million Records
Genes Reunited offers more than 515 million records from England, Wales, and Ireland.
Records include:
Census records from 1801-1911 (census taken every 10 years)

Birth, baptism, marriage, death, and burial records from 1837-2006

Military records from 1656-2005 (including WWI and WWII)

Prison records from 1770-1935

Passenger lists for all long-haul ships leaving the UK from 1890-1960

Electoral rolls from 2002-2013 (for finding living relatives)
Family Finder
The family finder tool enables you to get started with Genes Reunited as quickly as possible. Just enter your name, and Genes Reunited will do a quick search of records to identify likely relatives who share your last name.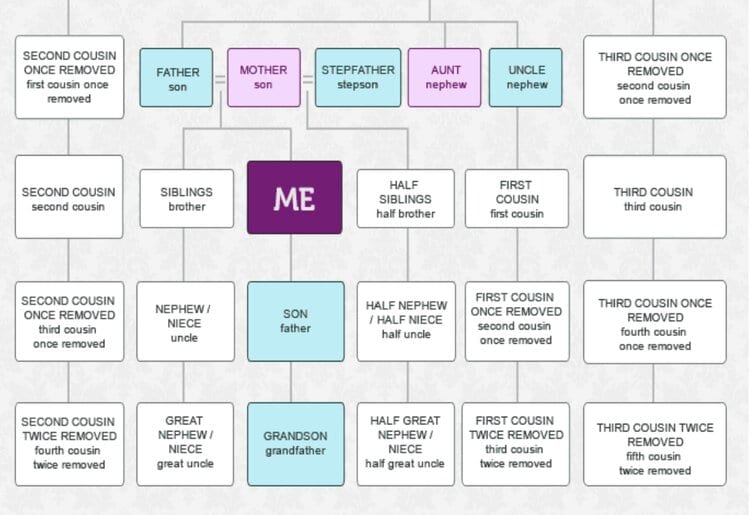 Hot Matches
As you're building your family tree, Genes Reunited automatically looks for matches between your ancestors and the ancestors on other users' trees. When it detects a name match, Genes Reunited will send each of you a message so that you have an opportunity to connect.
Super hot matches occur when the names, birth years, and parents of a relation match up across two family trees.
Keepsafe
The Genes Reunited keepsafe is essentially a cloud storage service for your scanned documents and photos as well as any ancestor records you find on the site. You can pin items from your keepsafe to ancestors on your family tree to stay organized and add more details to your tree.
Community Forum
The Genes Reunited community forum is where members can share their stories, ask questions, and learn from one another. Discussion boards include Success Stories, Genealogy Chat, Military Chat, Find Ancestors, and Find Living Relatives. The boards are highly active, with many posts receiving dozens of replies.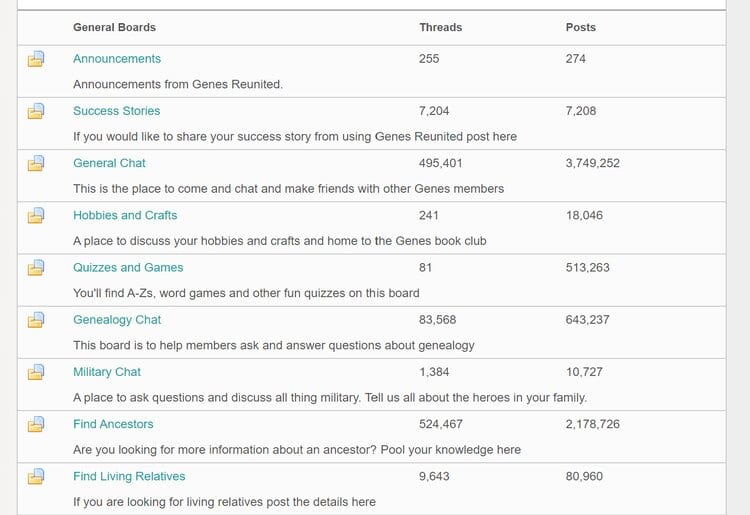 How Much Does Genes Reunited Cost?
Genes Reunited offers a free plan as well as pay-as-you-go and subscription options.
£4.95/month ($6.50 USD)
£20.00 ($26.28 USD)/year (Save 67%)
£19.95/month ($26.21 USD)
£80.00 ($105.14 USD)/year (Save 67%)
The Free plan enables you to build a family tree using the Genes Reunited platform and offers a personal keepsafe. You can view the community forum, but posting or messaging individual members requires paid credits. Viewing any of the records available on Genes Reunited also requires paid credits.
You can purchase 50 credits for £4.95 ($6.50 USD) or 200 credits for £17.95 ($23.59 USD). It costs 5 credits per record to view most types of records, although some military records cost 10-15 credits to view. Once you purchase access to a record, you have unlimited access to it for 30 days when you buy 50 credits or 90 days when you buy 200 credits. Directly messaging another Genes Reunited users costs 30 credits.
The Standard subscription costs £4.95 ($6.50 USD) per month or £20.00 ($26.28 USD) per year and offers unlimited messaging. However, you still need to purchase credits in order to view records. The Platinum subscription, which costs £19.95 ($26.21 USD) per month or £80.00 ($105.14 USD) per year, offers unlimited access to records on Genes Reunited.
Overall, this pricing structure is relatively expensive. Unless you know exactly what records you're looking for to fill in gaps in your family tree, it's easy to use up credits quickly. If you message other users to take advantage of Genes Reunited's hot match feature, you'll almost certainly want to purchase a subscription.
How to Get Started with Genes Reunited?
It's fast and easy to get started with Genes Reunited.
The Sign-up Process
To sign up for a free account, you'll need to enter your name, birthday, place of birth, and email address. You can purchase credits or a subscription later, so you have a chance to try out the platform and start building your tree first.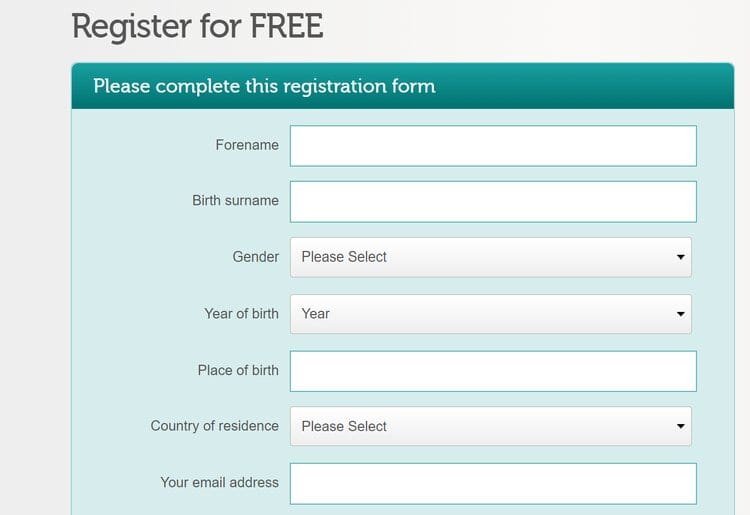 Building a Family Tree
The best way to start building your family tree is to use the family finder tool. Based on the information you entered when you signed up for Genes Reunited, the platform will automatically find potential ancestors who share your last name. You can accept or reject these matches, which are typically close living relatives.
If you have a GEDCOM file from a 3rd-party genealogy service, you can upload that to Genes Reunited to expand your tree. You can also upload documents and images to your keepsafe to pin them to ancestors on your tree.
How Genes Reunited Protects Your Privacy
Genes Reunited never shares your email address or name with other members on the site. In addition, it's up to you to decide which users have access to view your family tree. If you do share your tree, you can decide whether or not living family members should be included on it.
Genes Reunited never has access to your raw DNA data, even if you upload a GEDCOM file. You can delete your family tree or your Genes Reunited account at any time.
Help and Support
How to Contact Genes Reunited
You can get in touch with Genes Reunited by email. We received a response within a few hours, although Genes Reunited says that it can take up to 2-3 days to receive a response.
Are FAQ Pages Available on Genes Reunited?
Genes Reunited has detailed FAQ pages that explain how to use many of the features of the site. In addition, the platform offers an eBook to help you start building your family tree.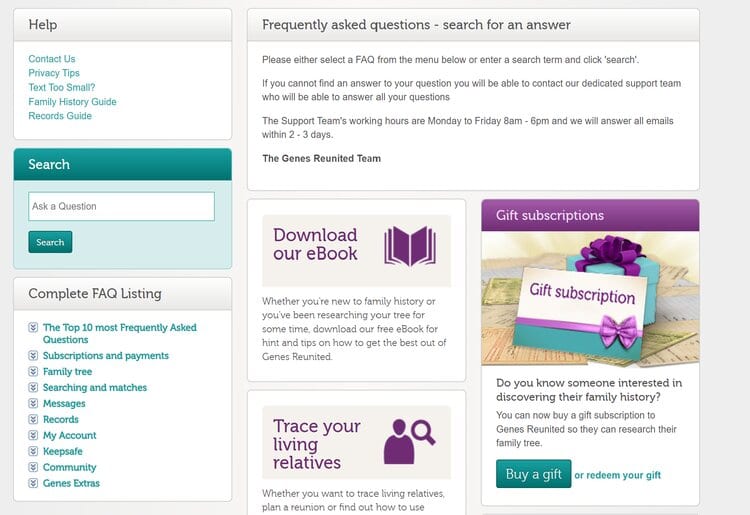 How Genes Reunited Compares to Other Genealogy Services
MyHeritage Genealogy Services
AncestryDNA Genealogy Services
Free-£80/year ($105.14 USD)
Investigating UK and Irish heritage
Building large family trees
Finding and collaborating with distant relatives
Genes Reunited vs. MyHeritage Genealogy Services
MyHeritage Genealogy Services offers access to nearly 17 billion records from 48 countries. It offers a much more comprehensive database than Genes Reunited does, although this can also add complexity if you primarily want to look for English, Welsh, or Irish relatives.
MyHeritage supports family trees with either 250 branches or an unlimited number of branches, depending on your plan. Trees are automatically checked for consistency and accuracy, making this a great service if you plan to build an expansive tree.
Genes Reunited vs. AncestryDNA Genealogy Services
AncestryDNA gives you access to more than 3 billion records from 80 different countries. It also offers access to Fold3, a database of more than 537 million historical military records. The service's pricing is expensive—access to Fold3 requires a subscription that costs $398 per year. However, you won't find a more comprehensive database of military records.
Genes Reunited vs. OneGreatFamily
OneGreatFamily takes a fundamentally different approach to building family trees than Genes Reunited or other genealogy services. Instead of building a tree on your own, OneGreatFamily encourages you to build your tree in cooperation with distant relatives.
Whenever OneGreatFamily identifies duplicate trees from different users, it automatically merges them. From then on, you can message each other and build your tree together.
OneGreatFamily costs $79.95 per year, making it one of the most affordable tree-building services available. However, the platform only has 190 million records.
Is Genes Reunited Worth It?
Genes Reunited is an easy-to-use service for building a family tree of your English, Welsh, and Irish ancestors. You can build the first branches of your tree in seconds, and the platform offers access to more than 515 million records in order to help you find additional ancestors and living relatives.
Unlike other genealogy services, Genes Reunited does not offer global databases. If your ancestors are from countries outside the UK and Ireland, this service may not be much help. You may want to consider MyHeritage or AncestryDNA instead. MyHeritage offers records from 48 countries and AncestryDNA offers records from 80 countries.
Genes Reunited isn't cheap, especially if you need access to a lot of different records to fill in gaps in your family tree. However, the platform's ease of use makes it worth exploring if you're a descendant of English, Welsh, or Irish ancestors.