You'll need to approach the process with sensitivity, empathy, and tact, especially since it could be a recent death.
Or you may be one of the many people researching their genetic and family history and need more information about distant relatives for your family tree. This can be a tough process to start, so we've compiled these 10 resources you can use to find out if someone has died.
1. Friends and family
Asking a person's friend or family member is the most direct way to confirm if someone has passed away, and it may be appropriate if you have some connection to the deceased person or their extended family.
When reaching out, do so with sensitivity and respect. If it's confirmed that they have passed, send your condolences to the family and ask about any collection, funeral, or memorial service. Keep in mind that, while the person you contact may be willing to confirm someone's passing, they may not be ready to discuss further details with you, especially if the death is recent.
Use your judgment when deciding the best person to contact. Is there an extended family member or friend you can ask, rather than the person who would be immediately affected by the loss? For example, it may be better to approach a cousin or colleague rather than the grieving husband or wife dealing with their loss.
2. Social media
If contacting a friend or family member isn't appropriate in the circumstances, or if you do not have any way to do so, social media is a more indirect way to find out if someone has passed away recently.
First, check the person's accounts. These days, social media is often the first place people go to pay their respects when someone dies. A friend or family member may have updated the deceased's social media profile to inform people of their death.
If this doesn't shed any light on the situation, look at the accounts of the person's friends and family members. They may have posted something to notify people of the death, a collection for the family, or a funeral service.
3. Obituaries
Organized by the family to notify the public of someone's death and funeral arrangements, obituaries are a natural starting point for finding out if someone died.
Start by looking online. Many obituaries are now available via newspaper archives or funeral home websites. Simply searching for the person's name and "obituary" may bring up the information you're looking for. Several online databases also collate obituaries from a range of local and international newspapers.
If there isn't an online obituary available and you know where the person lived, you can instead check the local newspaper archives or contact the place of worship the person attended.
4. General online search
Another obvious, yet often overlooked, way to find out if someone died is by doing a general search online.
By searching for the person's name and "death," you can see whether there are any online sources related to it. This may bring up newspaper articles, social media posts, announcements, or other useful leads.
Start by looking for broad terms on several search engines. Once you have some additional details, you can then narrow down your search. It may take a few tries to locate any relevant information. Even if you don't find the exact information you're looking for, an online search may produce some useful leads to follow.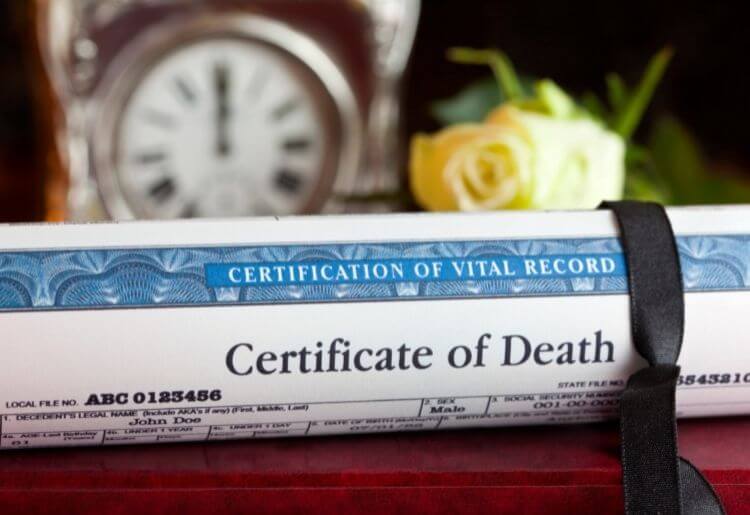 5. Online background check service
For anyone building their family tree, an online background check service is a good way to find out information about family members, including if they have died.
These services, such as BeenVerified, have professional licenses so they can access a wide range of records you may not be able to as a member of the public. In addition to the details of someone's death, these services can provide you with a range of information to fill in any gaps in your family tree, including occupations, marital status, and adoptions.
They also save you time by searching all of the large publicly available databases for you and collating the information they find in an easy-to-read report.
6. Geneology websites
Another useful resource for researching your family history and confirming historical deaths are genealogy websites.
Online genealogy databases often include a person's date of death. To use them, it helps to have the full and correct name of the person you're searching for, as well as their date of birth and last known place of residence.
People who use at-home DNA testing kits, such as MyHeritage DNA or LivingDNA, often upload their results to genealogy websites. This increases the amount of information available on them when it comes to piecing together your family history, including if someone has died.
Some DNA websites charge a fee to use their service. But many offer free trials that you can take advantage of to assist with your search.
7. Locate the gravesite
Locating a gravesite can be helpful when you want to confirm a historical death.
Many cemeteries now maintain digital records, making it easier to find gravesite locations and details. There are also several websites with searchable collections of photos of gravesites in local cemeteries. Run by volunteers, these sites are usually free to use.
If you don't have any luck with these options, try contacting the funeral home or place of worship in the area where the person died. They may hold records of where people are buried so you can go and visit the cemetery yourself to check.
Keep in mind that gravesite records usually only become available after some time, so they may not be helpful when you're trying to find out if someone died recently.
8. News archives
Depending on the circumstances of a death, online and physical news archive facilities may contain relevant news articles confirming a person's death.
Many newspaper archives are available individually online. For a centralized database, check out the Library of Congress's Chronicling America site, where you can access both historic and present-day archives from a range of national newspapers.
If you can't find a publication online, visit the local library in the area where the deceased last lived. Most public libraries have access to local newspaper archives, often on microfilm. These can be useful for finding both news stories and obituaries relating to historical deaths.
9. Public records
Understandably, a range of public records are generated when someone dies. These are a good source of official information about someone's death.
Public records are held by the relevant government department in each state and can be accessed either online or in person. When searching public records, it helps to have as much information as possible about the individual you're looking for, including their full name, date of birth, and last known address. Vital records such as marriage, birth, and death records are a good place to start.
Other public records that may be useful for your search include the Social Security Death Index via the National Archives, which includes Social Security Administration records. You can also search property records for land and deed documents for details about a property passing to the next owner following a death.
However, not all records are digitized, so finding information this way can be a time-consuming process. You may need to contact or visit a local records office to search their files.
10. Local Courthouses
If you know the city where the person last lived, you can search the local courthouse for relevant records.
After someone dies, a probate court oversees the distribution of their property. The probate court registry retains copies of court documents, including wills, which you can often access as a matter of public record. There can be small administrative fees associated with registry searches.
In addition to confirming if someone has died, searching probate records may give you the contact for the executor of the will or family members, whom you can then reach out to find out more about a person who has passed away.
Conclusion
If you're unsure how to find out if someone died recently, there's a range of ways to do so. Reaching out to friends or family, checking social media, or doing a general online search are good starting points to get this information quickly and easily. Just remember to be respectful when looking for this information.
If you're researching a historical death, you may need to dig a little deeper. Newspaper archives, gravesite records, and public records are useful resources to search. These searches can take time, and you may need to use a combination of them to find the information you're looking for.