There is lots of fun to be had in the sun, but casual encounters also come with their risks. Before you start looking for your short-term beach partner, read our top pros and cons to consider first.
1. Pro: You Don't Get Past the Honeymoon Phase
What is a summer fling exactly? In short, it's a no-strings-attached relationship that usually fizzles out when autumn arrives and the weather turns cold. This is a situation that lets you enjoy the excitement and lust of dating, without having to worry about emotional baggage.
In long-term relationships, the early carefree stages (known as the honeymoon phase) typically start to fade as a couple becomes more comfortable around each other. After all, there are only so many fascinating things you can learn about a person. Because of the short nature of a summer fling, you are less likely to fall out of lust, so everything is going to be exciting and fresh while it lasts.
2. Con: Feelings May Develop
Although this type of affair is supposed to be fleeting, trying to not catch feelings is easier said than done. I'm sure you have heard the saying, "You can't help who you fall in love with." While there is no exact science as to how long it takes to fall in love, studies have estimated it can take roughly 88 days for men and 134 days for women to fall head over heels.
Taking this into account, as the summer lasts for around 90 days, you are unlikely to develop such strong feelings. But the sunny season is still long enough to form a deep connection. If you end up liking someone who has no interest in commitment, you could end up facing heartbreak and disappointment. For that reason, it's a good idea to reflect on what you would do if things turn serious before taking the plunge.
3. Pro: It's Easier to Meet Someone
When it comes to finding "the one," it's easy to have a long list of requirements. We tend to want a lifelong partner to share our values and beliefs on important matters such as family, religion, lifestyle, trust, and communication. We expect a lot more from "the one" than we do from "the one right now."
In a casual relationship, you only have to choose a suitable partner for a brief amount of time. All the pressure is off, so it's probably going to be a whole lot easier. Many dating apps and websites, such as Zoosk and EliteSingles, cater to people seeking a casual liaison.
You can also find many LGBTQ+ sites and apps that cater to people who don't want anything serious.
4. Con: You Might Not Be Their Only Fling
While a summer fling is supposed to involve no commitment, you may not want to share your hot hookup. Just because you are not looking for longevity, doesn't mean you don't want to experience the thrill of two people madly intertwined and somewhat obsessed with each other. Unfortunately, your casual partner may not see things that way.
As this isn't a serious relationship, the person you are seeing has no obligation to solely commit to you, unless you agree to that kind of arrangement beforehand. And without the time to build a deep connection, you may not be as able to fully trust someone you've only recently met.
In a situation where there's little trust and commitment, you cannot be 100% sure that your short-term partner won't be sexually intimate with other people. So, if you decide to enjoy a short summer romance, be extra cautious and follow safe sex practices like using protection.
5. Pro: It Brings Out Your Adventurous Side
How many of us view winter as an excuse to hibernate like a bear and watch movies under our blankets? The heat, on the other hand, tends to bring out our more daring sides. What is a summer fling without adventure?
We can swap dating indoors for scenic hiking or skinny dipping in the sea. Just imagine all the cute dates you can have outdoors with your casual partner. Besides stepping out of your comfort zone by going on lots of different dates, you could also find yourself on a sexual adventure.
Experiencing a passionate, no-strings-attached relationship can boost your sexual confidence. Because you know you're not going to stay with the person forever, you have more reasons to explore and try new things—there is less pressure to be perfect.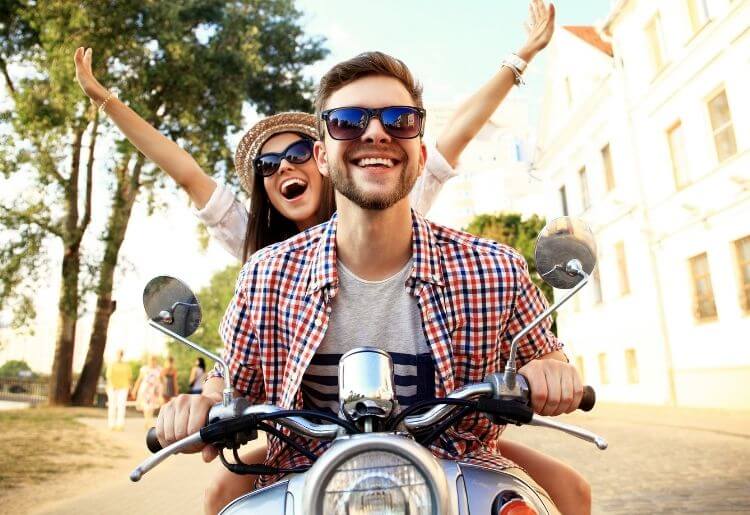 6. Con: Your Memories May Affect Future Relationships
It's easy to look at your past with rose-tinted glasses—especially a short summer romance. All those hot nights spent together laughing and sharing intimate moments, free from emotional responsibility. Such a happy time may lead you to compare every future partner to this one great summer fling.
Of course, a long-term partner cannot live up to the romantic ideal of someone you never had to fight or go through hard times with. As mentioned earlier, the honeymoon phase doesn't last forever. Your summer fling could be a person you are only compatible with for a casual situation. But when you build an intense relationship so quickly, your mind can trick you into believing your chemistry was much more.
7. Pro: It's Great for Your Health
Being intimate with someone you fancy is a great feeling. But other than just making you feel good, showing affection (including holding hands) can reduce the stress hormone cortisol. So, a brief romantic encounter could make you feel more relaxed and calm.
Affection can also improve heart health, sleep levels, and immune function. This is because physical contact increases the "feel-good hormone" oxytocin whilst decreasing cortisol. If you haven't enjoyed intimacy in a while, a summer fling could be just what you and your stress levels need.
8. Con: You May Miss Out
A holiday romance is supposed to give you incredible moments that you can fondly look back on. In the haze of kissing under the stars and cuddling on a sun lounger, it's natural to forget that your friends and family are also out having fun and creating memories—memories that you are not a part of.
When the summer is over, you might find yourself in a group of people listening to stories that you usually would have been involved with if you hadn't been too busy with your fling. No matter how old we are, we can all get caught up with our romantic feelings. So you may have to remind yourself to save some time for other important relationships in your life this summer as well.
9. Pro: You Can Figure Out What You Want
Getting seriously involved with someone when you don't know what you want can put you in a sticky situation. Casual dating over the summer, however, gives you the freedom to spend time figuring out the kind of person you would like to date in the future.
It's natural to not always be in an emotionally available space. Perhaps you have gone through a bad breakup or a difficult personal situation. With a fling, you can clear your mind and let go without thinking about where a relationship is heading, while at the same time reflecting on your current experiences and which ones might work or not work for you in the long run.
10. Con: You Don't Quite Know What You're Getting Into
Summer flings can be tricky to navigate. As you are not building a relationship, you may find yourself wondering how much to reveal about yourself. Do you discuss your friends and family? Is it okay to talk about your dreams and beliefs? Does it matter if you don't agree with some lifestyle choices, such as smoking?
If you are new to casual dating or usually stay in long-term relationships, the short intimacy of a fling could cause confusion and uncertainty. This might initially feel uncomfortable, but discussing your expectations with your short-term partner before moving forward can help.
Conclusion
A summer fling can offer intense affection and passion that is free from emotional baggage. If you are looking to experience no-strings-attached excitement, there is a lot to be gained in pursuing a brief romance under the sun. Just consider the possibilities of the cons we've listed above to decide if it's worth it before jumping in, and make sure you don't get too caught up and forget to make time for your close friends.