Dating after a breakup may not be a good idea if you're still obsessing over your ex or you haven't yet reflected on how you could be a better partner. However, if you've processed the loss and are finding joy and humor in your own company, a new relationship can add something special to your life.
Once you can recognize the 10 signs below, the best dating sites out there, such as Zoosk, can enable you to dip your toe back into the dating scene at your own pace.
1. You've Gone Through the Stages of Grief
Traditionally reserved for the bereaved, the Kubler-Ross stages of grief are increasingly being applied to any kind of loss. Many people going through a breakup may resonate with the non-linear process of grieving described in the model: denial, anger, bargaining, depression, and acceptance.
It's important that you honor the grieving process and not attempt to control or suppress it. It takes as long as it takes and looks different for each person. Some people may take a year to get over a 2-month relationship, while others may process a years-long marriage falling apart in a matter of weeks.
When you're in the acceptance stage, you find ways to move on with your life without your ex-partner. This can involve restarting pleasurable activities, finding different people that can fulfill your social needs, and continuing to acknowledge feelings that come up.
2. You're Not Looking Through Your Ex's Social Media
It's normal to want to check your ex's social media channels after a breakup. If they don't have an active social media presence, you may revisit old photos taken during the relationship or daydream about what they might be doing right now.
Eventually, you acknowledge that this behavior keeps you hung up on a relationship that no longer exists, which not only makes connecting with a new partner more difficult but also keeps you from enjoying your single life. You begin to spend less time compulsively checking relationship statuses and Instagram stories.
If you get to a point when you can't remember the last time you checked your ex's online activities or former relationship photos—and feel no need to do so—you're probably ready to start dating again.
3. Your Sense of Humor is Back
Regardless of whether your last relationship was long- or short-lived, intense or lacking energy, breakups usually instill a low mood. Though only a minority of them may trigger mental illnesses such as depression, it's common for people to feel grumpier than usual after a breakup.
You might find your friends' jokes or your favorite sitcom a bit lackluster when your heart is still healing. Smiling feels effortful and, sometimes, you may fake-laugh just so people don't feel offended.
A good way to tell that the breakup is no longer holding you back is if it's easier for you to smile and have a laugh. If you're able to crack a joke about the good and the bad times in your previous relationship, even better.
4. Your Mental Outlook is Positive
If the thought "I'll never be able to love again" crossed your mind after a bad breakup, you're not alone. In the immediate aftermath, many of us express doubt that we'll find someone as good as our previous partner or that we're even worthy of love at all.
However, it gets better. As the saying goes, time heals all wounds, and the healing process could be hurried along with self-care practices. For instance, meditation can help untangle thoughts that aren't useful to you and bring some peace and joy into your world. Also, don't underestimate the healing power of a rant with a close friend.
Eventually, you start believing in yourself again and realize that you still have a lot to give. When you can look toward your future with hope and optimism, you might be ready to let someone new into your life.
5. You're Prioritizing Your Own Growth
When coming out of a relationship, you may have a hard time adapting from "we" to "me." The things you used to do together as a couple—grocery shopping, watching Neflix, walking the dog—are now a 1-person job. You might be faced with a lot of time to pursue your own goals, especially if you were supporting your partner's career and interests during the relationship.
As you come to terms with being on your own, you start to question your real needs and how to best fulfill them. Maybe you're making that long-awaited career change now that you don't have financial dependencies. Or you might be focusing more on creative hobbies or other activities that bring you joy.
When you're growing mentally and spiritually, you not only know your own needs better but are also equipped to support the needs of a new prospective partner in a healthy way.
6. You Enjoy Being Single
This may sound counter-intuitive, but enjoying your own company and independence means you're not entering a new relationship because you feel like you have to. Instead, you do it because you want to.
Despite what traditional fairy tales tell us, being single has many benefits. Firstly, you've got more time to focus on what matters to you, whether that's trips with friends, physical exercise, or putting in extra work hours to achieve a promotion. Secondly, you have the freedom to explore your sexual and romantic preferences guilt-free through casual dating. For instance, platforms such as BeNaughty are specifically designed with non-exclusive connections in mind.
If you're enjoying your single life, you know how to offer yourself the love and care that you need. This means you won't put this important task in the hands of your next partner and, instead, will build a pressure-free partnership with them.
7. You Recognize Your Own Mistakes in Past Relationships
It's natural to point fingers and feel betrayed post-breakup. But once you're able to look at past events with more objectivity, you start to see how your own actions may have impacted the relationship.
For starters, being able to take a step back and reflect is a sign that the passion from the relationship has died down. Furthermore, learning from your mistakes makes you more skilled at building relationships based on compromise and accountability.
The aim of recognizing your relationship shortcomings isn't to be guilt-ridden or to seek out your ex-partner's forgiveness. Rather, it's to come to terms with how and why the relationship didn't work out and better yourself as an individual and partner.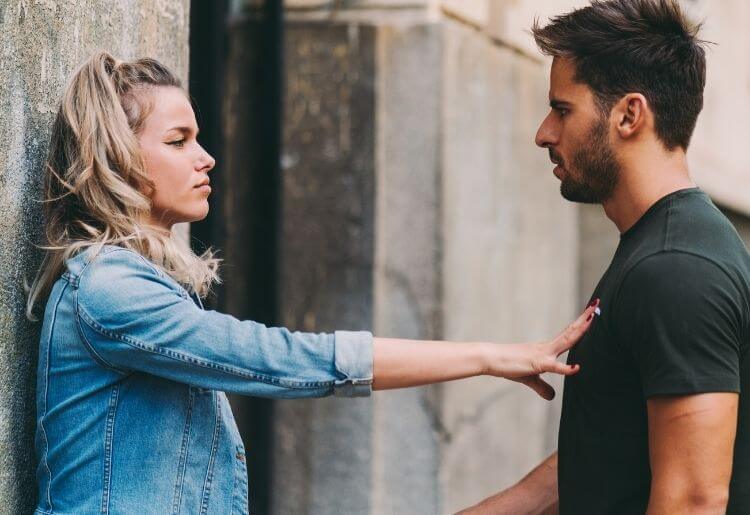 8. You Don't Want Your Ex Back
While this seems like an obvious point, it's astounding how many people on the dating scene wish they could have their ex back. One study conducted by Elite Singles found that up to 60% of people are open to the idea of getting back together with their exes.
If you're pondering when to start dating again, the answer is: not before you've stopped fantasizing about your ex. If you're still wondering "what if," you're not giving yourself a chance to consider the needs you need fulfilling right now. And if you start seeing someone new, you may subconsciously compare them to the person whom you're not over yet.
Take it from us. It's best to let the fantasy extinguish before you claim to be available for a new relationship.
9. You Enjoy Meeting New People
It's a really promising sign if you're feeling curious about people's interests and personalities. Many times, people in relationships don't have as much time to make new connections when they're out and about. But now that you're single, you can re-discover the thrill of getting to know someone new. Even if they're not a love interest, you can still enjoy the spark of a good conversation.
Experiencing attraction to specific individuals is a bonus, signaling you may be ready to explore something beyond friendship. If you know what types of people you'd like to meet, there are niche platforms you can try, such as LGBTQ+ dating sites or dating sites for seniors.
10. You've Met a Potential New Partner
Deciding whether you should start dating after a breakup and meeting a prospective partner can produce a chicken-and-egg dilemma. Do you become ready by dating them, or do you date them because you're ready?
If you've been working on yourself, you got over your ex, and you're confident about what you have to give, you should trust your instincts about this new person in your life. There's no such thing as perfect timing when starting things with a new partner. The only way to find out if it's worth it is to give it a try.
That said, be honest with yourself about where your desire is coming from. If you're feeling lonely and miss being part of a couple but you're not into this specific person that much, it's probably best to pass.
Conclusion
While there are many ways to tell if you're ready to start dating again after a breakup, no one but you can know for sure. Grief unfolds in its own time, and it's crucial that you get to know yourself as a single person.
Remember to check in with your mental health and revisit the things that brought you joy before the breakup. Knowing what you want from life won't just make you a more confident person, it will also increase your chances of building a mature partnership with someone new.