In a 2019 survey about online dating conducted by Top10.com, 54% of people between the ages of 18 and 60 reported that they have downloaded a dating app at some point in their life, and they have extremely mixed feelings about it.
Whereas many report that there are "too many idiots" and "creepers" flooding the apps, others claim it's "easier to get laid." Participants even confessed that they have lied about their names, said they were single when they've had live-in partners of 10+ years, and pretended they wanted a serious relationship when they only wanted a hookup.
On the bright side, however, 16% of participants have entered relationships lasting longer than 3 years with someone they met on a dating app. So I guess there's hope for the remaining 84% of us.
What's a turn-off in a dating profile? How often has a match looked great "on paper" but disappointed you when you met? What are the biggest advantages of online dating over traditional dating methods?
These are just 3 of the 15 questions asked to the participants of this study, and their answers are sure to shock you, make you laugh, and maybe even restore your faith in love.
Let's dive into the survey's most interesting findings below.
Turns out We Can Handle the Truth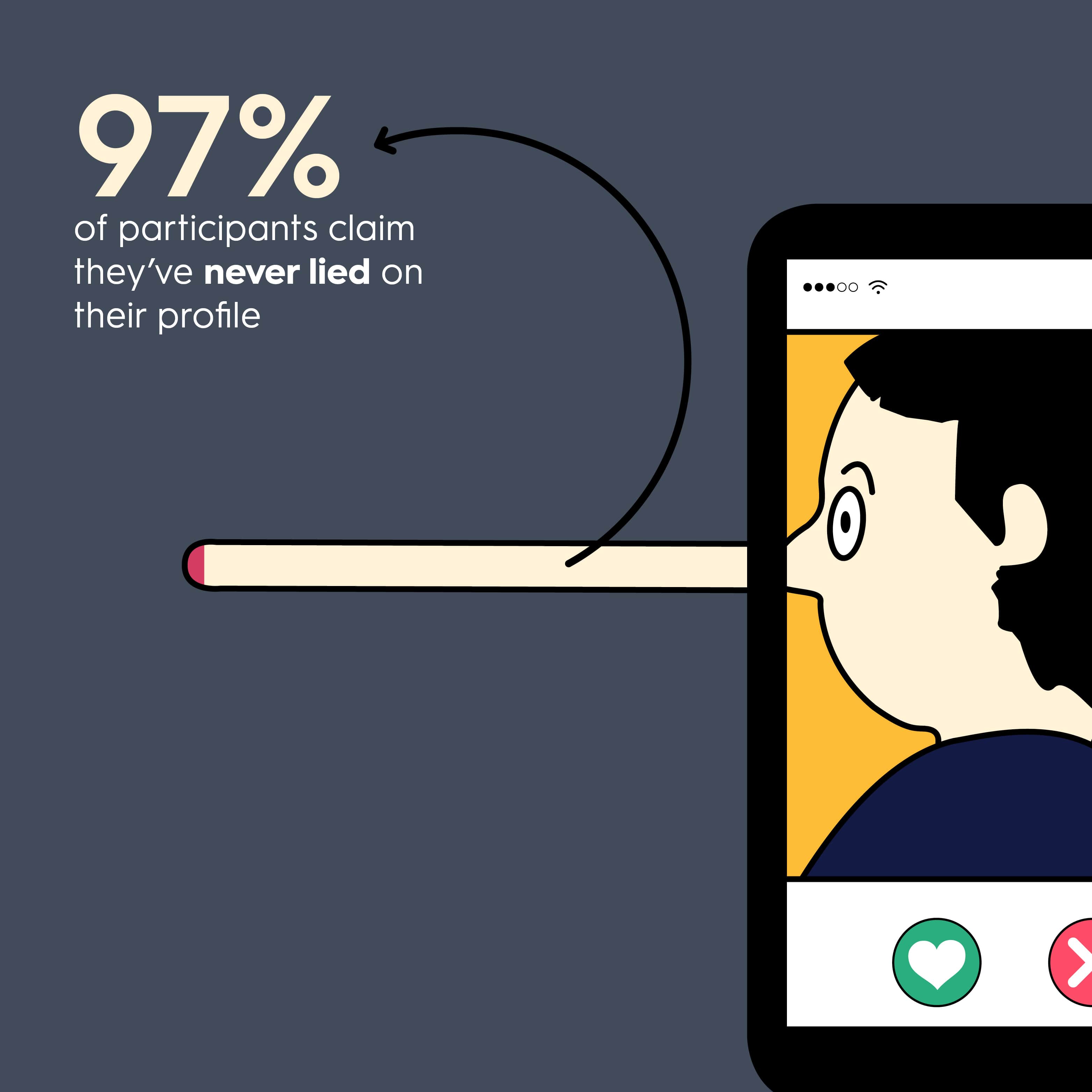 According to the survey, 97% of participants claim they've never lied on their profile, which is overwhelmingly admirable if that really is the case.
The 3% who admit they have lied at some point in their online dating career shared their explanations for doing so, and the reasons are understandable, ridiculous, and interesting.
When the results are filtered by two genders (men vs. women), women typically lie about their height or weight on their profile whereas men tend to hide more serious information. But age seems to be the most defining factor of what someone would choose to lie about on their profile.
Who's Telling the Truth?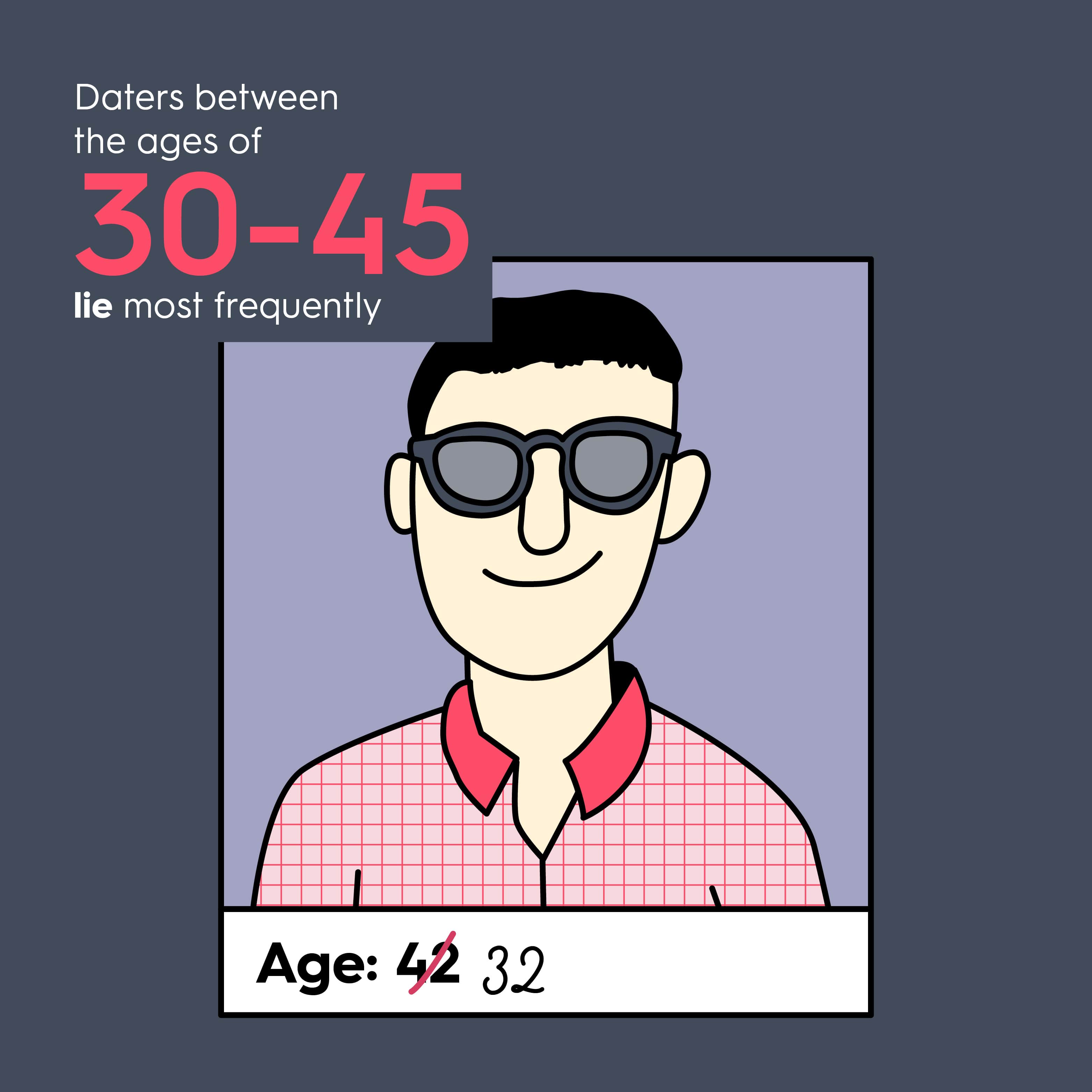 Daters between the ages of 30 to 45 lie most frequently, but what exactly do they lie about? It appears as though they mainly fib about their intentions of why they're using the app. For example, someone downloads the app in hopes of finding a hookup buddy yet states in their bio that they want a serious relationship.
In fact, 45- to 60-year olds confess to lying as well, and they lie about important topics like being divorced instead of separated or claiming they're single when they're actually in a committed relationship with someone who lives with them.
Interestingly 18-29 year olds just lie about their height, and maybe even their age. In my own experience browsing the apps, I've seen plenty of people who look 18 but claim they're 26.
Then there's this person who admits: "I said I liked video games when in fact I just cannot get into it and trust me I have tried." That's the best possible thing to lie about on your dating profile, if you ask me.
Correct Spelling Is Sexy to Everyone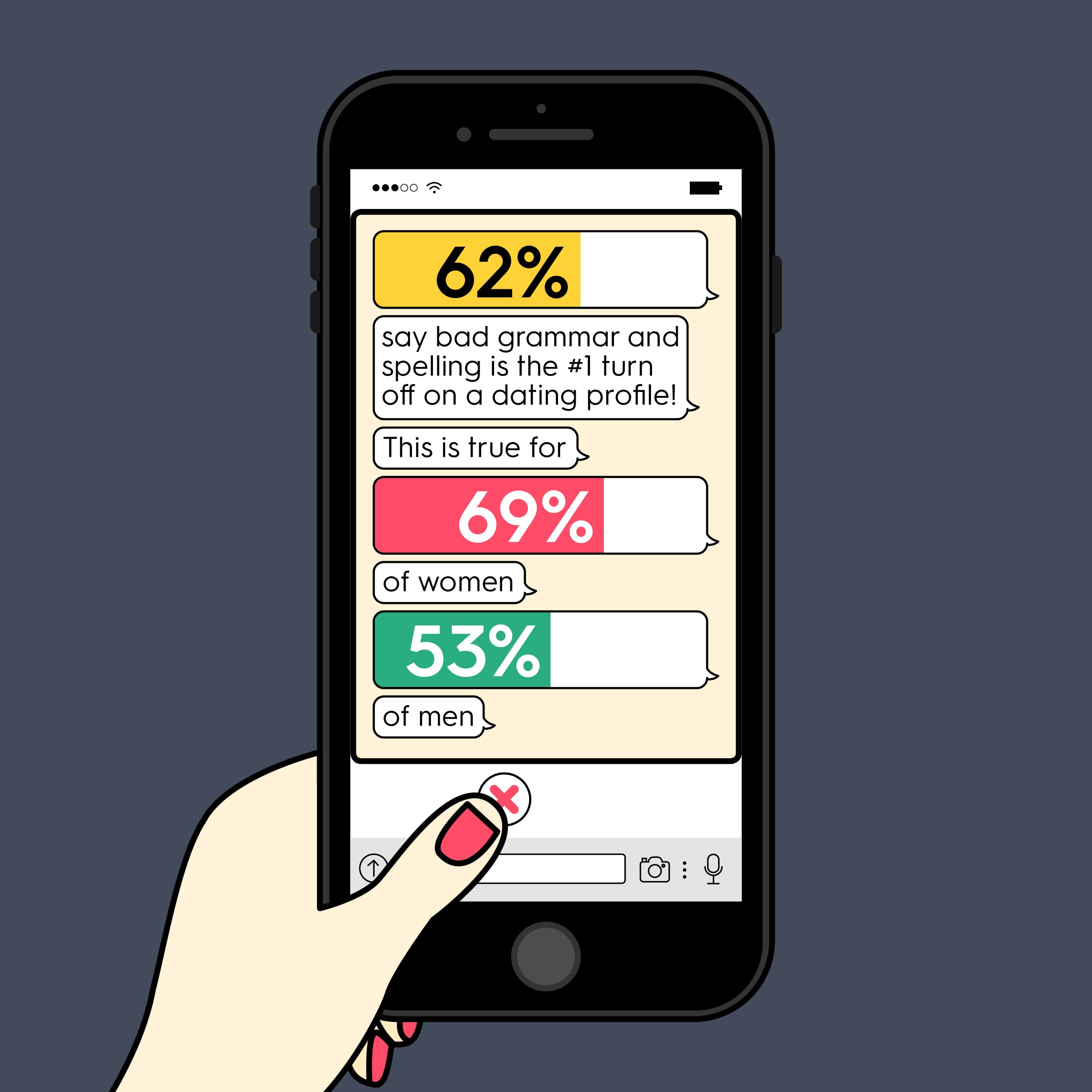 Some 62% of total participants report that bad grammar and spelling is the #1 turn off on a dating profile. The vote was unanimous, with 69% of women and 53% of men selecting this choice.
I thought I was a picky dater as a writer who values proper grammar and sentence structure, but I guess it doesn't matter what your job title is. Correct spelling is sexy to everyone.
Around 59% of those surveyed agree that posting pictures with an ex is "left-swipe worthy" as well. Sharing pictures with your most recent boo isn't the brightest idea no matter how good you look. Opt for a mix of photos by yourself and with your family and friends instead.
But be careful not to post too many photos with your friends. As one person submitted, "Which one are you again? I can never tell. Plus, hiding behind your friends' approval is a sign that you lack confidence in yourself. I'm dating you — not "you + my crew." Pictures with others of the opposite sex… are they my competitors?" Well said.
Strike a Pose
When we break down the answers by age, we find that each age bracket has its own unique group of turn offs.
Half of those over 60 say revealing photos aren't a turn-on, and 38% of people between the ages of 18 to 29 surprisingly feel the same. 18- to 29-year olds are more repelled by seeing children in a potential match's photos, but, as expected, that's not a big concern to people over 60 considering they probably have kids and grandkids of their own.
Other dating profile taboos include guns, killed animals (hunting), blatant politics, Instagram filters, and Bud Light. Maybe start drinking margaritas and taking photos with cute puppies to improve your shot at finding love online.
'Too Many Idiots'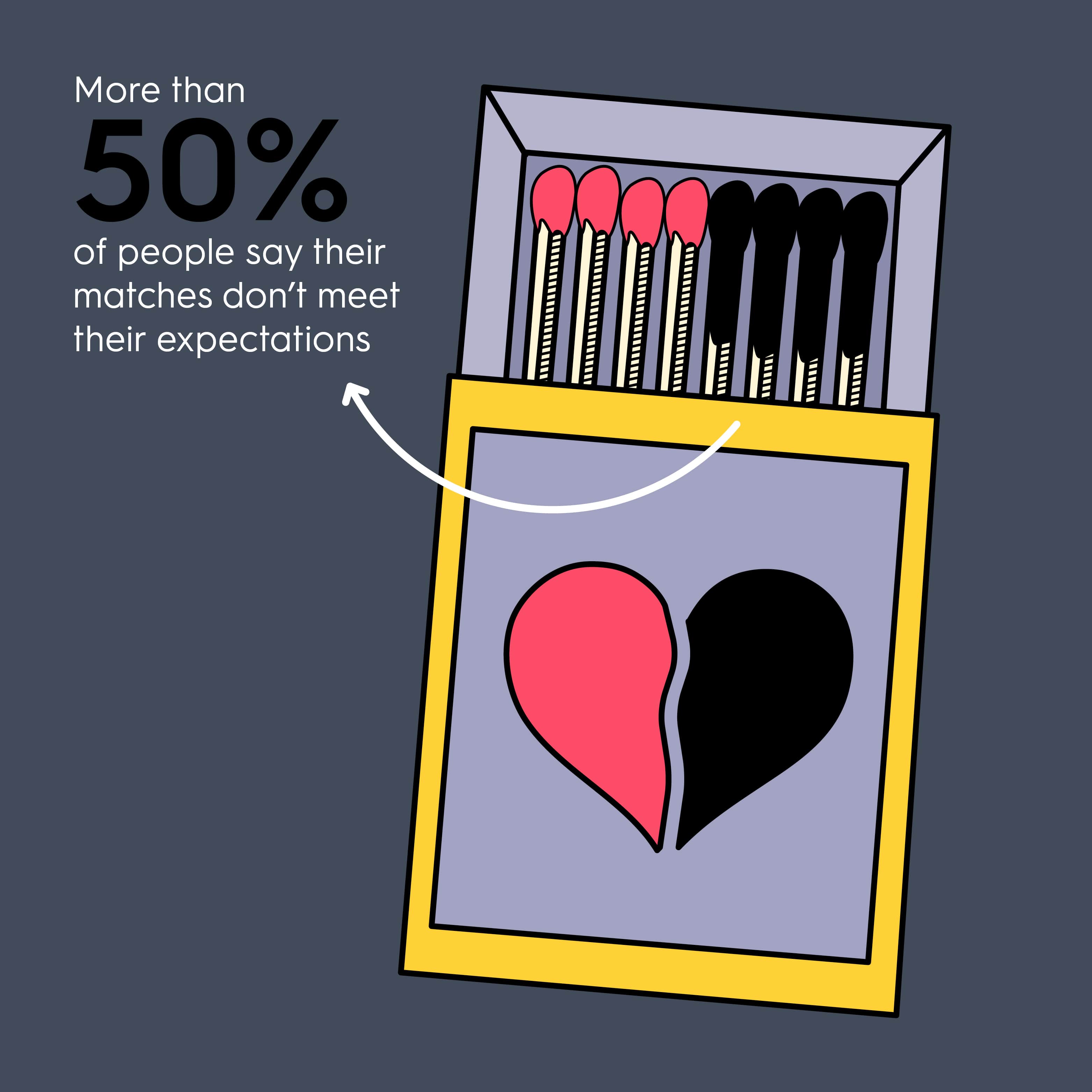 Some people struggle with dating apps because they come across better in person than online. More than half of the people surveyed agree that their matches don't meet their expectations.
Other issues include safety concerns, fake profiles, "too many idiots," and lots of lies. At the end of the day, you have to be really smart about your safety when using an online dating service to find your next partner, which sounds scary and may not be worth the risk to some.
On the flip side, 62% of people use dating apps because it's easier to find people with shared interests as opposed to joining clubs or going to bars. 58% believe there's a bigger selection of people to choose from within the online dating pool. 22% claim it's the safer option so they can research potential match's social media accounts before getting too emotionally invested.
A Picture Is Worth a Thousand Words, or Not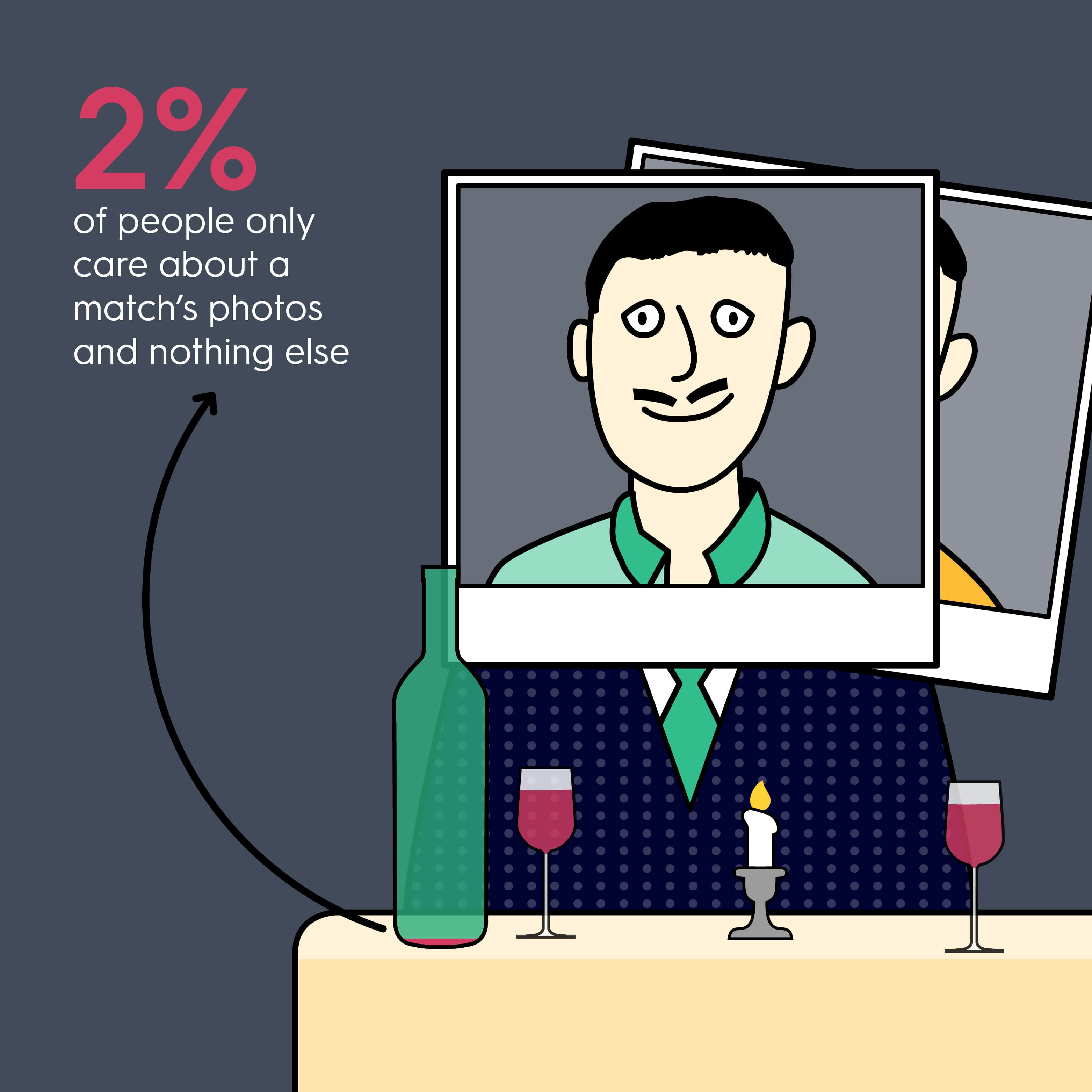 Women like the fact that they can text matches before meeting in person to figure out whether or not the in-person date will be worth their time. However, men don't care as much to text beforehand and oftentimes grow frustrated because unrealistic expectations can set before meeting.
One woman claims that it's easier to find other gay women on dating apps. Other participants confirm that online dating is more accessible for those within the LGBT+ community as you can weed out people you don't like, state your interests, and voice your intentions prior to meeting.
No matter what your sexual orientation may be, perhaps the best perk of using the apps is that you really can find your soulmate and stay together for 10+ years.
Setting Expectations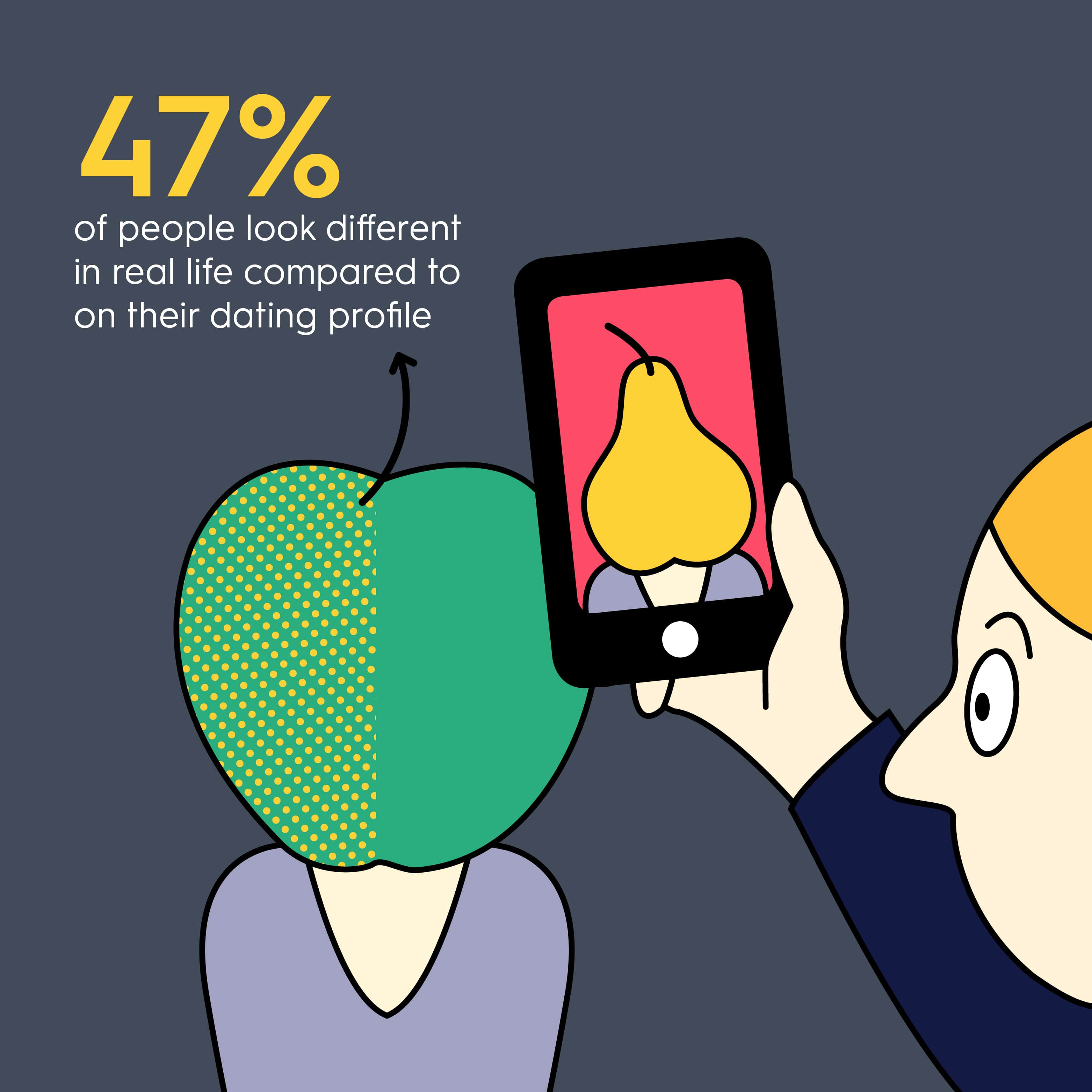 In terms of compatibility, 62% of people believe it's impossible to predict how well they'll get along with someone until they meet that person face-to-face. But what happens when you actually hang out for the first time? Is it instant butterflies and chemistry? For most, that answer is "NO."
64% of participants report that their date's personality was different than how it was portrayed online. 35% say that a crucial detail had been left out of their profile, like they had kids, were visiting but lived out of town, etc. And if you're only using the app to find your next hookup, you'll probably be pretty disappointed when the sex isn't as great as you'd hoped.
Can You Tell If It's Going to Last?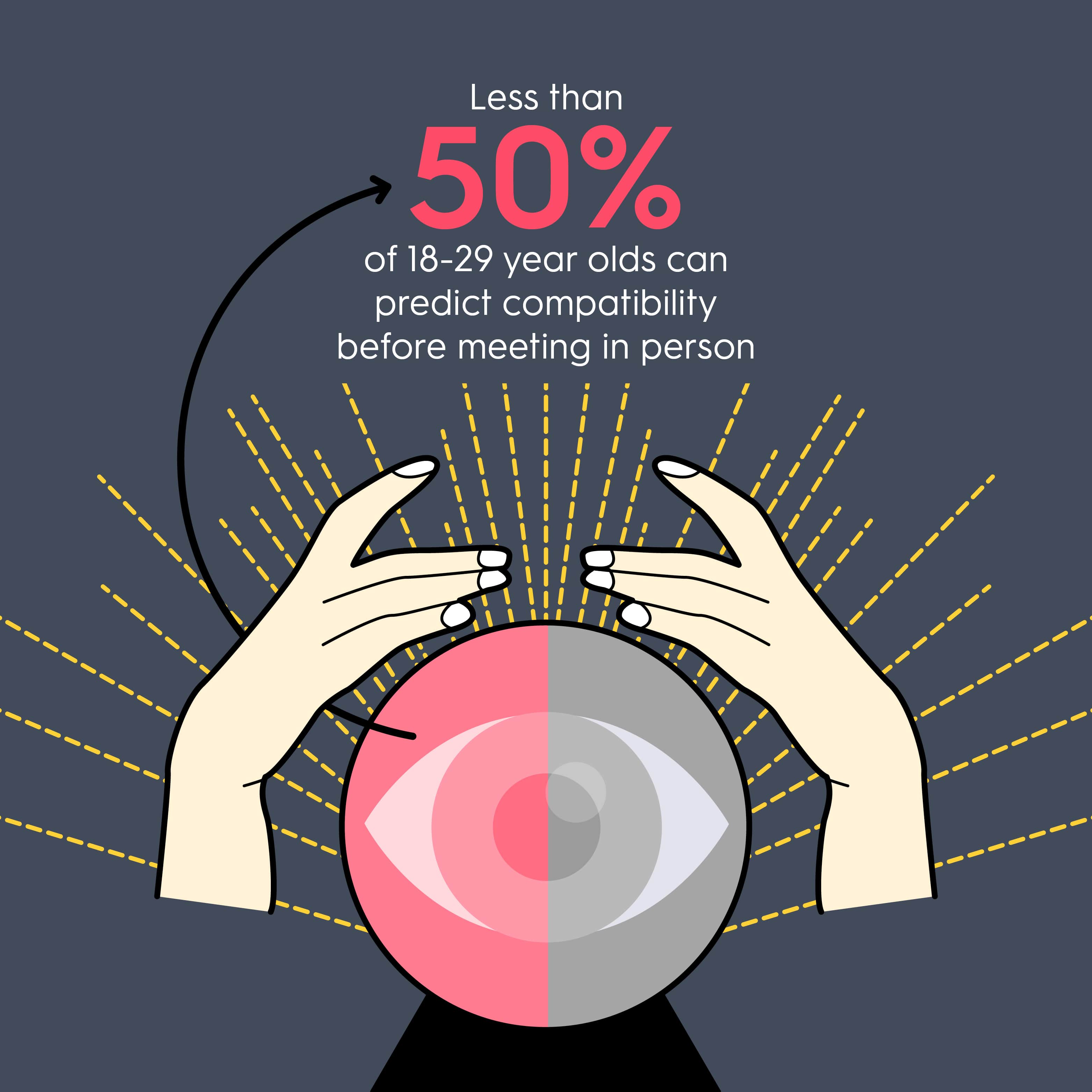 Although 87% of people over the age of 60 say they have to meet in person to find out if they're compatible, none of the survey participants in that age group claim to have ever met anyone who looked good on paper but not in real life... interesting.
Love Is Not for Everyone, Apparently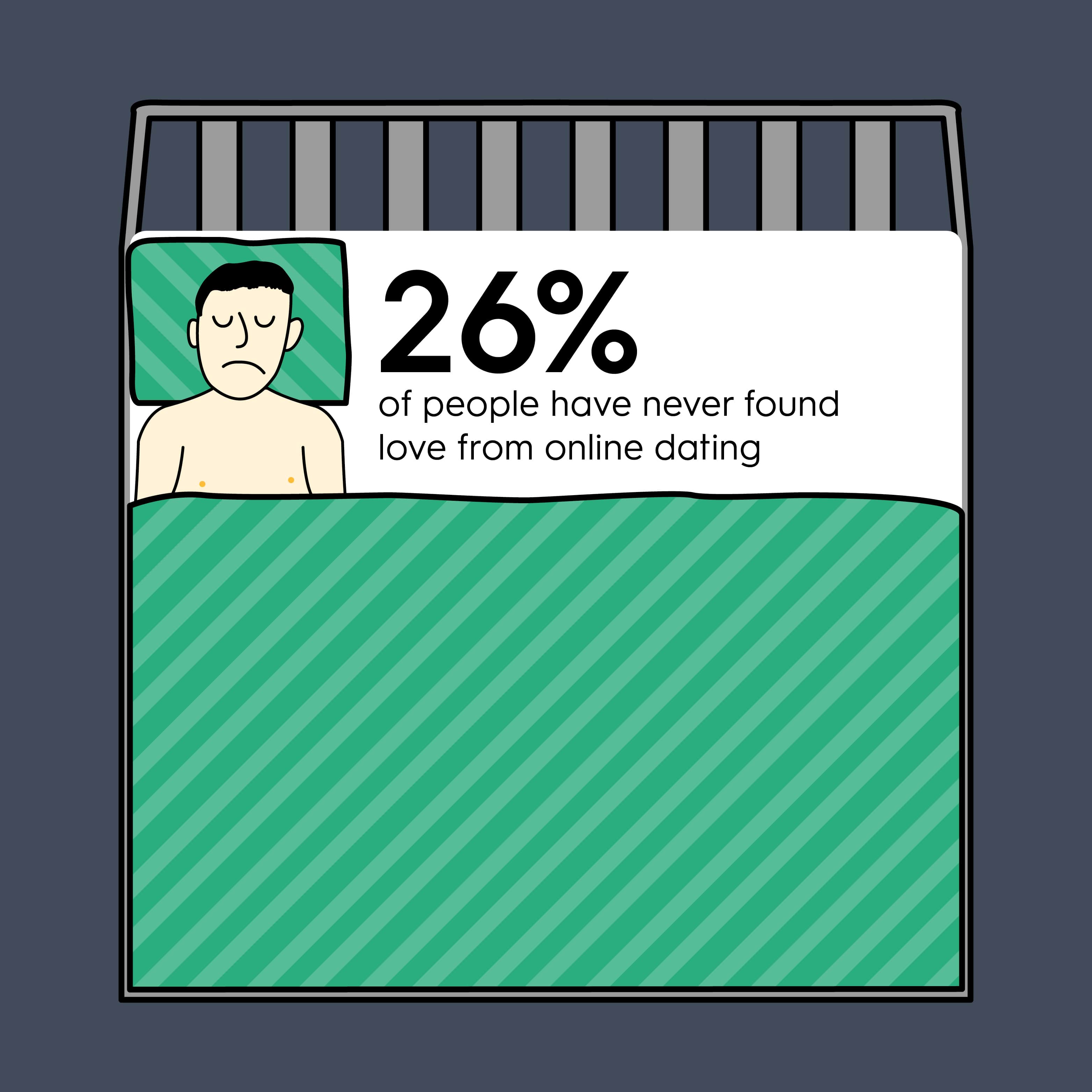 Here's the most important question of all – the question of whether or not signing up for a dating app is actually worth your time, heart, energy, and/or money.
1/4 of participants have never had a relationship that resulted from online dating. Another 25% entered relationships that lasted less than 3 months. However, 28% of participants have been with someone they met online for longer than one year, including over 100 people who have been in 3+ year relationships with someone who also swiped right.
But There's Still Hope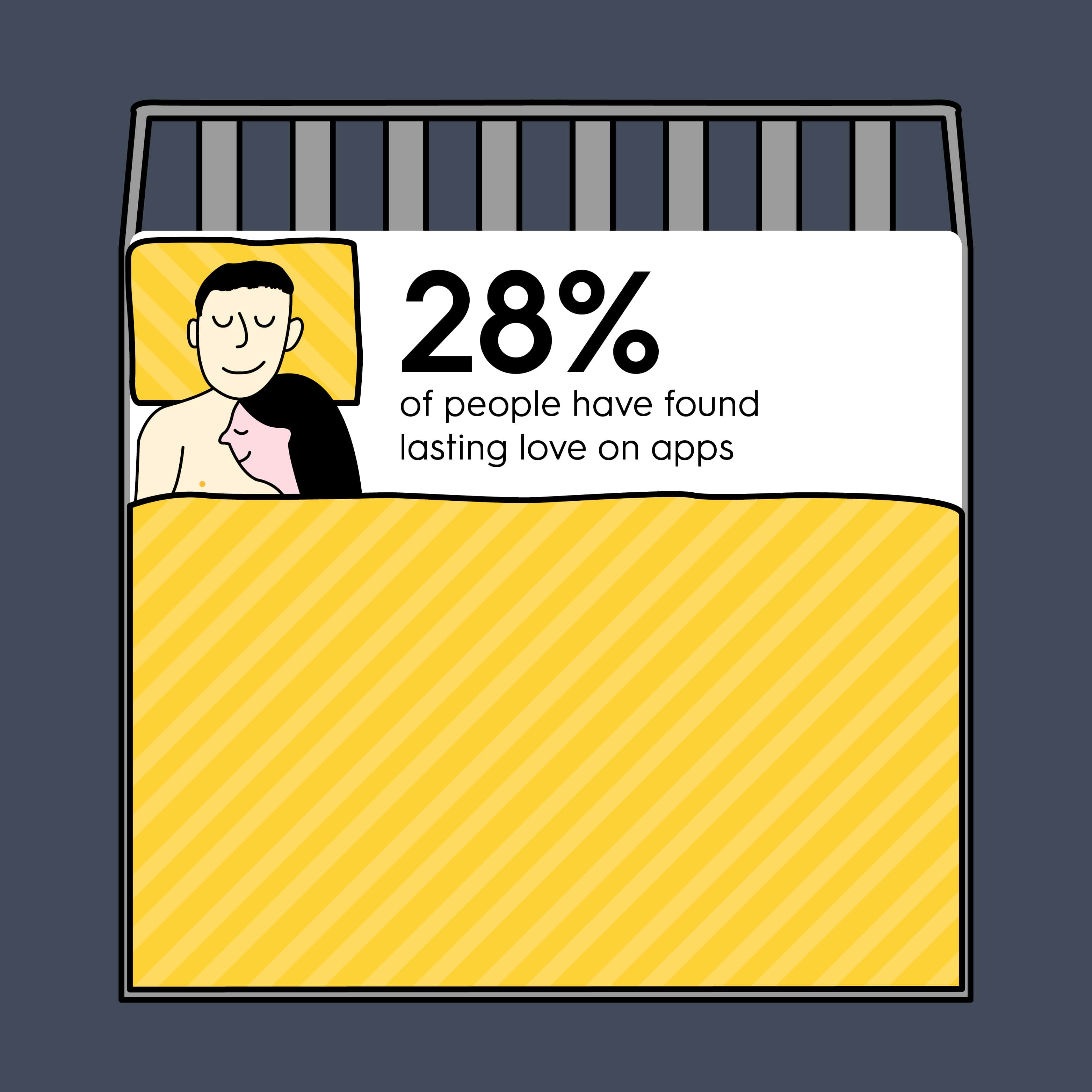 The Top10.com survey results are in... and they reveal that there truly is hope for the rest of us eligible singles out here in the real world. Navigating the top dating sites can be tricky when there are liars and creeps with bad intentions, but there are thousands of genuine folks looking for real relationships on the apps. It may take some swiping, scrolling, and awkward first dates to get lucky, but the fun and games will be worth the wait when you finally find your perfect match.