So, you want to make sure it leaves the right impression. Before you take your photo, read these tips on how to capture your best self.
1. Avoid messy backgrounds
Your new kitchen may look amazing, but people don't join online dating sites to look at aesthetically pleasing cupboards. Your background must be simple and clear so you stand out as the main focus.
Before taking your image, look around to see what's behind you. Dirty laundry, piled-up dishes, and unmade beds are a quick turn-off. Try to find a setting that showcases your personality.
If you're outdoorsy and enjoy hiking, for instance, you could take a picture at the top of a hill. If you are a bookaholic, you may want to include your bookcase. Whatever background you choose, just make sure it is not too cluttered and distracting.
A good tip: Take a photo and then ask friends what they notice first.
You may also find these articles interesting:
2. Use a tripod or selfie stick
When you take selfies holding your phone, your arms can only stretch so far. Close proximity to a camera can distort your features by making them look wider. Holding your camera too close can also hide your background.
By taking your profile picture with a tripod, you can stand a good distance away from your phone and show more of yourself. It helps to put a mirror in front of you so you can roughly see how your image will look. Many tripods are equipped with a Bluetooth remote so you can take pictures without setting a timer on your phone.
Selfie sticks are also a good way to create distance between you and your camera.
3. Find the best lighting
Photo studios have lighting equipment for a reason. Everyone needs good lighting in a photo, including Kate Moss.
How can you tell if your lighting is bad? Take a test picture and see. Ideally, your image will look bright and uniform, with no shadows on your face. Bad lighting not only creates shadows but also accentuates features such as your nose.
To look your best, take your profile image during the day when you will not need indoor lighting. Many home lightbulbs have strong color tints which can discolor eyes and teeth. To avoid shadows, face head-on towards a window and position yourself slightly away from a wall. You may want to invest in a ring light to help create a healthy glow.
If you're taking a photo outside, do not face the sun. Again, this creates shadows and may make you squint. Research by OkCupid found that photos are considered more attractive when taken just before sunset (known as the Golden Hour).
Your next match is waiting for you on ZooskDon't keep them waiting for long

Create Profile
4. Enable your photo grid
One of the biggest problems with taking your own images is knowing where to place yourself. A friend can easily adjust their phone to put you in the middle of a picture, but it is difficult adjusting yourself when you are trying to pose. Especially if you are using a DSLR camera or your back-facing phone camera (the non-selfie side), it is easy to end up taking an image where you are positioned away to the side without realizing it.
To help center yourself, go to your camera settings and enable your grid. The vertical lines will guide you on where to stand.
Try to balance your photo by creating good symmetry. For instance, if you have a bookshelf behind you on the left, you may want to put a plant behind you on the right. A well-balanced photo can make you look more polished.
5. Hold your camera at eye level
Where you hold or place your camera can make a big difference in how you look in your profile photo.
On a dating site, you want your images to be as accurate as possible. Trying to appear slimmer or taller may give off catfish vibes. By holding your camera at eye level, you can show the most realistic portrayal of how you look.
Before taking your picture, place your phone camera up close to your eyes and then slowly move it away. This will give you an idea of how high you need to hold your phone.
Shooting from below eye level can be unflattering as it increases the risk of a double chin.
6. Check dating site guidelines
Many dating apps and sites have photo verification and image checks in place. If you have watched the Tinder Swindler, I'm sure you understand why.
Having your photos approved can help with reducing spam accounts and inappropriate content. Look at the rules of the platform(s) you want to use before snapping your pic.
Zoosk, for example, may reject your primary photo if your face is not clearly visible, so take a profile photo where your face and features are close enough to be seen.
Ourtime, meanwhile, insists that you are fully clothed. Platforms such as Christian dating sites are also likely to have stricter rules regarding how much skin you can show. To air on the side of caution, it's best not to show too much skin.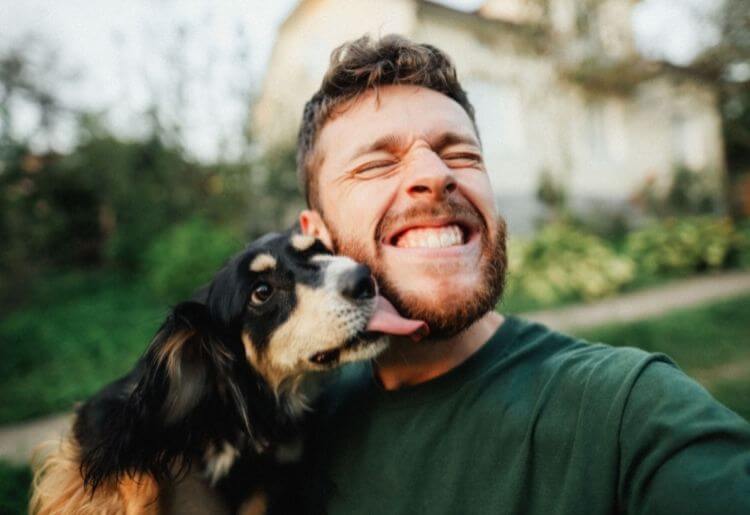 7. Put on a smile
When you take a photo of yourself, you may be tempted to not smile. Smiling at ourselves is unnatural and can feel strange when there is no one behind the camera to smile at. But, uploading an expressionless image can make you look unfriendly.
A picture that doesn't look welcoming could reduce likes and messages, especially as many people find making the first move daunting. Would you start a conversation with someone who didn't look approachable?
You are much more likely to draw people smiling than if you opt for a blank expression. But, here's the catch. Research by Hinge found women are more popular when they smile with teeth, while men are more admired when they smile without teeth.
8. Make your teeth look whiter
Speaking of smiles, if you're the type to wear makeup, it can't hurt to highlight your teeth and make them look whiter.
Wearing red lipstick with blue undertones can help counteract any yellow tones present in your teeth. If you're not a fan of red, you could try other colors with blue or purple undertones, such as raspberry, plum, and magenta.
Light and nude shades are not the best colors to hide teeth stains and discoloration. This is because the tints do not have dark undertones that can contrast against the color of your teeth.
Once you have found your ideal hue, lather your lips in moisturizer. Smooth lips are key to creating the appearance of a bright, white smile.
9. Be yourself
You don't need to look sexy or adventurous if that's not who you truly are. Knowing strangers are judging your profile photo can be scary, but remember, everyone on a dating site is in the same position. It's normal to be a little worried about how you come across. Don't be tempted to try to improve your style and image in a way that doesn't reflect your personality.
If you're feeling nervous, build up your confidence by standing in front of a mirror and practicing different poses. Try to find a pose that feels comfortable.
Another way to hide nervousness is by putting yourself in a relaxed mood. When we are not calm, we can subconsciously lean forward and hunch our bodies. In photos, self-doubt may lead you to cover a part of your face.
So, before your self-portrait, do something you enjoy. You could watch a comedy show, take a bath, read a book or chat with a friend. Anything that is going to help take the pressure off your photos.
10. Skip using filters
Yes, it's tempting. Phone filters can enhance your photos. But remember, you are not trying to create a flawless image. Your dating profile is supposed to show the best version of you, not a false one.
Rather than editing or adding a filter, stick to uploading a raw image. That way, when you match with someone, you know they genuinely like how you look. Besides, editing apps can affect the quality of your photos. You want your profile picture to be clear and of the highest quality possible.
Conclusion
With these tips, you are now ready to have a good dating profile. Choose a clear, clean background, show your face and some of your upper body, smile, practice your poses and ultimately, be yourself.
Remember that the best photo you can capture is one that shows the best version of you. With millions of people signed up to dating platforms, it can be tempting to alter and filter your images. However, you are looking to match with someone who admires and appreciates the real you.