Maybe their profile said they were 6'2" but they're really 5'8" — or perhaps they Facetuned their pictures too much or used way too many filters. For whatever reason, now you're sitting at a coffee shop or at the bar across from someone who's unrecognizable and you don't know what to do.
So, what do you do when your date that you found on one of the top dating sites looks nothing like their profile pictures? We consulted Heather Dugan, author, speaker, connection coach, and the founder and director of Cabernet Coaches® to give you the best possible advice.
First things first: why do people share outdated photos of themselves? Dugan claims most people post out-of-date pictures because "they're either unaware or painfully aware of the discrepancy, which means they're either being ignorant or lacking in confidence." If it's because you don't have recent pics, then let's be real. There's really no excuse not to upload an updated pic when we all have mini cameras chillin' in our back pockets 24/7. Taking a selfie is as easy as whipping out your phone and snapping a couple in 1-2-3.
To Leave, Confront, or Stick It Out?
If you find yourself in this situation there will probably be a few questions you ask yourself:
Do I go home?
Do I address the obvious discrepancy?
Do I push through the date then ghost them after?
"When the meet-and-greet date isn't who they present to be in their photos, your next step will depend upon who you want to be," says Dugan.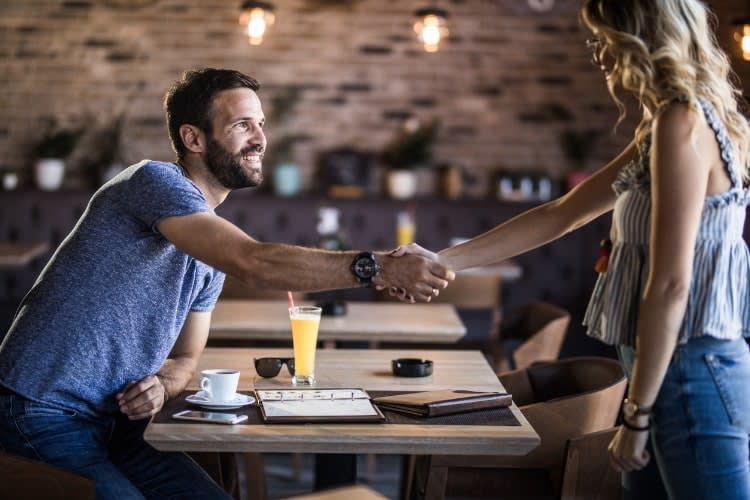 So, who do you really want to be:
The truth-teller who enlightens and reminds your date about the importance of using up-to-date photos?
Or the mercy-giver who balances your understandable irritation with a little bit of empathy?
Dugan claims both are valid choices but always aim for kindness. "You don't need to spend more than a few minutes with someone far outside your posted search profile, but recognize the fellow human bumbling through a very awkward and vulnerable process."
If you decide to address the noticeable difference between their profile pics to real-life appearance, then how exactly should you go about it in the kindest possible way? Dugan suggests avoiding accusations: "Simply say, 'I had trouble recognizing you from your photos. It might have been the camera angle, but how old are your photos? I just updated mine to make it easier for everyone.'" Of course, if you're uncomfortable with this quote template, feel free to make it your own. But no matter how you go about it, remember that they may be insecure about their current appearance, so go easy on 'em — even if you're frustrated, for good reason!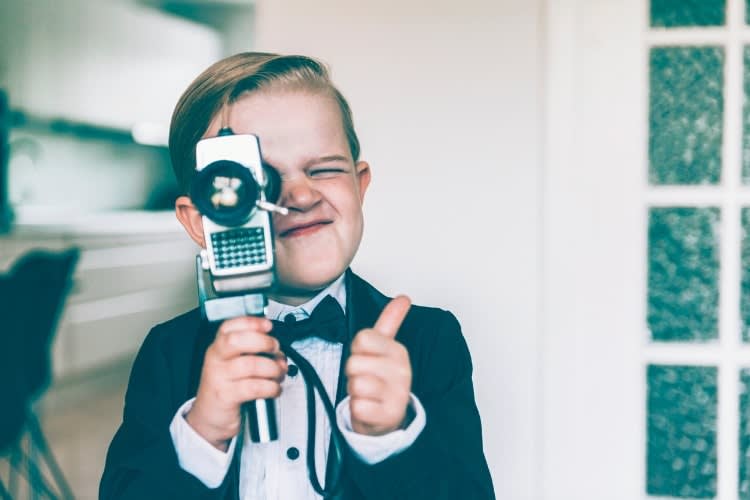 How to Avoid This From Happening in the Future
Maybe this dilemma has already happened to you. Or maybe you're dating around and dreading the day that this finally happens. Either way, don't worry! Fortunately, it's unavoidable.
Let's cover ways to stop this awkwardness from ever popping up in the future. Here are a few of Dugan's tips on how to find out what a person really looks like behind their dating profile before you meet up IRL:
1. Ask ahead of time. Yes, we can and should ask, she says! One template she offers for when you're first starting to message on the app is, "My photos are from last month. How recent are yours?" Again, take it, leave it, or tweak it to your own preference, but being upfront will help to spare you from potential tricky in-person situations.
2. Look for clues in photo backgrounds. Become a private investigator by closely analyzing their pictures to see what timeframe they're (probably) from. "Was a picture taken at the concert of a now defunct band?" she asks. If so, chances are that your match doesn't look like that anymore. Plus, if it's a scanned film photo, you can be confident it's at least 10 years old…unless they're artsy and own a Polaroid camera.
3. Do some "light" research. I like to call this method "creeping," but call it what you will. With a few basic details, like a last name, company, hometown, or college, you can find someone's social media profiles within just a few searches. But while it's tempting to go years deep into someone's Instagram profile, she warns not to spend too much time researching. "Yes, learning all you possibly can ahead of time eliminates surprise, but it also lessens the magic of real-time discovery. And, it's a lot easier to connect if you aren't mentally filtering through what you're supposed to know versus what you clicked through on Instagram."
4. Add them on Snapchat. This is my own personal tip, and it's proven to be super helpful in the past. That's because Snapchat is all about real-time visual content – they can't possibly hide their true identity, unless they're constantly using filters. After you've been chatting with someone for a day or two, ask if they have Snapchat. If they don't, then they're either 1) lying or 2) not social media-savvy. If they do, then you can swap photos and videos for a few days until you get a better picture (literally) of what they currently look like.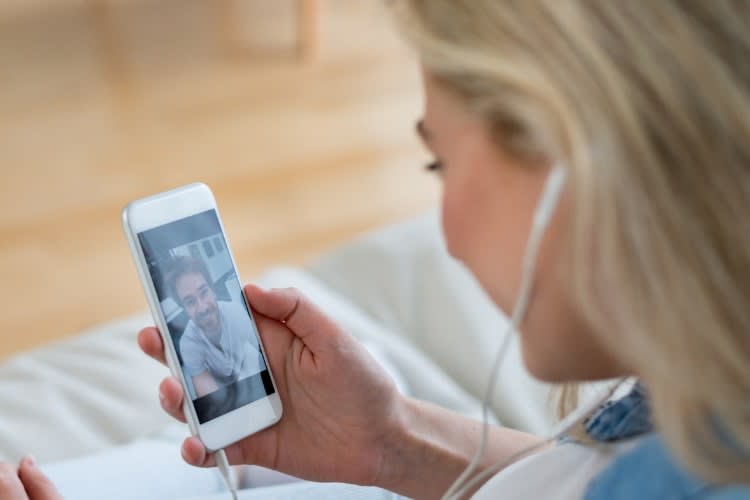 5 Types of Pictures All Dating Profiles Should Have
Are we presenting ourselves as accurately and timely as we want others to? Dugan suggests featuring these 5 types of photos on your dating profile to reflect who you are right now and not the person you were 5 years ago. If you're confident your profile is already perfect (hey, you could even do it according to science), then at least keep this list in mind when you're trying to figure out how recent a match's pictures are.
Post both the month and year of photos taken within the past 12 months.
Be very selective of any photos taken beyond a year or so and only post outdated pictures that tell an interesting story about yourself.
Aim to show yourself in multiple environments.
Include a picture or 2 with other people.
Always include one full body shot (with all your clothes, please!).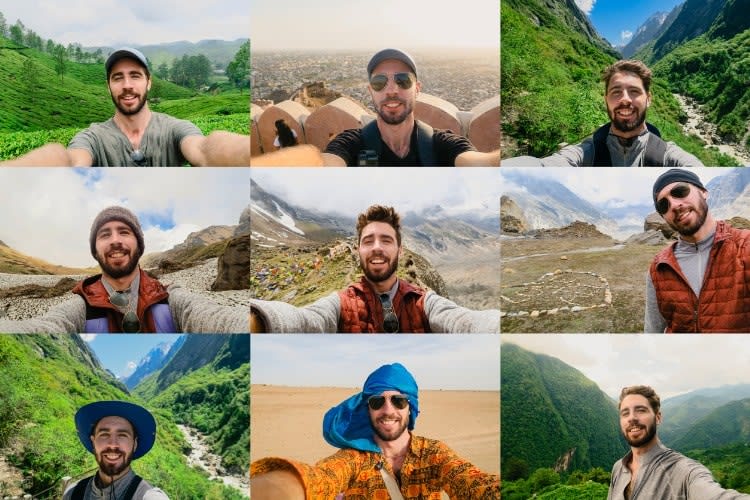 Yes, photos are important but they're not everything! Last but not least, Dugan reminds you to take a look at bios and written text as well. Does it reflect who you've grown to be in the past few months? If not, consider revising appropriately.
At the end of the day, photos just don't do us justice sometimes… and that's okay. But when you wind up in a situation like this, it's important to remember that kindness will always be the best option when it comes to addressing the clear difference in what your date looks like online versus offline. Believe it or not, this is a common scenario that can happen to anyone – hey, you can even be guilty of doing this yourself! In the wise words of Dugan, "Give yourself every opportunity to attract a right-fit match by sharing who you are now."