Couples often deliberate over the possibility of finding a unicorn before they finally take the leap. After all, the decision to add a third person to your relationship is a big one and should not be taken lightly. By taking baby steps at your own pace with lots of thoughtfulness, it can be done.
Here's a step-by-step process for finding the perfect unicorn and establishing a healthy and enjoyable three-way arrangement.
1. Discuss It With Your Partner
You don't want any misunderstandings going into this process. Talk to your partner about exactly what kind of person you're looking for, what kind of relationship you want, and what each of you would be OK with.
There are so many different possible non-monogamous relationship structures and polyamorous relationship rules. It's much better to get clear on this beforehand than to address a boundary after it's been crossed.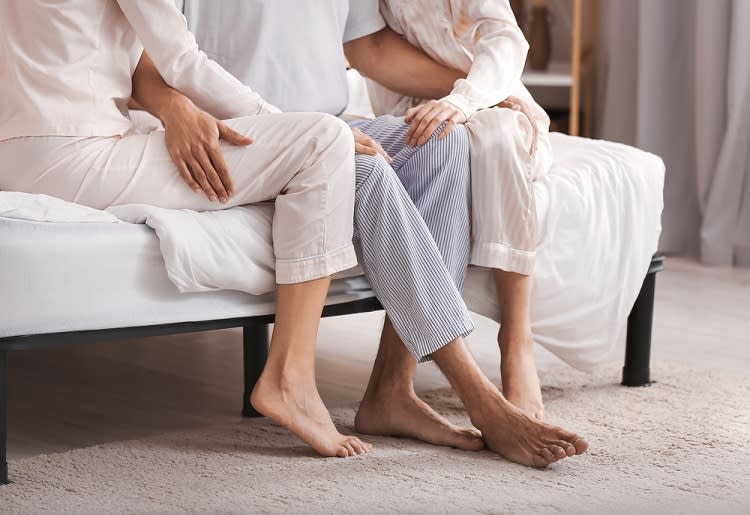 2. Create a Joint or Separate Profile on a Dating App
Some dating apps, such as Feeld and Open, are geared toward those seeking non-monogamous arrangements. These are ideal for finding unicorns, but you may also have luck on more mainstream apps like Tinder or OkCupid or even niche apps like EliteSingles, BlackPeopleMeet, or one of the best bisexual dating sites.
Some apps allow you to create a joint profile with photos and info about both of you, while others let you link two profiles. For some, you'll just have to make two separate, unlinked profiles.
» Looking for a fuss-free way to find your unicorn? Take a look at our top picks for the best dating apps and sites to meet eligible singles.
3. Consider In-Person Settings
You also might find a unicorn in person, although places to do this are limited. Look into sex clubs, swingers parties, clothing-optional resorts, and non-monogamy meetup groups if you're looking to meet that third person IRL.
Sex parties are especially appropriate if you're looking for a one-time threesome.
4. Be Clear on What You're Looking For in Your Dating Profile
You want to make sure people aren't messaging you thinking you're single or seeking a monogamous relationship.
If you've gone with the online dating route, make sure to be clear on your profile that you are partnered and looking for a third member to join you for a threesome (or whatever it is you want).
5. Filter Through Potential Matches With Your Partner
It's important that you both be involved in the process of looking for a unicorn. Consult each other about the people you're meeting online, and give each other veto power over each prospect.
You may want to sit down together to write messages, or you may want to handle specific people separately and keep each other updated on how each interaction is going. Either way, make sure each partner keeps the other in the loop.
6. Invite Potential Unicorns Out for Low-Pressure Dates
It's best to get to know prospective unicorns before jumping into bed with them, especially if this is your first time meeting one.
Invite them to get coffee or dinner, and take it slow. If you hit it off, you can go back to your place at the end of the date; if not, no harm done.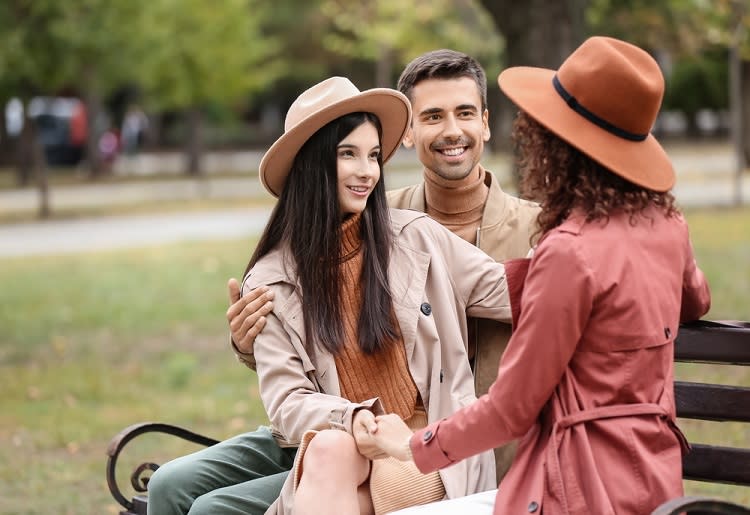 7. Get To Know Them and What They're Looking For
Just as you need to establish goals and boundaries with your partner, you should do the same with your potential unicorn.
Ask them what they're looking for, what brought them to uniorn-ing, and what they're hoping to get out of the arrangement. Be friendly and nonjudgmental, knowing that this may be a vulnerable position for all of you to be putting yourselves in.
Your next unicorn is on BeNaughty - don't keep them waiting for long

Sign Up Now
8. Check In With Your Partner
Sometimes, a group of three really hits it off and things escalate quickly. However, it's best to exchange impressions with your partner before taking the relationship to the next level, just to make sure you're both comfortable going forward with it.
Ask your partner what they thought of the person, what they'd like to do as a next step, and if any of their desires or boundaries have changed.
9. Get Back in Touch With the Unicorn
If you're in agreement about wanting to continue the relationship, send the prospective unicorn a friendly text saying that you both had a good time and would like to hang out again if they're open to it. If they are, congrats! You've found yourselves a unicorn.
From there, you may continue going on dates, head to the bedroom together, or whatever you all agree on. And if not, get back on those apps! There are plenty of fish (er, unicorns) in the sea.
10. Continue Having These Conversations Throughout the Relationship
Even once you've snagged a unicorn, you want to keep checking in and making sure that everyone's happy with the relationship. This goes for casual sexual encounters as much as it does for a long-term three-person relationship.
If feelings of jealousy arise, figure out what everyone needs to feel more comfortable, whether that is the termination of the relationship, a minor adjustment, more one-on-one couple time, or something else.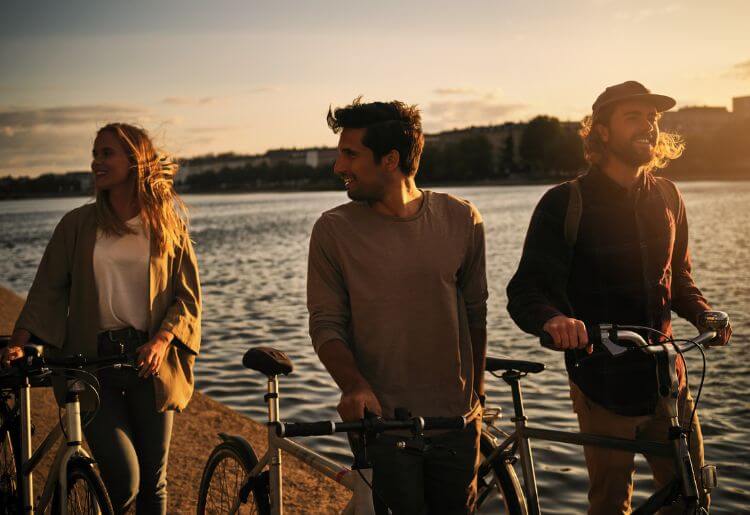 What to Remember
Non-monogamy is something to enter into carefully, as it can trigger many people's insecurities and fears. Make sure that you have a solid foundation of trust in your relationship.
Some couples bring in a third in order to fix a relationship. But if your relationship is already flimsy, unicorn-ing is only going to exacerbate the problems you're already having. Make sure you're all feeling comfortable every step of the way. Your priority should be to look out for the interests of the entire group.