Here, we're going to take a closer look at what NFTs are, how to make NFTs, and what they're used for. We'll also introduce you to using a website builder to create a website to showcase your NFTs, and we'll explain the relationship between NFTs, cryptocurrency, and the blockchain.
What Are NFTs?
The entire concept of non-fungible tokens is something that most people have trouble wrapping their minds around. Basically, an NFT can be thought of as a digital artwork. However, unlike a regular jpg, NFTs are unique, and owning an NFT enables you to prove that you hold the original copy of a piece.
This is a particularly important point to note. As we all know, it's extremely easy to make copies of digital images, videos, and other media that can be shared online. By "minting" a piece as an NFT—essentially, saving it to the blockchain permanently—you can ensure that its uniqueness can be proven, even if copies are made.
Let's say, for example, that you owned Leonardo da Vinci's famous painting, the Mona Lisa, and had the documentation to prove it. Sure, there are millions of copies around the world that are virtually identical, but the simple fact that yours is the original is what makes it so valuable. With NFTs, the owner is similarly able to prove their digital art piece is the original. This has led to NFTs exploding in popularity recently.
This can be highlighted by some of the recent NFT sales. For example, the most expensive NFT of all time is known as "The Merge," and it sold for $91.8 million in December 2021. The same source notes that the estimated value of NFT transactions across the world in 2021 was $17 billion, and this number is growing rapidly.
How Are NFTs Related to the Blockchain?
NFTs are often associated with cryptocurrency and the blockchain, and for good reason. For those who don't know, blockchain is a form of decentralized information storage that is known for creating records that can't be altered and is closely linked to cryptocurrencies such as Bitcoin.
The record for each NFT is stored on the blockchain to ensure it can't be altered once it's minted. Because of this permanent and unchangeable record, you can prove the originality of your NFT.
Most transactions are processed via the Ethereum network, one of the most popular blockchains in the world. You will usually be charged "gas" (transaction) fees when purchasing, minting, or transferring NFTs. Proceeds from sales will also be paid in cryptocurrency, so if you want to make NFTs, it's important to set up and understand how to use a secure wallet.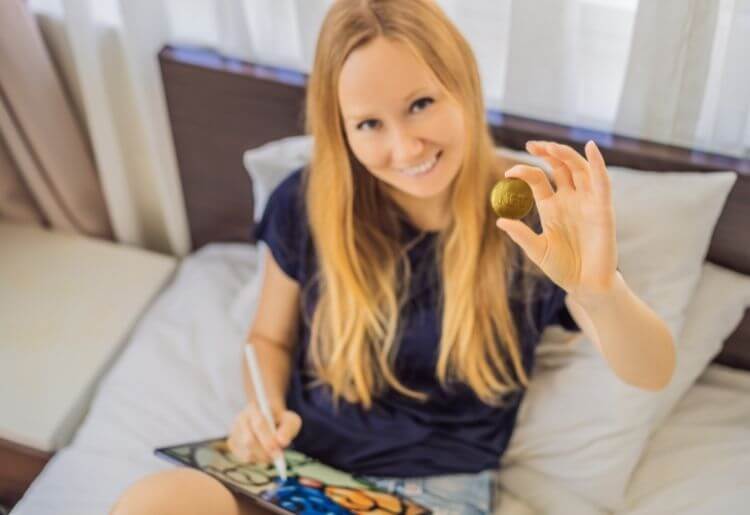 How Do I Make My Own NFTs?
With just a little money and the time to work through the process, anyone can learn how to make NFTs. The process is a little tech-heavy, but it doesn't require special skills or knowledge.
Step 1: Create Your Artwork
Before creating unique non-fungible tokens, you need to decide what you actually want to mint. Virtually any type of artwork can be turned into a digital asset via blockchain technology, including visual art, photos, music, and videos. So your options are wide open.
There are numerous examples of celebrities and artists minting bizarre NFTs and selling them for thousands or even millions of dollars. For example, a 52-minute recording of fart sounds sold for $420 in 2021. On a much grander scale, Twitter founder Jack Dorsey's first tweet sold for $2.9 million in 2021, although it has struggled to gain interest upon attempts to resell.
Step 2: Set Up Your Digital Wallet
Since all NFT records are stored on the blockchain, you will need a cryptocurrency wallet before you can mint your first collection. This is quite easy to do, and there are numerous options to choose from.
There are a couple of things to note here. First, ensure you create a wallet that supports the cryptocurrency you will need to use—most marketplaces use Ethereum (Ether, ETH). You'll have to create a secret recovery phrase, a random collection of words that you can use to restore access to your wallet if required.
Ensure you record your secret recovery phrase (also known as a seed phrase) in a safe, secure location that's only accessible to yourself. It's extremely important, as it can be the only way to regain access if you forget your password or lose your device. Third-parties will be able to access your wallet and funds if they gain access to your seed phrase.
Step 3: Fund Your Wallet
Before you can mint your first NFT, you will need to fund your cryptocurrency wallet. You can't use traditional payment methods such as credit cards or bank transfers on NFT marketplaces. However, it's easy to buy ETH with traditional payment methods. Some wallets even include built-in cryptocurrency purchasing options. Alternatively, you can transfer some from an exchange or another wallet.
Step 4: Decide Which Marketplace to Use
Numerous NFT marketplaces have popped up over the last few years, and there are dozens of reputable options to choose from. Although most run on the ETH blockchain, there are a few different options if you want to use a different cryptocurrency.
One thing worth keeping in mind is the type of minting a marketplace uses. If you have to mint your NFT immediately, you will need to pay a gas fee, which can be hundreds of dollars when the blockchain network is congested.
However, well-known marketplaces such as OpenSea and Rarible enable you to use "lazy minting," which means that your NFT won't actually be minted until someone buys it, enabling you to avoid gas fees.
Step 5: Link Your Wallet
Now you've settled on a marketplace, it's time to link your wallet. The exact steps involved will depend on the marketplace and wallet you're using, but this step should be relatively straightforward if you follow the available documentation. If you're new to the crypto game, remember that you need to use a wallet that's compatible with the blockchain your chosen marketplace is using.
Step 6: Create Your NFT
The process involved with creating your first NFT varies depending on the marketplace you're using, but it's usually easy enough to follow. On OpenSea, for example, you will find a Create button in the top-right corner of the page.
This will enable you to upload the piece of art you've created and add detailed information. You can add each new NFT to a collection if you would like, and you will be asked to add a name and description. It's also possible to add hidden content that's only available to the buyer. Last, but not least, you can add properties and other metadata about your piece to provide more information to buyers.
Once this is complete, you will need to select the blockchain you're minting to (if your marketplace offers multiple options) and confirm your creation. Once the process is complete and the NFT is minted,in simple terms, it is saved to the blockchain permanently.
Step 7: List Your NFT for Sale
Congratulations, you're now the owner of your very own NFT! But the fun doesn't end here, as it's easy to sell your work if you would like to. On OpenSea, you will find a sell button on the NFT page for each piece of work. Click this, follow the prompts, and your listing will become available in the marketplace.
How to Create a Website to Showcase Your NFTs
Now that you've minted your very own NFTs, it's time to showcase them and build awareness. One of the best ways to do this is to use a website creation tool to build your own online portfolio.
We'd suggest using a popular website builder such as Wix or GoDaddy, but there are loads of options on the market. Many of these even offer a free-forever package, which is great if you're creating NFTs for fun and don't have the budget for a premium subscription.
Step 1: Select a Template
Most website builders enable you to select a template to base your site on. Wix, for example, has hundreds of designs, including dozens that are specifically built for portfolios. Remember, you will be able to customize your design later.
Step 2: Add Your Own Content and Customize Your Design
Now that you've selected a template, you can begin personalizing it. This is usually a straightforward process that involves clicking the area you want to customize and adding your own text or media. We'd suggest creating a portfolio page that showcases a selection of your favorite works.
Step 3: Link to Your Marketplace
If you've listed your NFTs on a marketplace, we'd highly recommend including a link to this on your website. Make it obvious and attractive, and make people want to click it to see where it leads.
Step 4: Build a Community
The NFT market is becoming somewhat saturated, and you will need to put in some work if you want your pieces to get recognized. If you have the budget for it, you might start a paid advertising campaign to gain awareness. Otherwise, building a social media community organically can work quite well.
Conclusion
NFTs have taken the world by storm in the past few years, and they're here to stay. Although they can appear complicated on the surface, they really aren't. Anyone with a computer and a few basic tech skills can mint and sell their own NFTs, and this presents a great opportunity for artistic individuals.
Now that you know how to make NFTs, we'd suggest building a portfolio website to showcase them for sale. This way, potential buyers will be able to find out more about your work and what it means. But at the end of the day, creating NFTs can be a fun, engaging activity, regardless of your goals.