In a Nutshell
Vistaprint has long been a world leader in professional marketing materials. Now the company offers an intuitive, affordable website builder that integrates seamlessly with their printing services. You can build a professional website in minutes that includes all of your existing logos and information. The service is ideal for businesses with a need for both print and digital marketing.
pros
Easy to use even if you have no knowledge of print or web design
Mobile-friendly websites are available at all membership levels
Hosting, domain, and website builder included in all packages
cons
Not suitable for companies that need totally unique designs
24-hour phone support is not currently available
PayPal is the only default payment option for ecommerce sites
Vista Print Visit Site
Templates
Vistaprint has a huge variety of print templates—over 4,000 designs to choose from. What's more, you can select from industry-specific templates if you need some inspiration or don't know where to start. Vistaprint also makes it easy to browse the templates using filters for theme, industry, color, and finish. Tag your favorite templates to compare and review later.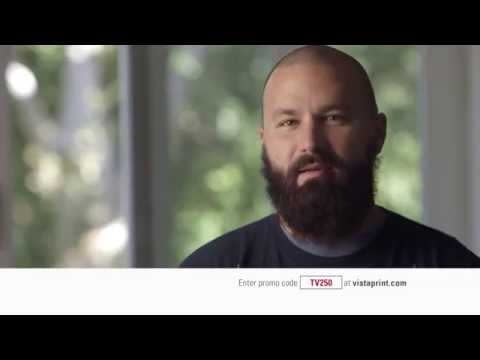 Vistaprint's website themes are every bit as stunning and diverse as their print themes.
Best of all, you don't have to have an eye for web design in order to find a aesthetically pleasing theme. Vistaprint provides you with a questionnaire to learn all about your preferences and your business. Then, you're provided with a selection of templates that are specifically tailored to your individual needs.
Even if you have no idea what you're doing, you should be able to find what you want with Vistaprint.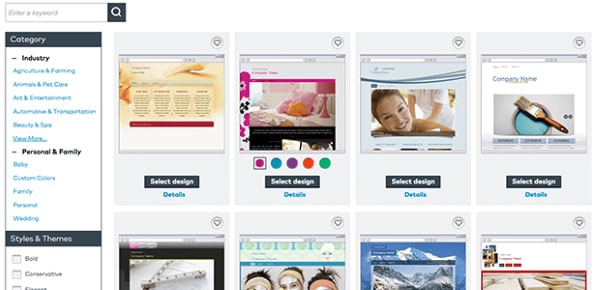 Pricing
Basic domain, unlimited pages, responsive website, free image library
All of the above + 12 email addresses, SEO, site activity reports
All of the above + online store and social media marketing
Vistaprint's pricing structure is fantastic for small businesses, but it does come with its share of limitations. For example, while bandwidth and storage are unmetered, they're not technically unlimited. If you read the Terms and Conditions, you'll find that Vistaprint reserves the right to limit your usage.
The platform isn't equipped to meet the needs of enterprise businesses, but small businesses should feel right at home. Just be aware that Vistaprint only allows you to accept PayPal payments by default. If you want to accept credit cards, you'll need to bring your own third-party merchant.
Ease of Use
Whether you're designing a business card or a website, you'll be amazed at how easy the process is.
Even if you have zero design background, you'll be able to build a nice site. You simply choose the template that you like best, and the building blocks are already in place for you to edit. For example, after you've chosen the design, you can add your business name in the box designated for the company name.
The website builder is similarly easy to operate. Some website builders offer individual "blocks" for text, images, maps, and other elements, but Vistaprint takes things a bit further. Their website builder uses compound blocks like image/paragraph and map/contact. This might seem like a small enhancement, but it makes it easier to organize your pages into aesthetically appealing sections. You don't have to labor in vain to wrap text around an image that appears in a different block.
Do you already have an account with Vistaprint? If you've used them for logo design or business printing, you can integrate your archived images and designs into your website. This makes Vistaprint an excellent choice for businesses looking to transition from traditional to digital advertising.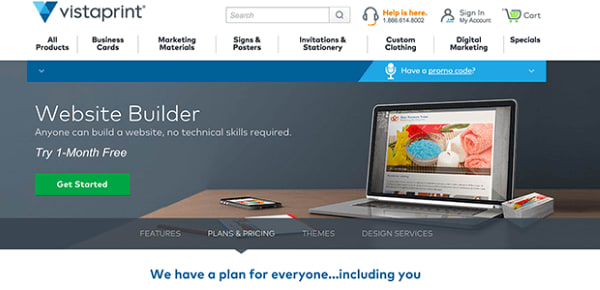 Vistaprint doesn't offer as many website features as their competitors, but there are still some impressive perks. For starters, all websites are now responsive (i.e. mobile-friendly). This is a major step forward for the company, as only Standard and Premium members had access to responsive websites in the past.
Vistaprint's SEO tools are also impressive. Vistaprint allows you to keyword-optimize every aspect of your site from your content, to your meta tags, to your images. Each page is even assessed on its SEO quality, so if you're unsure of how to improve your search engine rankings, you can let Vistaprint assist you. Unfortunately, the SEO tools are limited to Standard and Premium members.
The site activity reporting is perhaps the best feature for businesses. It provides you with the tools you need to improve both your search engine rankings and your sales. The activity reports cover everything from your most popular pages to your most profitable keywords. Any business will find these reports invaluable.
Vista Print Visit Site
Customer Support
Customer service is available both over the phone and online, but the company can be difficult to reach at times. Also, phone service is only available during general business hours, so don't expect immediate help if your site breaks at 3AM.
Conclusion
While Vistaprint's print services are among the best in the industry, there's still room for improvement on the digital front. If they want to reach larger businesses, they should add more credit card options and greater bandwidth capabilities. Still, the templates are breathtaking, and the value-for-money is very good.