In a Nutshell
Site.pro markets itself with the tagline "Everybody can easily make a website, landing page or e-commerce." Everything is laid out simply so that even people with virtually no computer experience should be able to set up a professional looking page in a matter of hours. The free option has over 30 templates and the paid version has over 200. Each template can be customized to meet your needs, so no two websites look alike.
pros
200+ Templates
PayPal Available
Social Media Optimization
cons
Requires you connect your own domain name
Free trial is only for one week
Site.pro Compare All
Site.Pro Website Building Features
Site.Pro offers an intuitive, simple to use website builder, with a free demo to try directly from the home page. Choose from over 200 templates and begin editing right away, adding text, images, buttons and widgets with their simple drag and drop functionality.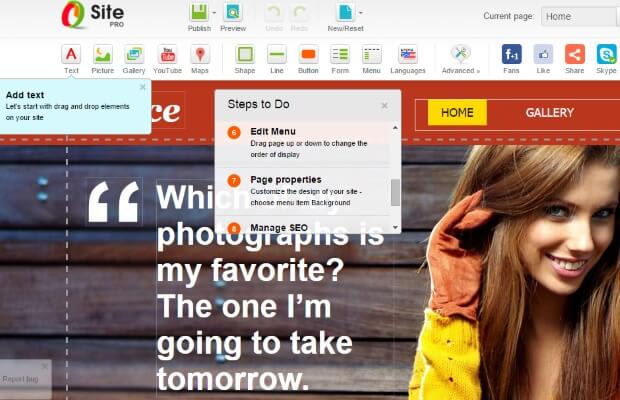 Add SEO metadata with help from their SEO form for each page, allowing your site to be easily found on search engines, and include social media widgets to share your brand with the world. Display images proudly with a gallery or slideshow feature, and include music, flash or even YouTube videos directly embedded into the site. Even add a PayPal button to sell to customers directly.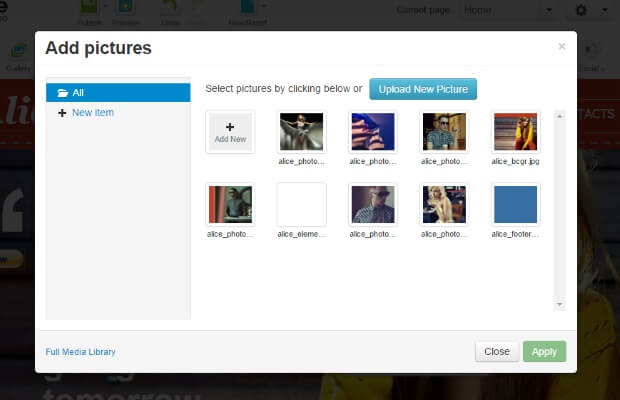 Features
Social Media Optimization
Royalty Free Images Available
Site.Pro Additional Features
With unlimited storage, you can focus on getting the content of your site just right, adding as many videos or images as you please. Better still, you never need to worry about losing any of your content, because the site is backed up for you by Site.pro. For web developers, Site.pro also has a number of packages to build a handy hosting place for the sites of your customers.
With over 50 languages supported, and the ability to park your domain included, Site.Pro is a truly global choice for building your website.
Site.pro Compare All
Customer Service and Support
All of the features have step-by-step directions, which make them fairly fool-proof. Icons for click and drag site creation save time as well, but there is still customer support available if needed.
The support page features an intuitive color-coded system to help answer your queries quickly and easily. A keyword search box makes finding answers simple.
For those who can't find answers, there is a help ticket system. Simply fill in the contact form on the about us page, and Site.Pro will get back to you ASAP with a response.
If a bug is discovered in the software, this can also be reported by generating a help ticket.
The Bottom Line
Whether for business or just for fun, using Site.pro is a legitimate option for creating a unique website.