In a Nutshell
Register.com offers a basic website builder with a drag-and-drop editor. The platform has more than 150 templates and a reasonable number of customization options. Register.com also offers support for online stores and marketing your business online. However, this website builder is significantly more expensive than comparable platforms. You can find most of Register.com's features with other website builders for a fraction of the cost.
pros
More than 150 well-designed templates
Email included with online store plans
Includes blogging tools
cons
Extremely expensive
No email marketing tools

Register.com Visit Site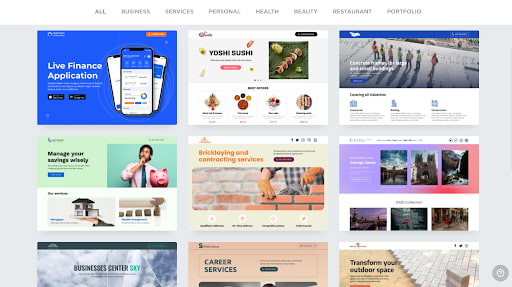 What Is Register.com?
Register.com is a web host and domain registrar founded in 1994. The company won a number of awards for its web hosting services in the mid-2000s, and it launched a website builder in 2016.
Register.com's website builder offers decent features, including more than 150 templates and an easy-to-use drag-and-drop site editor. However, the company's expensive and opaque pricing structure makes it a poor choice for most individuals and small businesses. Web.com offers an identical site editor for less money, and competing services like HostGator offer more features with plans that cost half as much.
Using Register.com
We found building a website with Register.com to be relatively easy. The drag-and-drop site editor lets you move content easily around your pages. In addition, theme customization and site-wide settings are easily accessible within the editor.
The only issue we had was with the back-end dashboard. It covers all of Register.com's services, including hosting and domain names. This is great if you purchase a domain for your website from Register.com. But if you use a domain from another registrar, you'll see ads in your dashboard every time you log in.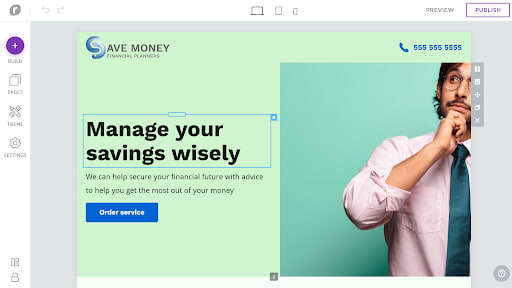 Register.com Features and Tools
Web hosting
All Register.com website builder plans include web hosting with unlimited bandwidth and storage. All sites also come with an SSL certificate for security.
Email
Register.com's online store plans include 10–25 email addresses at your domain. Each inbox comes with 25GB of storage.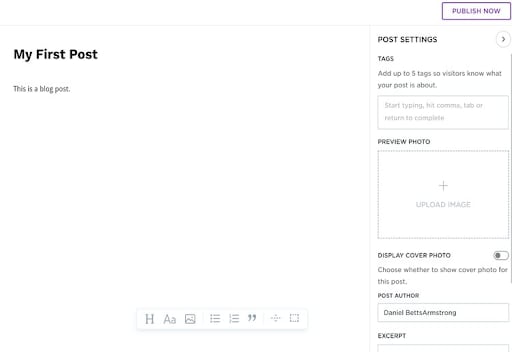 How to Create a Website with Register.com
The first step in creating a website with Register.com is to choose a template for your site. The website builder has more than 150 aesthetically pleasing templates, all of which are mobile-responsive. Just note that if you want to change templates later, you'll need to start the whole site design process over.
We were quite happy with the level of customization that Register.com offers. The site editor lets you change your theme's color palette, fonts, headings, button styles, and more. This is more flexibility than some other basic site builders offer, but not so much that you'll spend hours meticulously tweaking your site.
Register.com's drag-and-drop editor also makes it easy to customize your content. There are two types of elements you can add: features and blocks. Features are individual content elements like text boxes, images, buttons, and forms that you can place anywhere on your pages. Blocks are predesigned, full-width page sections that include elements like image galleries, menus, and banners.
You have an impressive amount of freedom to lay out features and blocks on your site's pages. For example, you can customize the height of any feature or block and snap them to gridlines to keep your content aligned. However, this does mean that it can take a while to get everything just right. Register.com also doesn't offer a mobile app for editing your site on the go.
Overall, we think the process of creating a site with Register.com is pretty smooth. The selection of features and blocks is quite wide, and you have a reasonable level of flexibility to customize your site's template.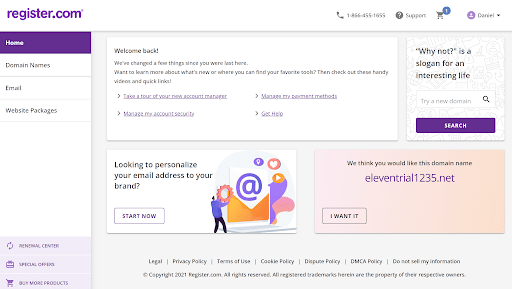 Adding Multimedia to Your Register.com Website
Register.com's site editor supports most photo and video formats. However, the platform doesn't accept audio files or PDFs.
To upload photos and videos, you can select a file from your computer or connect to Facebook, Instagram, Flickr, Dropbox, or Box. There's also a library of free stock photos available from Unsplash. Unfortunately, when you're putting together galleries, you must add images to your site one by one.
Register.com offers a media library to keep track of all the content you've added to your site. It isn't searchable, though, so we didn't find it very helpful.
Overall, we weren't very impressed with Register.com's multimedia capabilities. The platform only supports images and videos, and putting together galleries can be a painstaking process.
Marketing Functionality with Register.com Websites
Register.com's most unique marketing feature is a service called Local Listings. With this service, Register.com will list your business on directories like Google Maps, Yelp!, Yahoo Local, and Yellowpages.com. While you can do this yourself, Local Listings streamlines the listing process.
Register.com also offers a blog with every website, and we think the blogging tools are decent. You can tag your posts and add images easily, and the blog post editor resembles a blank document to make writing feel more comfortable. However, you can't add videos to blog posts, and there's no way to schedule posts.
While Register.com's online store plans come with email addresses, the platform doesn't provide email marketing tools. You can, however, connect your website to Facebook and Instagram.
SEO Functionality and Add-Ons with Register.com Websites
Register.com offers all the basic SEO features you'd expect. You can customize the meta title and description for each page on your site, add alt text to images, and create a favicon for your website. That said, the platform doesn't go above and beyond. There's no SEO checklist or analysis to help you boost your site in search engine rankings.
Register.com doesn't have built-in tools for analyzing visitor traffic. However, it's easy to connect your site to Google Analytics with all website builder plans.
Ecommerce
Register.com's eCommerce hosting packages are good choices for users that want to quickly launch an Ecommerce store, on desktop or mobile, with easy payment processing and simple product management.
Register.com offers basic Ecommerce tools with its online store plans. You can sell physical products and easily set up variants for customers to choose from. It's also simple to set up discounts and coupon codes, and you can choose between using Stripe, PayPal, or Square to accept payments.
However, you won't find many features that we would consider essential for running an online business. You can't sell digital downloads or gift cards, for example. You also won't find tools for managing your inventory or calculating shipping costs in real-time. Register.com also doesn't let you set up in-store pickup or local delivery, making it unsuitable for small businesses with physical storefronts.
Scalability
Since Register.com is firstly a hosting platform with website building capabilities, its scalability features for online stores are a tad limited. You can set up an online store, but online marketplaces are not as easy to set up through Register.com. Depending on the package you choose, you can sell anywhere from 25 to 100,000 products - but no more than that.
Register.com works best for SMBs that are looking for a DIY option to get their stock running online fast.
Payments Processing
Register.com's Ecommerce hosting plan works with a multitude of payments gateways to ensure that customers can easily settle their bill — and users can get paid!
All payments solutions that the websites supports are Payment Card Industry (PCI) compliant — so customers can rest assured that their payment information is being encrypted, making it impossible for packet sniffers and other cyber criminals to capture the details, even if they are on the same network. PayPal, Google Checkout, and direct credit card payment are all supported. Additionally, customers can implement custom payment methods to give their clients even greater flexibility when shopping online.
The Take-a-Payment service is available for an additional fee and lets users allow their customers to pay invoices, service fees, or make donations directly from their website. Unlike then purchasing a product from the merchant inventory, users are able to enter any unique payment amount and input their invoice number to enable convenient bookkeeping. The secure and reliable system is designed responsively and works on both smartphones and tablets.
How Much Does Register.com Cost?
Register.com has 6 plans, which mainly differ in how many products you can sell and whether they include Local Listings. Online store plans also include 10 email addresses at your domain.
The plans are incredibly expensive and the platform isn't transparent about how much it actually costs. The website only displays promotional pricing for the first month, and we had to dig through terms and conditions to find the normal plan prices. There's no free trial, and all plans auto-renew unless cancelled.
Website and Online Marketing
Website, Marketing and Store
Register.com Help and Support
Register.com offers customer support by phone, email, and live chat. Phone support is available from 7AM-12AM (ET) 7 days a week. Chat support is available 8AM-11PM (ET) Monday-Friday.
Register.com also has an online knowledge base, but the tutorials are for an outdated version of the website builder.
How Register.com Compares to Other Website Builders
Email marketing functionality
Built-in and Google Analytics
Register.com vs HostGator
HostGator is a hosting service and domain registrar much like Register.com. However, it's website builder is much less costly and offers an impressive degree of flexibility for customizing your site. It also includes email marketing tools and more advanced features for Ecommerce.
Register.com vs WordPress.com
WordPress.com is one of the best site builders for blogging. It offers more blog tools than Register.com, including post scheduling and organization. You can also monetize a blog with WordPress.com by adding ads to your posts. For sites without a blog, Register.com offers more design flexibility than WordPress.com.
Register.com vs Web.com
Register.com and Web.com use the same website builder software. That means the templates, site editor, marketing tools, and Ecommerce capabilities are identical between the two platforms. However, Web.com's Ecommerce plans cost a fraction of comparable Register.com prices.

Register.com Visit Site
Bottom Line
Register.com offers a decent website builder with well-designed templates and plenty of customization options. However, the company charges eye-watering prices that are hard to justify. Not only is Register.com more expensive than platforms with far more capabilities, but it's also many times more costly than Web.com, which offers an identical website builder.
Given this, we recommend steering clear of Register.com. Web.com offers all the same features for less money, while HostGator offers more tools for marketing and selling online. WordPress.com is more limited in its flexibility than Register.com, but it offers more options for blogging.