In a Nutshell
Hibu is a digital marketing agency that can build a custom website for your business. While it's not a DIY solution, Hibu's service gives you access to expert developers who can design a professional website or e-commerce store for you. Customization options are somewhat limited, and online storefronts are limited to selling ten products. However, if you want to get a custom-built website without doing any work, Hibu is worth a look.
pros
Get a custom-built website for your business
Websites delivered in less than ten days
Hosting included
cons
E-commerce and marketing features cost extra
Requires a 12-month contract

Hibu Visit Site
Hibu is not just your ordinary website builder. It's a hybrid service that falls somewhere between using website builders like Wix and hiring a professional web design service. It covers all of your web designing needs, but still allows you to have total control over your website, as their drag and drop editor lets you edit and design your own content freely.
It's worthwhile to mention that Hibu's customization options are somewhat lacking, and online stores can only sell up to 10 products. However, if you don't have a wide range of products and would like a custom-built website without doing any work, Hibu is worth a look.
What is Hibu?
Hibu is a digital marketing agency offering smart digital marketing made easy. Hibu offers services like website design, social media marketing, and search engine optimization at affordable prices. It works primarily with small businesses and creates custom-made marketing solutions tailored to their individual needs. The company also partners with Google Premier, Facebook Marketing, and Microsoft Advertising and has years of experience under its belt.
Hibu websites are entirely custom-made. They're prepared by a team of experienced designers after a rigorous onboarding call. While you don't have a lot of options to customize your website after the initial design, Hibu can be a decent option for anyone who doesn't want to spend time creating their own site with a website builder.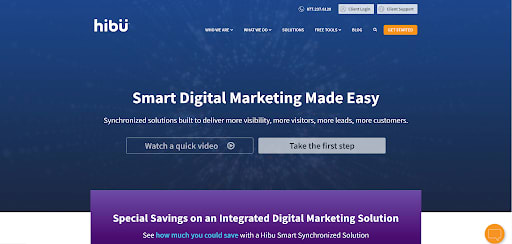 Using Hibu
All Hibu websites are created by a team of professional website designers. The content on your site is written by marketing experts to help you attract customers. In addition, all sites are responsive for viewing on mobile.
Hibu's website builder service also includes hosting, so you don't need to worry about finding a hosting service for your new site. If you have a custom domain, Hibu can connect that domain to your website during the design process. All sites include an SSL certificate for security.
How to Create a Website with Hibu
To get started with Hibu, the first thing you need to do is schedule an onboarding call. A representative from the company will call you at your preferred time to discuss the kind of website you want to build. The onboarding call generally takes 30-45 minutes, and it helps to go into the call with an idea of the design elements and features you want on your website.
Based on the discussion during your onboarding call, Hibu will give you a custom quote. If you decide to move ahead, the company's design team takes 7–10 days to build your website preview. During this time, the team will likely ask you to send your business logo, any images you want to include, and the details for your custom domain if you have one.
Once the preview is ready, you'll have a week to check it out and ask the design team for any edits. After this round of edits is completed, your website is officially handed over to you, complete with a back-end dashboard for managing your content and making minor design changes. If you need more substantial changes after it goes live, you can ask Hibu's team for additional help at any time.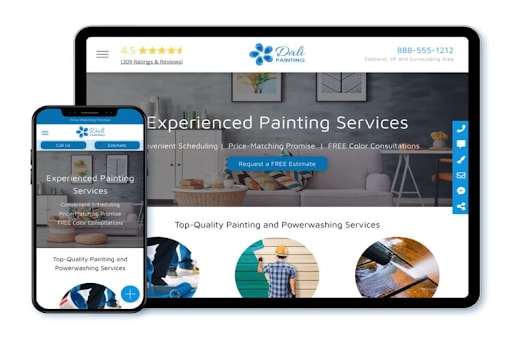 Adding Multimedia to Your Hibu Website
Hibu asks for your logo, images, and other media that you want added to your site during the design process. You can also swap out images using your website dashboard after your site goes live. However, it's not clear whether you can add videos, PDFs, or files other than basic images.
Marketing Functionality with Hibu Websites
Since each Hibu website is custom-made, the types of marketing features you will get depend on your business needs - from local businesses to small business owners. Hibu can integrate your site with Google My Business, your Facebook business page, or other social media accounts. That said, don't expect advanced features like a built-in email marketing platform.
Hibu also offers social media marketing services to increase your online prescence via its Hibu Social business line. Hibu Social gives you access to professional digital marketing solutions, who can create a Facebook page for your business and use targeted ads to attract customers. However, this service isn't included with your website and must be purchased separately.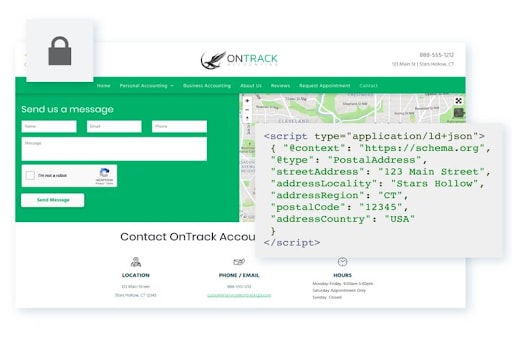 SEO Functionality and Add-ons with Hibu Websites
Websites built by Hibu experts are mobile-responsive and designed with SEO in mind. The company's designers use Schema Markup when coding websites, which makes it easier for search engines like Google to catalog your site and display your pages in search results. Hibu also designs sites to be voice-ready, meaning they can be found when someone conducts a search using a voice search assistant like Alexa or Siri.
Hibu also offers two distinct services to help you improve your SEO. Hibu Local Ranking is a service that can help your small business improve its rankings on Google or Bing. Hibu Search Marketing uses paid search engine ads to drive traffic to your business website. Both of these are separate services that will cost extra.
You can track your website's performance with analytics tools built into your back-end dashboard. These tools display your total site visits, the number of people engaging with key elements on your site, and where your site traffic is coming from.
E-commerce
Hibu websites offer a handful of options for e-commerce. PayPal integration is a standard feature, enabling you to accept payments for goods and services online if your business has a PayPal account. Depending on your needs, Hibu can also set you up for online ordering with both shipping and in-person pickup options. You can also offer gift cards through your Hibu website.
How Much Does Hibu Cost?
Hibu pricing is a bit tricky, since they doesn't offer any ready-made plans. Instead, you'll need to go through the onboarding process to get a custom quote for building your website. Depending on how complex your website needs to be, the design process can cost up to $499.
On top of that, Hibu requires an ongoing monthly fee that covers the costs of hosting and access to support. This is typically $99 per month but can cost more if you need additional services or have an e-commerce website.
Hibu Help and Support
Hibu's customer support team can be reached via phone call, email, and live chat from 8AM-9PM (ET) Monday-Friday and from 9AM-3PM on Saturdays. The company doesn't have an online knowledge base to help you navigate your website dashboard, but the service team can help you make minor changes to your site.
How Hibu Compares to Other Website Builders
Email marketing functionality
Hibu vs Weebly
Weebly is a DIY website builder where you can create your own website. It comes with more than 50 templates as well as hundreds of apps to extend its capabilities. Weebly is a good option if you don't mind spending some time designing and building your own website. However, if you're strapped for time, Hibu's design service may be the better choice.
Hibu vs Wix
Wix is another DIY website builder similar to Weebly. It's packed with more than 800 templates and a huge range of customization options. It's ideal for creating advanced website designs and online stores, but Wix takes a lot of time even compared to other DIY website builders. While Hibu puts more limits on your design flexibility, it's also a much simpler and faster option for getting online.
Hibu vs Jimdo
Jimdo is the most similar to Hibu out of any of these website builders. Jimdo uses artificial intelligence to design your site for you—essentially replicating Hibu's process, but without the human designers. Jimdo is much cheaper than Hibu, but you will still have to make a lot of design choices. In addition, customer support at Jimdo isn't as readily available as it is at Hibu if you need help modifying your site.

Hibu Visit Site
Bottom Line
Hibu isn't a typical website builder but rather a digital marketing agency that offers to build a custom website for your business. Hibu websites are built by professional web developers who can tailor your site to fit your needs. All sites include hosting and SEO features and can be customized to accommodate e-commerce, marketing, and integration with social media.
Hibu doesn't offer the same degree of customization as DIY website builders like Wix or Weebly, and it's also much more expensive upfront. However, the sticker price may be worth it when you consider how many hours outsourcing your website design can save you. Hibu sites can be ready in as little as seven days, and the company dramatically simplifies the process of getting your business online.