In a Nutshell
BigCommerce's drag-and-drop editor and user-friendly interface enable sites to be customized and branded without the need for coding, making it an ideal platform for anyone building their first online store. Although BigCommerce does offer third-party integrations, its sizable suite of built-in features enables store owners to quickly create an optimized and high-conversion online store without too much hassle.
pros
Unlimited products, file storage and bandwidth
Intuitive drag-and-drop solution
No extra fees for using external payment providers
cons
Poor customer service reputation
Features like abandoned cart are very expensive

BigCommerce Visit Site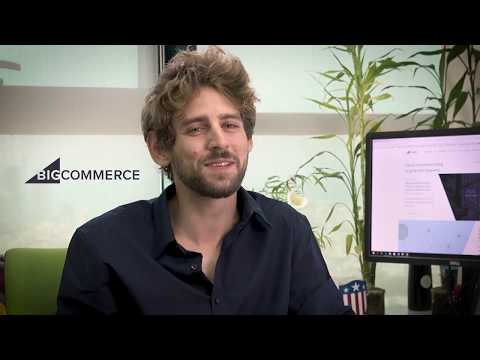 What Is BigCommerce
BigCommerce is a leading website-building platform specifically designed for e-commerce businesses. With over 60,000 businesses across 150 countries utilizing its services, BigCommerce has emerged as a trusted solution in the global e-commerce landscape. Founded in 2009 and listed on the NASDAQ in 2019, the platform currently boasts a valuation of approximately $4 billion.
Renowned market intelligence firms like IDC and Gartner have recognized BigCommerce as a leader among e-commerce platforms, highlighting its robust features and comprehensive functionality. Business owners transitioning into the e-commerce realm find BigCommerce particularly appealing due to its user-friendly, code-free interface, intuitive drag-and-drop editor, and powerful marketing and conversion tools.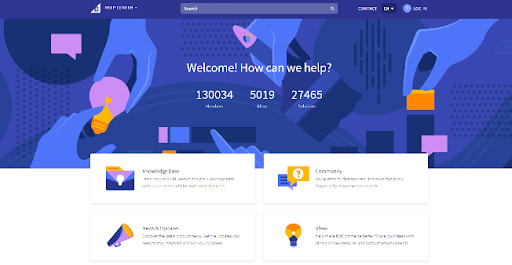 Using BigCommerce
Getting started with BigCommerce is quick and hassle-free, taking only about two minutes. To begin, simply provide your email address, name, store name, and select the appropriate business size from the available options (e.g. new business, >$50,000 in annual sales, $50,000 to $250,000 in annual sales) .
Following that, you'll need to answer a few questions regarding your existing website, the products you intend to sell, and the nature of your current product offerings.
Once these initial steps are completed, you'll gain access to your personal dashboard, where you can take advantage of the 15-day trial period to explore BigCommerce's wide array of tools, customize your chosen theme using the Page Builder tool, and establish your brand presence.
Like any website builder, there's a learning period to using BigCommerce, but overall we have to say the platform is fairly intuitive and a good option for anyone wanting to set up a website without having to deal with too many third-party integrations and plugins.
BigCommerce Features and Tools
Page Builder
Customize various elements of your theme, including colors, text sizes, and the number of featured products on the homepage, without the need for coding.
Drag-and-drop editor
Easily add and arrange content such as text blocks, images, videos, banners, carousels, buttons, and custom HTML on your website pages.
SEO
BigCommerce simplifies the process of optimizing your website for search engines by automatically generating SEO-friendly URLs. However, you retain full control over your URL settings, allowing you to implement a custom strategy for your business.
Sales
Seamlessly sell your products on popular platforms like Amazon and eBay, integrate with the Facebook Commerce Backend Platform, and make direct edits to your listings through Google Merchant Center, among other features.
Streamlined checkout
Benefit from a convenient single-page checkout experience with features designed to enhance conversion rates, such as account creation for faster checkout, guest checkout options, and SSL support for secure transactions.
Optimization
BigCommerce integrates with Google AMP to improve page speed and performance on mobile devices. Additionally, the platform utilizes Akamai Image Manager to optimize online images, ensuring faster page-load times.
Inventory management
Leverage native tools provided by BigCommerce to effectively manage your stock levels, gain insights into order trends, and maintain synchronization between your online and offline channels.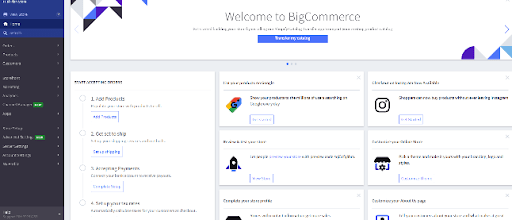 Creating a website with BigCommerce
How to Create, Design & Edit Your BigCommerce website
The platform offers a selection of 12 free themes and over 150 paid themes. While the free themes may appear similar and less inspiring, investing in one of the paid themes, which typically cost between $110 and $230, will provide you with greater customization options and branding opportunities.
With the Page Builder tool, you can easily customize the paid themes to suit your unique vision. If you possess coding skills, BigCommerce allows you to further personalize your online store using HTML, CSS, and other popular code libraries. The templates offered by BigCommerce are automatically optimized for mobile devices, ensuring your website looks great on smartphones and tablets.
The user-friendly drag-and-drop editor simplifies the process of creating, designing, and editing your BigCommerce website, making it accessible even to users without extensive technical knowledge. If you are migrating from another e-commerce platform such as Shopify or WooCommerce, BigCommerce provides dedicated Catalog Transfer Applications to facilitate the transition. Likewise, if you decide to switch from BigCommerce to another platform, you should be able to migrate your store seamlessly.
Adding Multimedia to Your BigCommerce website
The What You See Is What You Get (WYSIWYG) editor in BigCommerce allows you to effortlessly upload various types of content, including images, videos, PDFs, audio files, and downloadable files. Videos can be embedded from popular platforms such as YouTube, Vimeo, or Metacafe.
Alternatively, you can embed videos from seven different file types, including Flash, HTML5 audio and video, QuickTime movies, Shockwave applications, Windows Media files, Real Media files, or from another website using an iframe.
BigCommerce provides helpful shortcuts, such as the ability to add multiple images simultaneously by first uploading them to a folder using the WebDAV tool. However, the platform has limited stock multimedia files available, so you may need to use your own resources or sign up for a third-party stock image and video site.
Marketing Functionality with BigCommerce Websites
Marketing capabilities are driven partly by native apps and partly by third-party apps available through the BigCommerce app store.
These include:
Blog – Every BigCommerce store has a built-in blog, which is great for promoting your products and boosting your site's SEO ranking.
Customer Groups – this built-in feature lets you classify your customers into segments based on different criteria, such as level of loyalty or preferred products.
Google Shopping – native integration that connects your BigCommerce store to Google Merchant Center, allowing you to edit your listings directly in Google Merchant Center and manage your Google campaigns in Google Ads.
Facebook Business Extension – native integration that lets you sell through dynamic advertising and a Facebook store that integrates directly to your BigCommerce site.
Email marketing – 30 apps, including MailChimp (free, email marketing), Drip (custom pricing, for email and SMS marketing), and Privy (free, for growing your email list with popups, banners and other tools).
SEO Functionality & Add-Ons with BigCommerce Websites
BigCommerce offers a range of built-in SEO tools to help improve your search rankings. Built-in integration with Google AMP improves page speed and performance on mobile devices, automatically improving your SEO. In addition, the BigCommerce app store offers a variety of third-party SEO integrations.
Other native functionalities include:
Content Delivery Network (CDN): BigCommerce's CDN works continuously in the background to ensure quick page load times for your website.
SEO-Friendly URLs: BigCommerce automatically generates SEO-friendly URLs for your product and category pages. However, you have complete control over your URL settings to implement a customized strategy.
Unique Page URLs: Each page on your website receives a unique URL, preventing the negative impact of duplicate content on your SEO efforts.
Built-in Microdata: BigCommerce includes microdata in your product pages, such as ratings, pricing, and stock levels. This helps enhance your search result rankings.
Automatic 301 Redirects: BigCommerce ensures seamless navigation of your website through automatic 301 redirects, preventing broken links and maintaining search engine visibility.
Ecommerce
BigCommerce is a robust Ecommerce platform that comes loaded with a plethora of features to help businesses grow and thrive. For instance, the platform offers more than 55 payment providers to choose from, and there are no additional fees charged by BigCommerce. The checkout process is streamlined, including default country selection based on the customer's IP address and clearly labeled text fields when entering credit card details. Additionally, for returning customers, the billing and shipping details auto-fill automatically.
BigCommerce also includes a Channel Manager feature that enables businesses to connect inventory to existing channels or add new channels in just a few clicks. The Shipping Manager feature enables users to set up locations to which they'll be selling and choose specific methods for each area. This includes real-time carrier quotes, flat-rate shipping, and weight- and value-based rates.
When it comes to site design, BigCommerce has an intuitive, easy-to-use site building system that is perfect for Ecommerce retailers who may not be experts in HTML and CSS coding. However, some of the templates are not fully responsive, which may lead to display issues on smaller mobile screens.
Payment Processing
Payment processing is a crucial component of any Ecommerce site, and BigCommerce has one of the most comprehensive payment solutions in the market. The platform supports PayPal, Stripe, and Authorize.net, among others. Additionally, BigCommerce is the only Ecommerce platform that has PayPal One Touch built-in, which enables sellers to offer instant checkout to the more than 100 million PayPal shoppers.
BigCommerce's Buy Button Feature allows businesses to market products on Instagram, enhance their blog sites with more commerce options, and create an easy online shopping experience for customers. Buy buttons enable sellers to embed a direct path to the checkout page, reach customers on a variety of platforms, and provide a new, more engaging format for the modern shopper.
Scalability
Finally, BigCommerce offers scalability through hundreds of single-click integrations with first-class software such as Listrak, Bronto, and NetSuite. The platform also offers BigCommerce Enterprise, a solution launched in 2015 that is specifically designed for high-volume retailers. It features advanced security, real-time analytics, and many other necessary tools for scaling a business. With BigCommerce, businesses can easily evaluate customer purchasing behaviors, optimize inventory and merchandising, and evaluate marketing campaign performance in real-time.
BigCommerce Plans and pricing:
BigCommerce offers a choice of three plans (Standard, Plus, and Pro), each with a 15-day free trial. It also offers an Enterprise plan with custom pricing. You can save up to 10% on the Pro or Plus plans by paying annually.
Growing your online business
Comprehensive set of features
Max online sales per year
All plans include unlimited products, file storage, and bandwidth, unlimited staff accounts, and no additional transaction fees for third-party payment gateways.
Standard includes some of the tools discussed in this review, including integrations with Amazon, Facebook, and Google, mobile-responsive website, built-in blog, single-page checkout, multi-currency payment, and free sitewide HTTPS/SSL.
Plus is what you need for most of the marketing and SEO tools as well as for conversion tools like abandoned cart saver and stored credit cards.
Pro gets you a range of advanced tools such as integrated Google customer reviews and custom product filtering.
Help and Support:
The BigCommerce website has an extensive Help Center with tutorials, guides, and articles. We recommend starting off by using the free trial and consulting the Help Center for guidance.
While the online resources are good, the customer service reputation is not. While it claims to offer access to professional e-commerce consultants and does appear to follow through on this in some cases, many customers have complained about sub-standard support.
Tech support is available 24/7 via chat, tickets, or U.S.-based phone support.

BigCommerce Visit Site
How BigCommerce Compares to Other Website Builders
Email marketing functionality
Yes (via third-party apps)
As the above table shows, BigCommerce is a competitor to Shopify, while other platforms like WordPress are designed for being able to design a website at a cheaper cost but scale up with your plug-ins, coding, or with the help of a professional developer.
The differences between BigCommerce and Shopify aren't all that obvious, and some people prefer to experiment with both with a free trial before making a decision. Overall, BigCommerce is seen as having a greater level of customizability and better SEO and marketing tools, while Shopify is seen as a little more user-friendly.
Some shared features are available on the cheapest BigCommerce plan but the intermediate Shopify plan, and vice-versa, e.g. abandoned cart is available on the basic Shopify plan but the intermediate BigCommerce plan. So if you're weighing up between these two providers, we recommend thinking about which features you need before looking at both platforms' pricing tables.
Bottom Line
BigCommerce charges a premium compared to other website builders, but this gets you access to countless built-in tools in areas like SEO, marketing and conversion. If you're looking to start out with basic functionalities and scale up with third-party apps, then you might look elsewhere. But if you want to build your store up quickly with minimum hassle and you don't mind paying for it, then BigCommerce is worth your consideration.