These are some of the questions we explored through a Top10.com survey of more than 1,000 Americans. It turns out that people are spending substantial amounts of time watching TV alone—sometimes even blowing off plans to catch up on their favorite shows. Meanwhile, they're repeatedly checking in on their "Friends" or fictional colleagues in "The Office."
How else has TV streaming changed our social lives? Conversely, how have our social-media lives changed the way we watch TV? Read on for a glimpse into America's internet-age living room.
Who Needs Friends When You Have "Friends"?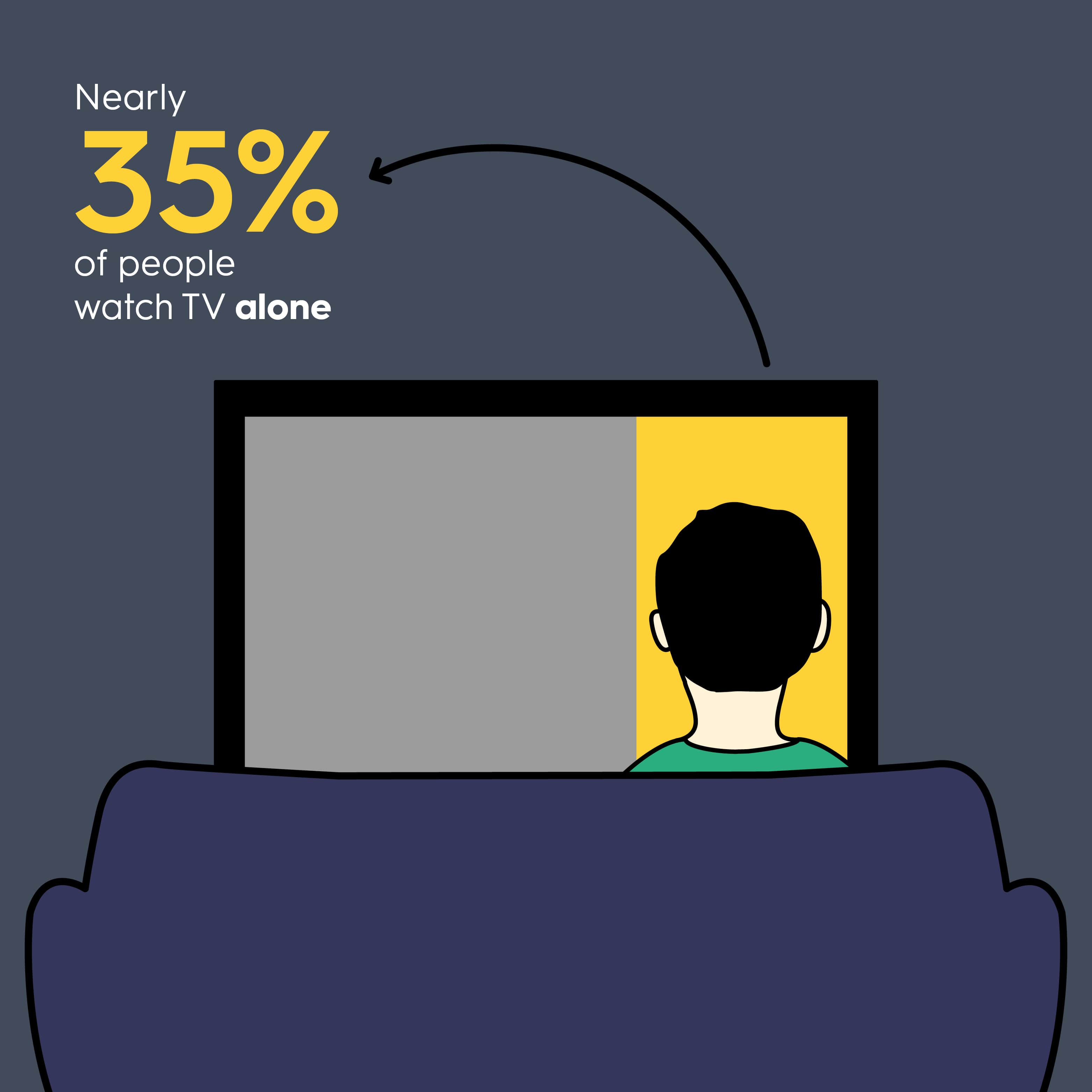 According to our survey, almost 35% of all respondents watch TV alone (34.78%), just a hairsbreadth less than those who watch with a partner (35.07%).
Meanwhile, only 4.4% of people say they watch TV with friends. Even more surprising, plenty of people seem to be ditching their friends for the screen: almost one-third of people (31.3%) admit to having cancelled or turned down plans in order to stream a show.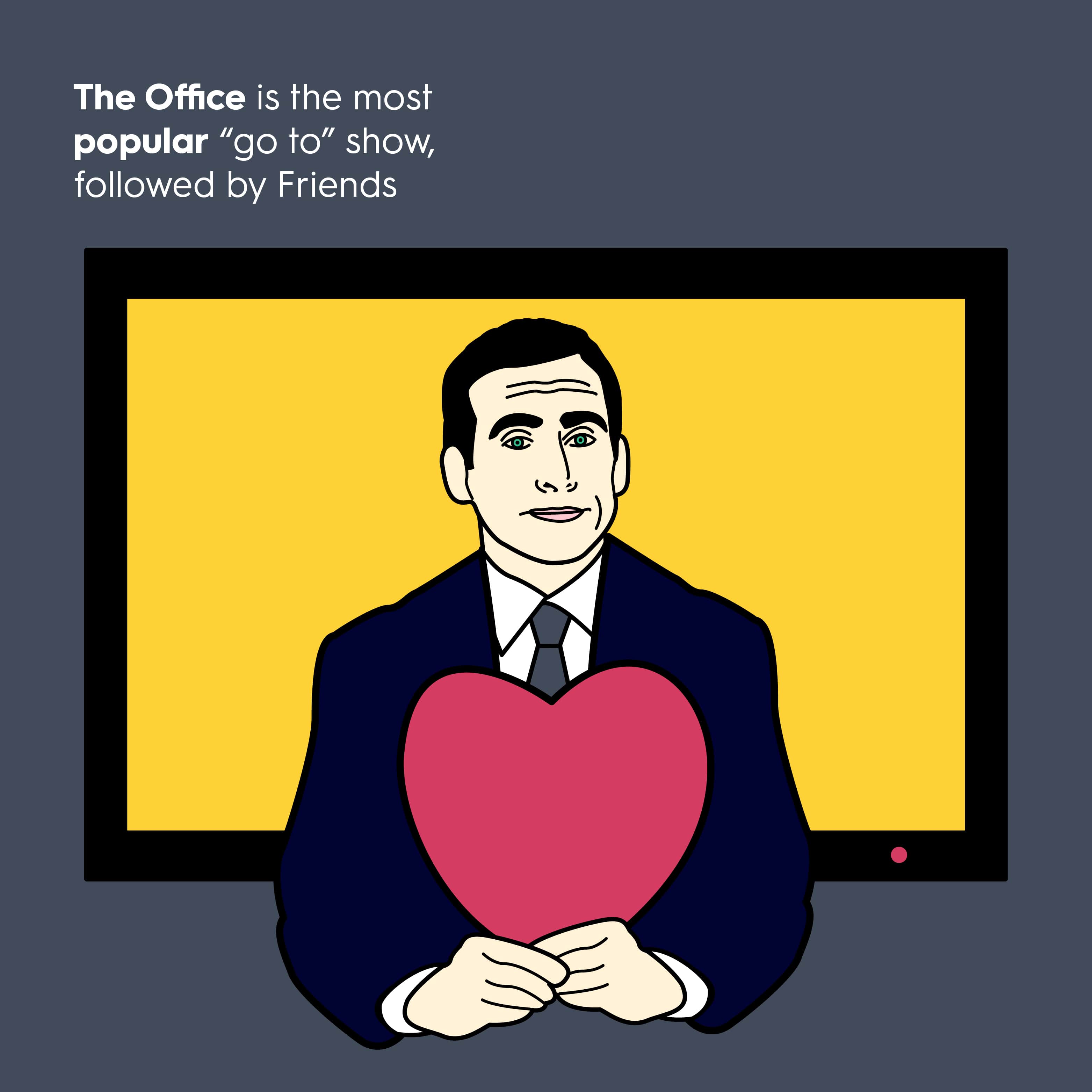 About 41% of respondents told us they have a "go to" show that they frequently revisit. The top shows people named were The Office (12.35%), Friends (6.65%), The Walking Dead (3.09%), Grey's Anatomy (2.61%) and The Big Bang Theory (1.90%).
It's interesting to note that these go-to shows are largely ensemble casts. While we're watching shows largely by ourselves—and in many cases even skipping plans to do so—we're choosing to do so with sitcoms centered around groups of friends or co-workers that provide their own sense of camaraderie.
Here's a full breakdown of the top 5 go-to shows by age and gender:
Men: The Office, Friends, Law & Order, Blue Bloods, and The Big Bang Theory
Women: The Office, Friends, Grey's Anatomy, The Walking Dead and Gilmore Girls
18-29 year olds: The Office, Friends, Supernatural, Gilmore Girls, Grey's Anatomy
30-44 year olds: The Office, Friends, The Walking Dead, Grey's Anatomy
45-60 year olds: Friends, The Big Bang Theory, The Walking Dead, The Office, Blue Bloods
In the 60+ category, the only consensus "go-to" show was Law & Order.
Forget FOMO: We're More Scared of Being Spoiled than Missing Out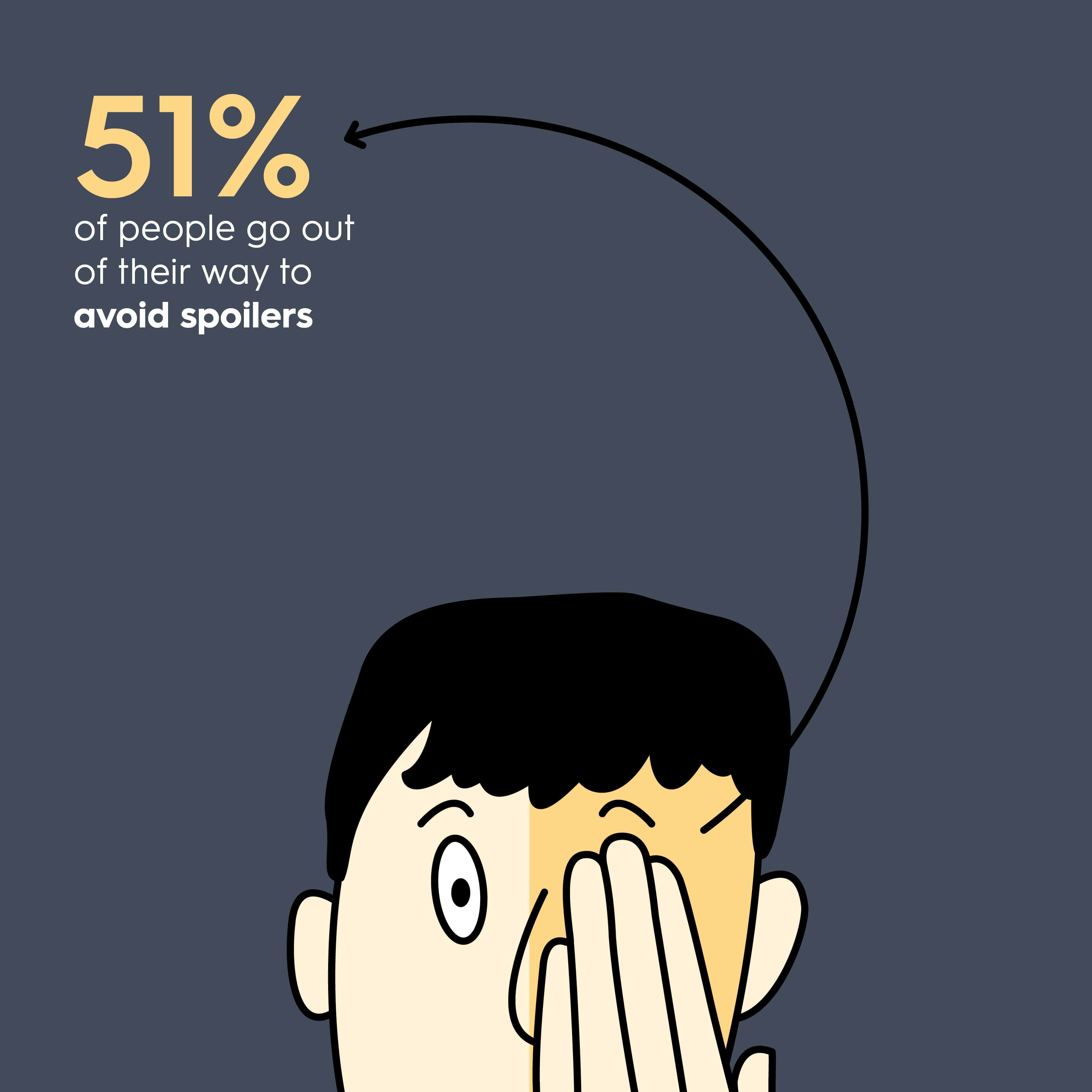 More than half of people (51.3%) go out of their way to avoid spoilers. This could take many forms—avoiding social media until they finish a show, removing themselves from social situations or conversations until they're caught up, or prioritizing TV in order to be up-to-date with everybody else.
This is a curious phenomenon that speaks to both the quality of TV shows and the power of the internet and social media. Prestige TV is such a part of the zeitgeist that shows like Breaking Bad, Walking Dead, and Game of Thrones are naturally absorbed into the national conversation. Meanwhile, the internet and social media are so saturated with pop culture, and our lives are so saturated with the internet, that we implicitly know that even broaching Twitter the day after a big finale will drown us in spoilers.
It's Always Sunny in TV Land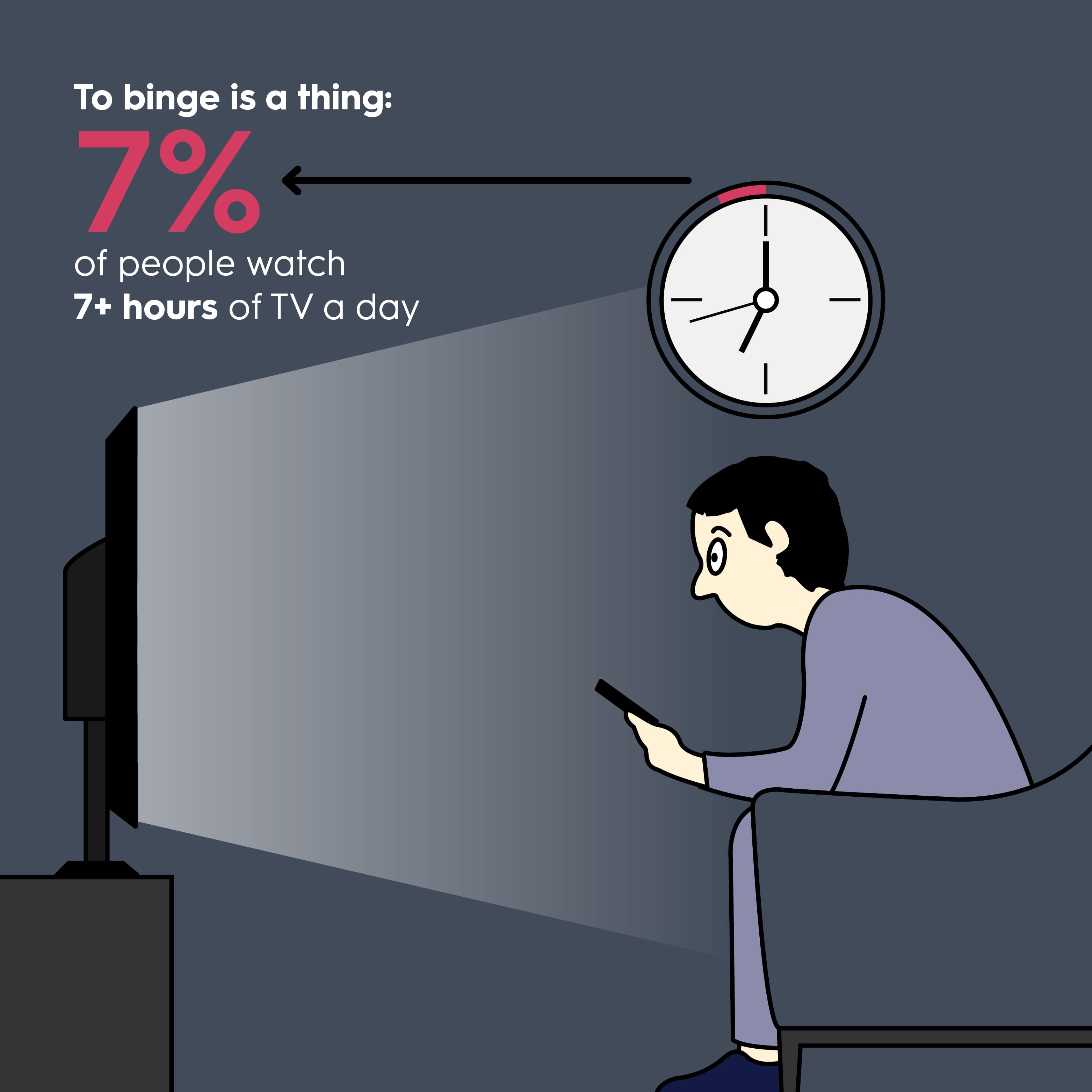 It would be natural to assume that those living in regions with harsh winters are more likely to hunker down in front of the TV than those in sunny climes. But that wasn't the case.
A question about daily TV watching habits revealed that 7.44% of total respondents watch 7+ hours of TV a day. Of those living in the decidedly cold East North Central region (which includes Illinois, Indiana, Michigan, Ohio, and Wisconsin), 6.43% of respondents watch more than 7 hours of TV a day.
Compare that with Pacific states such as California, Hawaii, Oregon, and Washington— whose milder weather and greater access to the outdoors would make you assume people spend less time inside watching TV. Nope. The number of viewers in the Pacific states who watch more than 7 hours of TV a day (8.28%) is nearly 2% higher than those in cold-weather states.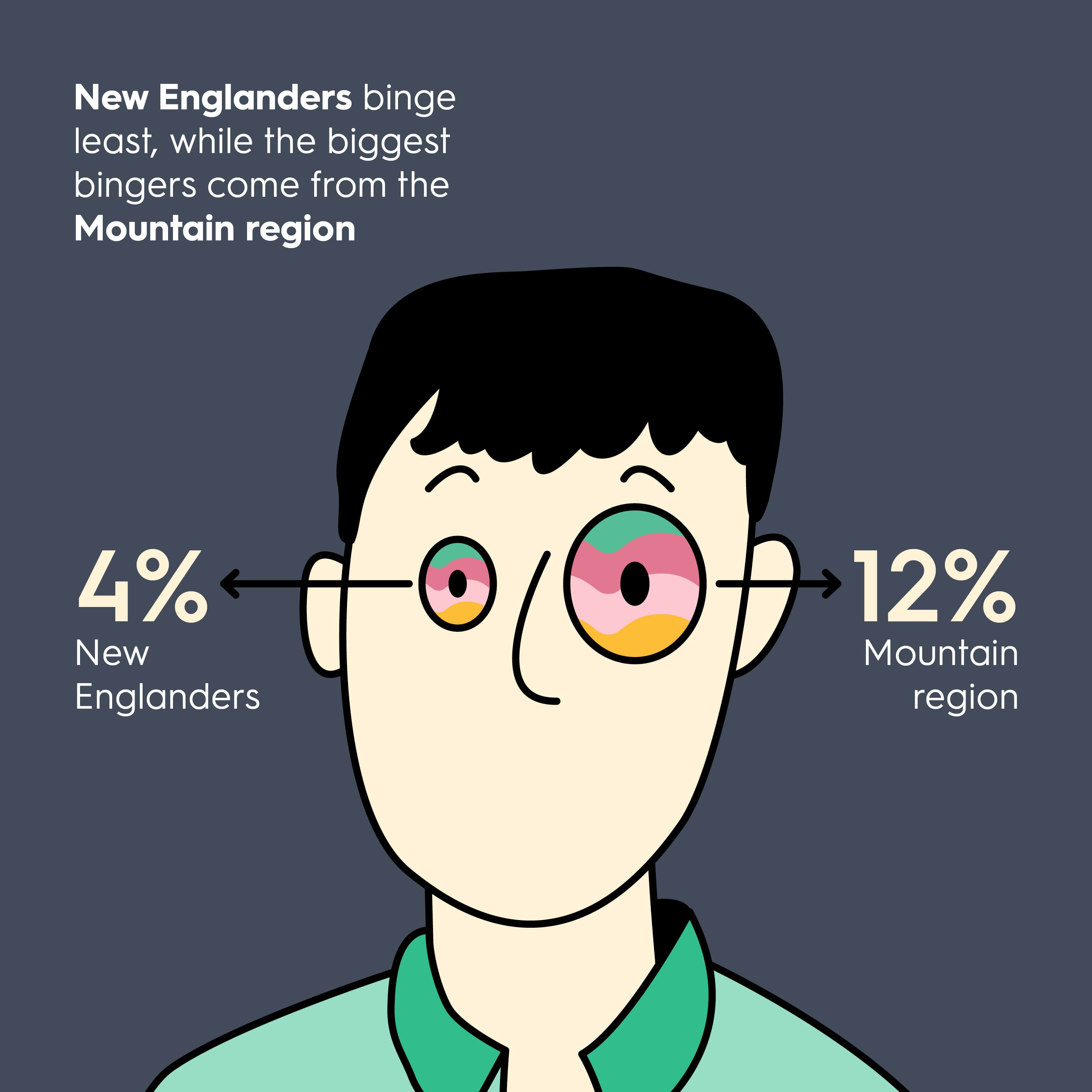 Surprisingly, the region with the least amount of TV bingers is New England (3.64%), while the highest, at a whopping 11.54%, was the Mountain region, which includes Arizona, Colorado, Montana, Wyoming, and New Mexico.
Maybe access matters more than weather. The Mountain and Pacific regions, though typically more pleasant, are also less populated than the crowded East Coast. Perhaps remoteness plays more of a role in the time we spend in front of the screen. It's also likely that the quality of entertainment itself is a factor. In the age of prestige TV, with high-quality shows released in bingeable seasons, and spoilers always looming, TV seems to take precedence over other plans regardless of the weather outside.
Cable is Dying But the Couch Potato Lives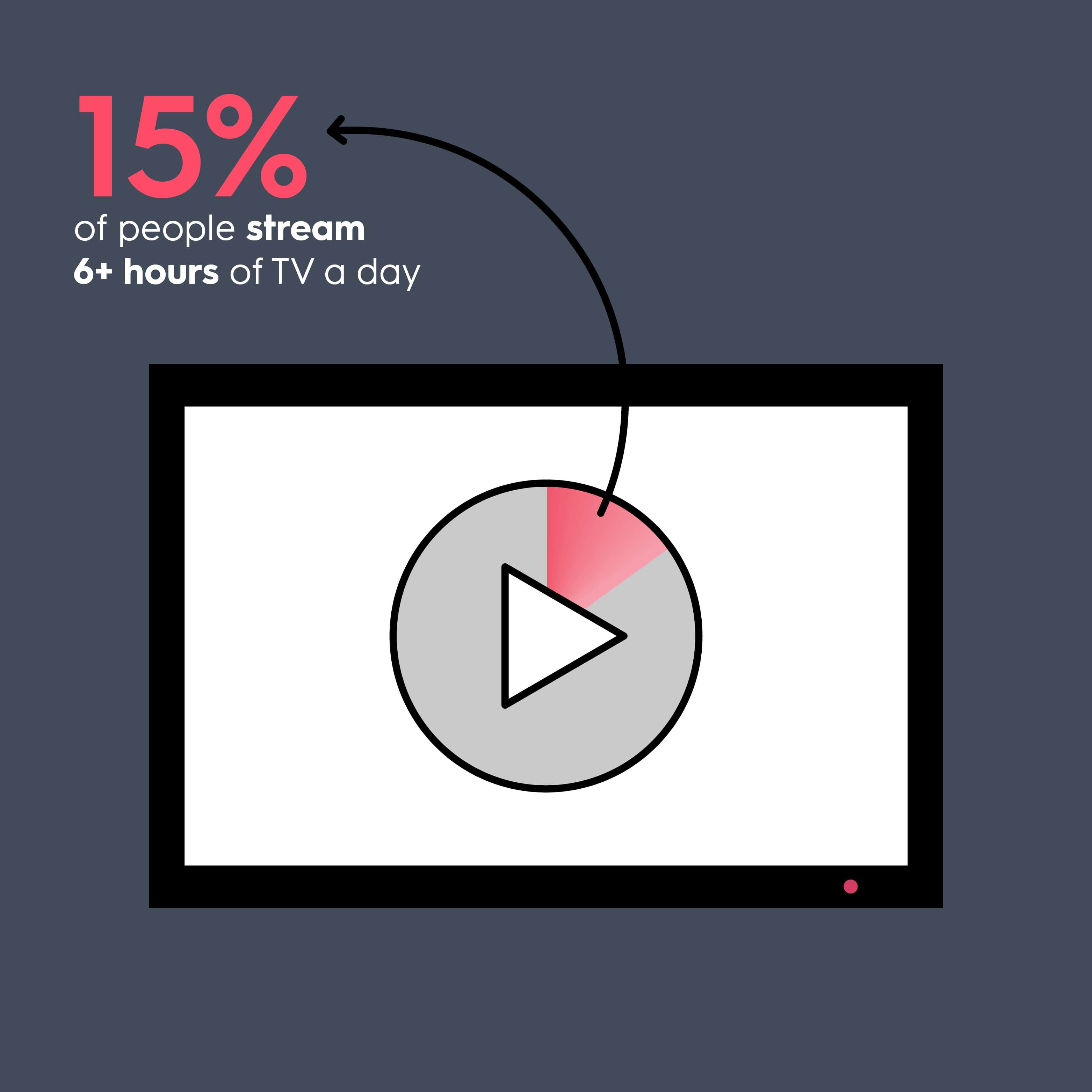 It's difficult to compare American viewing habits to the pre-internet days, since the old model—Nielsen reports—measured consumption by households, whereas TV consumption has become more individualized with online streaming and personal devices.
Nonetheless, our survey shows that TV consumption is thriving. Almost a quarter of 1,035 respondents say they stream 4-5 hours of television a day, with 15% of them logging 6+ hours of daily streaming time.
It's clear that streaming services have filled in the gap that may have been threatened by social media, online news, and other non-TV internet content. Netflix is the clear winner here, with nearly half (49.66%) of all respondents saying it's their favorite streaming service. Hulu (16.33%) and Amazon Prime Video (14.88%) are the next most popular platforms, though amongst the 15.85% of people who voted "other platforms" we saw YouTube, Disney+, and other platforms.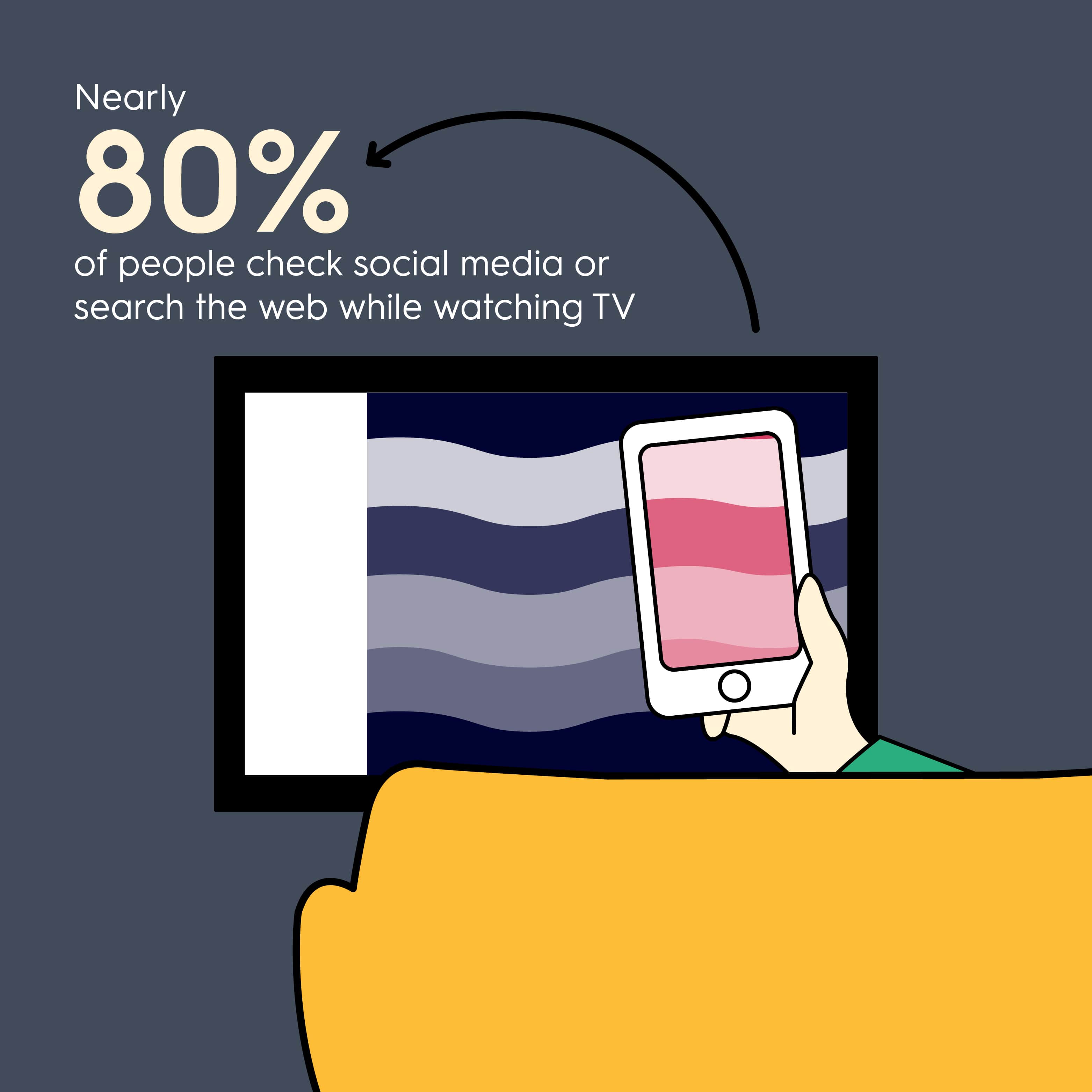 While traditional TV and cable may be losing popularity, it's clear that TV itself is booming.
That's not to say that the rest of the internet is ignored during TV time. Interestingly, nearly 80% of people say they check social media or surf the internet while watching TV. As expected, TV and tech multitasking decreases with age—only 2% of 18-29 year olds never check social media or other online content while watching TV as compared to 18% of those 60 and older. But even amongst the 60+ crowd, nearly two-thirds surf the web while watching TV.
Here's What Else We Found
We may not be watching much TV together, but we're talking about it with each other. For more than half of people (50.92%), TV plays into 10% of all social and workplace conversations.
While older people generally log more time watching TV, younger people generally spend more of their time talking about it.
The older you are, the more likely you are to watch TV on an actual television.
Almost 25% of people have done an 8-hour TV binge.
A Final Recap
Traditional TV may be dying, but TV itself is thriving. Americans average about 4 hours of streaming a day, and though today many of us are watching TV alone, we're discussing it with friends, co-workers, and strangers on the internet at a higher frequency. Those who worry about—or invite—the downfall of TV will have to wait a bit longer. Clearly the internet has proven a worthy supplement to TV rather than replacement. And with the quality of TV shows ensuring that characters and plots become part of the zeitgeist, TV, the internet, and social media have become allies in ensuring that we stay hooked to our screens or suffer FOMO. Or worse—being spoiled.
No matter what your "go to" show is, you'll always be able to stream it if you have a reliable VPN. Check out our list of the best VPN services to find the one that's right for you.