In a Nutshell
StrongVPN is a good VPN for Windows users that need a basic service. However, I wasn't delighted by the lack of an automatic cancellation functionality and the only real feature the VPN includes is selecting the connection protocol.
pros
More than 900 servers
12 simultaneous connections
Worked to unblock Netflix
cons
Some bugs while connecting to servers
No automatic cancellation service

Strong VPN Compare All
StrongVPN at a Glance
Best for: Users that want to be able to choose their connection protocol
Price: $10 (1 month) or $69.99 (12 months)
Location: 950+ servers in more than 30 countries
Netflix: Yes
Torrenting: Yes
Logging: Zero logging
Number of Devices: 12 simultaneous connections
Operating Systems: Windows, MacOS, iOS, Android, Amazon Fire, Router, Linux (CLI), Synology NAS, others
Browser Extensions: No
Privacy
StrongVPN allows its users to choose the protocol with which they connect to the service. Users can choose between:
IKEv2

WireGuard

OpenVPN

SSTP

L2TP
This ensures that users can use the VPN on the widest variety of hardware possible (the VPN can be run on routers with compatible firmware as well as Synology's range of network attached storage devices and other platforms).
The one strike against Strong VPN, from a privacy standpoint, is the fact that it is based in the US. The US is deservedly not known as a privacy lover's paradise. While the company says that it keeps no logs, it is decidedly possible that Strong VPN could be forced to turn over user records to law enforcement or intelligence agencies in the event of user prosecution.
Features
WireGuard
StrongVPN offers its users the ability to connect through WireGuard which is a modern VPN protocol. WireGuard, which is open source, is designed to provide a simpler and faster connection experience compared with older connection protocols in use by providers.
Speed
My baseline internet connection remained stable throughout the testing process at about 90 Mbps. I first connected through the US server, which provided a connection speed of 19 Mbps. I had better luck connecting through Ireland, which upped that speed to 29 Mbps.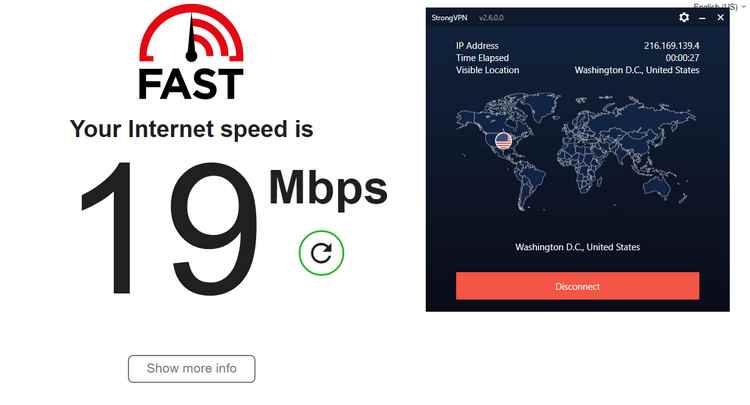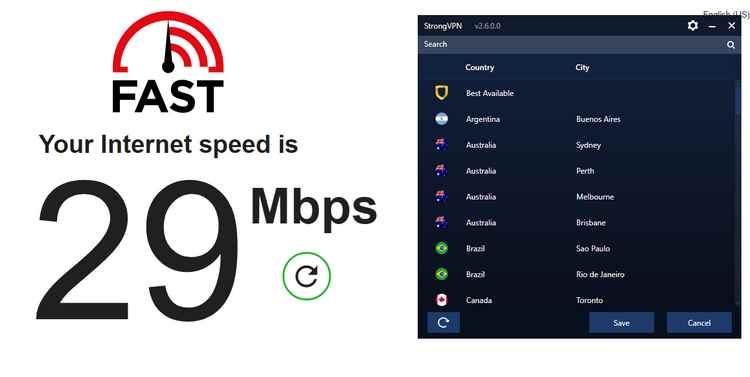 Overall the connect speeds throughout Strong VPN's network seemed reasonably good and I noticed that the connection was stable throughout the testing process.
Pricing and Deals
StrongVPN is available as both a month-to-month subscription ($10) or as a yearly plan for $69.99. The yearly option currently represents a 42% cost saving. Additionally both plans come with 250GB of free cloud storage in SugarSync and are backed by a 30-day money-back guarantee.
Torrents
StrongVPN is open about the fact that their service can be used to facilitate downloading peer-to-peer (P2P) content, such as through the BitTorrent torrent client. I couldn't find any verbiage indicating that the company bans such activity—although I did come across a 6 year old Reddit thread in which a user claimed that they were blocked for using a torrent client while on the network. The best that can be said right now is that it "seems okay."
Netflix
After connecting to Strong VPN's Washington DC server, which provided a connection speed of 15 Mbps, I connected to Netflix and was able to immediately call up the US version of the content provider.
Therefore, at the moment it seems as if Strong VPN is in the category of VPN providers that are able to unblock international versions of Netflix.
Client Setup
Setting up StrongVPN on my Windows virtual machine involved first purchasing a license for the VPN and then downloading the Windows client from the Strong VPN website. Account management is handled via a third party billing interface.
Apps
Smartphone users should be able to connect to StrongVPN using the Android and iOS versions both of which are available through the conventional sources. At the time of writing, the iOS version enjoys a more than 4 star average rating. There is comprehensive documentation to help users with the installation of both smartphone clients.
How Does Strong VPN Compare?
Those that need multiple connections
Serious privacy enthusiasts
Those that want a variety of server types
P2P or Bittorrent (Yes/No)
Customer Support
StrongVPN provides customer support through a dedicated helpdesk area which comes full with tutorials and guides as to how to make the most out of the service. There is also email support and a live chat option.
While the company has undoubtedly put some effort into the department, I found the cancellation process cumbersome, having to click through "do you really want to cancel"? type screens designed to keep me using the service. I also encountered some confusion between representatives when I tried to keep my account open for enough time to conduct this evaluation. While many customers report otherwise, my experience interacting with Strong VPN's support was patchy.
Ease of Use
Despite having some grievances with support, I found installing and setting the platform up to be an easy experience. Connecting is as simple as pointing and clicking on the desired server location. Strong VPN doesn't come backed with features so the only option provided in the settings of the Windows client was really to choose the connection protocol.

Strong VPN Compare All
FAQs
Can you install Strong VPN on a router?
Yes, the VPN can be installed on routers running compatible firmware.
How many clients can connect at the same time
StrongVPN supports 12 simultaneous connections
Is there a Linux client?
There is a command line tool for Linux but not a GUI
Bottom Line
Strong VPN certainly doesn't come jam packed with features but nevertheless it is a competent VPN service for those that just need to connect to a few endpoints to change their geolocation.