In a Nutshell
TorGuard isn't one of the better known VPNs on the market, but it does maintain a relatively large network of 3,000 servers in more than 50 countries. It's one of the relatively few VPNs with a functional Linux GUI which I used during the evaluation. It also offers a generous 8 simultaneous connections. I wasn't too sure what to expect about this VPN named after Tor without TOR support … but I was pleasantly surprised.
pros
Linux GUI
3,000 servers
Choice of 2 connection ciphers
cons
The user interface is a little clunky
Cancellations are not automatically processed
Torguard VPN at a Glance
Best for: Users that want a VPN that provides a couple of protocol and encryption options
Price (or price range): From $9.99 (monthly) to $59.99 (annually)
Location: Over 3,000 servers in more than 50 countries
Netflix: Yes - works with Netflix US
Torrenting: Yes
Logging: Zero logs policy
Number of Devices: 8
Operating Systems: Windows, Linux
Browser Extensions: Chrome and Firefox
Privacy
TorGuard can encrypt its VPN traffic with a variety of protocols including OpenVPN, L2TP and IPSec. Users also have granular control over the security. In the Ubuntu client, I was able to configure both a global kill switch and an app-specific one. InTorGuard's privacy policy it lists its data collector as VPNetworks LLC with a registered business address in Orlando, Florida. It has previously claimed to have a "strict zero logs policy." The information that it does collect about users is documented in their privacy policy. Of course, the US is not a well-known privacy shelter. While the company claims to not collect user information, collection of information by signals intelligence (SIGINT) can therefore not be ruled out.
Features
In addition to VPN, Torguard VPN offers the following features:
Multiple Protocols
Torguard supports OpenVPN, PPTP, L2TP, IPsec and SSTP. While OpenVPN is widely supported, L2TP and PPTP are ideal options for older (legacy) hardware.
Autostart
The Ubuntu Linux client supported both automatic client launch and automatic connection on launch. The latter is perfect for users that want an always-on VPN connection.
Application-based kill switch
I was able to create an application-based kill switch in the Ubuntu client. This allows users to disconnect the VPN upon the termination of any program—whether a daemon, GUI, or CLI. There's even a 'select' option which populated a list of currently running processes. I tested this out with Flameshot, a popular screenshot program for Linux. The kill switch worked as expected: as soon as I exited Flameshot the VPN disconnected.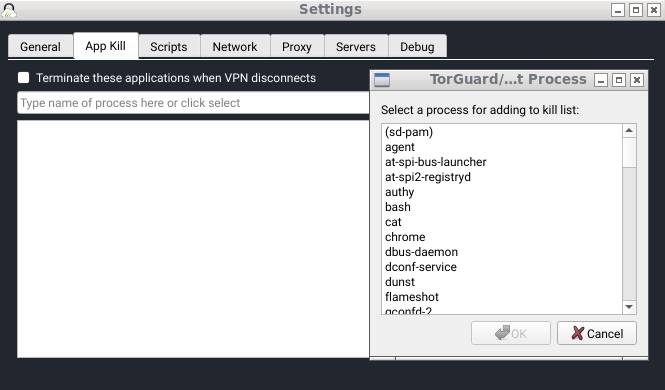 Fine Control Settings
I was impressed by the detail of the network and proxy controls which Torguard provided. In addition to the kill switches, the client prevents packet leaks over IPv6 and has options to use custom DNS nameservers. The DNS nameserver option is even preconfigured with the correct options for popular third party DNS providers such as OpenDNS and Google Public DNS. Finally, users can control scripts for execution before and after DNS connection to configure further automations.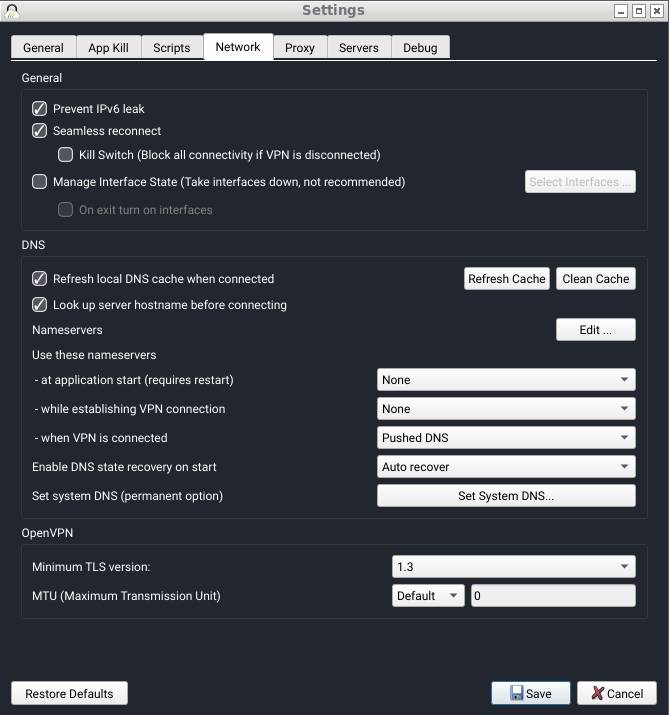 Speed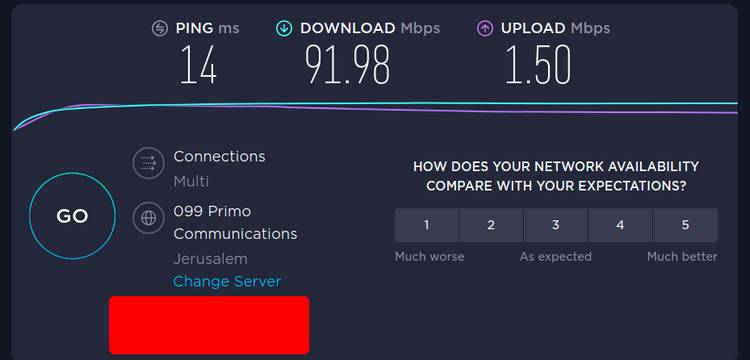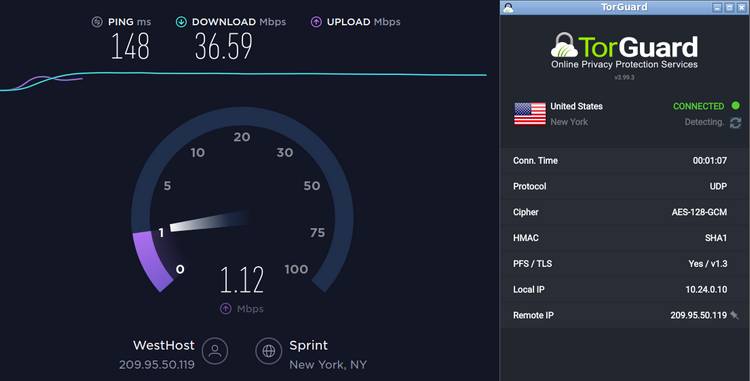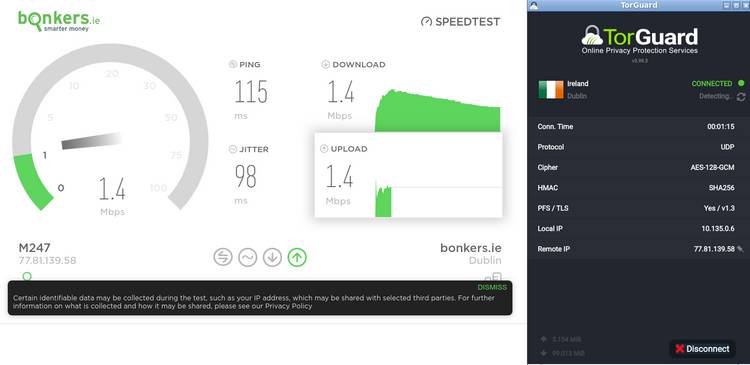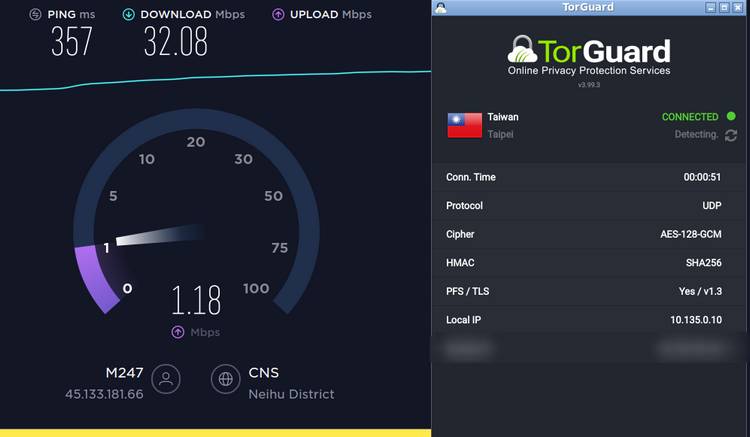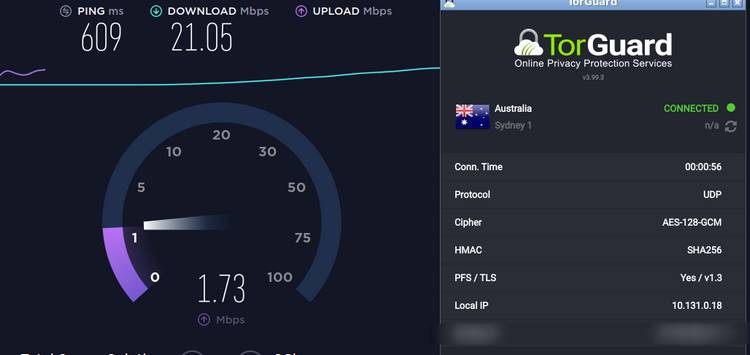 I tested out the VPN with 4 connection servers in New York, Dublin, Ireland, Taipei (Taiwan) and Sydney, Australia. The baseline connection was about 90 Mbps. The US New York server provided the best speed with a 36.59 Mbps downlink. That was followed by Taipei at 32.08 Mbps and Australia at 21.05 Mbps. The luck of the Irish also rubbed off on Torguard VPN: its connection through Dublin managed to pick up to between 25 and 30 Mbps during my evaluation process.
For those that stick to the better-performing servers, the connection speed, at above 20 Mbps, is certainly good enough to stream multimedia—without being blazingly fast.
Pricing and Deals
Torguard's pricing is a little different than most VPN providers. It offers a basic package, called Anonymous VPN, which is available on terms ranging from monthly to yearly—with a 6 month subscription option too.
The most notable feature of the basic VPN package is that it allows for 8 simultaneous device connections and unlimited bandwidth. Users can also connect over OpenVPN, PPTP, L2TP, IPsec, and SSTP—although the exact protocol selection available depends on the client.

Additionally, users can purchase the Streaming Bundle add-on for $21.98 per month which provides 2 streaming IPs and promise no buffering. The company also offers 3 business VPN tiers which provide a dedicated account manager among other features.
Torrents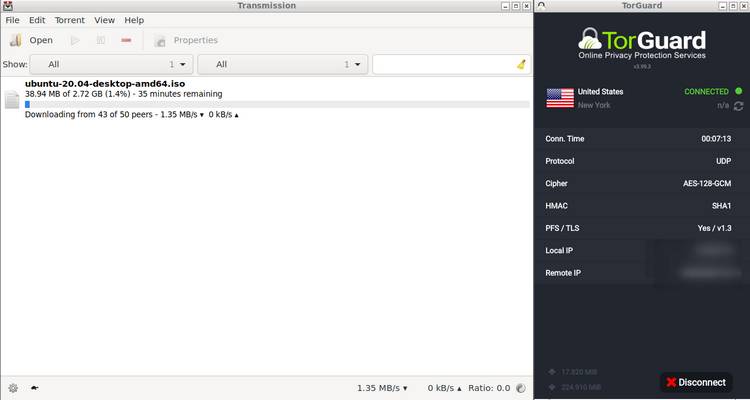 TorGuard doesn't leverage any restrictions whatsoever about using the service to connect to torrents. In fact, the TorGuard team even produces a Check My Torrent IP diagnostic client which allows users to download a test torrent that returns their user agent and public IP address. This is an excellent security tool for users that want to make sure that torrent traffic remains enclosed within the VPN tunnel. To make sure everything was working, I downloaded a torrent with BitTorrent while connected to the US server and verified that the client was able to both download and seed the file across the peer network.
Netflix
Connecting through TorGuard's US server, I was able to access Netflix's US product offering without difficulty. The New York server provided a steady 30 Mbps connection which was more than good enough to stream Netflix.
Client Setup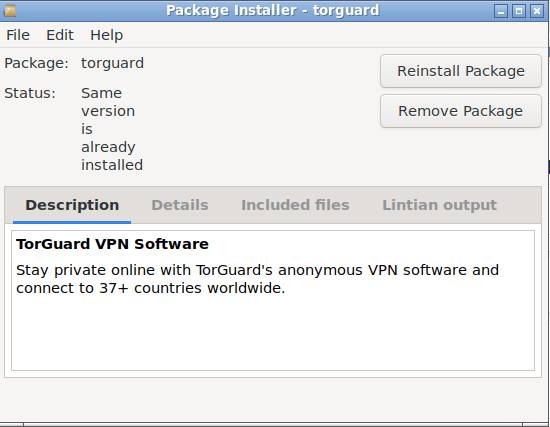 For this testing process I used the Ubuntu Linux client. The installation was as simple as downloading the Debian package and installing it through Gdebi. For Red Hat, Fedora and CentOS users an RPM package is also available. There's even a package for Arch. For users that have yet to see the light of open source, Windows and MacOS clients can also be downloaded the same way through the download manager which populates after purchasing a licenses.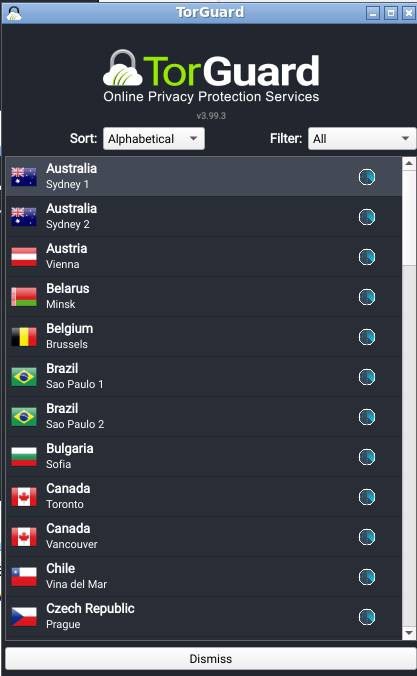 Apps
Android users can either directly download an APK or install through Google Play. And iOS users pick the app up through iTunes. Finally, for those with VPN capable routers or Linux users that prefer to use network manager, OpenVPN configuration packages can be downloaded too.
How Does Torguard VPN Compare?
$6.99 month to month (1 year plan)
3,000 servers in 68 server locations
3,000 servers in 160 server locations
Those that want fine control of protocol and connectivity
Users that want an easy to use VPN
Users that need specialized services
Customer Support
Torguard operates an online customer support center and also makes user resources available through its YouTube channel.

There's also a very active community forum with active discussions among advanced users. For users that need personalized support, the company offers live chat
Ease of Use
The Ubuntu Linux client was very easy to use although the fonts rendered slightly grainy (I was testing on LXDE). Connecting to each server took a few seconds and all the settings were accessible from within the client.
FAQs
Does Torguard keep logs?
No, it's a zero logs provider.
Can you install Torguard on your router?
Yes, if you have a router that supports OpenVPN.
Bottom Line
For uses that like to know exactly how their VPN connection is running — and control the fine details — Torguard VPN is a good choice. I immediately liked its Ubuntu Linux client. All the servers that I tested provided impressive speeds with acceptable latency.