In a Nutshell
Hotspot Shield is one of the leading services in the VPN industry. The VPN's success can be traced to its outstanding features, blazing-fast speeds, best-in-class security, and overall reliability. Hotspot Shield's features include dedicated servers, super-fast speeds, unlimited internet access, military-grade encryption, premium-feel apps, and up to 5 supported devices.
pros
Blazing-fast speeds
Optimized for streaming
Relatively affordable plans
cons
No Linux client
Single month is pricey
Allowed concurrent connections
Supported streaming services
Netflix, BBC iPlayer, Hulu, HBO
Kill switch, IP leak protection, Split tunneling, Unlimited bandwidth
Windows, macOS, iOS, Android, Chrome OS
Hotspot Shield was founded in 2008 by a California based company – AnchorFree GmbH. Being in operation for over a decade, Hotspot Shield has grown to become a popular VPN, and its success can be seen in its large user-base. Currently, over 650 million users prefer Hotspot Shield and actively use its service.
AnchorFree GmbH has recently re-branded to a new name called Pango. Thankfully, this news comes at a precisely ideal time, considering the recent rise of security breaches in the VPN industry. Pango is a reputable cybersecurity firm that is also known to work with some of the most trusted brands, including 1Password, Robo Shield, and Identity Guard. The company has also vowed to invest more on its privacy and security standards, with an aim of improving your online privacy. This however, doesn't change Hotspot Shield's base of operation, since the VPN is still based in California.
Pricing and Plans

Hotspot Shield gives you 2 package types:
Hotspot Shield Free
Hotspot Shield Elite
The VPN's free version will give you a lifetime free subscription, but it comes with a ton of limits. For instance, you'll be exposed to several ads. Hotspot Shield will also limit your bandwidth to about 500MB a day—which will not be enough if you're a heavy internet user.
Hotspot Shield used to provide pricey plans, but that has recently changed—the VPN currently gives affordable rates in 3 different tiers. All 3 packages provide the same features, but vary in terms of their billing cycles.
Here's a detailed review of the pricing plans:
The Monthly plan goes for $12.99, billed every month, and it's the most expensive package.
The 1-year plan costs $7.99 per month, and is billed at $95.88 every 12 months.
Finally, there's the 3-year plan which costs $2.99 per month, meaning $107.64 is billed every 36 months. Notably, this is the most popular plan of the 3, and it will save you up to 77% of your money.
Additionally, Hotspot Shield gives you a 7-day risk-free trial—but you'll need to fill in your payment information to be approved. They also give you a 45-day money-back guarantee, which is quite sufficient to test their service.
Payment Methods

Hotspot Shield only accepts 2 payment methods, including Credit/Debit cards, and PayPal. Unfortunately, Hotspot Shield doesn't accept any form of cryptocurrency, since they're currently the best options for anonymous payments—something that private users prefer.
Servers
Hotspot Shield has made tremendous upgrades in terms of its network coverage, and it offers over 3,200 servers in 70+ countries around the world. Thanks to this, you can now connect to any supported country and browse the internet like a local.
Features and Benefits
Kill Switch
Hotspot Shield VPN offers a kill switch feature that is available on its desktop and mobile apps. The feature enhances your online privacy by disconnecting your device from the internet whenever Hotspot Shield's connection drops. Bear in mind that during server switching your VPN connection is likely to drop, and that is when a kill switch will help you.
Unlimited Bandwidth
Hotspot Shield gives unlimited bandwidth, meaning you won't have to worry about how much data you'll use. Thanks to this, you can stream your favorite content, and torrent endlessly. Having unlimited bandwidth also means that you can access blocked content all day, without looking over your shoulder.
Split Tunneling
Hotspot Shield allows for split tunneling utility. The feature allows you to choose which apps you want to access through the VPN, and which ones you want to access directly through your regular internet connection. A good example is when you want to unblock Netflix through the VPN, while accessing your local bank on your normal network.
P2P Support
Hotspot Shield supports P2P file sharing, making it an excellent choice for torrent lovers. P2P support also means that Hotspot Shield is also a great option for a business setup that wishes to share office files privately and securely.
Onion over VPN
Onion over VPN is a utility that enables you to access Tor—an Onion Router—through VPN servers. The feature is very useful, considering you can easily connect to the Tor network without having to download the Onion Browser. Sadly, however, Hotspot Shield doesn't offer this feature. I think this is because this feature reduces connection speeds significantly. Therefore, knowing the high regard Hotspot Shield has for fast speeds, I think they wouldn't want to compromise their glorious reputation. Besides, Onion over VPN is only useful when you need to overcome heavily censored content, and blocked websites.
Catapult Hydra Protocol
Hotspot widely uses a custom protocol they call Catapult Hydra. This is a proprietary protocol designed by AnchorFree—now Pango—and it's allegedly considered to have superior performance and unbeatable reliability. Hotspot Shield also claims that this protocol is the most secure:
Many carriers such as Telefonica and KDDI also use Catapult Hydra to provide VPN services and WiFi security to their customers, due to Hydra's superior performance and reliability. It is important to note that our proprietary protocol is focused only on the performance of the VPN data transport while using standard encryption with perfect forward secrecy.
Privacy and Security
Privacy
There's been controversial speculation about the privacy levels of Hotspot Shield all over the internet for some time now. Moreover, the primary reasoning for this problem can be attributed to the VPN's US base of operations. Considering the annoying data retention laws available on US soil, we can understand the frustration. Thankfully, Hotspot Shield doesn't store your data, and they observe a strict zero logs policy—something that we believe is crucial.
Since Hotspot Shield is based in seemingly hostile territory, we advise that you read their privacy policy statement. Likewise, during this Hotspot Shield review, we reviewed their privacy policy, and were delighted with it. Hotspot Shield has made massive improvements to their privacy policy. The new policy states:
"We do not attribute any specific website visits or app usage to any specific user. We do not keep logs of your online activities and never associate any domains or applications that you use with you, your device, or email."
According to its parent company—Pango—Hotspot Shield gives you a service that protects your online presence, so you can go about your business without looking over your shoulder.
Security
Hotspot Shield doesn't compromise on security either. Currently, the VPN secures your internet traffic using the trendy TLS 1.2 coupled with a Perfect Forward Secrecy (ECDHE), 256-bit AES encryption, and the HMAC hash-message authentication technique. Moreover, in accordance with industry standards, Hotspot Shield uses military-grade security standards.
Performance
Speedtest
We're pleased to rank Hotspot Shield as the fastest VPN in the industry. Hotspot Shield somehow manages to maintain minimal effects on speed, and offers almost the same speeds you get without a VPN connection. We performed a series of speed tests to check the VPN's speed.
We used an online speedtest tool to run our tests. To establish a baseline record for our tests, we first ran speed-tests without the VPN connected.
Speedtest results without Hotspot Shield connection:

Speedtest results after connecting to a nearby Hotspot Shield server:

You can observe how the download speeds in the second test varied slightly from our benchmark test, while the ping and upload speeds took a small hit. Undoubtedly, these are terrific results, and they help make the VPN an excellent choice if you're after fast speeds, high security, and the ability to stream content in HD.
Speedtest results after connecting to a distant server:

The ping went down, and the upload speeds went extremely high.
According to our tests, Hotspot Shield offers a great balance of superb speeds in all its servers, regardless of your physical location.
Setup and User Interface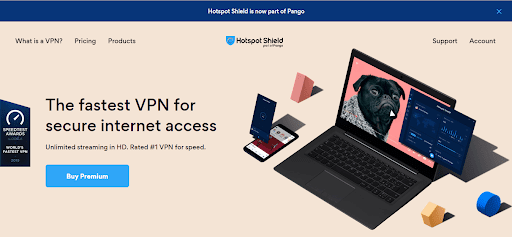 Getting started with Hotspot Shield couldn't be any easier. The simplicity and ease of use are portrayed in their minimalistic website. The site's homepage has simple, clear-cut information that you'll find useful while getting acquainted with Hotspot Shield VPN.
You can try out their free package by clicking on the Get Basic button. Unfortunately, the free version has limited features, and lacks customer support. Therefore, we advise that you opt for the premium option. Once you click on it, you'll download the client app automatically, depending on the device you use to access it.
Getting started with Hotspot Shield
Registering with Hotspot Shield is straightforward. All you have to do is click on the "Sign In" link at the top of the page. The whole sign up process takes less than 5 minutes to finish.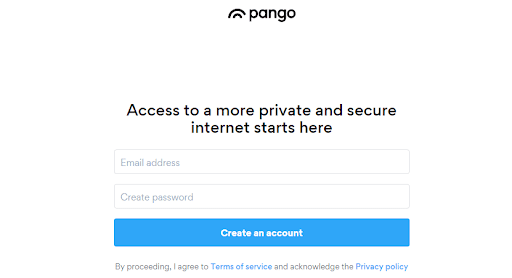 Once you're done signing up, you can proceed to the pricing page to purchase your preferred plan. You'll be required to enter your payment information—whether it's your credit card or your PayPal login—to proceed. Moreover, if you need to try out the 7-day elite free plan, you'll be required to download a VPN client app before you continue. The client app will give a straightforward link that you'll use to sign up for an elite free trial—something that's not easy to come by on the website.
Bearing in mind that the free trial lasts for 7 days only, your account will be charged an automatic monthly plan unless you update your plan choice on time. That is why Hotspot Shield dictates that you fill in your credit card information when choosing their 7-day free trial. It's also important to note that, if you begin with a free trial, you'll not be eligible for their 45-day money-back guarantee.
Hotspot Shield Client Apps
Desktop Client
When you meet the new version of Hotspot Shield desktop client for the first time, it'll give you a desirable and straightforward impression. Once you log in to the app, it'll automatically connect to the best and fastest server available—depending on your actual location.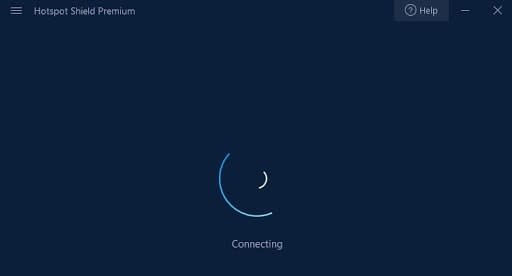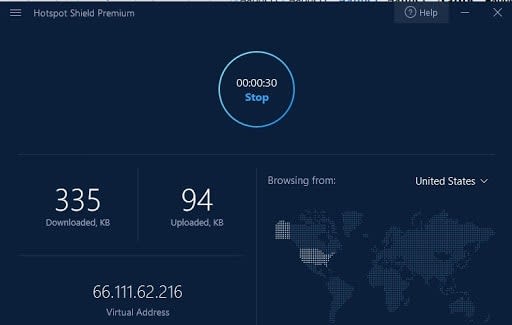 You are also free to select the country you wish to connect to—by clicking on the drop-down menu next to the name of the current server location.
Hotspot Shield offers basic features such as a kill switch, and an IP leak protector.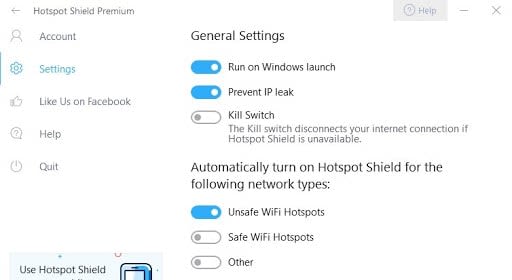 We didn't have any issues with the VPN's features and utilities. The app worked seamlessly as expected throughout every stage of our test, including at startup, login, connecting, and server switching. It takes less than 5 seconds to connect to any server across the world.
Hotspot Shield Browser Extension

The Hotspot Shield VPN browser extension is very similar to that of the desktop and mobile versions. However, app extension sports extra features that are custom designed for browsing. Sadly, the extension still lacks a kill switch as well as IP leak protection.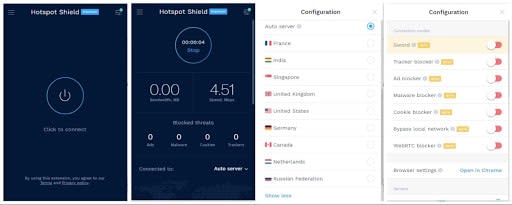 The VPN's browser extension harbors some blocking features that are in their 'Beta' stages—but they exhibit exceptional performance. Some of these features include sword, tracker blocker, Adblocker, cookie blocker, and malware blocker as well.
The server list can be found directly below these promising features, and you can access them by scrolling down. However, we discovered that not all server locations are listed—only a select few that are regarded as crucial.
Mobile Client App
In this mobile client app review, we tested Hotspot Shield using an iPhone device. The app is readily available on the App Store or Android's Google Play Store.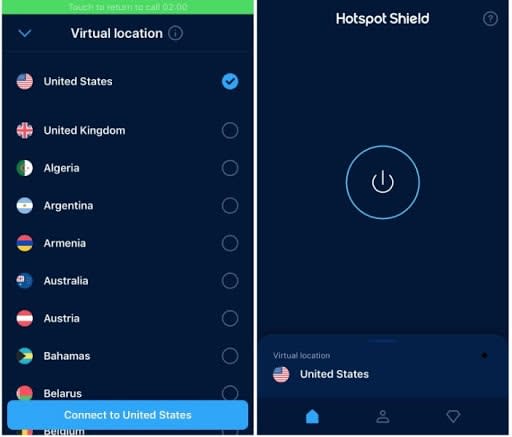 The mobile client also gives you a 7-day free trial if you haven't purchased one already. The iOS app doesn't include information about a money-back guarantee. Nevertheless, when we interacted with the Android app, we discovered that they allow for a 30-day money-back guarantee, and not the official 45 days. You also have the option to use the app for free, but you'll have to endure the endless ads that will display, and can only connect to a US server.
The mobile app offers only one feature, which is "App Auto Protection." The feature gives you permission to add apps on your phone that will benefit auto-protection. That means, when the app added to the Auto Protection list is started, Hotspot Shield will automatically secure it by connecting to the best VPN server.
However, its Android version has some exciting features that we wish they could include on the iOS version. The Android app includes features like:
Battery life extension – which closes all unused apps from time to time.
Malware scanner – it scans all apps for malware and removes them.
Deep cleaning – removes junk files from your phone
Data consumption – we noticed that the feature is still in its development stages.
Compatibility with Streaming Services
Netflix
We were relieved to learn that Hotspot Shield VPN works well with the vast library of Netflix US, and Netflix as a whole.
BBC iPlayer
Hotspot Shield is also an excellent choice for BBC iPlayer. Nonetheless, the California-based VPN doesn't work effectively in highly censored countries such as China and Russia. However, they make up for it by giving you unlimited bandwidth, which is excellent for torrent lovers.
Other streaming services
Hotspot Shield can also unlock popular streaming services like Hulu, Sky Go, HBO, YouTube Originals, YouTube Music and many more.
Customer Support
Hotspot Shield's customer support has seen tremendous improvements over time and is now an impressive 24/7 service. They have a well-documented knowledge base in their support section that has useful information on areas such as payments, joint issues, user account management, and the general Hotspot Shield help.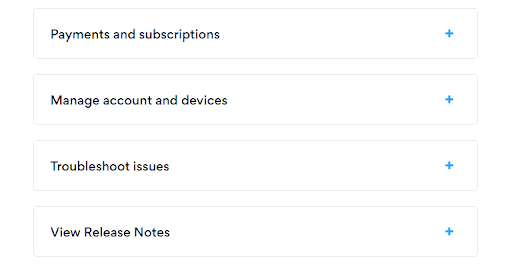 The VPN also offers custom support specific to the platform you're using.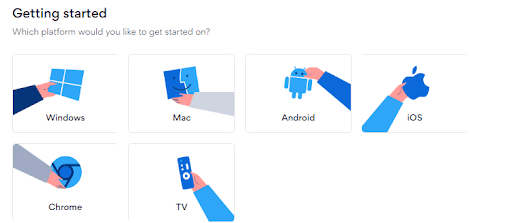 The VPN has also recently included a 24/7 live chat service that is run by human agents and not bots. What used to be timed live support is now a 365-day round service. Regrettably, we noticed that one of the agents was quite eager to end the chat without giving me a chance to inquire more. Gladly, their live chat service doesn't clear the conversation, so you can just re-ignite the chat with a message and a new agent will join the chat to assist you.
Otherwise their response to my questions was great, and very informative. You'll also get a detailed report of your chat on your email, in case you want to revisit the conversation.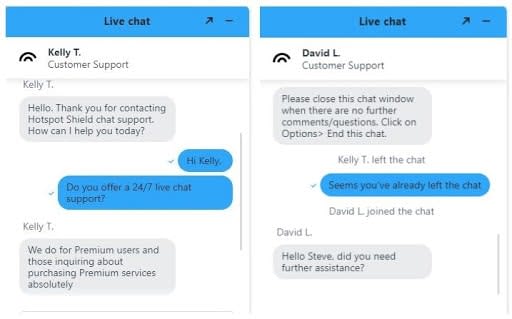 Their email-ticketing system is also great, and they have an average response time of 4 minutes.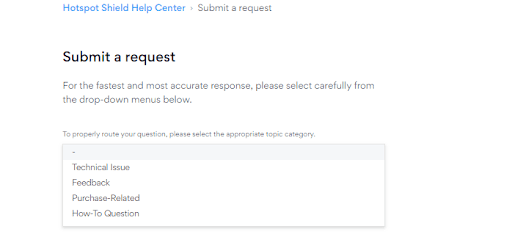 Bottom Line
Despite Hotspot Shield's base of operations—which is the US—it stands apart as a reliable and fast VPN. The VPN offers a great balance of speed, efficiency, and anonymity. We're confident that Hotspot Shield is an excellent service for streaming videos in HD and works exceptionally well with torrents.
Thankfully, Hotspot Shield has recently updated its price rates and they're now offering relatively affordable plans—something we think is a great marketing strategy. Consequently, if you're out looking for a VPN that can unlock all major streaming outlets, and can download torrents under high speeds, then Hotspot Shield is your solution.