Freshcaller Visit Site
Overview
How Freshcaller Works
Freshdesk Available Features
Freshdesk is backed by loads of great features. As well as the VoIP basics, including voicemail, call recording, hours-based routing, call monitoring, and call conferencing, it comes with various tools to help you manage customer support requests and streamline business workflows.
A wide selection of phone numbers
Freshdesk enables you to select from local, toll-free, or vanity numbers for your business. You can also keep your existing number if you would like to, and international numbers are available in more than 50 countries across the globe.
Advanced IVR
One thing that stands out about Freshdesk Contact Center is its advanced interactive voice response (IVR) tools. These enable you to create interactive menus that callers can use to ensure they are connected to the relevant team member or department. Both voice recognition and keypress systems are supported, enabling you to customize your auto-receptionist as required.
Voicebots
Another thing that's quite unique to Freshdesk is its use of voicebots. You can configure voicebots—AI-powered voice responders, like chatbots—to answer your phones at any time, providing answers to simple questions and ensuring that incoming calls aren't missed. Where required, you can instruct your voicebot to direct a caller to a live support agent or open a new support ticket.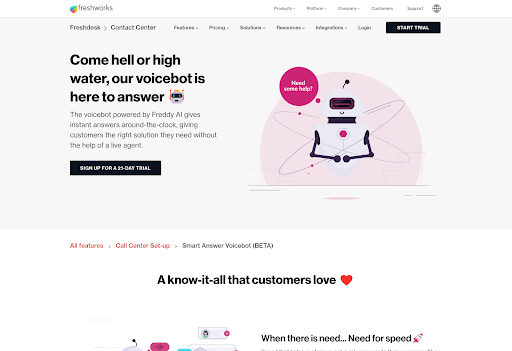 Data collection & analytics
There are loads of data collection and analytics tools on offer from Freshdesk, particularly with the more expensive plans. For example, you can record calls, monitor live calls, and supervise agent performance through the real-time analytics dashboard. You can also track and monitor various metrics, including information about every individual call.
Ticketing
Freshdesk's powerful ticketing system allows businesses to create tickets from any channel (chat, email, etc.), in a collaborative workspace with collision detection (to see who else is replying) and service-level agreements targets (like answering customers within 30 minutes). This makes it much easier to carry on conversations with customers across multiple conversations and even multiple service agents.
Security and Reliability
As part of the larger Freshworks ecosystem, Freshdesk boasts excellent security features across the board. Its cloud-based solutions are built on the AWS cloud, a high-end platform known for its commitment to data security. All data is fully encrypted while in transit and at rest, reducing the risk of it being stolen by malicious third parties.
On top of this, you will be able to use various access controls and user permission tools to determine which employees can access which parts of the software. The entire Freshdesk ecosystem is extremely resilient, and you shouldn't have any issues with reliability or downtime.
Freshdesk Integrations
Freshdesk integrates with a number of different agent productivity, CRM, and ecommerce platforms to help you manage daily workflows. It offers seamless integrations with many well-known platforms, such as Zoho CRM, Salesforce, HubSpot, Microsoft Dynamics, Shopify, Magento, and WooCommerce.
There are 25+ native integrations available. However, this number includes Zapier, a third-party app that enables you to create custom integrations with just a few clicks. You won't need any special tech skills to use it, and it enables you to link any of hundreds of different programs to Freshdesk in a customizable manner.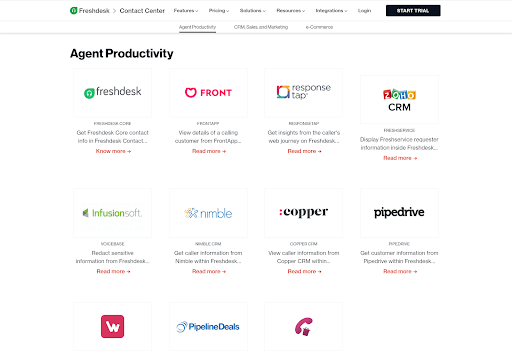 Freshcaller App
The Freshdesk mobile app is available for both Android and iOS devices. It enables you to access virtually every feature of your VoIP software from the comfort of your mobile device, and it's super user-friendly and intuitive. However, it is worth noting that the Freshdesk app is more tailored towards helpdesk tools, which could make it a little too feature-rich for some users.
Freshcaller Customer Support
Freshdesk Contact Center plans come with 24/7 email support. However, it can be a little slow, so expect to wait for a response. The 24/5 phone and live chat support offer much better options for having your questions answered in a timely manner, but they are only available with a paid subscription.
On top of this, Freshworks has an entire support site dedicated to Freshdesk Contact Center. Here, you will find a wide range of FAQs, tutorials, guides, and in-depth how-to articles. You'll also find a community forum where you can discuss issues or ideas with like-minded people, but it's not very active.
There's a selection of other useful resources available for free. These include comprehensive user guides, an informational blog, and a number of educational whitepapers and eBooks.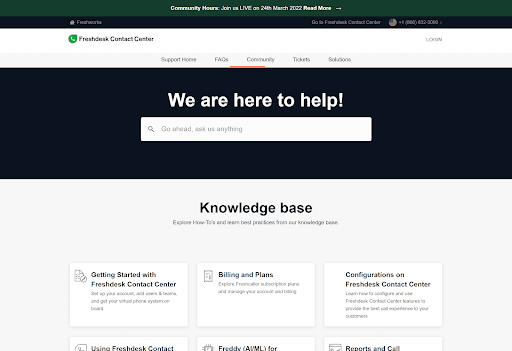 Freshcaller Pricing
Pricing & Special Offers
FreshDesk Contact Center is available with 4 different subscription options. The first, a free base plan, enables you to purchase local or toll-free numbers. Prices start from as low as $1 per month for a local number or $2 per month if you want to go toll-free.
You will also pay call charges on both inbound and outbound calls, which range from $0.016 to $0.045 per minute within the US. Call charges vary significantly if your phone agents or customers are located internationally.
The Growth plan costs $18 per agent, per month ($15 with annual billing) and adds 2000 free incoming minutes per month. The Pro plan ($47 per agent, per month, $39 with annual billing) includes 3000 inbound minutes and a selection of advanced call-management tools. With the high-end Enterprise plan, which will set you back $83 per agent, per month ($69 with annual billing), you will get access to speech-enabled IVR, a voicebot, omnichannel routing, and 5000 free incoming minutes per month.
There are also 3 Omnichannel plans ranging from $35 to $119 per agent per month ($29 to $99 with annual billing). These add a range of ticketing and messaging tools designed to help you manage customer support and marketing workflows. However, these go above and beyond the scope of VoIP and should only be considered if they will be useful for your business.
Along with subscription fees and call charges, there are a few other costs to be aware of.
$0.003 per minute for call recording.
$0.005 per minute if additional team members are added to conference calls.
$0.005 per minute if calls are monitored or barged into.
$0.004 per minute for voicemail transcription.
Freshdesk offers a 21-day free trial that you can use to test the software.
Relative to the market, this pricing places Freshdesk on the more affordable side of things, especially for small businesses looking to take advantage of the Growth plan.
Price per agent, per month
Price per agent, per year
Included incoming minutes
Freshcaller Alternatives
How Freshcaller Compares to Other Voip Services
$23/month for 4 extensions
24/7 email, 24/5 phone, 24/5 live chat, support site
24/7 phone, 24/7 live chat, support site
24/5 email, 24/5 live chat, 24/7 phone (with upgrade), support site
Freshdesk vs Ooma Office
While Freshdesk is catered towards those requiring contact center and customer support tools, Ooma Office has a more traditional VoIP offering. Its no-frills voice, text, and video conferencing tools are great for those who require a basic business communications system without the extra tools Freshdesk offers. Ooma Office is also more affordable and includes unlimited minutes, meaning that there are no call charges.
Freshdesk vs Grasshopper
Grasshopper is an exceedingly straightforward VoIP service provider that offers simple text and voice communication solutions. It's very affordable, but it doesn't offer anything near the advanced tools that Freshdesk Contact Center has.
Freshdesk vs Dialpad
Dialpad is an excellent VoIP option for smaller businesses and those that don't require a large number of extra features. It includes video conferencing and streamlined integrations, along with basic workflow-management tools. Freshdesk is certainly a better option for larger businesses requiring support center solutions, but it's much higher-cost than Dialpad overall.

Freshcaller Visit Site
Bottom Line
Overall, Freshdesk provides exceptional service across the board. However, its VoIP solutions aren't aimed at small businesses. Instead, it focuses on delivering call-center VoIP solutions to businesses dealing with high support request volumes.
One thing that stands out about Freshdesk is the excellent range of features on offer. As well as the expected call-management tools, you will have access to an advanced IVR tool, voicebots, data and analytics tools, and more. There are various integrations with popular third-party platforms, including HubSpot and Salesforce.
Freshdesk also boasts decent security. It's built on the AWS cloud, which is an industry leader in the cloud computing space. Customer service is limited with a free account, but there are numerous options to choose from with a premium plan. There's also a wide range of self-help resources available through the Freshdesk support site.