In a Nutshell
Freshcaller by Freshworks is a totally cloud-hosted PBX system that can support all a business's telephony needs. Given that the company is produced by Freshworks it also integrates with the company's other tools, including its CRM—making it a great choice for businesses that want to deploy an entire suite of cloud-hosted systems all at once.
pros
Fully cloud-hosted PBX system
Virtual number purchasing service included
Port-in service for patching existing numbers
cons
Relatively new product
Proprietary closed-source system
Only 1 external integration
Standout Features
Cloud Hosted PBX
Freshcaller is an entirely cloud-hosted private branch exchange (PBX) system. For companies that need to roll out this key business tool in the most straightforward manner possible this means that there is no dedicated hardware or software to install as everything runs from the cloud. Unlike with on-premises PBX servers or hybrid offerings everything needed to make the technology work is professionally managed—which means no technical support or maintenance headaches. In fact all users need to be able to make the system work is an internet connection and a headset.
Virtual Phone Numbers
In addition to providing a PBX system, FreshCaller can also provision and connect a worldwide bank of virtual phone numbers. These are available in more than 90 countries worldwide and the choice of prefixes is comparable to that which might be offered through a dedicated provider such as Sonetel. Purchasing virtual phone numbers for inbound and outbound calls helps to establish trust with consumers for companies operating in different localities. Freshcaller also supports the setup of vanity phone numbers such as 1800-TOP10-REVIEWS.
Call Masking
Freshcaller also supports call masking which allows users to spoof phone numbers. Using the call masking feature users are able to call from any phone number once ownership of its identity can be confirmed through a verification process.
This is useful for operators that wish to place a call that appears as if it is originating from their personal mobile phone—but they need the call to be tracked within a cloud-hosted system so that other team members can see a record of the outbound contact. Additionally, if the call is missed but the customer calls back it will route through the internal system, which features automated tracking to connect the call to the next available agent.
The verification feature also means that the masking feature cannot be abused by spammers and cybercrooks, thereby increasing the connection rate of all Freshcaller VoIP infrastructure and maintaining the service's reputation on interconnected networks.
Live Dashboard

Those managing sales and support teams can access a dashboard view that provides high level activity metrics for the entire account. Here, managerial level users can view the total volume of incoming calls, the global queue, and the average time to answer.
These metrics are often used as Key Performance Indicators (KPIs) within customer support and call center settings to track team performance. Additionally, the dashboard view can be used as a KPI indicator and displayed to all team members to boost motivation and encourage a culture of high performance. When used for this purpose, using the Freshcaller dashboard view can save a company the additional cost of having to subscribe to a dedicated KPI dashboard system.
Integrations
Freshcaller's integration library is not the widest of any VoIP system that we have reviewed but it does provide a number of choices for those looking to connect the VoIP tool to other cloud hosted services.
The one external integration that the service currently supports is with the popular Salesforce CRM. Users can access client records through the CRM and automatically append automated call records. So long as the email addresses match up, the attachment process will take place in a completely automated fashion.
Freshcaller also integrates with both other Freshworks products.
Those are:
Freshsales is a CRM system, so using it in tandem with Freshcaller can provide the same benefits as integrating with Salesforce. Freshservice is a helpdesk and ticket management system.
The connection with both services takes place directly from within the browser-based web user interface. In other words, there is no need to download a desktop client in order to begin making and receiving calls whether using Freshcaller directly or when it is integrated with another cloud-hosted product.
Value for Money
Freshcaller is available at 4 different subscription pricing plans. These are baseline fees for using the service and do not include either rental fees for virtual numbers or call rates for inbound and outbound phone calls.
The available plans are:
Cost (per agent per month when billed yearly)
At the top (Sprout) tier, users receive artificial intelligence features, including an answer bot, get real time agent availability reports, and can configure holiday routing to route calls differently during vacation time.
Call charges differ depending on whether the calls are incoming or outgoing and where the connection is being made to, and are separate from the package subscription plans.
All in all, it is fair to say that Freshcaller offers an extremely competitively priced service. For those that want to wow their customers with a premium experience it is recommended to subscribe to one of the more advanced tiers.
Mobility
Freshcaller features a softphone/mobile app for both Android and iOS available through the respective app stores. The mobile tools feature all the functionality contained in the online interface and calls that are answered by agents through them will be billed at normal "browser" rates.
Additionally, users can set their availability status directly through the app and create tickets immediately upon the conclusion of phone calls.
Scalability
Freshcaller is a highly scalable solution.
All paid plans feature unlimited local or toll free numbers. There is no limit to the number of numbers that can be added to each account.
There is no limit to the amount of concurrent calls that can be placed.
There is no limit on the number of vanity numbers that can be purchased.
More importantly, as many seats can be connected to the system as customers require, and some of the AI powered features available on the top tier should be enough for customers with the most sophisticated needs.
Unlike many VoIP tools, Freshcaller can scale with the business as its telephony needs grow from modest to enterprise-sized.
Ease of Setup and Management
Being a completely cloud-based system, Freshcaller is also very easy to set up. As a cloud hosted PBX, there are no servers or hardware to configure or manage. All users need to get connected to the solution is a browser and a headset (or a smartphone!).
For those that want to ensure interoperability with existing hardware, Freshcaller is interoperable with any SIP-based system and the company's support resources can help remotely to ensure smooth configuration. Likewise, management of the solution can be entrusted to Freshcaller's support resources.
Equipment
Freshcaller requires no equipment for customers to get started. The VoIP works through an online admin interface and a browser-based user interface that functions as a softphone. Finally, mobile apps can be used by customers that wish to connect from an Android or iOS device.
Unlike some VoIP providers Freshcaller is merely a cloud hosted PBX tool. While the company does not manufacture or resell any of its own hardware it has compiled extensive support resources designed to help customers connect as wide a variety as possible of telephone systems to the PBX.
Instructions available include guides on using Analog Telephone Adapters (ATAs) to connect legacy non-digital hardware to the system.
Customer Service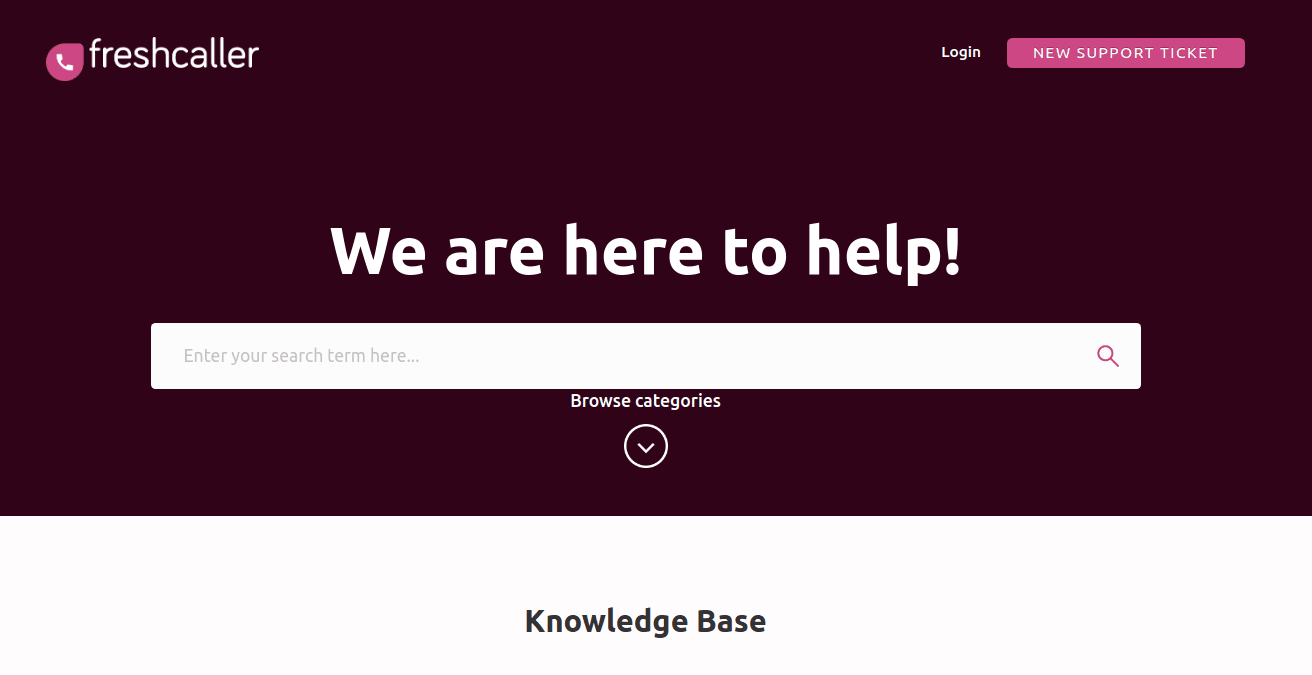 Great customer service is part of the Freshworks experience, and thankfully Freshcaller is a true member of the product family in this regard.
Support is provided by online ticket primarily, although the company has also provided an extensive helpdesk section for users that are able to resolve their own issues with a bit of guidance.
The Help Center contains articles on the full range of topics that users and administrators might run into during their setup and use of the system, including:
Details about various billing plans
Setup issues including connecting new agents and teams
Training and optimizing the smart answer bot
International VoIP Calls
Call charges differ depending on whether the calls are incoming or outgoing and where the connection is being made to.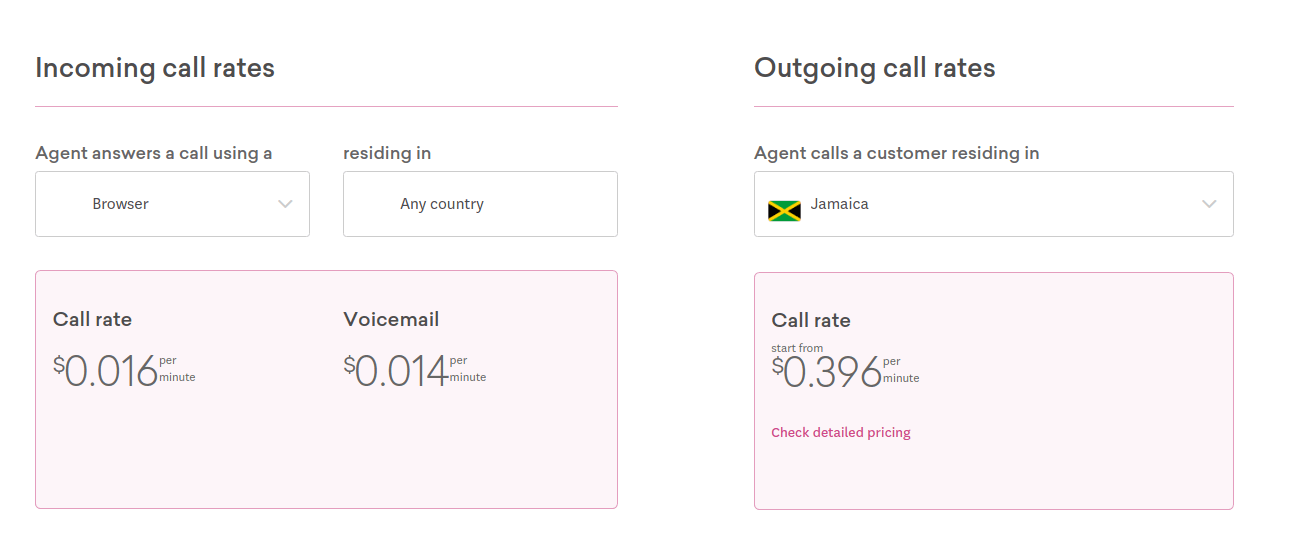 Additionally calls received over the browser interface cost less than calls that are answered by an agent using a telephone.

Finally, Freshcaller charges a monthly fee for each virtual number subscribed to. However, the fee is extremely competitive to that which comparable virtual number providers would charge.
Freshcaller Visit Site
Unified Communications/Multi-Channel
Freshcaller is completely interoperable with both the 2 other Freshworks products as well as the Salesforce CRM. A major advantage of this is that companies are able to deliver a multichannel support experience when all components are connected in place. For instance, support users (using Freshdesk) can listen to a recording from a call held over the built-in VoIP provided by Freshcaller. This leads to more streamlined and effective customer support.
Bottom Line
Freshcaller is a truly impressive VoIP solution that is suitable for all sizes of organization. Its premium subscription plans offer advanced features and the tool offers both a top class cloud PBX and worldwide virtual and vanity numbers. Truly a great tool for business telephony.