If you're thinking about moving to a new state and want to make sure you'll have everything you need to keep your teeth healthy, consider the ten states below. Alternatively, if you're wondering if your state has particularly bad dental health, read on a bit further.
Of course, regardless of where you live, there are plenty of ways to ensure your teeth stay healthy and look bright. Home teeth whitening kits, for example, are a great way to ensure your pearly whites stay sparkling, and clear braces or invisible aligners can help keep them straight for much less than traditional braces.
Methodology
With this in mind, we're going to look at the top 10 US states for dental health and the worst. Results include all 50 states plus the District of Columbia and are ranked using 25 key indicators as follows:
Six indicators were based on the availability of dental health;
A further six indicators were based on dental habits;
The remaining 13 indicators were based on practices relating to oral health
The top 10 states for dental health:
The top five states are northeastern states, where 2 of those, Minnesota and Illinois, provided the most residents with access to fluoridated water. Minnesota also had the second-highest number of adult dental visits last year after Connecticut, with Rhode Island in 5th position. And the people of Rhode Island were also ranked the least likely to avoid a dental visit due to cost.
In addition, Connecticut and Massachusetts were among the top 5 states with the least amount of smokers, while both Minnesota and Illinois had the residents with the best oral conditions. Ultimately, this meant that residents of Illinois and Minnesota also had the least dental visits due to oral pain.
When it comes to overall life satisfaction due to good oral health, both Illinois and Massachusetts came out on top, with Minnesota coming a close fourth. Illinois also had the second-least work absentees after Michigan.
Access to dentists
Taking in the top 5 rankings for best dental health, it's no surprise that Lake County in Illinois was ranked #4 in the top 50 best cities for dentists. This was based on three criteria:
How much can dentists earn in this city?
How affordable is it to live in the city?
What is the location quotient for dentists in the city?
With 330 dentists, it employed the most dentists per capita of any top ten counties.
Bridgeport, Connecticut, was also up there with 440 dentists, but salaries are typically less than Lake County.
Income levels
It's perhaps no surprise that Massachusetts, Connecticut, Illinois, and Minnesota are among the top 10 wealthiest states based on GDP per capita. Massachusetts is said to be the most educated state, where more than 40% of adults hold a bachelor's degree, and close to one-third hold a graduate or professional degree.
These results explain why more people in these states can afford dental treatment or, at least, have sufficient health insurance to cover expensive dental work. This is despite the fact that Connecticut has some of the highest dental fees in the country.
Top 10 worst states for dental health
Now we'll look at the top 10 worst states for dental health. Again, the criteria remain the same, taking into account the availability of dental health, residents' dental habits, and practices relating to oral health. Results are as follows -
It's perhaps no surprise that the bottom five worst-performing states for dental health are also among the poorest. West Virginia, Mississippi, Louisiana, and Arkansas all have some of the lowest household incomes in the US.
Mississippi, for example, comes out in a survey as the poorest US state, with a median household income of $45,742. It has the highest obesity rate at 40.8% and the lowest life expectancy of 74.5 years.
Although Louisiana's median household income is slightly higher at $51,073, they have the second-highest poverty rate in the country at 19%. Arkansas, the bottom-performing state for dental health, also has a high poverty rate of 16%, just slightly lower than Mississippi and West Virginia. Moreover, West Virginia had the highest number of smokers per capita.
So what does this mean?
Lower incomes mean that households are less likely to take out dental insurance and cannot afford to pay out of pocket for extensive dental care needs. This is despite the fact that states like Arkansas, the lowest-performing state for dental health, have approved waivers to roll out their Medicaid expansion program.
Those who did have dental insurance may have been hit hard by the pandemic. A survey by Carequest Institute for Oral Health found that an estimated 6 million Americans lost their dental insurance cover during the pandemic. Affordability could be why Arkansas and Louisiana were among the top 5 states where people were likely to forgo dental treatment due to the cost.
Dentists per capita
According to one survey, Arkansas, Louisiana, West Virginia, and Mississippi fall within the bottom ten states for dentists per capita. Arkansas, for example, has just 41.82 dentists for every 100,000 people and is the second lowest-ranked state in the country, only above Alabama. Throw in the fact that Louisiana and Arkansas are among the bottom five lowest-paying states for dentists, and it's easy to see why dentists may travel out-of-state for better-paying opportunities.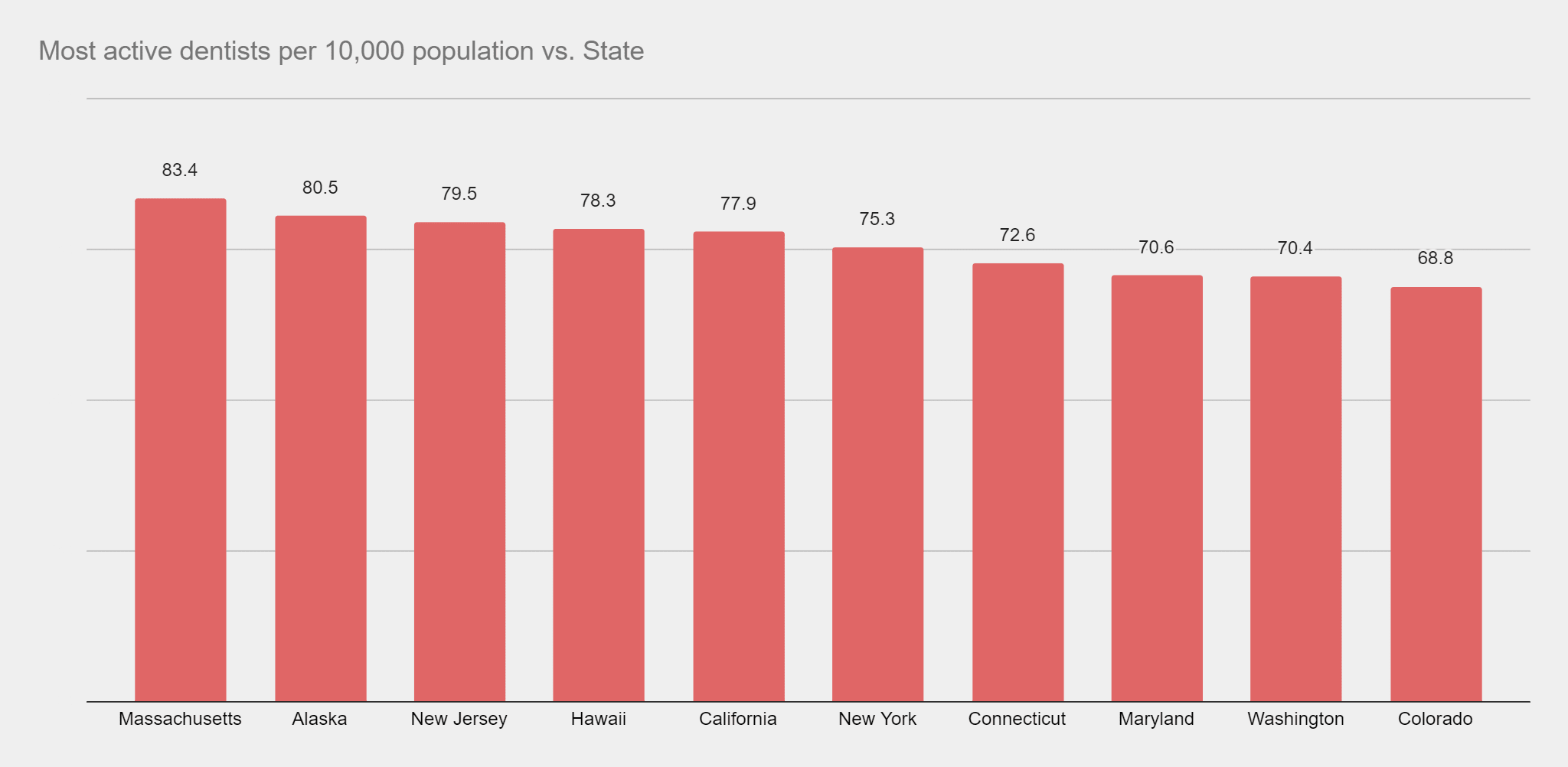 The North/South divide
Disparities in oral health between the north and south are prevalent. Lower-income families typically experience higher rates of tooth decay, gum disease, and oral cancer. More than half of all Americans delay getting the dental care they need because of cost. Moreover, poor dental health has been linked to health problems like cardiovascular issues, diabetes, and even Alzheimer's disease..
Conclusion
Dental care is the number one medical service that US citizens skip, and one of the primary barriers is cost. As mentioned earlier in the article, states with the highest incomes per capita also tend to have populations with the best dental health. Although treatment is generally more expensive in states like Connecticut, the population is better paid than in some less affluent states.
While your location can affect your access to dental care, proper oral hygiene and at-home care can go a long way, too.