With its eclectic history of rebellious spiritualism, medicine-show pioneerism, and new age revivalism, America boasts a surprising number of spiritual hamlets tucked within its borders. Sure, there are famous occult hotspots like Salem, Massachusetts and New Orleans. But dig a little deeper and you'll also find quaint Spiritualist camps, natural energy vortexes, and bona fide "psychic towns" like Cassadega, Florida, where half the residents are trained mediums.
Whether you're looking for an offbeat road trip or an authentic psychic encounter, the US has plenty to offer in the realm of other realms.
Here's a tour of 5 spots across the US known for their spiritual riches:
Lily Dale, New York - A Spiritualist Enclave with Victorian Charm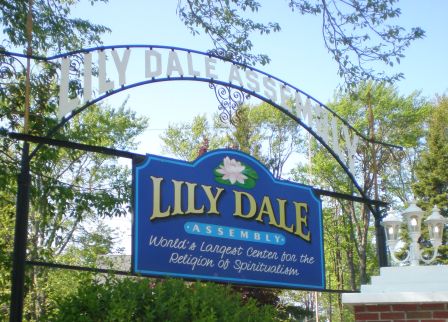 Credit: Wikimedia Commons
A quaint town in New York filled with narrow lanes and Victorian houses, Lily Dale boasts around 500 residents—or more, if you count spirits. Lily Dale's residents certainly do.
Lily Dale is one of the last hubs of the Spiritualist religion, a faith whose core belief centers on communication with the deceased. The town is populated with registered mediums who do public demonstrations in the town square, drawing more than 20,000 visitors each summer to consult mediums, attend Spiritualist church services, and participate in workshops and festivals.
Where to get a reading: With more than 50 registered mediums in this tiny town, finding a psychic isn't difficult any time of the year. But summer is the high-season and the best time to come. Mediums offer public demonstrations 3 times a day and a community board advertises the practitioners available for private readings.
Where to soak up the vibes: Follow a trail through the Leolyn Woods to "Inspiration Stump," a secluded spot believed to be charged with spiritual energies. Go alone to meditate, or participate in one of the services that are held twice a day free of charge.
Where to grab a spiritual souvenir: The Lily Dale Bookstore and Souvenir Shop can supply you with plenty of Spiritualist books to study up on as well as t-shirts and souvenirs. Head over to Crystal Cove for precious gemstones and smudge sticks to harmonize the energy once you get back home.
Salem, Massachusetts - A Witchy Haven in a Historic Town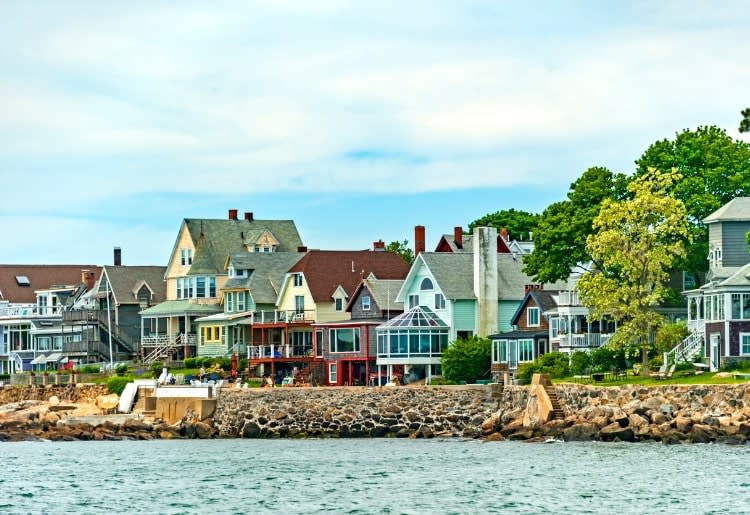 Known as the locale of the Salem Witch Trials, Salem, Massachusetts has not only embraced its infamy, but turned it into a tourist industry. Today Salem serves as something of a witchy haven, with its main pedestrian mall, Essex Street, dotted with shops peddling spells, candles, and other magical ephemera. The stores can be kitschy, but behind the t-shirt stalls exist dedicated communities of Wiccans, healers, and psychics ready to offer up their services.
Where to get a reading: Crow Haven Corner, billed as Salem's oldest witch shop, features an in-house witch and clairvoyant named Lorelei who incorporates tarot, palm reading, a health scan, and a witch's circle ceremony into her sessions, and sends you on your way with your own personal spell.
Where to soak up the vibes: If you need a break from the arcane bookshops and kitschy shops, grab a moment of quiet contemplation at Proctor's Ledge Memorial, a hillside memorial on the spot where the witch trial hangings occurred.
Tourist Tip: Predictably, Halloween is the busiest time of the year for Salem tourism, so if you're looking for a quieter, more introspective visit, consider a different time of year. If not, the Salem Psychic Fair and Witches Market may be just your speed.
Cassadaga, Florida - A Spiritualist Camp with Metaphysical Hotel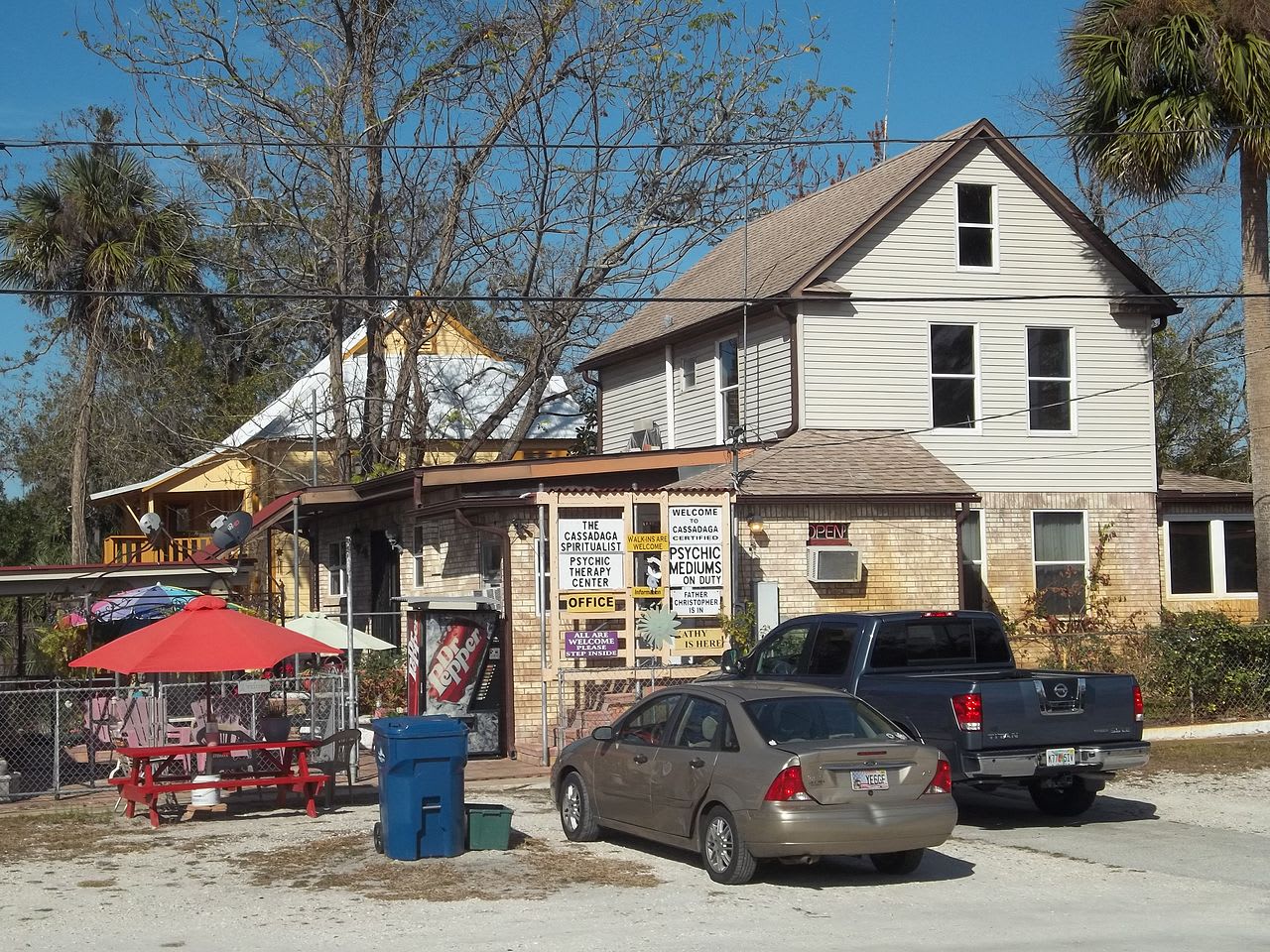 Credit: Wikimedia Commons
Not many towns list psychic mediums on their official page, but Cassadaga, Florida isn't like other towns. This Southern Florida outpost of the Spiritualist faith is known as the "Psychic Capital of the World," and for good reason—about 50% of its residents are psychic mediums trained in communication with the deceased. Founded in 1875 by famous medium George P. Colby, the town is still a hotspot for the spiritually minded, its streets littered with old-timey wooden signs advertising the services of local mediums, psychics, and healers of all stripes.
Where to get a reading: First-time visitors should check out Cassadaga's official Mediums Night, which occurs on the first Monday of every month. There, the town's registered mediums offer 15-minute mini-readings that allow you to get a taste for Spiritualist mediumship and find a practitioner you connect with so you can explore further.
Where to soak up the vibes: The tiny town of Cassadaga features 7 parks with meditation gardens great for unwinding after a session and processing the information you've received.
Where to get a spiritual souvenir: The Camp Bookstore is a great place to pick up divination cards, crystals, esoteric books, and local art. Be sure to check out the whiteboard as well, which lists upcoming gatherings and mediums available for walk-in appointments.
Where to stay: The 1920's-era Cassadaga Hotel and Metaphysical Center combines southern hospitality and astral tourism. Inside this elegant, purportedly haunted hotel, in-house practitioners are on hand 7 days a week for seances and psychic readings.
New Orleans, Louisiana - Tea Leaves, Tarot Cards, and Voodoo Queens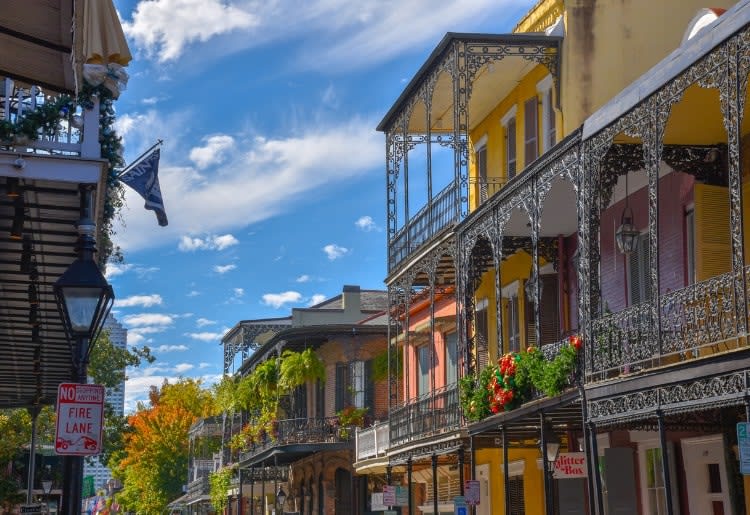 Voodoo culture runs deep in Nola. Beyond the touristy tarot stalls on Bourbon Street lies a rich tradition of psychics, potions, charms, and Voodoo Queens that have given New Orleans a distinct spiritual flavor not found anywhere else in the world. The city offers myriad opportunities to engage with psychics and psychic culture, though there are a few institutions that first-timers might want to check off their list.
Where to get a reading: The Bottom of the Cup Cafe is a New Orleans landmark dating back to 1929, when its waiters would serve hot tea to French Quarter women—and its psychics would then read their fortunes in the leaves. You can still get a tea-leaf reading in this iconic spot, though the cafe also offers tarot card and palm readings.
Where to soak up the vibes: Marie Laveau, the legendary "Voodoo Queen" of New Orleans, is buried in the Saint Louis Cemetery in a tomb that once attracted so many visitors that it had to be closed to the public. Today, her tomb is accessible by tour only, though it may be worth it if you believe, as so many others have, that a visit could yield favors and good fortune from beyond.
Where to grab a spiritual souvenir: Part kitschy and part terrifying, Marie Laveau's House of Voodoo is a veritable gift shop from the other side. Here you can find voodoo dolls, talismans, charms, and all sorts of spiritual paraphernalia in the distinct Nola style.
Sedona, Arizona - Energy Vortexes and Open Sky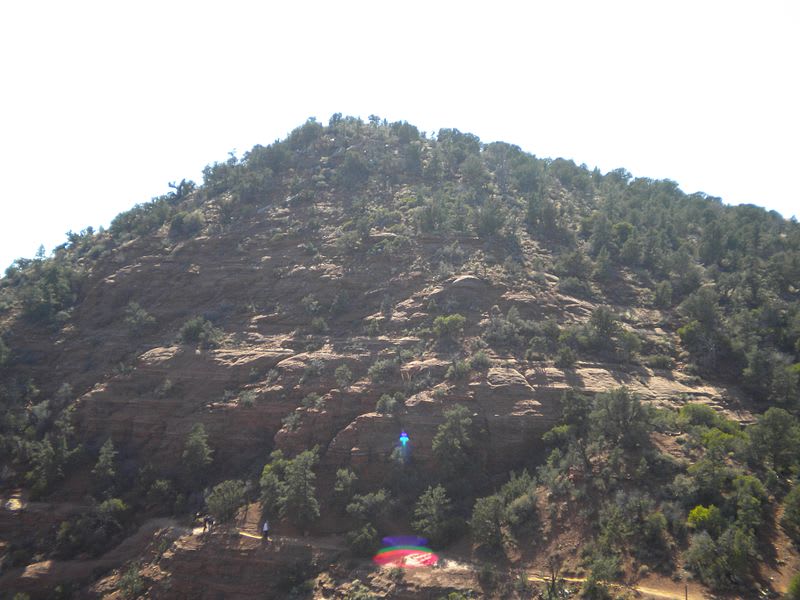 Credit: Wikimedia Commons
If Sedona's clay-red buttes and stunning mesas aren't enough to raise your spirits, the energy vortexes should do the trick. This new-age mecca draws seekers from all over to its beautiful environs to soak up the energy of the "vortexes," natural energy points in the landscape believed to promote spiritual harmony and physical wellness. Sedona is a decidedly positive place, more new-agey than occult, and it's a hotspot for psychics who put their own Sedona spin on psychic readings.
Where to get a reading: Mystic Bazaar is one of Sedona's more popular spots for all things healing and transformation. In addition to traditional psychic readings like clairvoyance and tarot cards, practitioners offer eclectic Sedona-style services such as soul blueprint readings, name matrix readings, and astrological compatibility services.
Where to soak up the vibes: Start with one of the 4 vortexes that made Sedona famous. Each is believed to possess its own energy conducive to healing and meditation. The Airport Mesa vortex is believed to be best for feelings of oneness and serenity, while the Boynton Canyon vortex, with its blend of feminine and masculine energies, is said to be a powerful spot for self-reflection and healing.
Where to grab a spiritual souvenir: Though you'll have no trouble finding new-age shops in Sedona, head over to the Tlaquepaque Arts & Crafts Village for locally made goods and an immersive experience. Designed to resemble a Mexican village, the outdoor bazaar is full of locally-made jewelry, healing goods, Native American art, and local eateries.
Pack Your Bags and Tap into a Higher Plane
You can find a psychic in almost any city, but certain areas in the US exude potent spiritual energies that draw communities of psychics and healers to gather within their borders. Whether it's due to their history or natural geography, these spiritual hamlets offer a refreshing and often eye-opening experience that makes it easier to tap into energy channels and higher planes. If you're looking to consult a psychic for inner growth, communicate with lost loved ones, or simply want a more creative destination for your next trip, these 5 spots offer plenty of opportunities for rest, reflection, exploration, and self discovery.