Luckily, the tarot is a tool you can use to learn more about your love life and your relationships. The powerful messages received in a reading can shed light on the present situation, as well as the past and future events, to bring you clarity. These 10 tarot spreads may help to provide intuitive insight into your romantic situation and reveal more about your love life.
1. General Love Spread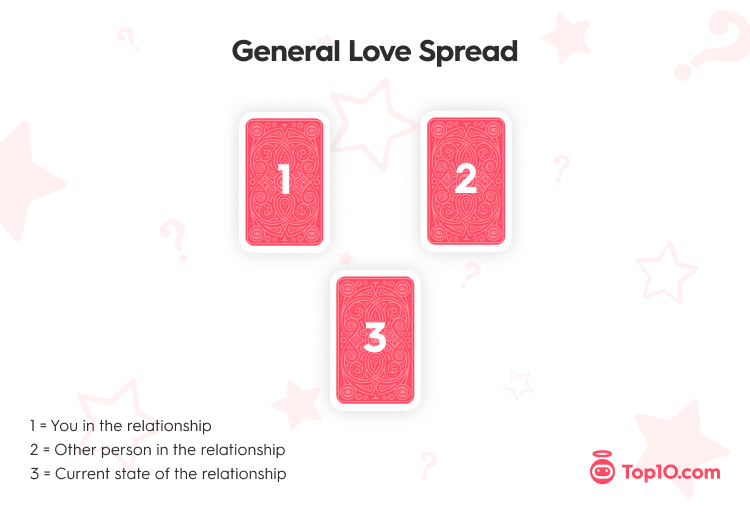 This spread is one that you can use regularly to check in with your love life. It's a simple but insightful spread that offers a moment of reflection on your relationship. The three-card layout makes it easy to interpret, and this reading can be done as often as once a day to simply tune into the energy of the present moment. Getting into the practice of doing these relationship check-ins helps you to address small concerns before they escalate, as well as giving you insight on when it might be a good time to go on a date or plan for extra time together.
You may also find these articles interesting:
2. Past, Present, Future Love Spread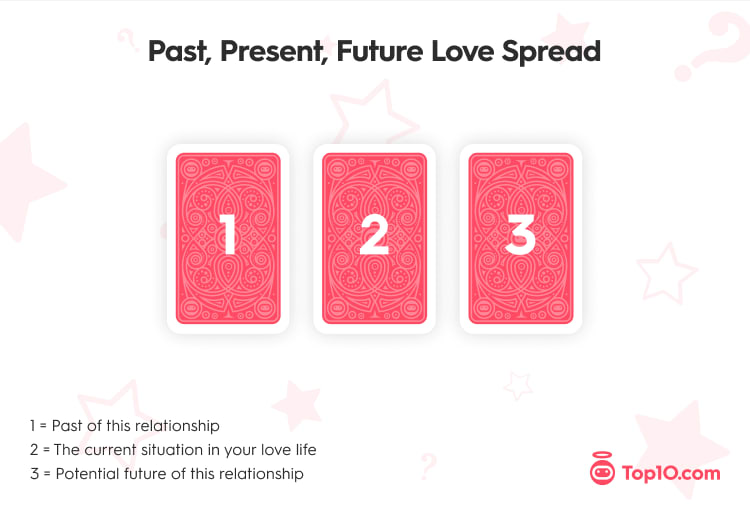 This spread spans time to connect the dots in your relationship. This is a good spread to do when you want to better understand the connection between what happened previously in your relationship and the direction your relationship is headed. The present moment card will provide insight into how you are balancing the past and future right now. If the future card is not something you are hoping for, then you gain the opportunity to make changes in the present moment to draw in another outcome with more awareness of the way the past is influencing you.
3. Changing Your Luck in Love Spread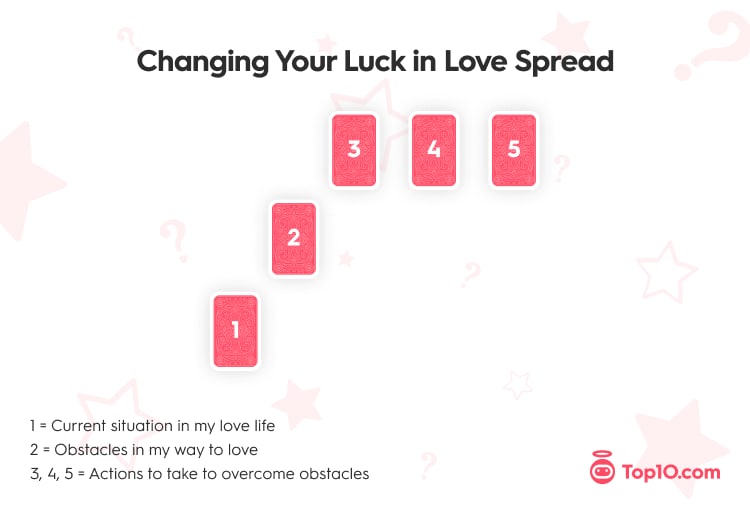 The future potential of a tarot reading is based on the present moment. If you don't like it, the tarot can also reveal how you can change the outcome through concentrated effort. This spread can be used to change your luck in love. If you feel unhappy in your present situation or worried about what the future holds, this reading can help you create an action plan to revive your love life. Once you understand where you're currently at and the obstacles in your way, you'll pull three more cards to discover actions you can take to overcome the challenges/blocks on your path.
Get the best value for Keen's tarot reading spreads with an introductory rate of 3 free minutes or 10 minutes for $1.99.

Visit Site
4. Balancing a Romantic Relationship Spread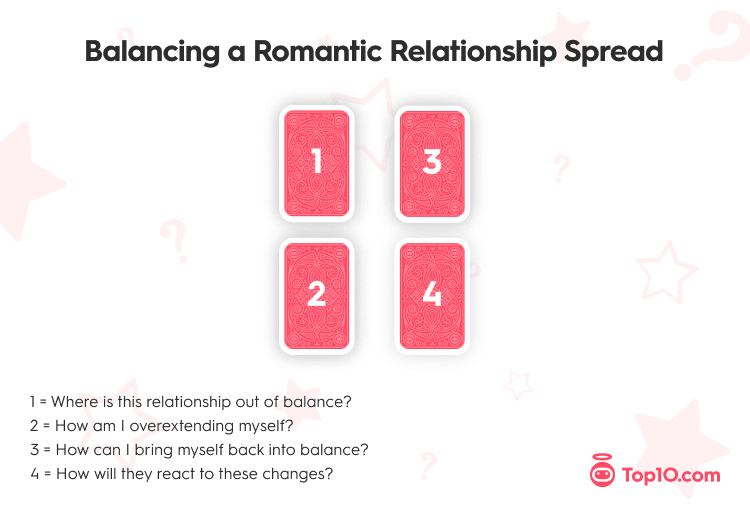 This spread is good to use when things feel a little bit off, especially when you're feeling overwhelmed, underappreciated, or overburdened. These feelings are a signal that something is off-kilter. Doing a reading with this layout will reveal to you how the relationship is out of balance, where you're putting in much energy, and the steps you need to take to bring the relationship back into balance. It even adds insight into how your partner will react to these changes to give you a heads-up about what to expect when you do.
5. Stay or Go Relationship Spread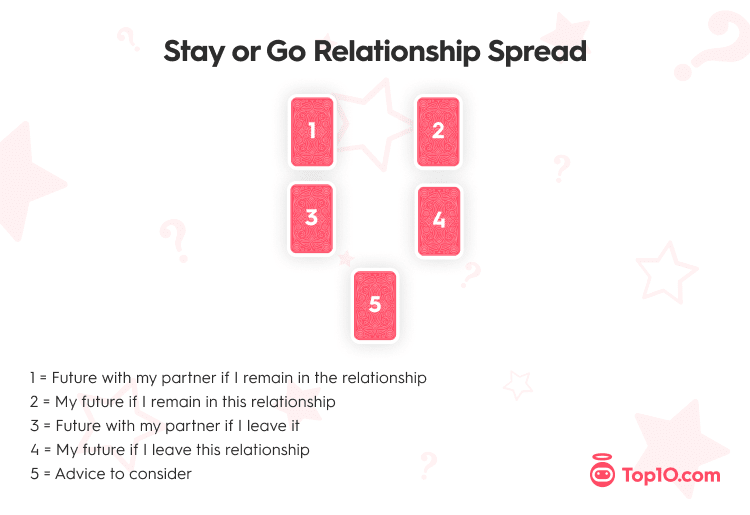 It's tough when things aren't working, especially when you truly love and care for the person you're with. Deciding whether to stay in or leave a relationship is a serious decision with great consequences for both you and your partner. This spread provides insight into the two potential futures: remaining or leaving your relationship. It also specifically focuses on your personal future for each direction. Lastly, it offers intuitive advice for you to consider while reflecting on your choices.
6. Conflict Resolution Spread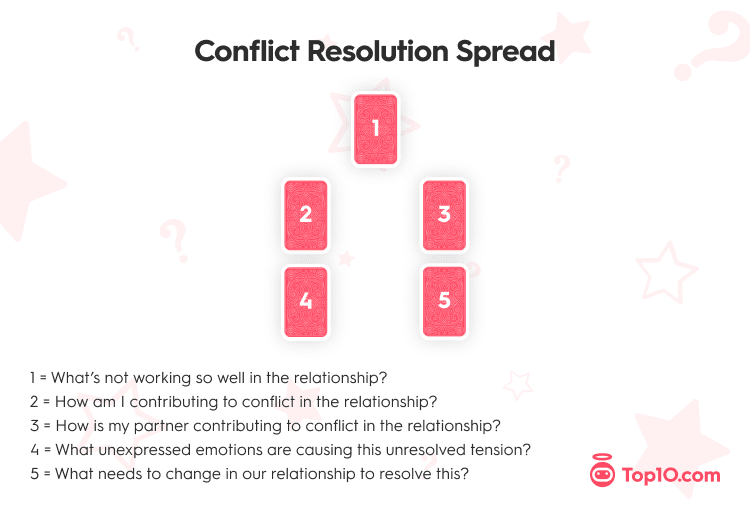 Fights are inevitable in all partnerships, and that's okay because they reveal what's not working at the moment. As a result, once you've both compromised or made changes, the relationship improves overall. In the midst of arguments or tension, though, it can be difficult to see things objectively. A reading with this tarot spread can bring awareness to dynamics that you might not have seen in the midst of conflict, and it also provides a final card indicating where to focus your efforts to change so a solution can appear.
7. Pathway of Self-Love to Romance Spread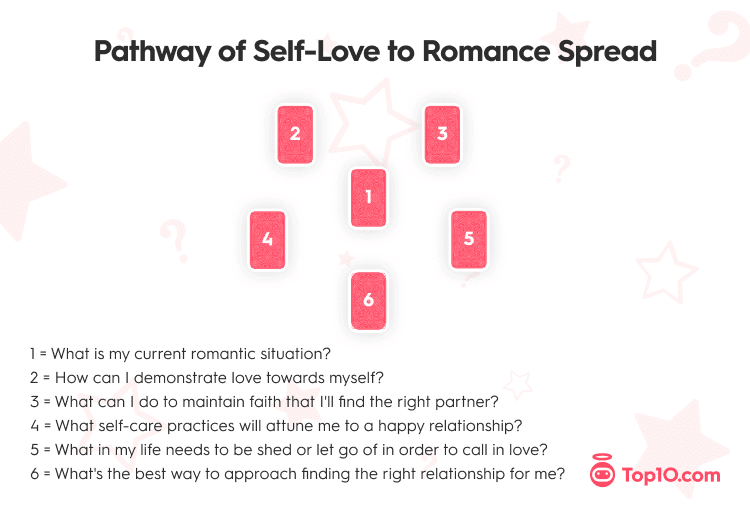 If you've been searching for the perfect companion in a romantic relationship but have yet to find someone, then this spread will highlight the path for you through self-love and care. By stepping up the love, devotion, and care that you have towards yourself on this journey, you'll align with a person who is a right fit for you. Sometimes it's just a few personal changes that need to be made to make way for true love to appear.
8. New Partner Compatibility Spread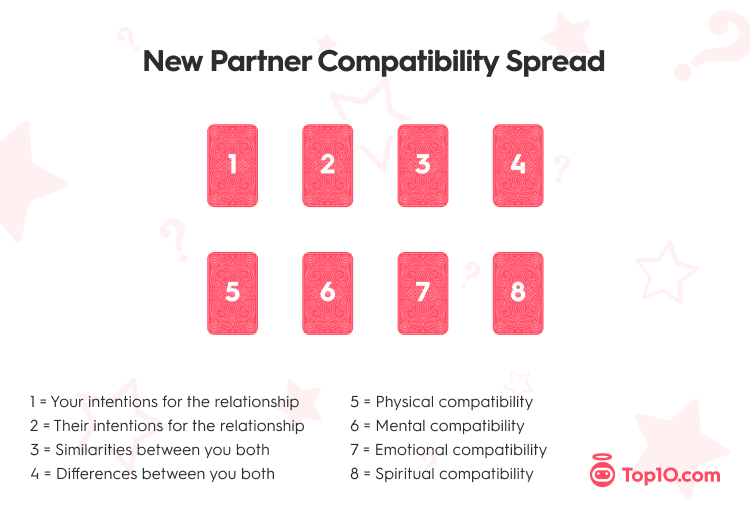 This is a fun spread for when you start dating someone to gain insight into how compatible you two are together. It will reveal each one of your intentions, which eases expectations through openly understanding each other's desires. It also shows how you are both similar and different from one another, which can be helpful to know when starting out a new relationship. The compatibility cards will show how you connect on different levels, bringing further illumination to the relationship between you two.
Start a consultation! California Psychics have some of the most reputable tarot specialists out there.

Visit Site
9. Clarity Within Your Partnership Spread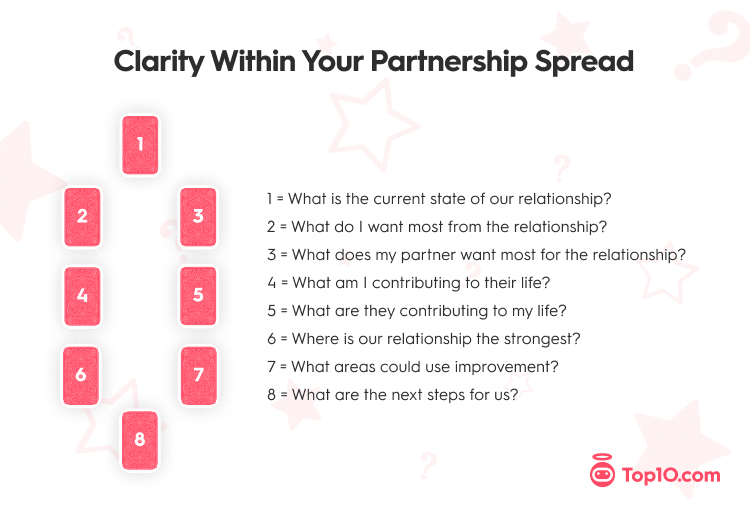 This spread is for when you need clarity within your partnership. It's similar to general love reading because it is also a check-in, but it's a more elaborate and in-depth one. You're reflecting on where your partnership is right now, each of your desires for the relationship, how you contribute to one another's life and your relationship's overall quality through its strengths and weaknesses. Finally, you'll reveal what the next step to evolve this relationship will be. This spread makes for stimulating discussion between you and your partner, and it is a good one to do together to reflect on your desires, acknowledge what you both contribute, and see what's in store for you.
10. Relationship Perception Spread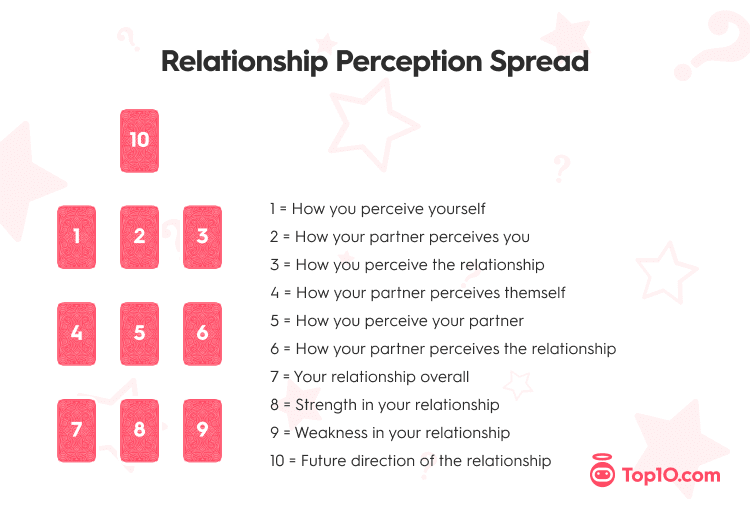 This spread brings to your awareness the lens through which you and your partner view yourself, each other, and the relationship. It is best to do this spread when you're at a crossroads in your relationship and need more guidance on how you are each relating to one another. By revealing how you are each perceiving the relationship, you gain the opportunity to have a discussion about whether needs are being met, support is being offered, and the areas of your relationship that might need a bit more attention. The layout highlights the strengths and weaknesses in your relationship, so you can focus on the good and begin to fortify what needs work. It concludes with revealing the future direction of this relationship for you and your partner to reflect on.
Conclusion
The right relationship is immensely rewarding, though all relationships go through their share of hardship, conflict, and transformation. At all stages of a relationship, from preparing yourself for one to parting ways, at the heart of things is a journey of love. The tarot reveals the lessons and purpose of these experiences, as well as offering guidance on how to find your path forward at all times. By tuning into the wisdom of these spreads, you'll always have access to the knowledge about what is best for you at the moment and how you can cultivate lasting love in your life.
For more information on tarot readings see our in-depth reviews of the leading psychic reading platforms.