1. "Societal and global awareness" - Madame Stella Divine
Texas-based intuitive reader Madame Stella sees COVID as a harbinger for transformation. In a reading she conducted for the Dallas Observer, she found that the unprecedented pandemic can ultimately "lead to better societal and global awareness and the change we've all been hoping for."
As far as when and how that might happen? The Madame is as in the dark as the rest of us. "We don't get to choose when it's done," she says. "The universe tells us when it's done."
You may also find these articles interesting:
2. "There will be psychological fallout" - John Edward
The renowned medium and former host of the hit TV show "Crossing Over with John Edward" foresees a post-COVID future whose psychological effects will long outlive the pandemic itself. During an hour-and-a-half filmed interview, Edward predicted that the post-COVID world will resemble the post-9/11 world in the sense that trauma and grief will continue to affect the way we live our lives. "We're still going to have that human level of fear built into our cellular memory," he said, predicting that the "hyper-effect of loss" will manifest itself years after the pandemic has ended, especially amongst healthcare workers.
As to the duration of the pandemic itself, Edward was hesitant to make any decisive predictions, though he did say that he foresees himself "social distancing well into 2021."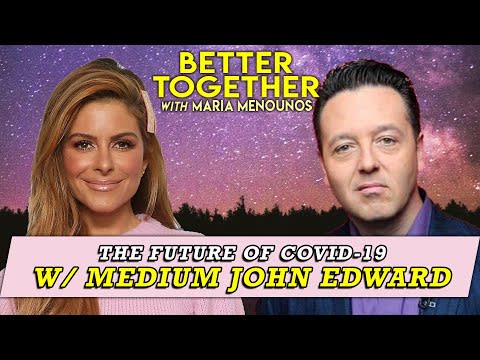 3. COVID Will "Suddenly Vanish" - Sylvia Browne
Psychic Sylvia Browne has gotten lots of attention recently for predicting COVID--decades ago. The renowned psychic, who died in 2013, wrote in her book "The End of Days" that "In around 2020 a severe pneumonia-like disease will spread throughout the globe…"
Though Browne's uncanny prediction has made the media rounds, the second part of her prediction hasn't been given the same amount of attention. "Almost more baffling than the illness itself," she wrote, "will be the fact that it will suddenly vanish as quickly as it arrived, attack again ten years later, and then disappear completely."
4. "There will be a lot of anger" - Colin Antik
UK-based psychic Colin Antik says that he had a vision in December, 2019 of people "panic-buying" in stores across the UK. He initially chalked it up to something Brexit-related, though he now understands the true reason behind it. In August, he predicted that a second wave would come that will not only endanger our health more than the first, but test people's patience. "I don't feel good about it," he told Wokingham Today. "People aren't going to listen this time. There will be a lot of anger...And there will be anger from those that have followed the rules, being presented with it again."
5. The beginning of the end - Nicolas Aujula
When London-based psychic Nicolas Aujula had a premonition of a worldwide pandemic in 2018, he experienced "a sense of gloom" that hasn't exactly turned rosy now that his vision has become a reality. Aujula says that COVID-19 could be the starting point for "the end of the world," which he has also sensed in visions in the form of a "slow deterioration of Earth."
But it's not all doom and gloom. For one thing, he says that this is not likely to happen in our lifetime. And he still believes that good can come from the pandemic if we act responsibly. "We could learn from this [that] it is important to work together with others and other countries rather than be separated."
6. "The unknown does not have to be fearful" - Leslie McAllister
Leslie McAllister owns a tarot studio in Pittsburgh, and has noticed that minor arcana cards have been appearing more frequently during readings. The minor arcana symbolizes royalty, and she believes its frequent appearances to be an expression of individual leadership and renewed autonomy and control over our lives.
Indeed, McAllister offers a more positive look at COVID, telling the Pittsburgh City Paper that the pandemic is allowing people "stillness and rest" which could lead to a reassessment of power dynamics in their personal, professional, or communal lives. "The unknown does not have to be fearful," she says, believing that this crisis could yield transformation and ultimately a better world.
The Tarot deck can be divided into 2 groups:
7. Like waking from a dream - Layla Abdel Latif
Lebanese psychic Layla Abdel Latif purportedly predicted during a 2019 New Years Eve reading that 2020 would see a global pandemic. Let's hope her new prediction is as accurate as that one. "I think coronavirus came and will vanish," she told Scoop TV in Kuwait. "As if we were in a dream and we'll go to sleep and we'll wake up and it'll be over."
8. Patience, patience - Lisa Green
It's hard to be a palm reader in these socially distanced, contact-free days. Which is to say that Lisa Green, owner of a walk-in psychic studio in New Jersey, is as anxious as any of us for COVID to be a thing of the past. Unfortunately, that's not what she foresees for the near future. The tarot, palm, and energy reader gets the feeling that it's too early to remove the makeshift glass divider she's installed to act as a safety barrier between her clients and the psychics. "Yeah, it's going to get worse," she told The SandPaper. "My spiritual sense tells me it's about two years for us to come out of this."
9. "We will learn to live with it" - Jessica Adams
On March 28, 2019, astrologer and psychic Jessica Adams posted a prediction on her website concerning a virus that would appear one year later and alter the world. She even gave an exact date of January 10, 2020, incidentally the day before what would become the world's first known COVID death. Not many people took her prediction seriously at the time, and despite its accuracy and other uncanny predictions, notably a sickness that would befall Donald Trump in October, she's still failed to draw attention outside of her own followers. Although perhaps it's a case of selective hearing. After all, Adams' prediction that "there will be no vaccine" is not exactly feel-good news. However, she does predict that "we will learn to live with it," and that "each country will learn to cope with it in turn."
10. "One step forward, two steps back" - Cari Roy
The voice or spirit guiding psychic Cari Roy sounds pretty measured for an otherworldly force. Unlike some of the doom-and-gloom, or overly optimistic, predictions of her fellow intuitives, the New Orleans-based psychic predicts a year full of small advances, minor setbacks, starts and stops, but ultimately a positive outcome. "I believe this is a process," she told Big Easy Magazine when asked to predict how the next year will unfold in regards to COVID. "We are kind of doing a one step forward two steps back thing." She predicts that this fall will "restore some confidence" but that we should enter the new year with guarded optimism. "I don't really feel like we are going to be able to let down our guard until at least Spring 2021."
Only Time Will Tell
Psychics, tarot readers, and other practitioners have reported an uptick in readings since COVID-19 started, and it's easy to understand why. Uncertainty drives us to search for meaning wherever we can find it, and for many people, that means the stars, visions, or the guiding voices of those who claim intuitive abilities.
Will these predictions come true? Only time will tell.