Ritual Visit Site
Overview
Besides being focused solely on relationship issues, Ritual differs from other online therapy platforms in several ways. Firstly, you can work on your relationship with your partner, or on your own.
While many therapy platforms simply offer weekly appointments, Ritual complements sessions with an expert with additional content and activities for you to engage with. Your specific therapy outlook will be determined by a personalized therapy plan, also unique to Ritual, which you create together with your therapist.
Ritual offers ongoing therapy support between sessions with its more expensive plans, while many other platforms restrict support contact to the weekly session. Its website also contains many blogs by its therapists on specific issues such as intimacy and communication. This means therapy through Ritual is a lot more involved and committed to helping you achieve progress quickly and effectively.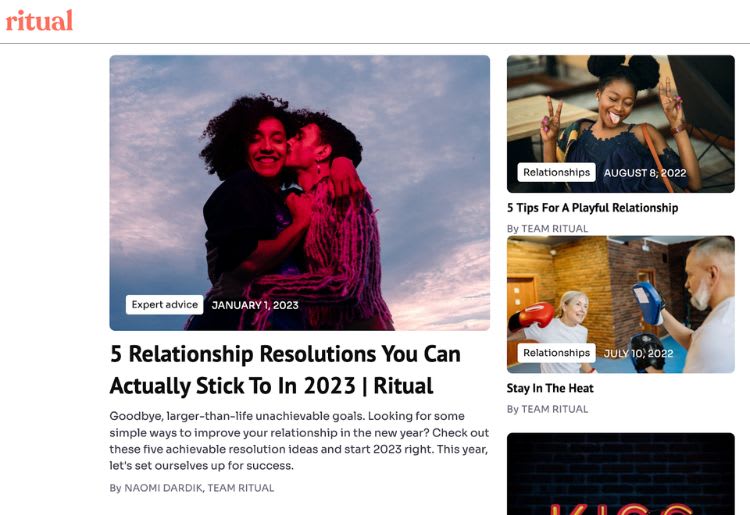 Counselor Screening Process
Ritual's screening process is simple and efficient, designed to match you with a relationship expert based upon your needs as a couple or an individual in a relationship.
First, head to Ritual's website and click "Get started" in the upper right-hand corner of your screen. This will take you to a short relationship quiz, which involves various questions about yourself and your current difficulties. You'll indicate to what degree you agree with a statement, e.g., "I'm happy with how my partner and I talk to each other." Specifically, these questions will ask you about aspects of your relationship, such as your closeness, emotional well-being, and how well you communicate and understand one another.
Ritual will use your responses to these questions to determine your therapist match and recommend a program for you. It's essential to be honest when answering the screening questions, or you may not be matched with a therapist with the right areas of expertise.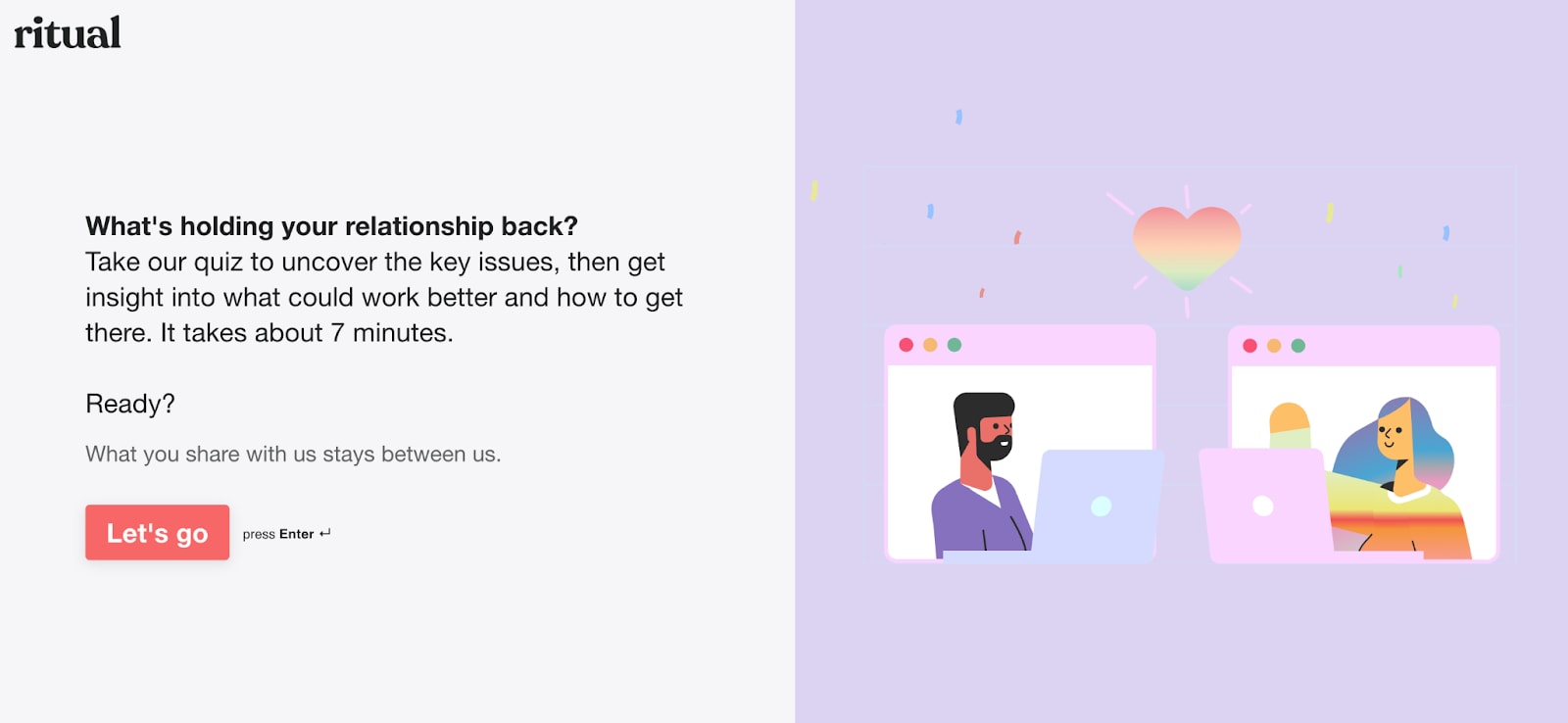 The screening will also ask whether you have experienced any severe mental health issues in the last six months and whether you are capable of engaging with Ritual's services. As its services are designed not to be a replacement for psychotherapy, the screening process will terminate if you respond that you aren't capable of therapy right now.
The screening process also excludes those who are experiencing domestic abuse from using their services. If you respond that you are, Ritual will state that its services are not appropriate for your current situation.
Once you have completed all 14 questions, including providing your email address and contact telephone number, you will proceed to the findings page, where you'll receive preliminary insight into your relational struggles. After that you can select one of three plans, depending on the desired amount of sessions and if you'll be joining with your partner or on your own. After that, you'll be able to schedule your welcome session at a time convenient to you.
Ritual Specialties and Areas of Expertise
Ritual is ideal for couples and individuals within relationships who are experiencing issues in managing emotions and communication difficulties. However, its website does not state whether its services, nor its relationship experts, can assist you in getting help with specific or niche issues, such as mental health conditions impacting the relationship or childhood trauma. Generally, its services are designed for those having trouble with the following.
Open and honest communication
Closeness and intimacy
Conflict
Understanding and empathy
Connecting with one another
Developing your relationship
Commitment issues
Becoming parents
Your counselor will help you discover issues that may require work in your first session. This also acts as part of the screening process, as your therapist will direct you to a different relationship expert if they think your needs could be better met elsewhere.
Types of Sessions Available
Ritual is committed to offering flexible and convenient services. Different types of sessions are available depending on your preferences. The types of sessions available aren't dependent on the plan you choose—all modes of communication are available to everyone. However, how often you'll have sessions does depend on your plan (see Pricing & Special Offers below). The types of sessions you can choose are as follows.
Live video or telephone appointments
Live chat
Email
Text messages
Moreover, Ritual sessions are perfectly compatible with smart devices, so you can take part in video calls or live messaging conveniently wherever you are.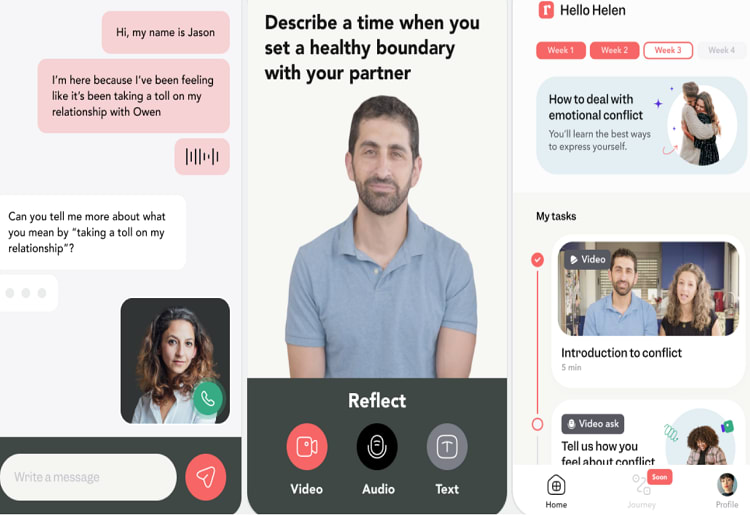 How Ritual Works
Scheduling Live Chats/Video Chats
Ritual states that, from the moment you sign up, you will be able to choose an appointment with your expert in a calendar overview. All open appointments will be available to you, but note that for your first appointment, you must select a slot 24 hours or more in advance to give Ritual time to match you with the right relationship expert. Further appointments can be made by selecting an available slot in your therapist's calendar, which you'll have access to upon matching. Appointments are available seven days a week.
Ritual Customer Support
Customer support is available from Ritual's website. At the top, click "Contact us" to be redirected to a webpage that asks for your name, email address, and details as to your issue. Currently, this is the only method of contacting Ritual, and it does not offer any live chat or telephone support. I sent a customer support request using this method and the team responded promptly the next morning.
Ritual Pricing
Ritual offers a 14-day free trial so you can decide whether its unique approach to relationship counseling is right for you. As a result, you can start now and choose whether you want to continue later.
You can cancel its services during this period at any time with no financial commitment. However, note that to sign up, you will need to enter your payment details, and after the 14-day period, the funds will be automatically deducted from your account on a monthly basis.
All plans include some great features, such as a personalized learning path, access to self-help materials in between sessions, and a personal progress report. However, the plans do differ in several ways. Currently, Ritual has three plans.
$25 per week/$100 monthly
Two one-on-one expert sessions/month
Live video, telephone, chat, or email
Expert feedback within 72 hours
$40 per week/$160 monthly
Four one-on-one expert sessions/month
Live video, telephone, chat, or email
$65 per week/$260 monthly
Three one-on-one expert sessions per partner/month
One extended couple session/month
Live video, telephone, chat, or email

Ritual Visit Site
Bottom Line
Ritual offers comprehensive therapy for couples and individuals in relationships, with weekly live sessions, self-help guidance, and ongoing therapy support. Specifically, it can offer effective service for issues around communication, managing emotions and conflicts, and intimacy. It has three different plans with varying levels of expert support. So, if you're having a hard time within your relationship and want help without breaking the bank, Ritual's evidence-based and flexible counseling could be a good option for you.