Grow Therapy Visit site
Overview
Grow Therapy at a Glance
What is Grow Therapy?
Grow Therapy is an online mental health platform that offers convenient therapy services to individuals, couples, and families. It's one of the few platforms that offers both virtual and in-person sessions. Unlike other platforms that match you with a therapist, Grow Therapy allows you to choose your own therapist to meet your individual needs.
With a large selection of licensed therapists of diverse backgrounds and expertise, Grow Therapy is able to offer services for a wide range of issues, such as anxiety, stress, family issues, and depression.
Grow Therapy's primary objective is to widen access to therapy services for those facing the obstacles of location and cost. It's a pay-as-you-go service, so you won't need to commit to a lengthy subscription. It's also partnered with most major insurance providers, making its services affordable for many.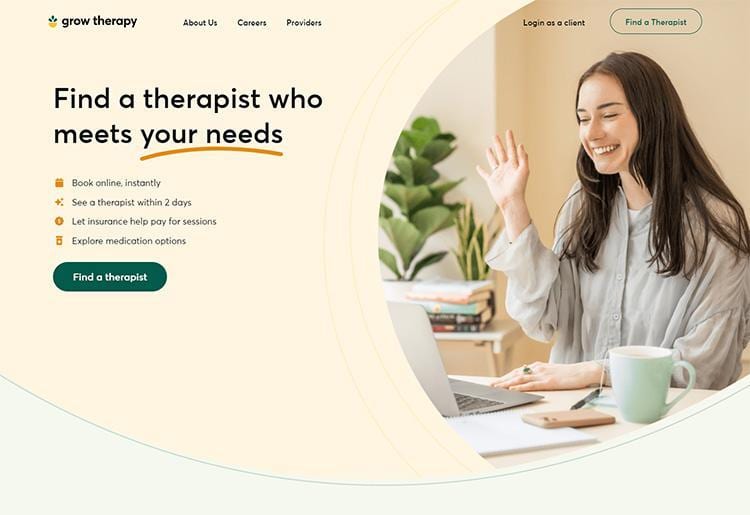 Who is Grow Therapy for?
Grow Therapy works with over 6,000 therapists around the country, so it could be worth a try if you're struggling to find the right one. It's also great for those who prefer to pay through insurance instead of committing to a cash-only payment plan.
Grow's extensive range of therapists represents many areas of experience and expertise. This means finding the solution to your mental health issues could be as straightforward as choosing the right therapist. Therapist specializations include child or adolescent issues, couples counseling, family difficulties, abuse and trauma, and many more.
It caters to individuals, couples, and families within a welcoming and inclusive environment for all, regardless of age, race, gender, or sexual orientation.
Grow Therapy features
Grow Therapy provides various therapy sessions to cater to individual needs and preferences. Sessions typically last for 60 minutes, although you're free to discuss with your chosen therapist what works best for you.
It offers individual therapy, couples therapy (to help with communication and intimacy issues), and family therapy (to address family dynamics and communication). Family sessions can include any family members, such as parents, children, and siblings, who may be struggling with their relationships.
You can also choose between virtual or in-person sessions depending on therapist availability in your area and your insurance coverage. Online therapy includes live video, phone, or instant messaging, making it very flexible to your specific needs.
Is Grow Therapy Safe and Reliable?
Grow Therapy takes the privacy and security of its users very seriously, adhering to strict privacy policies (listed on its website). It follows all applicable privacy laws, including the Health Insurance Portability and Accountability Act (HIPAA) and the General Data Protection Regulation (GDPR).
All therapy video or phone sessions with Grow Therapy are secure and encrypted end-to-end. Moreover, Grow keeps all user data strictly confidential between you and your therapist. It will only share with your consent or as required by law—for example, in case of an emergency if you or another person are in danger.
Note that you have the right to access and control your personal data and can request its deletion anytime.
How Grow Therapy Works
With Grow Therapy, you work together with a therapist of your choice to overcome any issues you're currently facing during 60-minute video or audio sessions. Its pay-as-you-go plan means you pay for each session separately. You can therefore book as many sessions as you want, at your preferred frequency, without any commitment.
Booking appointments is made effortless by using Grow Therapy's website. The user interface is very straightforward, which is handy for those who aren't especially computer savvy. From your user profile, just select a date and time and click "Book Session" to proceed to the payment screen.
You can also cancel or reschedule appointments up to 24 hours prior to your scheduled session time. However, any changes made within this time period before your session may incur a no-show/late cancellation fee.
How To Get Started With Grow Therapy
To get started, head to Grow Therapy's website and click on "Find a Therapist" in the top right-hand corner. The next screen presents a range of options to narrow your selection, including whether you want virtual or in-person care. Bear in mind, however, the latter option might limit your therapist availability options.
Afterward, select your state, insurance provider, or payment preference, and indicate the mental health concerns you need help with. Once you click "Search," you'll see a list of available therapists near you, and you can click on their names to view their profiles and details.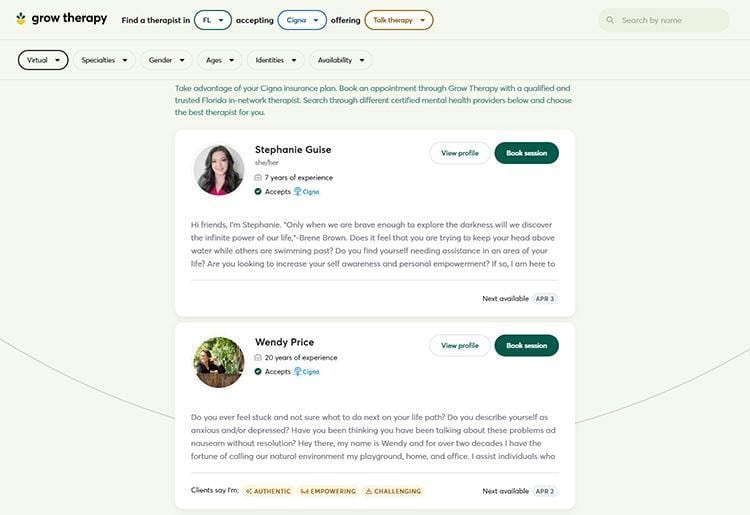 To sign up with Grow Therapy, you need to book an appointment. Click on "Book Session" next to your preferred therapist's name, choose an available appointment time, and enter your personal and billing information. After completing the booking process, you'll receive a confirmation email with instructions on how to access your appointment.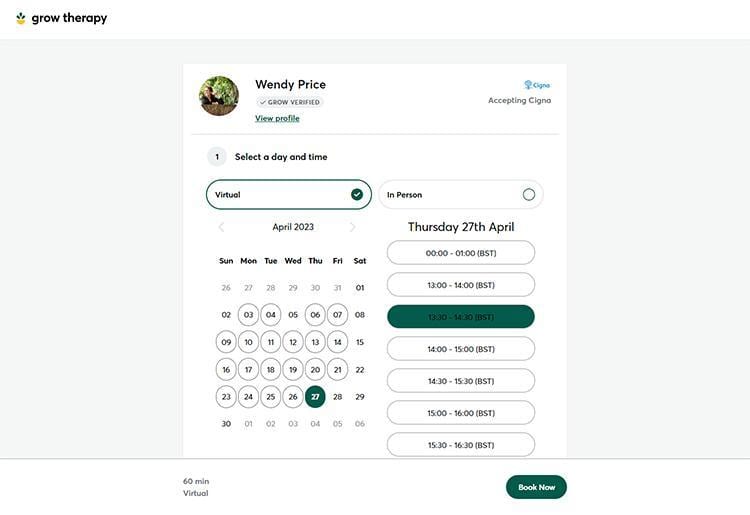 Once you've signed up and booked your 1st appointment, you can create your profile with information about your mental health concerns and therapy preferences. You can also change any information you used when initially signing up.
Grow Therapy Customer Service
Grow Therapy has an expert matching team who can help you find the right therapist for your current difficulties. For this or any other inquiry, you can contact the team by email at support@growtherapy.com. Grow Therapy aims to respond within 24 hours of email contact—I received a response within three hours.
You can also contact customer service via live chat. Call the contact number 786-244-7711, and a bot will answer with instructions. Press the number 1 when prompted and you'll then receive a link via text to the phone you used to make the call.
Grow Therapy's website also offers supportive blog posts giving advice on getting started with therapy and tips for improving your mental health.
How do you switch therapists?
If things aren't working out, you're always free to change therapists without any additional charge. However, it's beneficial to discuss the issue with your current therapist so they can address any concerns or issues you may have and help to facilitate a smoother transition.
To change therapists, you can just book time directly with a different or new provider in the client portal. As many different licensed therapists work with Grow Therapy, you should always be able to find one with the right specialization and experience.
How To Cancel or Pause a Grow Therapy Subscription
Because Grow Therapy works on a pay-as-you-go rather than a subscription basis, you can pause or stop using the service whenever you want without being charged until the end of a billing period.
Is There a Grow Therapy App?
Currently, there is no Grow Therapy app available on either the Play Store (Android) or Apple Store (iOS). Though, it's worth noting that Grow Therapy's website works on mobile devices.
Grow Therapy Pricing
How Much Does Grow Therapy Cost?
Grow Therapy works as a pay-as-you-go model. As such, you pay for sessions separately each time you book an appointment, and there's no monthly or annual subscription fee.
The pricing for Grow Therapy depends on the therapist you choose, as each charges their own rate per hour. Typically, therapists will charge $0-$120 for a 60-minute session.
The average therapist rate is slightly lower than other online providers that also operate with a pay-as-you-go model, but some of these offer additional services. On the other hand, the rate is slightly higher than platforms with a subscription plan. However, these naturally require a longer commitment, and often you're unable to choose your own therapist or the frequency of your appointments.
Does Grow Therapy accept insurance?
Grow Therapy partners with a variety of insurance providers, including BCBS, Optum, Aetna, Cigna, and Humana. You can check for insurance coverage eligibility on its website during the signup process. If your plan covers mental health services, Grow Therapy will automatically bill your insurance company directly.
However, bear in mind that insurance coverage for mental health services can vary widely depending on the insurance plan and provider. I'd advise you to check with your insurance company to understand the extent of your coverage and any potential costs you'll be responsible for before scheduling therapy sessions.
Does Grow Therapy offer discounts?
Currently, Grow Therapy does not offer any discounts on its website.
What can you do with Grow Therapy for free?
Currently, there is no free trial version for Grow Therapy. However, you can freely browse its range of therapists by location and specialty, as well as access Grow's helpful blog posts on preparing for therapy and managing your mental health.
Optional add-ons
Grow Therapy offers no additional add-ons within its services. All pricing and services depend on the individual therapist.
Grow Therapy Alternatives
How Does Grow Therapy Compare to Other Online Therapy Services?
$0-$125, depending on your insurance coverage


Chat, phone, video, in-person
Chat, phone, video, in-person
Chat, phone, video, in-person
PsyD, LMFT, LCSW/LMSW, LPC, NP, MD
PsyD, LMFT, LCSW/LMSW, LPC
MD, NP, PsyD, LMFT, LCSW/LMSW, LPC
MD, NP, PsyD, LMFT, LCSW/LMSW, LPC

Grow Therapy Visit site
Grow Therapy vs BetterHelp
BetterHelp is an online therapy platform that operates on a subscription-based model. Unlike Grow Therapy, you pay monthly for four live sessions. Therapy is entirely online without the option for face-to-face sessions. Additionally, there's no option to pay through insurance, although partial reimbursement may be available depending on your provider.
Grow Therapy vs Headway
Grow Therapy and Headway offer similar services to those seeking mental health services online. Both Grow Therapy and Headway offer psychiatric services that can administer medication. As opposed to Grow Therapy's $0-$125 per session, Headway typically charges $250 with a reduction depending on your insurance coverage.
Grow Therapy vs Alma
Alma is very similar to Grow Therapy in that it provides both online and in-person therapy on a pay-as-you-go basis. Alma, like Grow Therapy, offers psychiatric services that can help with prescriptions and medication management. This increases its typical session price, but some Alma therapists will reduce the costs of therapy if you're experiencing financial difficulties
Bottom Line (Is Grow Therapy Worth It?)
I like Grow Therapy's clear and uncomplicated online interface and method of choosing your therapist. Unlike many other platforms, you can browse a wide range of licensed and experienced therapists to choose who is right for you. Alternatively, you can ask Grow Therapy to match you with someone based on your needs.
Its flexible pay-as-you-go model means you're never tied to a subscription plan but rather can choose how often you engage in therapy and at a convenient date and time. Its partnership with various insurance providers also means you likely won't have to pay full price, if any cost at all.