In a Nutshell
HelpButton strives to help seniors live a safe and independent life with its innovative product. The Mobile Ally is a wearable device that gives seniors more freedom and their loved ones peace of mind. It can be worn at home or taken on-the-go for walks, hikes, and even swimming. At the press of a button, a medical representative or contact person can assist and send assistance if needed. The device uses the latest medical alert technology.
pros
UL-listed monitoring center
Protection plan with some plans
cons
No email address to contact for support
Basic plan is very basic

HelpButton Visit Site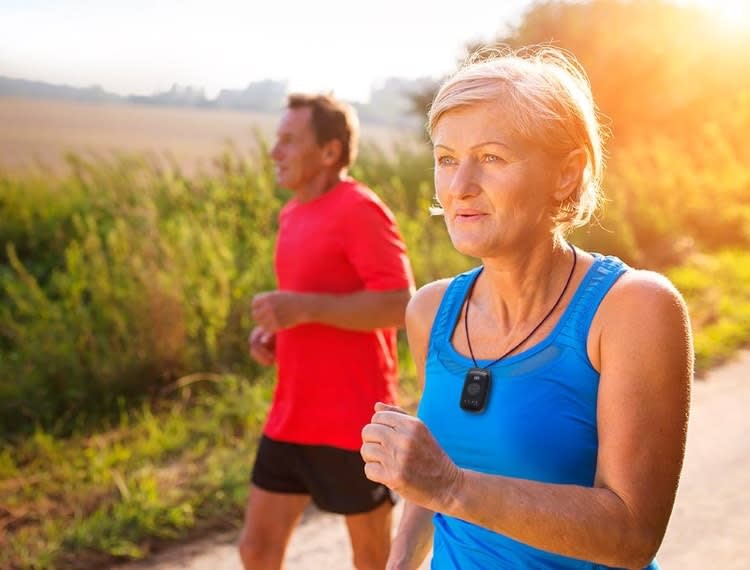 Monitoring Services
At the press of a button, HelpButton's monitoring device can call a designated family member or a monitoring center for help. The device is ideal for help after falls or general assistance. Pressing the help button on the device sends a signal to the monitoring center. With flash response, a TMA-certified care specialist will answer the call and offer assistance. All of the monitoring center's representatives are trained experts who are able to offer assistance with whatever is needed. If necessary, the monitoring center will send a team of EMS representatives, family members, neighbors, or friends to help. The device has a built-in microphone and speaker for clear communication, as well as 2-way voice for back and forth communication with the monitoring center.
Product Features
HelpButton has packed a ton of features into Mobile Ally, making it a top-rated wearable device:
Fall detection
36-hour battery life
Waterproof
GPS/WiFi enabled
Unlimited range
The device is GPS and WiFi enabled, so it can find the wearer's location quickly and accurately. This is useful for family members and the monitoring center when help needs to be sent. Fall detection gives the wearer peace of mind, as it automatically detects falls and immediately calls the monitoring center to make sure everything is ok. The device is also waterproof, so it can be worn in the shower, watering the garden, or swimming.
Mobile Ally has 2 features in particular that put it a step above other devices. First, Mobile Ally has unlimited range, meaning that is can be used anywhere—both in the house and around the neighborhood. It can also be used anywhere in the US—keeping you connected wherever you go. Second, it has an incredible battery life, lasting up to 36 hours on a single charge. Mobile Ally's advanced features make it a reliable and advanced monitoring device.
Installation Process
Mobile Ally is extremely easy to set up. You'll need to charge it longer than needed for the first time, to ensure it has a complete charge. From there your device is pretty much ready to use. You can connect the lanyard to the device to wear it around your neck. It is also suggested that you make a test call to ensure the device is working properly and that it connects with the monitoring center.
To test the device, press the help button and wait to speak to a monitoring center representative. If the device doesn't turn on after it's charged, or it doesn't connect to the monitoring center, call HelpButton's support number.
Plans & Pricing
*Last updated May, 2018
HelpButton offers 3 different plan options that range in features and prices:
The standard plan costs $19.95 per month. It includes the Mobile Ally device, but only comes with flash response monitoring and unlimited calls and talk time.
The mid-level plan, Select, costs $24.95 per month. It offers everything that the standard plan does, plus a protection plan, which comes in handy if the device is used frequently.
The protection plan gives you security that if anything happens to your device, you'll be sent a new one for only $10. This is worth paying more for, as a new device without the protection plan costs $300. The Supreme plan offers it all. For $29.95 per month, you get everything that the Select plan includes, plus 2 more features; a new feature called 'Ally Locate', and automatic fall detection. Ally Locate is a simple, text-to-locate service that lets you know exactly where your loved one is at all times. Simply send a text message to the designated phone number and a Google Maps link will appear, showing where your loved one is located. Automatic fall detection uses state-of-the-art technology to automatically sense when a fall occurs and calls for help. This feature can be a life-saver for people that suffer from blackouts or seizures, who may not be able to push the help button.
All prices include shipping and activation. You need to submit personal information in an online form to order the product, and HelpButton is committed to protecting your personal information. It also offers limited-time, 30-day money-back guarantees on all plans, but shipping costs aren't covered in the case of a return.
Customer Service
HelpButton doesn't offer much as far as a customer support line. It has a number that you can call to speak to a representative, but the operating hours aren't listed anywhere on the website. You can also fill in an online form to receive a call back. HelpButton does not have an online chat for immediate assistance, or a FAQ page or knowledge center, both of which can be helpful in answering customer questions.
Bottom Line
The Mobile Ally device is not just sleek and modern in its look, but also in its features. HelpButton has packed the device with advanced features to make it an extremely useful device for seniors. With fall detection, a long battery life, and a broad range, it really lives up to its tagline by keeping seniors, "Always connected. Always independent." The device is also backed by a UL-listed monitoring center and TMA certified care specialists, giving seniors, caregivers, and family members the assurance they need.

HelpButton Visit Site
About HelpButton
HelpButton is a New Jersey-based medical alert company, which aims to enable seniors to live a safe and independent life, and give their family members and caregivers peace of mind. HelpButton works with a professional monitoring center and leverages the latest technological innovations to provide the best care to its customers.
Contact
Phone: 855 808 9545