In a Nutshell
Bay Alarm Medical offers reliable, trustworthy medical alert monitoring solutions. It has effective at-home and on-the-go options at quite competitive prices. The 24/7 response team is always ready to assist if a fall or medical emergency occurs. We'd recommend Bay Alarm Medical if you want a versatile, affordable alert monitoring solution.
pros
At-home and on-the-go devices available
24/7 US-based monitoring
Competitively priced
cons
Mobile app could be better
Equipment fees with some packages
How Much Does Bay Alarm Medical Cost?
Bay Alarm Medical offers at-home packages starting at $19.99 per month and mobile packages from $29.99 per month with no equipment fees. Additional products are available, including an SOS smartwatch ($159 plus $29.95 per month), and a GPS-enabled smartwatch ($99 plus $29.95 per month).
Bay Alarm Medical Plans - Packages & Pricing
Cellular-based at-home alerts
Away-from-home monitoring
Away-from-home fall detection
Protection at home and on the go
Protection at home and on the go
Bay Alarm Medical Features - Products & Equipment
Bay Alarm Medical has a variety of at-home and on-the-go medical alert systems to choose from.
At-Home System
Bay Alarm Medical offers a powerful at-home medical alert system with a base station, medical alert pendant, medical alert watch, and optional wall buttons. Both landline and cellular options are available. The base station connects to your other alert devices, enabling you to connect with an emergency care agent in seconds.
Using the two-way voice feature, you'll be able to speak with the responder and explain your problems. Emergency services will dispatch if necessary, plus friends and family can receive notifications if you choose. The device boasts 32-hours of backup battery power, ensuring that you remain protected at all times.
The alert pendant and watch each come with a large push button to alert the monitoring center of any issues. With a 1000-foot range, these devices are perfect for those who enjoy spending time outdoors near their home. You can also secure optional wall buttons throughout your home, allowing you to call for help if you suffer a fall or other medical emergency.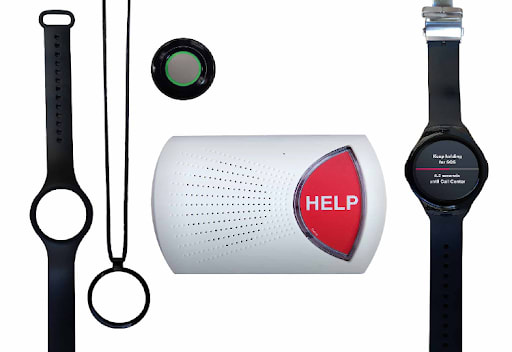 SOS Smartwatch
Bay Alarm Medical's SOS smartwatch is an excellent option if you want protection when you're away from home. It comes with an SOS button that you can push to alert emergency response agents of a medical emergency or any other issues.
Once you're connected with an operator, you can speak with them directly via the two-way voice feature. They will be able to track your current location using the built-in GPS, dispatch emergency services where necessary, and ensure you receive timely assistance.
The smartwatch comes with a selection of built-in tools, including a connection strength indicator. You can even set personal fitness goals and track your progress with the built-in step tracker. The rechargeable battery should last for 6 to 18 hours, depending on screen brightness and cellular network strength.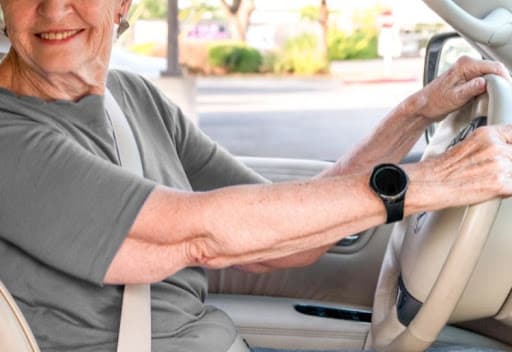 Mobile GPS Alert Device
Alongside the GPS-enabled SOS smartwatch, Bay Alarm Medical gives you the option of a GPS mobile alert device. This water-resistant device has a push button to alert monitoring personnel of any issues you encounter. With up to 72 hours of battery life, the mobile GPS alert device has a much longer lifespan than the smartwatch.
Once you're in contact with monitoring personnel, the response team will attempt to speak with you via the two-way voice feature. They can track your location and dispatch emergency responders if needed. If an alarm is triggered and the response team can't reach you to confirm whether it's a false alarm, they will send emergency services to your location immediately.
The mobile GPS alert device also comes with automatic fall detection as an option. For an additional fee, you'll get 24/7 fall detection monitoring and response agents will reach out to you whenever the device detects a fall.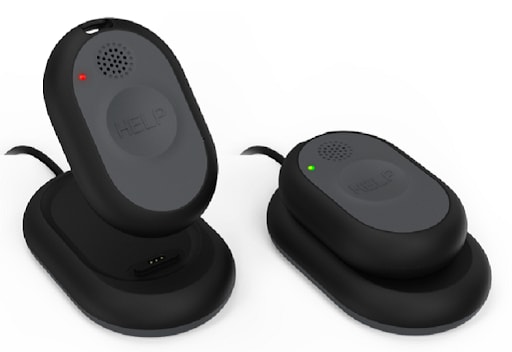 Bay Alarm Medical Installation & Setup
Bay Alarm Medical has clear guides to get you started with each of its three main products. They all feature a plug-and-play design, and their setup procedures are very straightforward.
At-Home System
To install the at-home system, you need to start by plugging it into a power source. The landline station must connect to your home phone, then the cellular system will begin working without any further action.
You can test your system by pressing the large red HELP button once. You should connect with an operator within two minutes, at which point you can inform them that you're testing your device. If your system doesn't work at this point, you'll need to contact the Bay Alarm Medical team.
Once everything's up and running, you should test the range of your alert device. Press the MODE button on the back of the base unit, and it should announce "range test mode." Press and hold the alert button on your personal help button or wall button, and you should hear a steady tone from the base unit. This indicates that it can detect your device.
Make sure to walk around your home and property to ensure you have a strong connection everywhere. If not, you may need to relocate your at-home device to improve coverage.
SOS Smartwatch
To get started with your SOS smartwatch, simply hold the power button on the right-hand side of the unit until it turns on. The watch face screen should display, indicating that it's ready for use.
To make an emergency call, you'll need to press and hold the SOS button on the left-hand side of the watch for five seconds. You will be connected with a response agent within seconds, and you can speak with them via the two-way voice feature.
Mobile GPS Alert Device
Setting up your mobile alert device involves charging it until the LED indicator turns green. If your device is off, you may need to press and hold the HELP button for one second to switch it on.
To test your device, press and hold the HELP button for one second. Once the resulting emergency call has put you through to an operator, simply inform the operator that you're only testing your system.
Bay Alarm Medical Monitoring Services
Bay Alarm Medical is a US-owned and operated business providing 24/7/365 medical alert monitoring across all 50 states. It uses dedicated monitoring centers located in Rexburg, ID, and Ogden, UT. These are completely separate from the company's other departments, meaning agents can focus solely on responding to alerts in a timely manner.
One thing worth noting is that Bay Alarm Medical doesn't run its own monitoring centers. Instead, it partners with a "USA-based monitoring partner" to provide its popular medical alert solutions. However, Bay Alarm Medical is somewhat secretive about who this partner is.
On the plus side, both monitoring centers have Central Station Alarm Association (CSAA) Five Diamond certifications which renew annually. You can add emergency contact and family member information to your account, and the monitoring team will notify them if you experience an emergency.
Is There a Bay Alarm Medical App?
The Bay Alarm Medical Caregiver Tracking app is available on iOS and Android. It comes free with a Mobile GPS subscription, and lets you track the location of your loved ones in real-time. You can link multiple devices to a single app and even set up weather alerts to ensure your loved ones aren't caught out by extreme heat or cold.
On the downside, it only has 2/5 stars on the Google Play Store and 2.2/5 stars on the Apple App Store. Most users point to a buggy interface and poor functionality.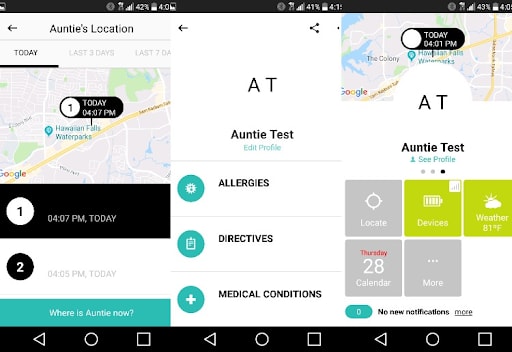 Bay Alarm Medical Contracts - Warranty & Insurance
All Bay Alarm Medical devices come with a lifetime limited warranty for issues occurring as a result of manufacturer defects or normal 'wear and tear'. You can also purchase a Premier Protection Plan to cover the replacement of one unit per year. Shipping fees aren't included, and you will need to speak with the Bay Alarm Medical team to find out more.
There's also a 30-day money-back guarantee. If you're not satisfied with your system, you can return it within 30 days of the date of receipt for a full refund of any subscription fees paid. Any refunds will be exclusive of shipping costs.
Bay Alarm Medical Customer Service - Help & Support
Bay Alarm Medical offers email and phone support for existing customers. Support hours are 6am to 6pm from Monday to Friday, 8am to 12pm on Saturday, and 12:30pm to 4:30pm Sunday PT. Existing customers report decent support across the board, which is good to see.
There's also a selection of self-help resources on the website, including numerous how-to and tutorial videos. You'll find a comprehensive and well-written FAQ section on the site, plus a help center containing troubleshooting guides, set-up guides, and product information manuals.
How Bay Alarm Medical Compares to Other Medical Alerts
Cost of Upfront Equipment
Alert 911, extra alert buttons, fall detection pendant
Extra medical alert buttons
Key lockbox,
medication dispenser,
voice extension communicator
Bay Alarm Medical Vs Medical Guardian
Medical Guardian and Bay Alarm Medical have similar medical alert packages, including at-home and on-the-go options. Both offer one-year warranties, and both enable you to cancel your service at any time without penalty. Bay Alarm Medical is slightly more affordable, while Medical Guardian offers WiFi connectivity, but there's little else to separate the two.
Bay Alarm Medical Vs Life Alert
Life Alert offers reliable, trustworthy medical alert systems along with powerful monitoring services. Like Bay Alarm Medical, it uses advanced response centers to ensure concerns are resolved in a timely manner. However, Life Alert has a poor reputation for false promises and high prices, so we'd recommend Bay Alarm medical over Life Alert in virtually all situations.
Bay Alarm Medical Vs Philips Lifeline
Philips Lifeline has almost 50 years of experience in the medical alert system industry, and it shows. Like Bay Alarm Medical, it offers versatile systems for both at-home and on-the-go use. Philips don't require you to sign a long-term contract, and they provide an attractive option if you're looking for a medical alert system with multi-lingual monitoring options.
The Bottom Line
As most Bay Alarm Medical reviews suggest, this is a reliable, competitively priced medical alert system monitoring provider. It offers a variety of at-home and on-the-go packages, with fall detection and GPS monitoring as required. There's also a Caregiver Tracking mobile app which lets you keep an eye on your loved ones.
Overall, we'd recommend a Bay Alarm Medical alert system if you're looking for an affordable option to offer round-the-clock protection for yourself or your loved ones.