In a Nutshell
Straight from the cookbook of Martha Stewart, ordering from Martha & Marley Spoon is like getting a front row seat to the DIY queen's cooking show. Ingredients are always of the highest quality and the recipes are signature Martha – as simple as they are delicious. For customers who love to cook, but want to spend less time on the planning, shopping and prep work, this is a great choice.
pros
Fresh, seasonal produce
Recipes are never more than 6 steps
cons
No breakfast, lunch or dessert
No options for families larger than 4
Martha Stewart and Marley Spoon Compare All

Ideal For
Couples and families who want to learn new recipes and ideas
People with a busy lifestyle who want help with shopping and planning
Waste-conscious customers who want pre-portioned ingredients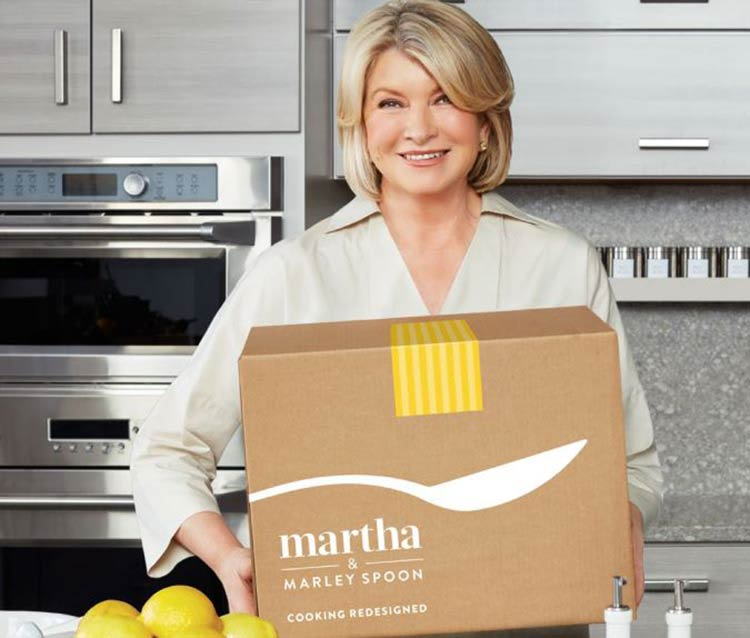 What's Unique About Martha & Marley Spoon?
It was only a matter of time before a celebrity food personality was going to weigh in on the meal kit market. In 2016 this came to be when domestic goddess and lifestyle mogul Martha Stewart joined forces with German food company Marley Spoon to launch their eponymous Martha & Marley Spoon meal kit delivery service.
If you're a fan of Stewart's cooking, Martha & Marley Spoon will make you feel like a kid in a candy store. Straight from her cookbooks, you get to choose from at least 20 colorful, signature recipes each week. While this amount of choice is clearly fantastic, for those of us who struggle to make difficult decisions, it can be overwhelming to finalize a box. The meals are divided into different categories including customer favorites, healthy options, and kid-friendly dishes. Additional specialty diets include gluten-free, dairy-free, vegetarian, low-calorie, and low-carb.
The vast majority of the recipes revolve around meat or seafood, with only 6 vegetarian and a measly 1 vegan option. But what makes this service special is that the protein isn't always the star of the show. Indeed many recipes have really unique and flavorful side dishes. Grilled steak for instance comes with a tomato-ciabatta panzanella salad; while mustard-glazed salmon is paired with a delightful side of summer corn, snap peas and tomatoes with a mustard vinaigrette and dill weed.

Mobile App
Martha & Marley Spoon has a fun and simple app available for iOS and Android devices. Browse recipes, make changes your order, and track your order - all from a mobile phone or tablet device. The app can also be used to:
Review current and past orders
Rate favorite dishes
Plan deliveries for up to 2 months ahead
Access and utilize an entire library of recipes
Martha & Marley Spoon Alternatives
While Martha & Marley Spoon is known as being one of the best meal delivery services around, there are also plenty of other top alternatives that you should check out before making a final decsion. Here are some of our top picks:
Environmental Impact
In addition to sending pre-measured ingredients to reduce waste, Martha & Marley Spoon is always looking to reduce its environmental impact by being mindful about recycling and packaging. All packaging has been created to create the least possible amount of waste.
How It Works
Martha & Marley Spoon wants to make the whole process of cooking healthy meals at home as simple as possible. The company sources the highest quality seasonal ingredients, and delivers a box full of fresh produce to your door. Simply select the meals you want to eat, from 2-4 meals per week.
Meal Options
The recipes change weekly, and customers can look up to a month ahead to see what variety is available. While there are 10 meal options to choose from each week, anyone can access the past recipes and meals on the site, which gives users limitless options, all with simple to follow 6-step instructions.
The variety of food includes:
Vegetarian
Meat
Kid-friendly
Poultry
Low calorie
Using the menu options allows for total control over which recipes and ingredients you receive. Plus, each recipe comes with detailed nutritional info, so you can choose options that easily fit into any diet plan. While you cannot exclusively select a speciality diet, some recipes are clearly marked gluten-free, and there are vegetarian or vegan options as well.
Favorite Martha & Marley Spoon Meals
1. Minute steaks and potatoes with sugar snap peas & chimichurri
Prep & cooking time: 20-30 minutes
Cooking level: easy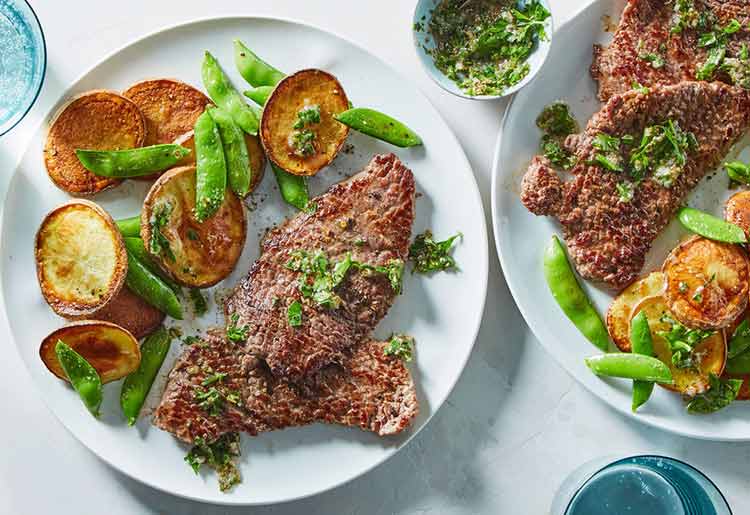 2. Cheese ravioli florentine with creamed spinach
Prep & cooking time: 15-20 minutes
Cooking level: easy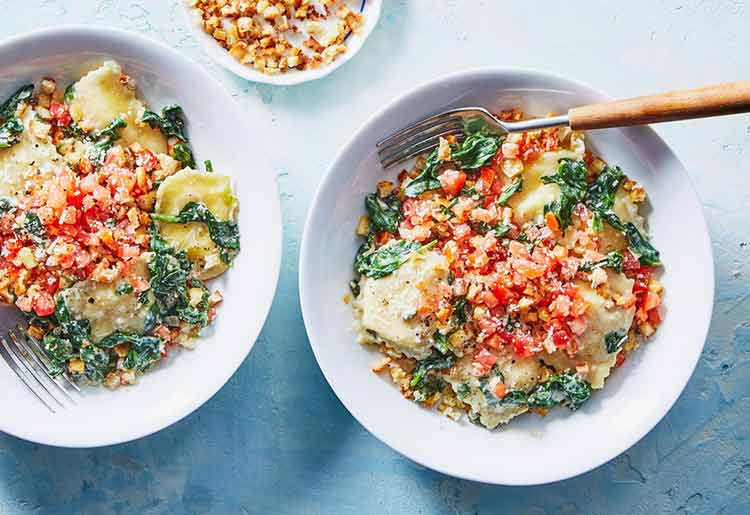 3. Potato-fish cakes with slaw and caper aioli
Prep & cooking time: 30-40 minutes
Cooking level: easy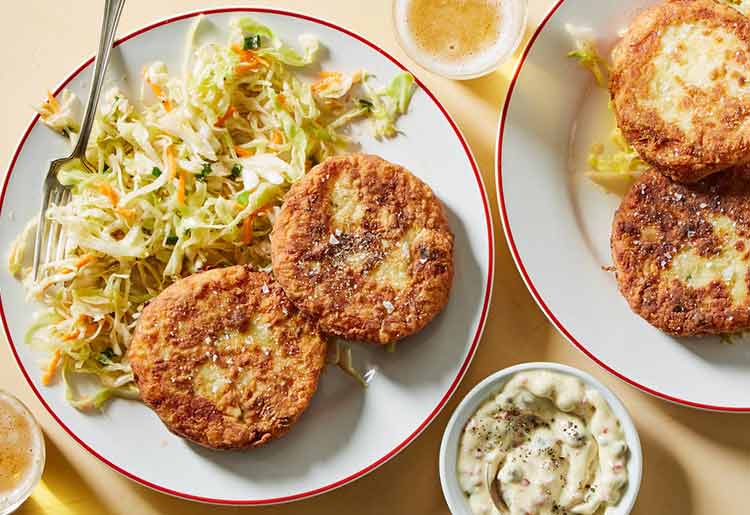 Pricing
Choose between a 2-person or 4-person meal plan. Then choose the frequency of the plan, 2-4 meals per week.
2-person box:
This works out to just $9.50 per serving.
4-person box:
*All prices last updated: September 2020
This is only $8.70 per serving.
There are no hidden costs, delivery is always free, and you can skip a week any time you choose.
Martha Stewart and Marley Spoon Compare All
Help & Support
Phone Support - 866-228-4513
Email - contact@marleyspoon.com
Martha & Marley Spoon - It's What's for Dinner
Martha & Marley Spoon provides fresh and seasonal ingredients and a colorful variety of recipes from the mind of one of America's most respected lifestyle mavens. Busy parents and couples who don't have time for grocery shopping or complicated recipes will appreciate the simplicity of having high-quality ingredients for easy, 6-step meals delivered right to their doorstep.
Simple to prepare, Martha & Marley Spoon's meals are both tasty and beautiful. If you're looking to step up your cooking game with new techniques and interesting sauces and dressings, this is a delicious choice.
*The information on this site is based on research, but should not be treated as medical advice. Before beginning any new diet plan, we recommend consulting with a physician or other professional healthcare provider. Results may vary based on various health factors, individual weight loss plans and adherence to the meal plan.