The average person will spend a third of their life asleep. That's 25 years or 9,125 days — far too long to be sleeping on the wrong mattress.
The process of choosing a mattress should not be rushed. It's a decision that is highly individual based on comfort, support and of course price. Fortunately, we live in an age where the mattress industry is brimming with companies offering some incredibly comfortable and supportive mattresses.
But you don't necessarily need to physically lie on a mattress to know if it's right for you. Ordering a mattress online is a time-saving, cost-effective option—and you don't need to compromise on comfort. Forget arguing with the salesperson or spending hours lying on mattress after mattress. You can now peruse the world of mattresses from the comfort of your living room.
Online mattress companies offer free delivery, free returns, an extended trial period and lengthy warranty. The process of ordering online is straightforward, and most companies will help you decide what mattress is best for your preferences with comparison charts and quizzes. Many mattresses sold online are delivered in a compact box which can be easily rolled into the bedroom.
There are dozens of innovative mattress companies which offer ground-breaking technology, pushing the boundaries of comfort. But with so many different mattress types, picking the right mattress can be the hardest choice to make. Here's the lowdown on mattress types, trial periods, warranties, and returns, to help you make this important choice.
Mattress Types
Latex
As the name indicates, latex mattresses are filled with latex foam, a remarkably breathable material, so you won't need to worry about overheating in the middle of the night. Because latex is made with natural components, and nonmetals, it's a good option for people with allergies or asthma.
However, the more natural the material, the harder the mattress—so definitely better suited to those who prefer a firmer bed. On the other hand, latex foam is a more durable material designed to outlast traditional mattresses.
Best for: People who like a firmer bed and eco-friendly materials
Best company: ZenHaven, prices range from $1299 to $2499
The Zenhaven mattress is made up of 4 layers of completely natural materials. Unlike memory foam, latex mattresses mold to the curves of your body without making you feel as if you've sunk too far into the mattress. The Zenhaven mattress is flippable which means on one side you'll get the gentle firm, an uplifting, pressure–free support and the other side is luxury plush which conforms and supports your body effortlessly while still maintaining an ultra–luxurious, plush feel.
Pocket Spring
Pocket spring mattresses are made up of singular small springs held in their own pocket of fabric. The springs are not wired together, so the weight of one spring doesn't affect the next. If you're in a couple it means you won't feel get woken up each time your partner moves. These mattresses can be customized to have 2 sides of different firmness, a nice feature if you don't know what type of firmness you prefer. They offer good support by distributing your body weight evenly, and you won't feel too warm because the open-spring construction allows air to circulate. The springs can be customized to different firmness – soft, medium or firm.
Best for: Back sleepers and couples
Best company: Eight Sleep, prices range from $699 to $1,299
Eight Sleep is a forward-thinking mattress company that integrates smart-technology into their products to improve and track sleep. Although the mattress is technically a hybrid, it uses pocket springs to give a more traditional memory foam mattress some extra bounce. For people that like a memory foam experience but don't like that sinking feeling, this is the mattress for you.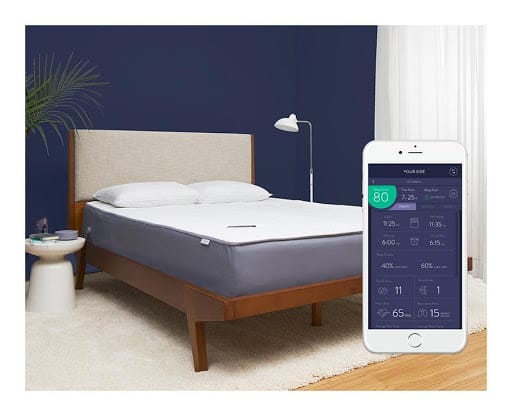 Coils
Coil mattresses consist of an inter-connected spring system. A double open coil mattress will contain an average of 300 springs. An open coil mattress offers excellent support and is used for most orthopedic mattresses due to their firmness. Pocketed coils, similar to pocketed springs aren't wired together, which minimizes motion transfer — and they also tend to be lighter so easier to flip. Coil mattresses don't retain as much body heat as other mattresses because they contain less foam, allowing you to sleep cooler throughout the night.
Best for: Back sleepers and bad back sufferers, as it offers sleepers the proper spine alignment
Best company: Saatva, prices range from $599 to $1,399
Saatva mattresses are made from coil-on-coil, which respond and contours to every body shape. These mattresses are offered in 3 levels of firmness, plush soft, luxury firm or firm.
Memory Foam
The most well known type of foam is memory foam. This type of foam allows you to sink into the mattress and feel your weight absorbed, taking pressure off your joints and increasing circulation. Because you sink in, the mattress can feel close to your body so might have a tendency to feel warm.
Best for: People who need support or suffer from a bad back
Best company 1: Nectar, prices range from $375-$775
Although memory foam mattresses are known for running warm, Nectar's memory foam mattress has a cooling system designed with a unique breathing airflow.
Best company 2: Leesa, mattresses range from $525- $1070
The Leesa mattress is made up of a unique combination of performance foam layers, delivering a cooling bounce, contouring pressure relief and core support.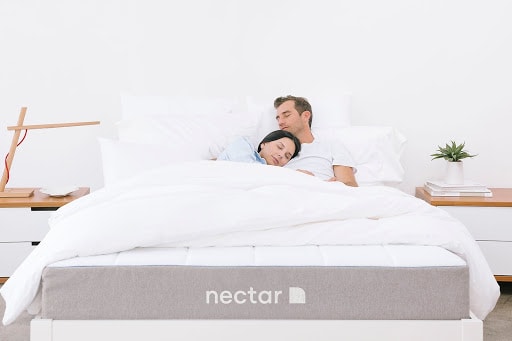 Hybrid
Hybrid mattresses are a relatively new arrival to the mattress industry. The word hybrid just means made up of more than one component and in this case, a hybrid mattress is made up from pocketed innerspring and memory foam layers.These differing layers work together to provide notably improved pressure point relief during sleep. The hybrid mattress gives you that memory foam feel but at the same time it also retains some bounce so you don't feel like you've sunk completely into the mattress. It also has a cooling effect so you keep the right temperature at night.
Best for: People who like to keep cool at night
Best company: DreamCloud, prices range from $999-$1,499
This well-crafted and luxurious mattress is a true hybrid combining latex, memory foam, hand tufting and coil technology. Combining the best of all worlds, these materials work together to produce a seriously comfortable mattress. The cashmere blend, and high density foams and encased coils, bring soft comfort and support and the supportive spring coils and lush foam layers offer integrated cooling system so you don't overheat at night.

Receiving Your Mattress
A perk of ordering a mattress online is that you don't need to wait too long for delivery. Nearly all online mattress companies will deliver their mattresses within 3-7 days and most deliver the mattress in a box. Also known as a 'bed in a box' option, the mattress is compressed and all you need to do is unroll it and cut into the vacuum sealed plastic wrapper and wait for it to expand.
Because the box is so small when you receive it, it makes moving it around a lot easier than a traditional mattress that might not fit through your front door or into a small room. Once the mattress expands, there's no waiting around—you can sleep on it immediately.
Another premium delivery option is known as 'white glove delivery' is where the mattress is delivered and installed in the room of your choice. This has an advantage since the delivery service can remove your old bed and any remaining trash. Check the company's capabilities before you buy since not all beds can be delivered in a box. Eight Sleep offers both, with White Glove delivery costing only $75 more but currently only available in New York City. For a full demonstration take a look at this video of a Nectar mattress being easily unboxed.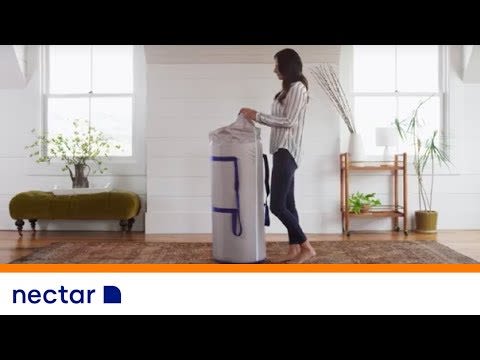 Trial Period, Warranty, and Returns
Since online companies understand that you're buying a mattress without trying it out first, they are extremely generous with a trial period. Saatva for instance, offers a 120-day home trial with free mattress removal, while other companies like Eight Sleep offer a 100-day trial. Nectar definitely wins the risk-free trial period with a full 365-night trial.
This is no-commitment method ensures that the mattress you're buying is right for you. Similarly, you'll also want to check out what sort of warranty timeline the mattress has. Most companies have all the legal-jargon clearly written out on their website, and they should tell you how to make a claim if needed. Nearly all companies will offer a fairly lengthy warranty, and the majority of returns will be free of charge.
With so many mattress models available, trying to find the right mattress can be a confusing task. We all have very different comfort preferences, so one mattress might be comfortable for some while not for others. Luckily, many of these online mattress companies offer some aspect of personalization so you'll get to choose between firmness, size and materials. Although the choice might be confusing, comfort should be your end goal. So do your homework and get a seriously blissful night's sleep.