In a Nutshell
Helix is a customer-centric mattress company that puts the customer's needs first. With its lead product, a customizable mattress that delivers personalized mattress designs for everyone, Helix throws out the traditional one-size-fits-all model and introduces a revolutionary customized mattress experience that the public has quickly taken to.
pros
Fully customizable mattress
Firmness can be different on each side of the mattress
cons
Shipping takes 6-10 business days
No mattress removal

Helix Sleep Visit Site
Free, compressed in a box
Customizable blended or personalized sides
What Type of Sleeper Is It Best For?
Couples
Side sleepers
Stomach sleepers
Back sleepers
Combination sleepers
Restless sleepers
People with back pain
Helix is Customized for You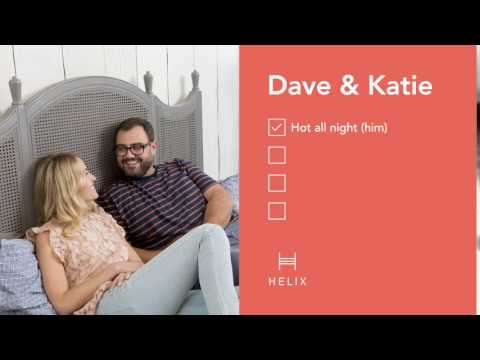 How it Works
As would be expected with a customized purchase, the Helix Sleep mattress selection process is a little different than with most other mattress companies. Customers can customize their mattresses to fit their sleeping habits, body types, and personal preferences.
Before purchasing a Helix mattress, you'll have to complete a sleep quiz. Questions asked include age, gender, weight, potential pressure points, whether or not you experience back pain, if you toss and turn, and your typical sleep position. Once you've filled out the questionnaire, Helix will craft a mattress that is the best fit for you.
The quiz even allows you to tailor your mattress design to you and your partner's individual sleeping habits. You can create a hybrid mattress, one that takes the preferences of each person and blends it for the most well-rounded sleep for both of you. Alternatively, you can choose the Dual Comfort design and split the mattress right down the middle tailoring each side to fit your exact preferences.
Helix will recommend when you need a Dual Comfort design and when you can get away with a blended design. The Dual Comfort design is $150 more, still Helix will often recommend that you get the blended design. Helix even takes this customization process a step further by offering free, in-person custom fitting.
Of course, you don't have to listen to these recommendations for your perfect mattress. You can also pick the size and mattress type that you want. Either way, when you know which mattress you want, put it in the shopping cart, and select the payment method of your choice. Klarna financing is available if you choose to break up your purchase into payments.
Helix mattresses are shipped within 6-10 business days. All mattresses are shipped using UPS Ground. Helix offers free shipping to anywhere within the United States. Orders to Canada are $150 for shipping, and don't forget about customs taxes.
All Helix mattresses come with a 100-day free trial. If you aren't happy with your Helix, you can return it for a full refund within this timeframe. In fact, Helix Sleep will come and pick up your mattress free of charge and donate the used mattress to a charity in the area. Additionally, all Helix mattresses come with a 10-year limited warranty.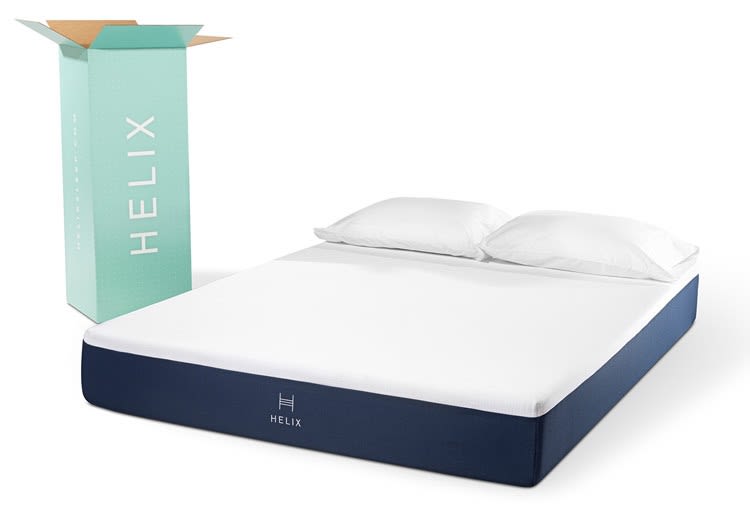 Mattress Makeup
While customers can tailor their mattresses exactly, all Helix mattresses are made using the same state of the art materials, including Helix dynamic foam, pocketed microcoils, and high-grade polyfoam. Here's how the 3 materials work together:
The dynamic foam layer is a combination of memory foam and latex, combining the strengths of each material for optimal comfort. This is the layer that shapes your body, reacts to your movements, and distributes air constantly so you don't overheat while you sleep.
The pocketed microcoils are smaller coils than the traditional ones found in older mattresses. Their main mission is to evenly distribute your weight throughout the mattress so no one area is doing the brunt of the work. Weight distribution ensures your body gets the proper pressure relief when you lay down. The coils also give your mattress that spring that many people enjoy.
The polyfoam layer is the section that supports the entire mattress. Through varying layers of density, the polyfoam offers unwavering support without compromising comfort.
Helix uses top quality materials for all of its mattresses including high-grade polyfoam, steel forged coils, and custom Helix Sleep dynamic foam. The foam is hypoallergenic, non-latex foam, so you won't have to worry about allergies, either.
Helix Mattress Prices
Delivery
Helix mattresses are compressed and then rolled up so they can neatly fit inside a shipping box that is as compact as possible. In fact, the entire package comes in to 16" x 16" x 48" box. Unboxing is an effortless process. Take a look at the video below to get an idea of how easy it is. Here are the steps:
Take the mattress roll out of the box
Unroll it
Remove the plastic
Watch as it inflates
Give the mattress around 45 minutes to an hour to fully expand, and then you can use it right away. Remember to keep the blue material at the bottom and the white material at the top of the mattress. If you mix this up, it'll be hard to flip the mattress, so pay attention when unwrapping.
Testimonials
My wife and I have very different sleeping preferences. She likes a soft mattress where I like a very firm mattress. Our previous cushiony mattress and topper left me waking up with hip and back pain daily. We absolutely love our custom mattress! We took the quiz and each of our sides is customized to our preferences.
Joseph A.
I had an aging mattress that started giving me back pain so bad, it would wake me up in the middle of the night. I started reading about all the online bed-in-a-box manufacturers and came across this through a Youtube video (Justin Tse) and was intrigued by the quiz process to customize your mattress. (I chose a very soft mattress.) Eventually, I decided to pull the trigger and boy, was I right on this one! This mattress was worth every penny. Unlike some other mattresses, this one was completely odorless and ready to lay on in about 45 minutes. I finally laid down and was in heaven. Within just a few days, my back pain started to disappear and was sleeping longer throughout the night. Who knew something as simple as a mattress could be such a huge change in your quality of life? The mattress is also fairly affordable, given it's custom configuration and in comparison to other bed-in-a-box retailers (especially when it's on sale!). All in all, Helix makes a great quality mattress that will definitely improve your quality of sleep. (PS. I actually enjoyed my bed so much, I just ordered their new pillow too.)
Dan
I purchased a Helix for my son in 2016.....he LOVES it. I needed to get a new mattress for myself and decided to try one for myself. I really do like it.....it is exactly what I was looking for. Very comfortable and I sleep much better.
Sharon R.
Bottom Line
With a tagline like "unapologetically obsessed with quality," you can understand immediately what kind of a company you are dealing with. Helix Sleep gives consumers an affordable way to change the way they sleep. This company gets full points for customer service, comfortable products, and the most customizable experience in the industry.

Helix Sleep Visit Site
About Helix Sleep
Launched after shared negative experiences in mattress purchasing, founders Jerry, Kristian, and Adam built their company with one thing in mind: a positive, personalized mattress experience. Helix understands that every person is uniquely different, and so their sleep experiences are different too.

That's why it created these fully-customizable mattresses that cater to your every nuance and quirk. Helix's philosophy is that you can change your entire life by changing the way you sleep. Experience the difference a good night's sleep can make in your day-to-day routine with Helix Sleep mattresses.