In a Nutshell
Saatva mattresses offer hotel-style, luxury mattresses at a fraction of the cost. The mattresses are made using coil-on-coil construction and come in 3 models: Plush, Luxury Firm, and Firm. Each model is crafted using eco-responsible materials and offers a different level of firmness to suit the needs of different sleepers. All Saatva mattresses are made in America and come with a 120-day trial period and a 15-year warranty.
pros
Variety of firmness levels
Made in USA
cons
Around 2 weeks for delivery
Must be at home to receive mattress

Saatva Visit Site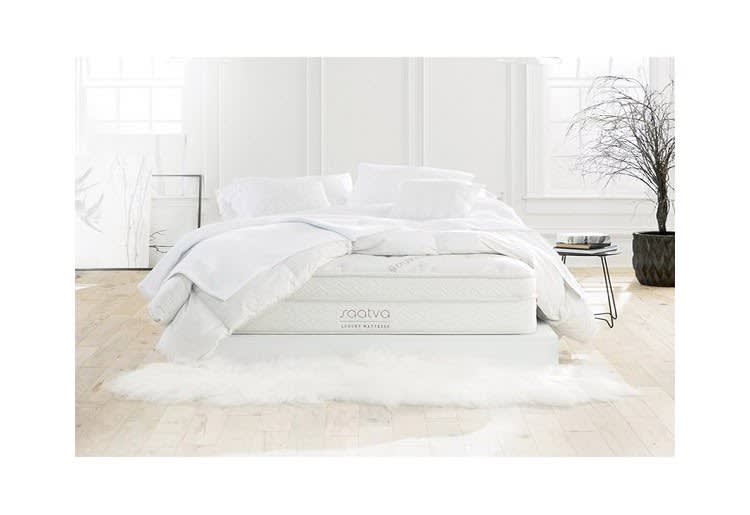 Free white glove delivery + mattress removal
Plush, luxury firm, and firm
What Type of Sleeper Is It Best For?
Saatva offers 3 different levels of mattress firmness to suit different types of sleepers.
Plush is best for: people who like softer mattresses, side sleepers
Luxury Firm is best for: People who enjoy a balance of firm and soft, side sleepers, back sleepers, stomach sleepers, couples (the coils provide low motion transfer so you don't feel the other person moving in bed)
Firm is best for: Best for people who enjoy firm mattresses, back or stomach sleepers
Buy Smart, Sleep Better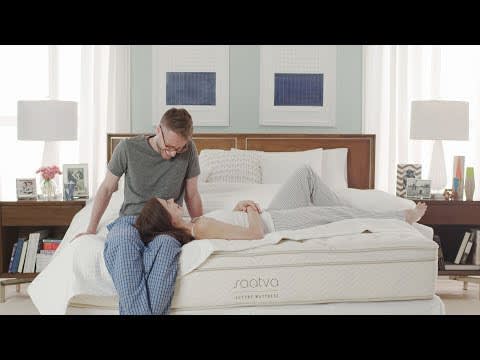 How it Works
Which Saatva mattress is right for you? There are 3 models available, so first you need to decide which kind you want—Plush, Luxury Firm, or Firm. Then, there are optional add-ons you can choose: an adjustable base, foundation, or frame. If you need some help deciding which mattress is best for you or whether to order additional products, you can talk to a customer service representative. As a matter of company policy, these representatives do not work on commission to ensure that customers get unbiased help with their purchasing options.
Once you decide what you want to order, just go online or hop on the phone. Your product is crafted upon order, which means you are getting a brand new product. Once your order is ready, you'll be contacted by Saatva's white glove delivery team to arrange a time for you to receive your mattress. Delivery includes removal of your old mattress as well as set up of your new Saatva mattress and any other products. It usually takes about 2 weeks to receive your mattress from the time you order it.
There is a 120-night trial period, which means that if you decide that it's not for you within 120 days of receiving it, you can get a full refund, minus a $99 fee for transportation.
Saatva also offers a 15-year warranty, one of the "friendliest warranties in the industry."
Mattress Makeup
All Saatva mattresses are designed with coil-on-coil construction, which means that there is a top coil unit and lower coil unit. The lower coil unit is made up of a connected hourglass shaped support base, and the top coil unit includes a wrapped coil system designed to respond to your body and eliminate motion transfer. Each coil is wrapped individually by foam, but the type of foam varies according to mattress model. Saatva coil units are tempered 3x and oven baked, and the mattresses are designed to last 10-15 years without any sagging or decrease in comfort.
The 5 components of Saatva mattresses are:
Individually wrapped comfort coils: These are in the top portion of the mattress and respond to every body shape.
Dual perimeter edge support system: This system encases the upper coils in foam, anti-sag edge support; it's a system that used only in the most durable and high quality mattresses.
Lumbar support enhancement: Made of high quality memory foam, which offers additional pressure relief and lower-back stress reduction.
Steel coil base support system: This is the lower coil unit. It's made from 3x tempered steel and creates a durable, sustainable and no-sag mattress.
Organic cotton cover & euro pillow top: The euro pillow top is made from padding and cushioning materials, which are then covered by the organic pillow top. Both inner and outer materials help the pillow maintain its shape and provide maximum comfort.
Eco-friendly
Saatva foams are eco-friendly and consist of at least 30% soy or corn oil. Additionally, Saatva uses recycled steel, plant based-natural thistle, and organic cotton for other mattress/foundation parts.
Mattress models
All Saatva mattress models come in the same sizes and cost the same amount. The difference between the 3 is in the level of firmness, which results from different foam wrappings of the individual coils.
All mattresses are available in 2 different heights: 11.5 inches or 14.5 inches. The price is the same for both heights.
Saatva Plush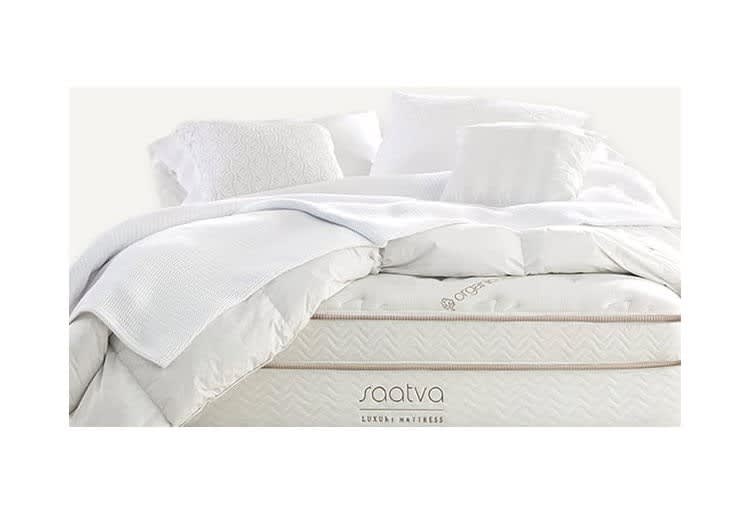 Best for:
Sleepers who prefer soft, enveloping mattresses
Side sleepers
Saava Plush uses coil-on-coil technology but the coils are wrapped with softer and more-conforming foam, creating a mattress that hugs you while you sleep. At the same time, the core is firm enough to ensure that you don't sink in too much.
Saatva Luxury Firm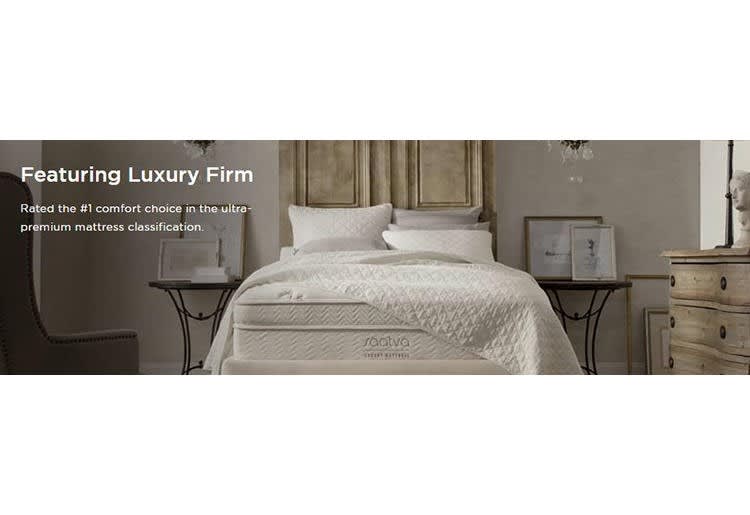 Best for:
Couples with different sleep needs
People who sleep on their sides, backs or stomachs
People looking for just the right balance of firm and soft
Saatva's Luxury Firm Mattress is the company's flagship mattress model. It's prefered by 81.4% of the company's customers. The Luxury Firm is known as "the Goldilocks mattress" because it offers just the right amount of firmness and support. The design also ensures proper spinal alignment while you sleep.
Saatva Firm
Best for:
People who prefer firmer mattresses
People who sleep on their backs or stomachs
The Saatva Firm Mattress is made up of coils that are individually wrapped with firm foams. The result is a mattress that floats your body, rather than cushioning or contouring it. While the mattress is firm, it's not hard, so you don't feel like you're sleeping on a board of wood but you also don't sink in.
Pricing
Saatva mattresses are considered very high quality; as such, they're not the cheapest that you'll find online. However, the type of mattress and coil design used by Saatva often costs over $2,000 more in a retail store (when comparing queen-sized mattresses).
Whether you order Plush, Luxury Firm, or Firm, the prices are the same. The prices for different sizes, though, are different.
If paying the full amount in one lump sum is a burden for you, financing options are available.
Additional Products
When you order an 11.5 inch mattress, you have the option to add an adjustable base. The cost of the base, however, is more than the actual mattress. If you don't want an adjustable base, you can choose to add a foundation or frame, at additional cost as well. Of course, you can use your own box spring/foundation, though the company recommends buying the entire system.
Delivery
Because each Saatva mattress is crafted upon order, it usually takes about 2 weeks for you to receive it. Before it's delivered, you'll be contacted by a Saatva delivery person to arrange a time when you'll be home to receive it. You'll then get white glove delivery, which means that the delivery men will bring the mattress right to you and set it up.
Testimonials
Saatva has gone above and beyond to meet our requested delivery date. Their staff is very professional. Before purchasing I spoke with a customer service person who did all they could do to make sure our bed would be delivered when we needed it. I would recommend to anybody who wants a quality product at a great price. No BS just the facts!
John of Maitland, FL
I purchased a king sized luxury firm and I gotta say that I have never had a better night's sleep than I have had with my Saatva mattress. I wake up feeling refreshed with absolutely no back pain.
Aaron
We LOVE our Saatva mattress! Can't wait to make there is at least one in every room of the new home in Lake Oswego, OR! The customer staff is AMAZING, always so upbeat, friendly and ready to help, or just be there (-: The delivery guys were so nice, and made the whole experience that much better! It's been almost two years and still thrilled!
Jeri-Anne Nelson
Bottom Line
Saatva offers luxury-style mattresses at affordable prices. The coil-on-coil construction provides proper spinal alignment as you sleep, and you can choose from 3 different models to find the firmness that's right for you. Saatva mattresses come with a 120-night trial period, which gives you enough time to adjust to your new luxury mattress and see if it's right for you.

Saatva Visit Site
About Saatva
Saatva started out as a mid-sized regional luxury mattress provider and today is one of the largest online mattress companies in the US, with 19 factories and 135 fulfillment centers across the US. Saatva is committed to delivering high quality, affordable mattresses and a "best friend" customer service policy.