In a Nutshell
DreamCloud is a luxury hybrid mattress made from 8 layers of handcrafted, premium materials. All DreamCloud mattresses are medium-firm to provide a plush, cozy feeling while still offering optimal support for all sleeping styles. With a 365-night trial period and a lifetime warranty, this mattress could be your solution for a deep night's sleep.
pros
Lifetime warranty
365-night trial period
cons
Only 1 type of mattress to choose from
Relatively expensive compared to other online brands

DreamCloud Visit Site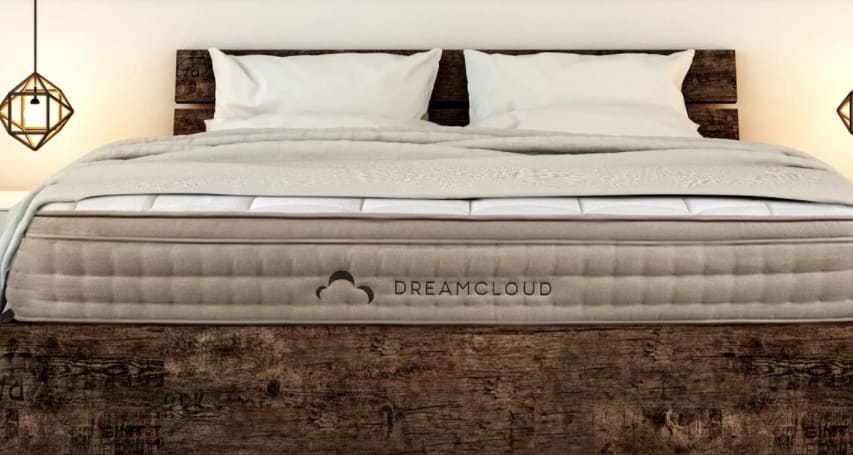 $1,599 (as low as $1,399 with seasonal $200 discounts)
Medium firm (6.5 out of 10)
What Type of Sleeper Is It Best For?
Side sleepers
Stomach sleepers
Back sleepers
Combination sleepers
Sleepers with back problems
How It Works
To order a DreamCloud mattress from the official website, choose your preferred mattress size and add it to your cart. When entering your billing details, you'll be given the option of paying immediately or in 6 monthly installments.
Delivery is free to everywhere in the United States. White-glove delivery costs an extra $149. Your order will typically ship from the Washington state distribution center within 1-5 days, but allow for an extra 1-2 days for white-glove delivery. Given its popularity, deliveries can take longer than usual during busy periods, and the good news is DreamCloud will inform you of any expected delays at checkout.
Thanks to a 365-night trial period, you'll have an entire year to decide if your DreamCloud mattress is the right one for you. If you decide to return it, DreamCloud's staff will remove the mattress from your home and refund your payment within 2-3 days. DreamCloud also offers what it calls an "Everlong" warranty, which is a lifetime warranty that protects the buyer against defects for an unlimited period of time.
Mattress Makeup
Best for: Sleepers of all types, and especially people with back problems.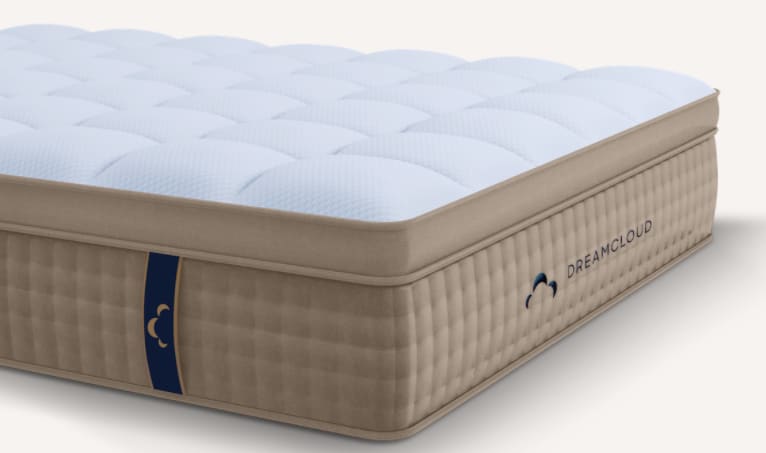 The DreamCloud is a hybrid mattress, meaning it combines the supportive design of a traditional coil mattress with high-density memory foam that offers extra comfort. Hybrid mattresses maintain firmness from edge to edge and don't easily sag or lose their shape.
The DreamCloud mattress is built with a unique 8-layer system comprising (from bottom to top):
High-density, super-soft memory foam, to keep your back in alignment in any sleeping position.
Patent-pending "bestrest" coils, a 5-zoned, foam-encased, pocketed microcoil compression system.
Another layer of high-density, super-soft memory foam.
Supportive memory foam.
Hypoallergenic super-premium natural latex layer for extra cushioning and contouring.
Super-soft quilted memory foam.
Gel-infused memory foam that adds extra cooling and support.
Specially-designed cashmere-blend cover to add breathability, extra softness, and resistance to bedbugs. The cover can't be removed or replaced; however, DreamCloud offers a professional cleaning service on request after 1 year of ownership, and also offers a "Like-New" refurbishment if your cover is in need of one after 5 years of ownership.
Delivery
Delivery is free to anywhere in the US (except Alaska and Hawaii, which comes at additional cost), and white-glove delivery costs an extra $149. With the white glove delivery service, DreamCloud will send its people to your home, where they will remove your mattress from its packaging, set it up in the room of your choice, and dispose of the packaging. With white glove delivery, DreamCloud will also remove your old mattress if you wish.
If you choose to unpack the DreamCloud yourself, take note that it has been compressed with roller presses and cannot be refolded after being taken out of its box and expanded. Its shipping weight varies from 55 lbs for the Twin to 109 lbs for the Cal King.
The DreamCloud can be set up on any type of frame that can accommodate a plush 15" mattress.
Testimonials
DreamCloud entered our life recently and we could not be more impressed! It is clearly comfortable for all types of sleepers because I am a side and stomach sleeper and my husband is a back sleeper. We don't have a fancy bed frame, so I can say it is supportive all on its own.
Malika C.
I have always felt like Goldilocks when it came to sleeping. Spring mattresses were too hard, I'm allergic to latex, and memory foam were always too soft for me. I never felt like I would find my perfect mattress until I found DreamCloud. I now know what a perfect night's sleep is. I can't wait to get into bed.
Vanessa O.
My friend told me to get DreamCloud. Said I wouldn't regret it. 100% true. DreamCloud has been an amazing addition to my life. Luxurious and actually beautiful for a mattress. Price can't be beat for the quality. The customer service was helpful in removing my old mattress as well.
Vince A.
Bottom Line
The DreamCloud is a hybrid mattress, designed to combine the best of coils and memory foam for an ultra comfy and supportive mattress. Unlike many other exclusively online mattress brands, this one focuses on luxury.

DreamCloud Visit Site
About DreamCloud
DreamCloud is a luxury online mattress brand based in Washington. Its customer support team can be contacted from morning to late at night through live chat or by phone.