In a Nutshell
Vaya is an online-only manufacturer selling sleep products directly to customers in the US. Based on unique foam technology, its mattresses are designed to be more breathable than traditional memory foam products and are free from harmful chemicals. As well as free shipping to the lower 48 states, the company offers a 100-day sleep trial and a 10-year warranty on its products.
pros
10-year warranty
Free shipping to contiguous US
100-night sleep trial
cons
No free shipping to Hawaii or Alaska
No brick-and-mortar stores
Financing not available
What Type of Sleeper Is It Best For?
While Vaya claims its mattresses are designed with every sleeper in mind, its products may be especially appropriate for:
Hot sleepers
Restless sleepers
Chronic pain sufferers
How it Works
As Vaya is an online-only company, you cannot buy its products from physical brick-and-mortar stores.
If you'd like to make a purchase, the first step is to visit Vaya's website and select the size and type of mattress you need. You can then pay with any major credit/debit card or by bank transfer. Note, however, Vaya doesn't offer financing on its products.
Once you've placed your order, it will typically be dispatched from Vaya's facility within 3 to 5 business days and arrive at your home within 1 to 5 business days of dispatch.
If you're concerned about costs, you may be reassured to learn Vaya offers free shipping to customers in the lower 48 states. If, however, you live in Alaska or Hawaii, you'll need to organize shipping via a freight forwarder.
After you've received your mattress, you'll qualify for a 100-night sleep trial, which will allow you to test whether the product is right for you. If you're not happy with your mattress, you can return it free of charge after 30 days. Vaya requires that you try its products for this period in order to fully adjust to your new mattress. Should you return your mattress before 30 days have elapsed, you'll pay a $99 processing fee.
All mattresses come with a 10-year warranty, which covers defects in material and manufacturing, including any sagging greater than 0.75" inches.
Mattress Models
3" Vaya comfort foam
9" Vaya base foam
2" Vaya foam
8" pocketed coils
2" base foam
Vaya mattress
Manufactured in the US, these products are built around Vaya's open-cell design, which allows them to be more breathable than other memory foam mattresses by wicking away warm air to keep you cool. Vaya's comfort foam also contours to your body and will bounce back to its original shape if you shift position while sleeping.
The Vaya mattress is based around a 3-layer design, which includes:
a top layer of comfort foam
a middle layer of base foam
soft/breathable cover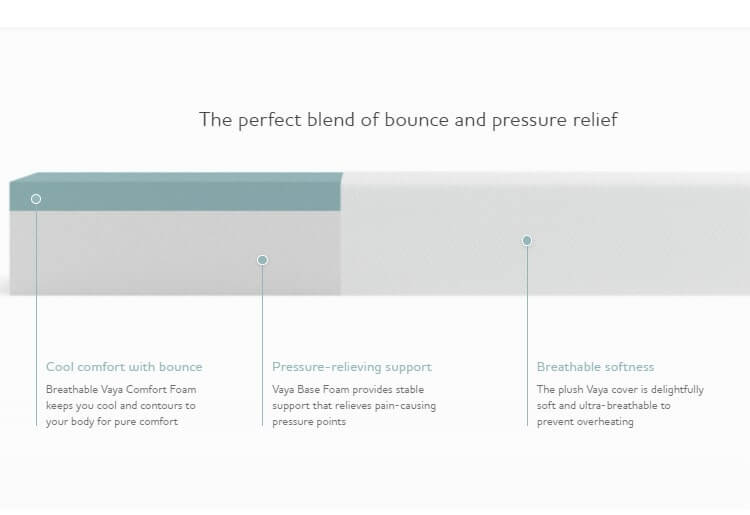 With its open-cell design to divert warm air, Vaya mattresses could be especially suitable for hot sleepers. Likewise, its base foam provides support for pain-causing pressure points, which could be ideal for those suffering from chronic pain or other health issues.
Pricing
California King (72" x 84")

Hybrid mattress
The hybrid model is made from a combination of Vaya's bespoke foam and motion-isolating coils. Unlike some other mattresses, this model includes extra support around both sides to prevent the sleeper from rolling off.
It is based on a 4-layer design:
an upper layer of contouring foam
a middle layer of bouncy coils
foam under the pocketed coils
a lightweight cover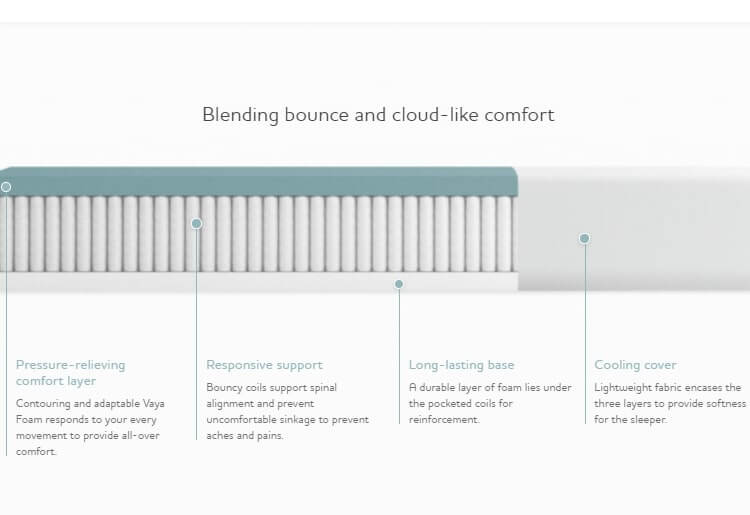 A hybrid mattress is particularly suited for side, back, and combination sleepers. It aims to ease pressure on the shoulders and hips when side sleeping but is also supportive enough to keep the hips in line during back sleeping. However, this product may not be ideal for stomach sleepers who tend to require very firm mattresses.
California King (72" x 84")

Delivery
After your mattress has left Vaya's facility, it will be delivered by FedEx and arrive at your home for curbside delivery within 1-5 business days. If you've ordered more than 1 item, these will arrive in separate boxes and have individual tracking numbers. You won't normally need to sign to receive your items.
If you would like to have your old mattress hauled away, you should note that Vaya only offers this service to California residents.
Testimonials
Soft mattress
I absolutely love this mattress. It is on the softer, cushier side, which I love! I love sinking into my bed. It expands nicely out of the packaging, but you need to give it time to expand fully. It expands very evenly too, which is nice. I have been using the mattress for months and get a great night's rest, night after night! - Erika K
Comfortable and soft, no more tossing and turning
I have not had a terrible night's sleep since we got it! Day 54 and I sleep completely through the night, waking up well-rested and energized for the day. - Alyssa M Cook
Like sleeping on a cloud
This mattress is like sleeping on a cloud. Soft but supportive, it is exceptionally comfortable. Unlike some foam mattresses, this one is breathable and bouncy. It arrives compressed and takes about a day to decompress fully. I did not notice any off odors. The cover is soft and comfortable. An added plus is that it is made in the USA. Great mattress. - Antigone Walsh
Bottom Line
If you're in the market for a mattress that provides comfort and support while helping you stay cool, a Vaya mattress may be right for you. Affordable prices also make these products especially attractive for those seeking a durable product on a modest budget.
Although you can't try out Vaya's products in a physical store, Vaya offers both a 100-day trial and a 10-year warranty, which will provide you with ample opportunity to make sure you're happy with your purchase.
About Vaya
Based in Scottsdale, Arizona, Vaya is an online-only manufacturer selling US-made sleep products directly to the consumer. With a focus on sustainability, the company uses eco-friendly packaging during shipping and also ensures its mattresses are free from harmful chemicals. As well as its range of mattresses, it also sells a selection of pillows and platform beds.