In a Nutshell
GhostBed creates a complete adaptive cooling sleep experience designed for your individual needs. The mattress provides effective cooling, minimal motion transfer, edge support, and controlled sinkage. One of its unique characteristics is its ability to adjust to your body and soften after the first couple of minutes.
pros
Cooling technology
24 hour shipping
cons
Luxe model is more expensive than many competitors
No white glove delivery option

GhostBed Visit Site
Free, compressed in a box
Queen Classic: 76" W, 79.5" L, 10" H
Queen Luxe: 60" W x 80" L x 13" H
What Type of Sleeper Is It Best For?
GhostBed offers 2 types of mattresses, the GhostBed and the GhostBed Luxe, which are best suited to the following sleepers:
Side sleepers
Stomach sleepers
Back sleepers
Couples (isolated motion transfer)
Hot sleepers
Heavy sleepers
Unreal Sleep
Watch this highly informative video to understand why this mattress provides excellent value for your money: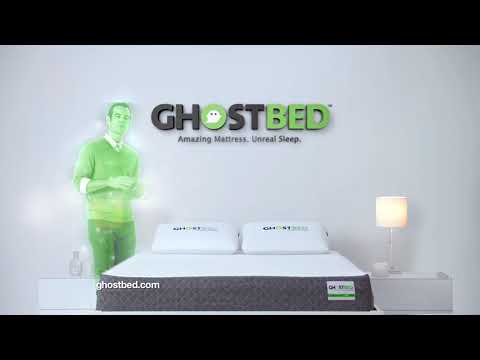 How it Works
Choose between the GhostBed Luxe and the GhostBed Classic. You can pay for your mattress in full or pay using Klarna, Bitcoin or Zibby. All mattresses are shipped compressed and vacuum-packed, and delivered by FedEx. Delivery is to the front door with no setup service. Free shipping and handling are promised within 24 hours.
The company offers a 101-night sleep trial, so you can try it out for a prolonged period before deciding whether it's the right fit for your sleep needs. Customers who are dissatisfied are eligible for a 100% refund. Return requests are only processed after the new GhostBed has been in your home for 30 days. The company offers a 25 year warranty on its mattresses.
Mattress Models
GhostBed
Range of 6.5 to 7 on the firmness scale
Between a 5.5 and 6 on the firmness scale
GhostBed Classic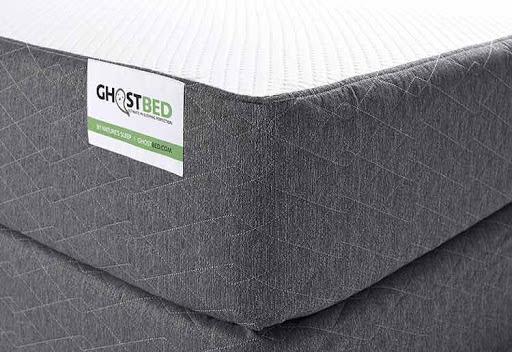 The GhostBed Classic is made up of the following layers:
Top cover - 100% soft polyester
Comfort control layer - 1½", 3½ pounds density of aerated latex foam
Pressure relief layer - 2″, 4 pound density gel memory foam
Core foundation layer - 7.5″ of 2.0 pcf high density base layer
The GhostBed Classic model offers good support and comfort in any sleeping position, whether you're on your side, stomach, or back. If you are a heavy sleeper, it's a good choice due to its dense core.
The Classic model's aerated latex layer combined with the cool gel memory foam beneath it ensure effective heat dispersion. There is very little motion transfer and the top latex layer enables the mattress to bounce back when you change positions.
GhostBed Classic Pricing
GhostBed Luxe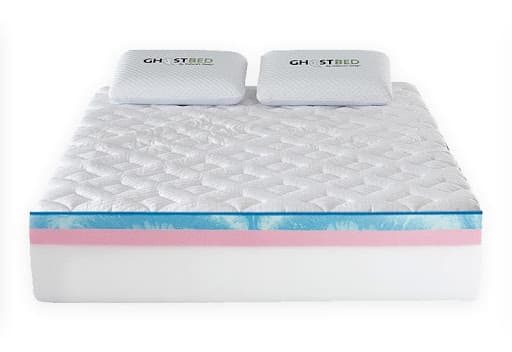 The GhostBed Luxe is made up of the following layers:
Cover - Quilted cover over a thin layer of phase change material
Comfort layer - 2" of gel memory foam
Transition layer - 2" of proprietary bounce foam
Base layer - 7.5" high-density polyfoam
The Luxe model is an excellent option if you sleep in multiple positions throughout the night, or if you and your partner enjoy different sleeping positions.
This model offers 2 stages of cooling. The Ghost Bounce layer ensures buoyant support and isolated motion transfer. The gel memory foam comfort layer offers optimal pressure relief. Edge support is also good, even when lying on the edge of the bed.
GhostBed Luxe Pricing
Delivery
Shipping is fast (within 24 hours) and free. Returns are also free. Buyers can track delivery with a FedEx tracking number via email once the order has been shipped. The GhostBed is vac-packed and compressed. As soon as you unpack the mattress, it will decompress to its normal size.
The sizes of the delivery boxes are as follows: Twin Mattress Box: 39″ (L) x 23″ (H) x 20″ Twin XL Mattress Box:39″ (L) x 23″ (H) x 20″ Full Mattress Box: 39″ (L) x 23″ (H) x 20″ Queen Mattress Box: 39″ (L) x 23″ (H) x 20″ King Mattress Box: 39″ (L) x 23″ (H) x 20″ California King Mattress Box: 39″ (L) x 23″ (H) x 20″. The company does not offer white glove services, so deliveries are made only to the front door.
Testimonials
Hard to articulate the feeling. Great! No complaints, great bed, no sleazy mattress salesmen to deal with... what's not to like?
Jason S.
The mattresses has exceeded my expectations, for comfort, ease of set up, delivery...
Daniel M.
We bought the king-size Ghostbed based solely on the Consumer Reports recommendation, and boy, did it pay off!
Jennifer C.
Bottom Line
Produced by a veteran company with many years of experience, GhostBed provides excellent value for money and a really long warranty period. The mattresses provide the optimal balance between sof and firm. The 2-layer cooling mechanism promises a good night's sleep.

GhostBed Visit Site
About GhostBed
GhostBed was founded as a part of industry leader, Nature's Sleep, in 2015. Nature's Sleep has been manufacturing mattresses for 15 years. The company's goal is to improve mattress shopping by offering an end-to-end online shopping experience. GhostBed offers 2 mattresses in various sizes and a wide range of sleep products such as bases, foundations and pillows.